Reviews
5.0 out of 5 rating
Quality of service

5 out of 5 rating

Average response time

5 out of 5 rating

Professionalism

5 out of 5 rating

Value

4.9 out of 5 rating

Flexibility

5 out of 5 rating
99%
Recommended by couples
128 User photos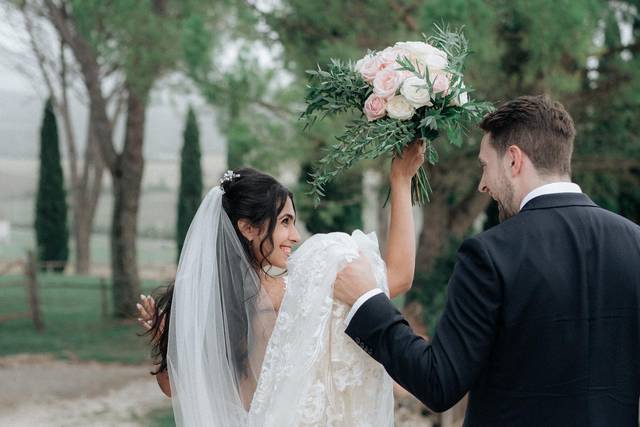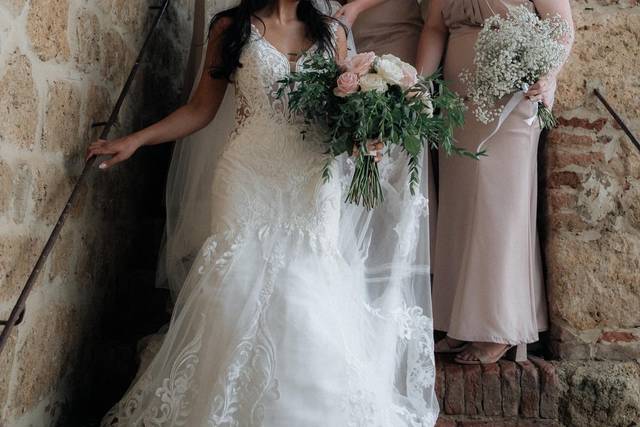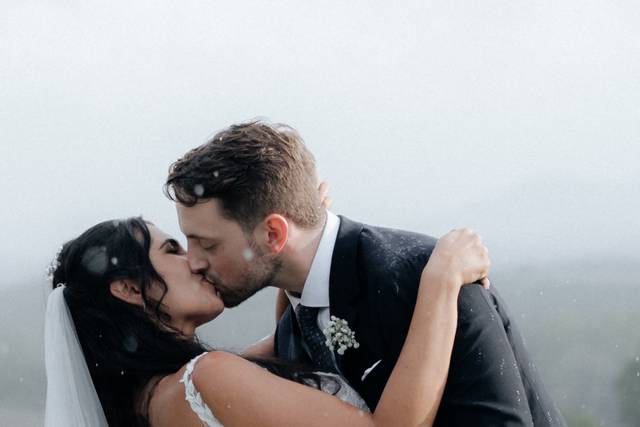 + 124

photos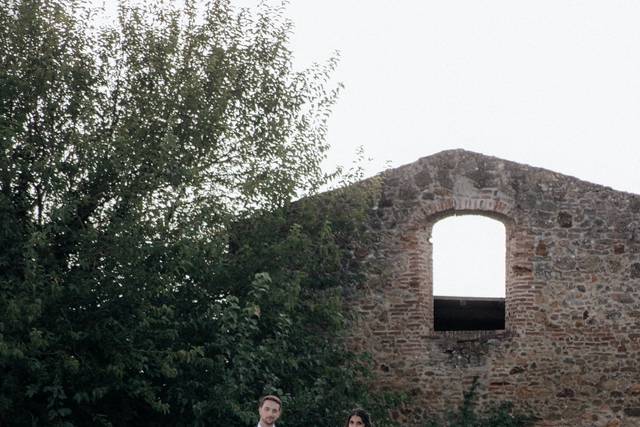 Anna H.

Married on 10/01/2022

Perfect weekend!

La Tenuta di Papena really speaks for itself when it comes to the beauty of its setting and views, it's truly stunning. What sets it apart though really is the full planning service Ginevra provides. She was wonderful through the planning stage, but truly the weekend of the wedding went above and beyond to make it all go seamlessly. We knew everything was looked after and we could truly just enjoy ourselves without having to think of any of the logistical elements. She welcomed us into her family home with open arms, and made sure the most special weekend of our lives turned out exactly as we imagined, and for that we will forever be grateful.

Alisha D.

Married on 09/15/2022

Forever Grateful

It's hard to put our experience into words. Tenuta Di papena is such a magical place and it has an energy that pictures just cannot fully capture. It felt like home as soon as we arrived and there was a peacefulness that helped calm any wedding nerves! Initially we had booked a third party wedding planner who unfortunately withdrew their services due to staff shortages. At the time we didn't realise what a blessing in disguise this was as Gini quickly stepped in and took over for us. Our wedding would not have been possible without Gini, she was a huge support throughout the planning process and the week that we spent at Tenuta Di Papena. Our wedding morning was more stressful than usual due to extreme thunderstorms but Gini managed to organise everything around the weather, ensuring we could have our ceremony outside in San Galgano during a dry spell! Luck was definitely on our side but Gini's flexibility and reassurance made sure we had the best chance of our dream wedding and a dream it was! Tenuta di Papena is a beautiful location with a magical vibe and it will always hold a special place in our heart.

+ 17

photos

Kate B.

Married on 08/20/2022

The most amazing weekend

We got married in San Galgano and had our reception at Tenuta do Papena in August 2022. It was everything we had hoped and planned largely thanks to the wonderful Gini who helped us every step of the way. We had an early ceremony at 12 noon, we had our reception around the pool followed by live music in the courtyard to bridge the gap before sitting on the grass area for dinner which has the magnificent view and sunset. We couldn't recommend all the suppliers highly enough and can't thank Gini enough for all her help in making it the most incredible weekend.

+ 11

photos

Are you interested?

Send a message

Lucy P.

Married on 06/15/2022

Nothing is too much trouble, we felt like family.

Getting married at Pape Touna was an absolute dream. We were intimidated to get married abroad but Gini made everything so easy. She talks you through all the admin and legal stuff in the right timeline. Arranging the details of the day from abroad is no problem because she helps with that too. The venue, the band, the food the decorations, everything was totally perfect.

She loves what she does and wants your day to be spectacular and it shows in every detail. It's a 5* service at an unbelievable price because for her it genuinely isn't about the money.

We had the best week of our lives and our guests couldn't believe how beautiful it was and that was all thanks to Gini.

I would (and have) recommend getting married here over and over again. I wouldn't change a single thing. It will be the best decision you have ever made :)

+ 6

photos

Pia L.

Married on 06/11/2022

Everything was perfect! Very familiar!

We celebrated our wedding in a small circle at Tenuta di Papena. Everything was perfect! Gini was very helpful from the beginning and fulfilled all our wishes. We would do it this way again and again.

+ 5

photos

Katie F.

Married on 06/04/2022

Magical venue

Thank you so much to Gini who was the always the calm in the storm trying to navigate this wedding throughout the pandemic. Gini is just wonderful and we couldn't have done it without her. As soon as we saw the venue we knew it was exactly what we were looking for! It is such a magic, rustic vibe and we so enjoyed spending our time their on what was the best day of our lives! Would HIGHLY recommend! A perfect location for the beautiful San Galgano. Happy memories xx

+ 5

photos

Emma L.

Married on 05/13/2022

Tenuta di Papena and Gini give you a dream wedding

We chose Gini and her venue for how pretty and flexible they were to allow you to curate a wedding day you wanted. No hard and fast restrictions and limited supplier choses like some venues which was initially why we chose them as they were a very close to our Abbey where we were marry as we were looking at venues within a short drive. However Gini became more than that initial choice. She helped us with each stage, especially the communication with the abbey for a legal marriage which had a lot of different components. Always responsive to emails and her communication is excellent- something that is very important to me to feel supported in planning our day. She helped organise catering, lighting and a nanny service for our guests. As well as efficiently accommodated a postponement due to covid. The wedding day and the days either side were amazing- nothing was too much trouble and gini has an infection personality that just makes you smile. We will remember our trip so fondly and thank Gini and her family for an amazing time. Thank you! Emma & Graham

Laura M.

Married on 05/07/2022

Amazing! Magical!

Ginevra and the family were truly fantastic! They were always there to help and to answer questions that we had. The place is truly magical - could not have hoped for anything more 💞💞.

Ginevra took out a lot of the stresses that we had leading up to the wedding. She was always happy to help and responses were constructive and thoughtful.

Every angle of the Tenuta di Papena is like something out of a fairytale! We had the ceremony on the grass, cocktails by the pool and wedding dinner and dancing in the courtyard - it was beautiful!. Strongly recommend!!!

Emma D.

Married on 04/09/2022

We didn't want to leave!

We didn't want to leave Tenuta di Papena we loved it that much!

Gini was such an amazing host for our wedding, and although you may think it's a complicated process to get married abroad, she made is all so easy. She is incredible. On top of this, the vendors that Gini works with, from photographer to catering, to the people who did our flower arrangements, are all brilliant!

We had the most perfect wedding day thanks to Gini and made such valuable memories with our family and friends at Tenuta di Papena. We just hope we get to go back and visit one day.

Anastasia D.

Married on 10/06/2020

Our Italian Wedding at Tenuta di Papena

I have to start by saying a huge thank you to Ginevra for making our wedding so wonderful and I will remember it as the best day of my life forever. Myself and my husband get stressed quite easily but with Ginevra's support and organisation the day was absolutely perfect and we have so many loving memories of our day, Tuscany and Tenuta De Papena. We hope to return in a few years time for our anniversary!

After falling in love with the San Galgano abbey, we knew we wanted to get married in Tuscany.
We arranged to view Tenuta back in the cold and grey November in 2017, when we met Gini it was so important for us to work with someone who would understand us, our ideas and wedding vision. Ginevra is the type of person that is incredibly passionate, creative and open minded. We bonded over interests of fashion, London and art. This was important for us so that we could essentially create a relationship that enabled us to be ourselves and trust Gini with her opinions and recommendations.

Throughout the whole process of organising and planning, Ginevra helped us every step of the way. I can only thank her so much for replying to our millions of emails and whatsapps along the way! My husband and I like to know every detail and Ginevra put our minds at ease so many times. We found it really helpful to share our pinterest and powerpoints of photographs and ideas so that we would create our vision.

Ginevra has a very good contacts within the area of Tuscany as she knows exactly who is the best supplier for each part of your wedding. I found that I really appreciated her honesty and opinions on caters, florists, photography and music. Ginevra has a wealth of experience in planning weddings, and understanding the flow/structure of a wedding day - she would explain how something would work from not just our point of view but a guests eyes too.

Ginevra also helped us with the UK side of the paperwork and translating the documents - we felt slightly out of depth on this but every time there was a query or question, Gini helped us to resolve it.

We stayed at Tenuta Di Papena for 3 nights along with our friends and family - they all loved their time there and they too have a special place in their hearts for Tuscany now. The villa and its apartments are beautiful and historic not to mention the stunning views!

Thank you again for our time at Tenuta Di Papiena - hopefully we will be back soon!

A+D x



+ 17

photos

Wedding at Tenuta di Papena and Abbey San Galgano in September 2019

We booked Tenuta di Papena for ourselves and our family to stay at during our wedding. Like many other reviewers, we had not seen the property in person until we arrived the week before the festivities. When we arrived at the property, we were just blown away. It was far more beautiful than we anticipated and in all honesty the pictures you see do not fully do it justice. From the rustic brick and stone, the open courtyard with the old well, and of course the vast views of rolling hills past the infinity pool it is simply amazing and breathtaking. We found the property to be exactly what we wanted. The rooms were well appointed, clean, and well set up.

Not only is the property at Tenuta di Papena stunning, the owner operators Ginevra and her mother Fabiola are the most gracious, friendly, and accommodating hosts. They were both quick to respond to any need and made us and our whole family feel welcome and at ease. Ginevra arranged a fantastic breakfast for all of us each day that worked out perfectly as well. Ginevra and her family also have awesome pets, a cat and a few dogs, that entertained us and became additional highlights to our stay.

The property was well suited for wedding events of our size (36 guests) and in addition to staying on the property, we also hosted pre-wedding pizza party event on site in the lawn area above the pool. The following day we hosted our reception dinner in the courtyard area and dance party in an adjoining room, following the wedding ceremony which we held at nearby Abbey San Galgano. All of our family and friends were astonished and just raved about the beautiful setting, saying they had never seen anything like it. We are so happy that we booked Tenuta di Papena and highly recommend the venue and the hosts.

Tara R.

Married on 09/04/2019

Destination Dream Wedding Made Reality

My now-husband and I, both from Canada, had our hearts set on an intimate European wedding with just ourselves and our parents. After settling on Tuscany for the location, we struggled to find the perfect venue and accommodation, given the costs of some venues, limitations given our small party size (only 6 guests including ourselves), issues with getting timely responses, and having the date we wanted available (Italy is a popular location - book well ahead of time >1-1.5 years). One day however, we stumbled upon Tenuta di Papena and knew immediately that this was a perfect fit for us.

In discovering more about Tenuta di Papena, we came across many overwhelmingly positive reviews, which we are pleased to say were in keeping with our own amazing experience. Gini (owner and wedding planner) was incredibly knowledgeable, professional and responsive. Planning a wedding and family trip from several thousand kilometres away was made simple given Gini's promptness, organization, and innate sense of style. I never once worried or stressed ahead of the wedding as I knew Gini had it all covered. She was very responsive and understanding of our wishes and vision, and made it come to life.

Though we had a small party, the cost of renting out the entire property for the week we found to be incredibly reasonable and offered a sense of privacy and intimacy that we had wanted. The villa and property it sits on were beautiful, we particularly loved the infinity pool and the many pets that often came by for a visit. We appreciated the individual apartments that were each equipped with their own living space, kitchen, and bathrooms as it allowed us and each couple their own space and private time. We very much enjoyed the communal areas too, and spent much of the time in the courtyard. Though we were fortunate to escape any rain, the villa offers both indoor and outdoor space for ceremony/reception in the event of poor weather, which was also reassuring.

One of the selling points for us, was the proximity to the San Galgano Abbey (just a 5 min drive), which is stunningly breathtaking, and where we were fortunate enough to have our ceremony take place. Even though we were Canadians getting married abroad, Gini helped us through the process for this including taking us to townhall ahead of the date to complete the documentation, translate at our ceremony, and ensure our marriage certificates were properly authorized before being sent back to us. Though we had worried about this aspect of a destination wedding, Gini's support and expertise made this a seamless process.

Gini is also incredibly respected by local vendors, and was able to connect us with trusted, reputable, and skilled vendors for catering, hair/make-up, transportation, flowers/decor, rentals, etc. We found all of the costs to be reasonable and she was able to help us stay within our budget for the day. She also helped us to plan some other activities including a private wine tour of the region, and was always easily available to ask for directions/help or to provide other suggestions for things to do and see.

While we would definitely recommend renting a car to get around, we loved the pizza and wine shop just down the road from the villa, and Gini helped us get to a grocery store as well just 10-15 mins away so that we could also cook our own meals, which we enjoyed.

We are so incredibly thankful for Gini to help create our dream wedding. We only wish we could have stayed longer, but look forward to a future trip back to Tenuta di Papena.

Stephanie

Married on 05/11/2019

Thank you for making our wedding perfect.

Planning a wedding from across the world is stressful, but Gini, the hostess at Tenuta di Papena made everything go so smoothly. The venue was more beautiful than I could have every imagined. Gini was there the day of the wedding to make sure everything went smoothly, and throughout the planning process, she was super quick to respond to any questions I had. I can not recommend this enough. Our whole family was amazed at the villa, and the helpfulness of the hosts. THANK YOU! This was the wedding of our dreams!

+ 2

photos

Anthony D.

Married on 04/29/2019

Gorgeous Venue

This place was just incredible. It was the perfect getaway wedding venue for a small-ish wedding. We had 30 people, and most of them stayed on property. It was close enough to Siena, and it was absolutely picturesque. The owners were lovely people, and they spoke English. The water ran out in the entire city on our 4th and last night which apparently had never happened before, but that wasn't their fault. All in all, just an amazing experience.

Danielle V.

Married on 02/08/2019

Beautiful and such a relaxed place for an intimate wedding

Tenuta di Papena, what a beautiful place!! We feel so blessed that we have stayed in this perfectly maintained place for 5 days with our family best friends and got married in the magical Abbey of San Galgano.

All the apartments of Tenuta di Papena are very beautiful, everything you need during the stay is available, the beds are very comfortable and everybody is very relaxed and always willing to help with whatever you need. And then that pool... wow that is just perfect with some nice beds around it and what a view!!

S.k.

Married on 07/28/2018

Great wedding weekend

We spent a Weekend at Tenuta di Papena and celebrated our symbolic wedding ceremony here. Gini from Tenuta di Papena is such a lovely person and she made our wedding day a very special and stressless day. The communication with her during the whole planning process and beyond was great, she quickly and reliably answered all our questions. She also recommended other vendors (catering, florist, etc.) and organised everything for us – we just had to decide, what we want (or don't want) and she took care of all the rest, even on the wedding day itself. With Ginis help we had a relaxed and wonderful weekend and wedding day at the most beautiful venue, we can imagine. Tenuta di Papena is a perfect place for a dream wedding.

Jenny B.

Married on 06/30/2018

A dream came to!

Gini made our dream wedding came true! She answered all of my uncountable questions full of love for what she does. Everything was perfectly prepared and better than we could have imagined! Thank you!!

Kimberly

Married on 05/20/2018

Amazing experience from start to finish

From the moment I emailed Gini the first time everything was seamless and exactly what I imagined our wedding day would be. She was incredibly responsive and made planning a wedding across the world as easy as it could be. The villa is incredibly beautiful and our family enjoyed the week lounging by the infinity pool. It was the best week ever!

Scarlet

Married on 08/29/2017

Above & beyond!

Absolutely fantastic experience from start to finish!

I planned the wedding with Papena from Canada- Gini was prompt and detailed in all her responses and reccomendations for the wedding. Our wedding took place at San Galgano Abbey and the reception at Tenuta di Papena. Her knowledge and relationships with the vendors was seemless. She gave me plentiful options and always helpful with all aspects.

Her team went above and beyond to help us with the documentation required and even drove us to the local town hall to complete our wedding certificate.

I can only sing praises for Gini and her team! The reception started by the pool (which has the most stunning view). Having the cocktail hour here was simply fantastic! The staff were professional and seemless in their set up and service.

The courtyard was set up with magical fairy lights and lanterns for the dinner.

It was truly everything and more we had visioned for our wedding! All of the guests commented "it was the best wedding they had ever attended!"

Gini's stress free approach was professional, flexiblem reassuring and confident. You are in safe hands for all aspects of your wedding!

+ 4

photos

Lucy A.

Married on 06/27/2017

The wedding of our dreams!

We had the wedding of our dreams in Tenuta di Papena. Gini was extremely approachable and professional and helped us create exactly what we wanted. I would definitely recommend this place to others.

L Guinn

Married on 06/15/2017

Tuscan countryside wedding

Our wedding at Tenuta do Papena was everything we wanted it to be.

We wanted to have the ceremony at San Galgano so we looked for properties near there and Tenuta di Papena was a no brainer. Ginevra works with a great caterer, florist, hair and makeup and she can get you any thing you want for your big day. We sent photos to her to create the table setting and decor we wanted and she matched everything perfectly.

She is also very responsive to questions and requests. We opted not to visit Italy before our wedding because we had a small wedding. Ginevra always responds promptly and if she is busy with a wedding she'll let you know when she can get back to you. This mattered to me a lot.

We rented the Tenuta for the full week to house our guests. The bed configurations were a little tough to make it work but we did. Also note that you are truly in the countryside and it takes longer to get to Siena and Florence than it looks on a map.

The views from the property are gorgeous.

It is a family operation and they are very attentive to what you need and experienced at planning perfect Tuscan weddings.

Nadia C.

Married on 06/08/2017

Amazing in every way

Gini is absolutely fabulous. She is kind and genuine and incredibly hard working and dedicated to make every wedding dream come true. Nothing was too much trouble and she made planning a wedding in another country just the easiest. By the time we had the wedding we felt that we had a friend for life in Gini and her family.
Our wedding was better than we ever dreamed it could be all thanks to her.
Couldn't recommend her enough!

+ 3

photos

Laura

Married on 05/29/2017

From the moment we set eyes on the beautiful rolling Tuscan hills from the courtyard of Tenuta Di Papena we knew that this would be the perfect location for our wedding. Being so close to the amazing San Galgano Abbey where we could have our ceremony was also just perfect. Not only is this the perfect location for a wedding but Gini really is the best wedding planner we could have hoped for. From start to finish she guided us through each step, with such professionalism, patience, attention to detail, regular communication, and doing all of this with such warmth, care and kindness. We felt like we were in such safe hands and this made the process feel incredibly easy, which we didn't think would be the case as we are based in the UK. The venue is just perfect and Gini's input into the decoration somehow leads to anther level of perfection on the wedding day, achieving simply stunning results. Gini's recommendations and good relationships with vendors (catering, bar, furniture, flowers) was perfect, with everything being of the highest quality. The generosity and warmth of Gini and her family both before and during our stay, towards us and our guests, created the most wonderful atmosphere. We honestly can't recommend this venue and Gini's input around planning your wedding enough.

Kat

Married on 05/06/2017

We had our symbolic wedding ceremony and wedding reception in Tenuta di Papena in May 2017.
The venue is absolutely stunning, perfect both for the wedding and relaxing with friends and family before and after the event.
Gini was absolutely wonderful in helping us with wedding planning and preparations, suggesting vendors and making sure we made all the decisions in time. She (as well as the vendors she recommended) were also very flexible. For example we changed our flower concept a couple of days before the wedding and that was no problem. Actually flowers exceeded our expectations.
All in all, the day was completely stress free for us and all our guests absolutely loved it.
Gini and her lovely family helped us create our most cherished memories and we can't wait to come back to Tenuta di Papena. Kasia & Riaan

Harriett

Married on 04/13/2017

A very special week!

Tenuta is such a magical special place and will always be special to us. We will always remember everything gini and her family did for us and to help us organise everything for our special day.
Such a picturesque beautiful place and we would love to return one day.
We wouldn't change anything about our day and wish we could do it all again. Gini and her family are amazing and nothing was ever to much trouble for them. I would 1000% recommend tenuta di papers for a wedding.
Us and our guests loved every second!!!!
Are you interested?
Send a message