49 Reviews
Recommended by 98% of couples
Quality of service

4.9 out of 5 rating

Average response time

4.9 out of 5 rating

Professionalism

4.9 out of 5 rating

Value

4.9 out of 5 rating

Flexibility

4.9 out of 5 rating
5 User photos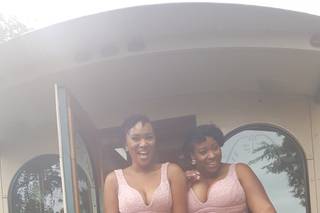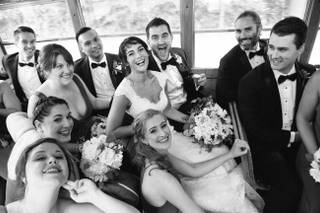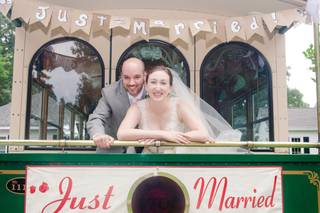 Michael A.

Married on 09/06/2020

Awesome wedding transportation

Our guests absolutely loved the trolley as the transportation to and from our wedding. All the rides were on time and the driver was super nice. The trolley is so pretty and quaint that all our guests took pictures with it. I would absolutely recommend it!

Taylor's Classic Travels's reply:

Thank you Michael for the awesome review. Keep us in Mind for our Brewery, wine and tacky light tours in the future!

Kaye D.

Married on 11/02/2019

So Much Fun

We used the trolley to transport the groom and grooms men to the church for the wedding and then the entire wedding party from the church to the reception venue. Everyone had a great time on the Trolley driving through downtown Richmond. It was a perfect addition to the day and the pictures turned out fantastic! I highly recommend,

Taylor's Classic Travels's reply:

Thanks Kaye, We enjoyed being a part of your wedding day. please keep us in mind for any other transportation needs... Tacky Light, wine or brewery tours!

Molly

Married on 09/14/2019

Fun and Easy Start to our Big Day

We used a trolley to take the wedding party to the venue and had a great experience. It was super pretty and fun. The driver, Tim, was very friendly and go-with-the-flow. To use up some of our remaining time after getting dropped off we sent him over a friend's house and he brought 15 or so of our guests to the venue.

Taylor's Classic Travels's reply:

Thank you for the awesome review Molly, we had a great time being apart of your wedding. Keep us in mind for the tacky light, wine or brewery tours!

Are you interested?

Send a message

I absolutely enjoyed working with Taylor's Classic the ride was smooth and the driver was very friendly! We arrived right on schesule and he made the entire experience well worth it!! Thanks again guys we really enjoyed! #HardysGetHitched2018

Taylor's Classic Travels's reply:

Thanks so much for allowing us to be a part of your special day, we enjoyed very much!

Cara M.

Married on 09/08/2018

Super fun way to travel!

Had a blast with the bridal party on the trolley! After the surreal ceremony, it's wonderful to ride to the reception with all your favorite people and let the reality of what just happened sink in surrounded by friends. Plus, the driver is very sweet and the pictures come out adorable!

Taylor's Classic Travels's reply:

Hi Cara,

we appreciate the awesome review. We had a great time being a part of your wedding and the photos was amazing! Get your wedding party and join us for our tacky light tour.

All the best,

Joseph Taylor
Taylor's Classic Travels

Mary C.

Married on 08/18/2018

We used Taylor's Classic Travels for our wedding transportation and our driver Time and our photographer were the BEST parts of our day, besides getting married of course. Joseph was so helpful in emails when I was booking the trolley and made the contract and figuring out timing a breeze. My husband and I had a lot going on before the wedding, graduate school, new jobs, moving half-way across the country, and having to fly back to town for our own wedding. With all that going on I lost track of the payments and got a call the night before the wedding about payments and confirmed times. I'll admit, it wasn't my finest hour, and I was a bit of a handful with the night before nerves. Joseph and his team didn't hold it against me and were so gracious about the misunderstanding.
Our driver the day of was Tim and he was fantastic. He played some great jams, managing the music, the atmosphere, and to get us to the church on time with no need for any u-turns. We had a LONG 45 minute drive to the church and he did a great job making it a ton of fun.
My only complaint would be that one of my bridesmaids was up against the railing in the back for photos and got some dark smudges on her dress. My bridesmaids warned me about it and I managed to keep from getting anything on myself even with a giant ballgown dress with hoop skirts, so I think it might have just been that she was leaning over the rails.
Our pictures turned out FANTASTIC! We got so many looks driving on the highway in a trolley, but that made it fun! It was wonderful having a trolley that fit everyone in our party. We had a few bottles of champagne cooled in the ice buckets on the trolley, which was so nice. I also loved how much space there was, I didn't feel smooshed into the back of a limo, we could all stand up, and on the ride out there my handicapped grandmother was able to get up into the trolley and ride comfortably with us.
I would HIGHLY recommend this company!

Taylor's Classic Travels's reply:

Thanks Mary Cait, We enjoyed being a part of your wedding day and the photos are amazing!

Emma

Married on 05/27/2018

They were awesome and so flexible with our change in schedule. Tim was amazing he even came prepared with an umbrella for the wedding in case it rained!

Taylor's Classic Travels's reply:

Thanks Emma for the awesome review. We enjoyed being a part of you wedding. Please keep us in mind for our Wine, Brewery or Tacky Light Tours!

Amanda

Married on 11/12/2017

Thank you so much for driving us to our wedding. You made not only one, but two back and forth trips to our venue that was 20 minutes away. Taylor's trolley was perfectly timely and so much fun. Thank you for helping make our day perfect!

Dennis

Married on 11/12/2017

We hired the trolley to provide transportation from a "glamping" campsite (Sandy River Retreat) to The Barn at Timber Creek in the Farmville area. The trolley had to come out from Richmond and spend the day with us. Two trips in the morning to get the wedding party and family members to the wedding, and one return trip (a number of people left on their own from the wedding). Joseph was very helpful throughout the process, providing us with options and very fair pricing. He coordinated with the wedding organizer and photographer to make sure everything was planned properly. And our driver, Tim, could not have been more patient with the wedding party when they were running late (surprise!) and was so helpful throughout the day. What a great way to get to a wedding!

Jenna

Married on 10/07/2017

Very friendly drivers. Unique trolley. Small wedding day mishap, but we used Taylor's Classic Travels this past Christmas for the Tacky Light Tour and it was amazing!

Cindy

Married on 08/26/2017

I loved the look of this trolley. We have some fantastic pictures with the wedding party.

Joe Taylor was so easy to work with.

I would definitely recommend this to anyone else looking for a fun and memorable experience.



Molly

Married on 08/12/2017

The trolley added so much fun and charm to our special day! From the scheduling (which was super and made both the bride and mother of the bride relax and enjoy the big day) to the ride itself, I couldn't be more pleased. My bridesmaids and I had a blast riding the trolley to the church and my husband and I enjoyed a romantic ride to our hotel post reception. It was the perfect touch and made our day even more special! Thank you!

Ryan

Married on 08/12/2017

The trolley picked up my groomsmen and I at a restaurant after dropping off the ladies at the church. The trolley was on time, convenient, and made the day run smoothly. Our time on the trolley was great too, and it made an already awesome day even more memorable! We're grateful to Joseph for making it all happen and paying attention to the details of our day. He was great! Our driver, Tim, was excellent too! Overall, incredibly pleased with the entire experience and highly recommend!

Elizabeth

Married on 07/01/2017

Beautiful trolley, services delivered flawlessly and with superb customer service!

Taylor's Classic Travels's reply:

Hi Elizabeth,

Congratulation and thank you for the awesome review, It was a pleasure being a part of your special day. Tim said he had a great time being your trolley driver for your wedding.

Melanie

Married on 06/24/2017

Taylor's Classic Travels was wonderful for our event! They provided timely service for our guests. We used them to drive our guests to and from the wedding venue (it was not super centrally located, so we wanted to make sure they got to and from their accommodations safely). Joseph was very friendly, and worked with me to come up with a plan that fit our timeline, even after we had some changes! He was very good at communicating with us, and making sure that the company fit our needs. Our guests had a great time riding on the trolleys, and took many photos of themselves on there, which we thought was awesome. Additionally, I kind of wished we had gotten to ride back on them (we had a getaway car); because they looked like so much fun! Please do not hesitate in the least to use this vendor and I would definitely use the service again! Thanks once again to Joseph and his team for their great service and flexibility!

User2905495

Event on: 12/10/2016

We had an awesome time! Tim Raugh was the perfect host for our Christmas get together!
We will book again next year!

Taylor's Classic Travels was a great addition to our wedding! They responded with detailed information about their services and were willing to accommodate the needs of our tight schedule the day of the wedding. The driver showed up early to pick up the bridal party and was friendly and courteous! We thoroughly enjoyed having the trolley as part of our wedding and would recommend to our friends.

Brittanny

Married on 05/21/2016

Loved using Taylors Trolleys! So flexible for our wedding day and our driver was a lot of fun ! We had separate trips for our Bridal Party and Groomsmen and it worked out great! We were even able to book additional time to have the trolley take our guests from ceremony site to reception site! Would absolutely recommend and book again! Thank you again!

Corey

Married on 03/04/2016

Let me start by saying I never do reviews, but when it comes to the service I was provided I felt I had to do one. My wedding was on a Friday night in downtown Richmond at 5pm. I mention that specifically because traffic was crazy and it snowed. My driver Clinton Edwards not only got us to every location for pictures without problem, he also got me to my venue at the Main St. Station on time! The owner was very professional and flexible, i was terrified that if my event was cancelled because of weather I wouldn't have transportation. He called and reassured me they would be there for my big day, and if a reschedule was necessary he would be there to work with me. I was extremely pleased with the service and would recommend then to anyone!! Thanks again for making my big day special!

Tim was so much fun! He made our wedding day really special.

Daphne

Event on: 03/21/2015

We hired Taylor's Classic Travels on the recommendation of a friend. We did the Heart of VA Wine Trail. It was an absolutely fabulous deal and there were 14 of us on the trip. From my initial phone call to Tarra, she was extremely friendly, knowledgeable and genuinely concerned that her services would meet our expectations. She was very flexible and easy to work with as we were settling on a final date for our tour. Our driver Arlin was also great. If you have an option to request him, please do so. This is a professionally run operation and I would not hesitate to recommend them for weddings, wine tours, or whatever celebration life brings !

Molly

Event on: 02/14/2015

We had a wonderful Valenetine's Day thanks to Taylor's Classic Travels. We literally just had to show up and then we were whisked away on a wine, champagne, chocolate and cheese sampling adventure. We visited three beautiful vineyards and ate dinner at a local restaurant along the way. The tour guide and driver were attentive and very friendly. I highly recommend Taylor's Classic Travels!

User2096932

Event on: 02/14/2015

My Fiancé and I Went to their Valentines Day Heart of Virginia Wine trail and couldn't have been more impressed with the experience. We had such a great time and the people were very friendly. I would definitely go again :)

Sarah

Married on 12/27/2014

We had a wonderful experience working with Taylor's Classic travels for our wedding...they really were so professional and courteous. The driver arrived everywhere on time and was so polite and accommodating. And Terra was a pleasure to work with as well. The classic trolley was SO neat (all the guests loved it) and very comfortable! Would definitely recommend and encourage this to anyone. :)

Taylor's Classic Travels's reply:

Thank you, Sarah. It was our pleasure!

Meghan

Event on: 12/13/2014

Was an amazing time and want to do it again next year :) Wonderful staff, very friendly and willing to work with any needs you may have.
Are you interested?
Send a message