62 Reviews
Recommended by 100% of couples
Quality of service

5 out of 5 rating

Average response time

5 out of 5 rating

Professionalism

5 out of 5 rating

Value

5 out of 5 rating

Flexibility

5 out of 5 rating
98 User photos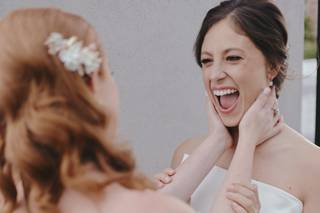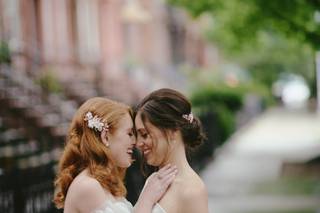 + 94

photos
Sarah L.

Married on 09/24/2022

Photos for a lifetime!

We are so glad we chose Tati and Roman as our photographer duo for our wedding. From the start, Tati was responsive in communications and Roman took such beautiful photos on our special day. My husband is a photographer so we were extra picky when choosing this vendor! The photos beautifully capture the energy and emotions from the day and that's exactly what we were looking for. The digital gallery was really easy to forward to our friends and family too. Thanks Tati and Roman!

Amanda G.

Married on 07/16/2022

We had the absolute best experience with Tati and Roman. And we are so in love with our photos!

Tati and Roman were the absolute best to work with. As soon as we saw their photography we were obsessed, and the rest of our experience with them did NOT disappoint. We had a long intro call with Tati who was beyond kind, and then got to meet Roman in person a few weeks before our wedding to scope out our favorite spots for photos at our vendor. Day of, they made us feel so at ease and were truly so much fun to spend the day with. We could not be happier with our photos!

+ 9

photos

Jay

Married on 06/25/2022

Perfect choice

We are so happy we found Tati and Roman. They made us feel so special on our wedding. They asked us what kind of content we wanted and really focused on that during the entire day.

We were gifted with incredible shots of our pets and a lot of non-traditional shots that we love!



+ 2

photos

Are you interested?

Send a message

Stephanie S.

Married on 05/14/2022

Hire Tati & Roman, you will NOT regret it!

Tati & Roman are amazing and so talented! They are able to really capture the love/emotion/fun/vibes in their photos. I love every single photo they have taken for our engagement shoot and wedding. My husband and I loved working with them. They both have a way of making you feel very comfortable in front of the camera. I look forward to working with them again for future life events. Hire them, you will not regret it!!

Rhea

Married on 05/06/2022

They know what they're doing!

Thanks to Tati and Roman, we now have beautiful memories for a lifetime. They are 100% professionals, their work is of high caliber and they are just the type of personalities you'd want to hang out with outside of the photoshoot. They made everything less awkward and more comfortable. They were very flexible with our families and their countless requests. Most importantly, our photos came out INCREDIBLE! Hire them!

Tati and Roman's reply:

Thank you my darling for your kind words! Hopefully, you will have your planned big celebration someday soon!

Joseph S.

Married on 04/23/2022

Perfect photos for a non-traditional wedding day in NYC!

Tati and Roman really hit it out of the park with our hectic wedding day. We were looking for someone that could go with the flow and who would be up for running around to multiple locations around the city. Tati and Roman were such good sports and helped us plan an amazing,jam-packed day.

We got a great mix of classic, traditional photos at our church ceremony, along with more non-traditional photos like our first dances in Times Sq. They were super communicative during the whole process, and it was great to have multiple shooters throughout the day. This allowed both of us to take photos getting ready, as well as have multiple takes on the same scenes. They were super fun and easy to get along with, and Roman was especially great at being spontaneous and coming up with great shots on the spot.

We would highly recommend Tati and Roman to anyone!

+ 3

photos

Alexandra B.

Married on 04/17/2022

Obsessed with our photos!

Roman did both our engagement and wedding photos. They both turned out absolutely stunning! Cannot say enough good things about Tati and Roman. We love our photos and really enjoyed working with them. Communication and flexibility were great and Roman is a pleasure to be around and have at your event. Thank you for capturing two very special events for us!

Amy C.

Married on 01/14/2022

So much fun & amazing photos!

We picked Roman & Tati for our super simple outdoor photo shoot after we went to city hall. I had a few specific shots/backgrounds in mind and Roman made sure to capture all of my requests. The photos were mostly candid which were fabulous, but Roman is an amazing director so all our photos came out very natural. They were very responsive and flexible from the beginning, and Roman was very professional but also kept everything super fun and low stress. I would highly recommend booking with Roman & Tati - it will be a great time and you'll receive the best photos!

Emma H.

Married on 09/25/2021

True Artists

We LOVED working with Tati and Roman, and are so thrilled with how our photos came out. We look at our wedding pics every day and we got married three months ago! Tati and Roman were extremely flexible when we had to reschedule due to covid, and they even agreed to fly out to California for us when we moved the wedding to the west coast. Tati herself is a model and can help you pose to look your best! Hire them!!!

Devyn A.

Married on 08/27/2021

Look no further for your wedding photographer!

Where to begin with this amazing photographer duo!!! Tati and Roman go above and beyond to capture the perfect shot. They are incredibly talented and the proof is in the pudding! I am beyond thrilled with my wedding photos- not to mention both Tati and Roman made us feel incredibly Comfortable in front of the camera. After looking high and low for the perfect wedding photographer (that didn't shoot corny, run of the mill, stiff typical wedding poses!) hiring them was one of the easiest decisions I had to make. They really are the best!!!!

Dominic P.

Married on 07/10/2021

Stunning Photos, Awesome Video, Friendly and Accommodating Couple

Booking Tati & Roman was among our very first decisions when we started planning our wedding. We booked them for an engagement shoot, wedding photography, and wedding video. When we had to delay the wedding a year because of the pandemic, it was an easy, two-text process to get them booked on the new date. They were friendly, accommodating, and helpful throughout the process. Best of all: all of our photos - including the engagement and wedding - were stunning. They are incredibly unique, beautiful, and showcase the personalities of our wedding party and family. We also loved the videos, which avoided a lot of the cliches and trappings that modern wedding videos use. Thank you so much to Tati & Roman - we'd recommend them to anyone.

Freda Z.

Married on 05/15/2021

Absolute magicians!!

We are so happy we chose Tati and Roman for our wedding and highly recommend them for any event!! As a husband and wife team they're able to tag-team and communicate with each other seamlessly to get "the shot". They're also super friendly and help you feel more relaxed during the day. Our day wasn't the easiest of days in terms of lighting/weather considerations (thunderstorms!)/small spaces but they captured the emotions of the day so fully, we got some super creative shots we didn't even think of, and it felt like we were reliving the day when we saw them. Amazing work!

Victoria B.

Married on 11/09/2020

Amazing memories

Roman and Tatiana are so professional and easy to work with, the pictures came out amazing. We are very happy that we choose them to eternalize our big day.

Jason M.

Married on 09/12/2020

Great experience for our wedding!!

Fantastic photos! Highly recommend!!

Bogdan T.

Married on 06/11/2020

Tasteful captures & peace of mind.

When someone takes such amazing photos of our special event, it's hard to find the right words to thank them. We found Tati & Roman on Wedding Wire after weeks of searching for "The Ones" and now we cannot recommend them enough!

Tati & Roman have without a doubt exceeded our top expectations. Not only did they produce spectacular tasteful images, they perfectly captured and conveyed the sentiment from our wedding that we hope to keep with us forever. Above all else, they gave us peace of mind, which is just about all you can wish for on your big day.

Tati & Roman are truly masters of their craft! Thank you both so much!

Kendall W.

Married on 04/08/2020

Amazing photographers for City Hall wedding

Tati and Alex were amazing to work with! We got married at NYC City Hall (which can be a confusing process), but Tati guided us through it and made sure our day was seamless and fun. We had a great time taking photos around our neighborhood and Tati and Alex really captured our personalities and made sure we were comfortable by packing water and comfortable shoes in their bags for us. Tati scouted out some great spots to take photos in our neighborhood (including a shot where she had to climb a street sign!) and they were happy to include our two dogs in the photos. We absolutely love all of our photos and cannot recommend them enough!!!

Tati and Roman's reply:

Haha there is no obstruction that could stop us from taking a cool picture, if we have to climb - we climb! :D
Thank you Kendall, for your wonderful review!

Ac &

Married on 12/10/2019

Wonderful team and spectacular photos

We LOVED having Tati and Roman as part of our big day and we appreciated their support, thoughtfulness, and positive energy leading up to and through the day! They were incredibly professional and responsive throughout the booking and planning process, responding immediately to our initial inquiry and even following up with us to confirm that we were still interested before we had a chance to respond when they received an inquiry from another couple for our wedding date. Once we booked, the communication and coordination leading up to the day was seamless and supportive.

Tati and Roman were incredible to work with. They brought an amazing energy and warmth to the day, which made taking pictures fun, even though both of us are a bit camera-shy!

The photos, which we've been cherishing and sharing with family and friends, are absolutely spectacular! Not only do they capture the two of us in special ways, they capture details of the wedding and people's reactions and more that we missed in all the activity of the day. We couldn't be happier with them :)

Tati and Roman's reply:

Awww! Thank you! Thank you! Thank you guys for your such a personal and detailed review! We LOVED being a part of your day! You two are a blast! :)

Aaron

Married on 11/09/2019

Highly recommend them. Very professional and great quality work. They are very dedicated and full of creativity. Thank you guys once again

+ 7

photos

Lauren

Married on 10/05/2019

Beautiful photos

We had a wonderful experience with Tati and Roman and got photos that truly feature NYC! They were both responsive throughout the process and the photo albums we ordered arrived right before Christmas as promised. I also felt that we got both traditional and more fun photos that really reflected us as a couple.

Dan H.

Married on 09/28/2019

Exceptional Candid Shots

We were absolutely thrilled with both Tati and Roman from start to finish. They told us exactly what to expect before our big day and delivered exactly what they promised. Everyone we have showed the pictures to has commented how much they love them and how flattering they are. We specifically wanted more candid shots and less formal posing and we couldn't be happier with how perfectly they captured those organic moments. Absolutely recommend

Christina D.

Married on 09/22/2019

The absolute best! We love Tati and Roman!

Tati and Roman are an incredible duo. Their creativity and dedication to getting the perfect shot is unparalleled and we are so glad we chose them for our wedding. Even our guests noticed how present they were, never missing a moment throughout the entire event. Roman climbing street poles and jumping over parked cars on the streets of Manhattan to get the perfect angles was seriously iconic and something we will never forget. Tati and Roman compiled our high quality wedding albums quickly and incorporated all of our feedback without question. Overall, they were so agreeable and easy to work with, and made us feel so so comfortable which really came through in our portraits. As if their professionalism and quality of work wasn't enough, we now follow each other on social media and they've become friends! We highly recommend Tati and Roman and will be using them for every significant event of our lives!

+ 5

photos

Ken K.

Married on 09/14/2019

Highly recommended

Wow - the photos; amazing - our experience with Tati and Roman. We hired Tati and Roman for our engagement and wedding. We were comfortable with them right from the start. They were professional throughout, while at the same time being super friendly and charismatic. The photos, both from the engagement shoot and wedding, came out amazing based on Tati and Roman's direction and energy. We were amazed and so were our friends and family. Recommend these two wholeheartedly :)

Amy A.

Married on 08/17/2019

So glad to have Tati and Roman with us on our big day!

Tati and Roman are very easy to work with and extremely talented! My husband and I were able to enjoy all the day-of shenanigans and time alone together during our mini photoshoots, which were planned throughout. This team will guide you and give direction if you don't know what you're doing. We have amazing photos of our entire wedding day which are now priceless. I really hope to work with them again in the future.

V Rotella

Married on 08/02/2019

So Happy!!!

T&R are the perfect team. They know what they are doing so you can just focus on your wedding day and not stress about the results. The pictures themselves are dynamic, journalistic and above all, you can feel the love in every picture. We couldn't be happier, Thank you.

+ 3

photos

Tati and Roman's reply:

Thank you! Thank you! Thank you! Your opinion means so much to us! We're so happy for you! You are truly beautiful people inside and out - it was so easy and fun working with you two!

Betsy R.

Married on 06/29/2019

Photos by true artists!!

Tati and Roman were absolutely great!! Their warm personalities and sense of humor left us at ease throughout the entire process. Their careful planning and guidance allowed for us to enjoy our special day without the feeling of being rushed and stage.
We couldn't have been happier with the results of our wedding photos! We felt as if we had our very own personal-paparazzi for our event. They somehow managed to be around for every moment, and captured photos of the little things that often go unnoticed. Their attention to detail is brought to life through their photos.
We have received many compliments regarding the quality of our photos, with most people having the impression that each photo was edited to appear better, when in reality, the photos were untouched.
Are you interested?
Send a message