Reviews
4.6 out of 5 rating
Quality of service

4.6 out of 5 rating

Average response time

4.6 out of 5 rating

Professionalism

4.6 out of 5 rating

Value

4.6 out of 5 rating

Flexibility

4.7 out of 5 rating
93%
Recommended by couples
9 User photos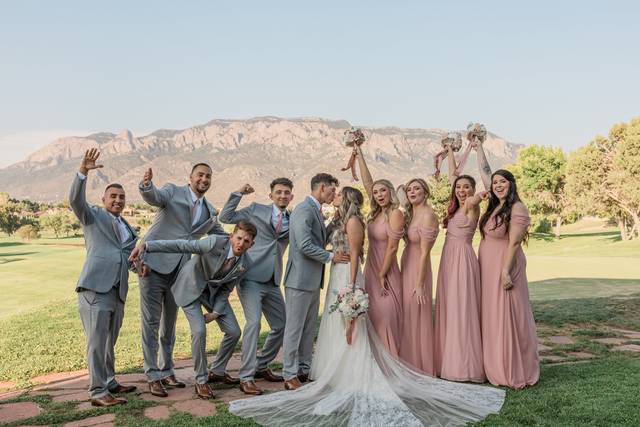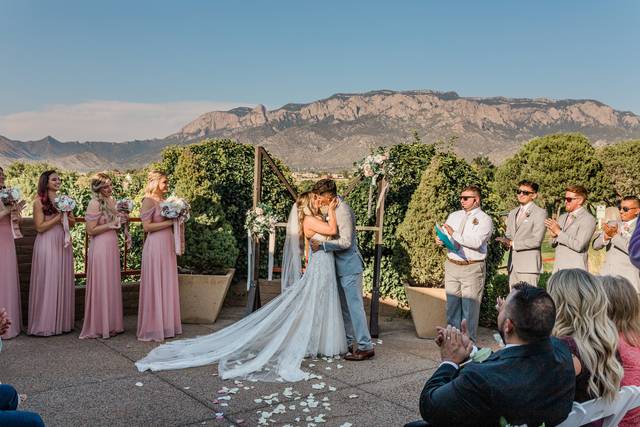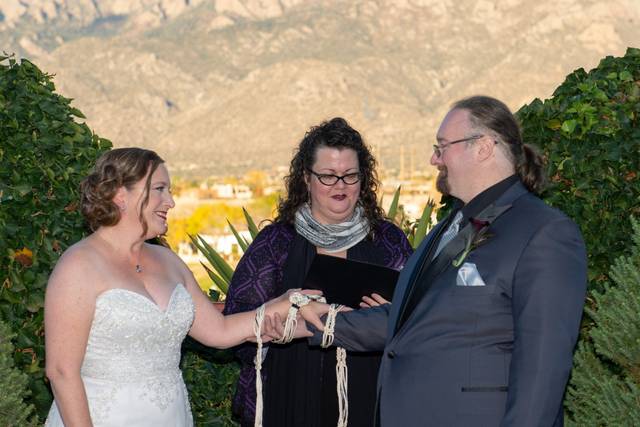 + 5

photos
Featured

Haleigh

Married on 09/10/2021

Nothing short of Amazing

Sunee and the Tanoan staff were AMAZING. Sunee was the sweetest. We booked a last minute wedding, and you would have thought it took years to plan. It was everything we wanted and so much more. The ceremony back drop is nothing short of breathtaking. The reception space is great and the reception staff is amazing. Overall easy to coordinate with, great response time and quality people! If I could replay my wedding at Tanoan I would do it without a doubt.

Tanoan Country Club's reply:

Haleigh and Matthew,
Congratulations! Thank you for allowing Tanoan to be a part of your special day, and thank you for the kind words. You were a dream to work with as well. Wishing you nothing but happiness!!

xo- Sunee and the Tanoan Staff

Emily S.

Married on 04/23/2022

Beautiful venue

For our small wedding Tanoan was amazing! The views were beautiful and the staff was awesome, they helped smooth over any issues during the event. Sunny was an awesome event planner for us, she answered every question and even had some great suggestions when we didn't quite know what we wanted.

Tanoan Country Club's reply:

Hi Emily, It was a pleasure working with you. We wish you nothing but the best for the future!
XO- The Tanoan Team

Lori S.

Married on 04/03/2021

Wedding of Our Dreams!

Sunee was a pleasure to work with. She was very responsive and flexible, especially considering the COVID environment we were dealing with and the rescheduling of our ceremony from April to September due to gathering restrictions.

Sunee was clear about the offerings of the Tanoan experience, and very patient in answering our questions along the way.

We chose Tanoan because of the beauty of the venue, the country club/golf course setting, the views, the pricing, the balcony off the main ballroom, as well as the fact that Tanoan staff set up and tore down everything. We didn't have to worry about cleaning up afterwards. It was spectacular.

The food was delicious, and the portion sizes were larger than expected.

The wedding day was smooth as could be. It resulted in the wedding of our dreams, in large part to the professionalism, planning and execution of the entire event by Tanoan staff. Not a single thing went wrong. Tanoan staff were so helpful, friendly, efficient, professional and courteous. They made the evening amazing for my husband and I, and our guests.

We highly recommend Tanoan for all your events!

Tanoan Country Club's reply:

Hi Lori, It was a pleasure working with you! Thank you for entrusting Tanoan for your special day. We wish you the best!
XO-Team Tanoan

Are you interested?

Send a message

Charlie P.

Married on 11/09/2020

Summary of Tanoan

The location was great. The staff were very friendly and personnel worked with us to get a great experience. They were also upfront about costs of the wedding and that helped a lot. Food was also great and everything was seamless as far as the wedding went. Location was beautiful.

Alex G.

Married on 11/24/2018

Fall Wedding

The Tanoan event planner and professional ceremonial staff added tremendous value to our wedding day and would highly recommend them for your next special event.. The indoor/outdoor setting, food menu, and spot on service exceeded our expectations.. " HOOAH' to all the Tanoan Staff!!

Rosa Z.

Married on 11/18/2018

Perfect in every way... want to do it here again!!

We had a surprise birthday party at the Sandia Grille for my 85-years young mom and everything was perfect and smooth! I want to do it again! Working with Sunee was so easy and clear. The room decor was beautiful and of course the view spectacular! We had an open cash bar and the staff was very professional and attentive in everything we asked. The food was cooked perfectly! I admit I was a bit worried with everything else going on to put this together, but was soon put at ease with confidence once I got to the Tanoan. It was a very memorable experience and I would wholeheartedly recommend The Tanoan Country Club to all my friends and acquaintances.

Richard F.

Married on 11/05/2018

Business Mixer review

I found the staff at Tanoan Country Club to be very proactive in working with our group but they were not pushy about getting information. They had great suggestions for a first time event for our organization and the staff on the night of the event were amazing.

Ashley L.

Married on 10/31/2018

In Love With Tanoan

We started our venue search a full year before the wedding and looked at eight locations. We chose Tanoan for three main reasons: location, food, and staff.
Our first visit to Tanoan was a private meeting and tour with Sunee, the Events Coordinator. That went so well that we came back for a bridal show where we could look around again and take some more time to jot down thoughts and ideas. Both times, the staff was amazingly courteous and respectful. I knew I wanted that treatment for my guests.

The food is absolutely delicious from the first h'orderve to the main course. My husband is a chef and was very critical of the menus at each location. Tanoan had a great selection on par with other "top rated" venues and it was so easy too add changes for guests with specific needs.

The location is beautiful. I wanted the "snack you in the face" mountain view that my out of state friends and family never experienced. The indoor-outdoor environment was perfect for our needs as this was a sunset fall wedding with dropping temperatures after the sun went down.

My guests still find such great things to say about the wedding, the food, and Tanoan and I couldn't be happier with our selection. Sunee and the entire staff made everything wonderful!

+ 2

photos

Danuta

Married on 06/09/2018

I could not be more happier with Tanoan country club. They did a phenomenal job from day one, to the wedding day and they we're still very helpful, prompt and professional even after the wedding. Sunee and the staff at Tanoan we're very professional, and willing to help in anyway that they possibly could to make this day that much more special for my husband and I. I would highly highly highly recommend Tanoan country club if you are looking for a
Gorgeous, breathtaking, classy, professional, place to say I do/reception. You will not be disappointed I promise you that . I have absolutely no complaints. Thank You Sunee and Tanoan for making the Medrano Wedding one to remember!

Tanoan Country Club's reply:

Hi Danuta! We were so honored to be a part of your special day! You were such a pleasure to work with, and so very organized. We wish you and Gabe nothing but happiness for many years to come! Thank you for choosing Tanoan Country Club!
- Sunee and the team at Tanoan

Rubi

Married on 07/15/2017

Sunee and Tina were our wedding coordinators -- they are great! From the beginning, they were professional, easy to get ahold of, answered all of my questions (I had more than a few), flexible with last minute changes, friendly, and made the reception planning a breeze!. Tanoan was out of our price range for a venue, but it truly is worth it! The food and service were excellent, our guests really enjoyed their food and we loved being able to provide entree options for our guests. My husband and I are SO glad we went with Tanoan for our wedding reception.

Yolanda

Married on 12/29/2016

By far the most pleasant staff to work with and very helpful from start to finish. The food and views are amazing. You can't go wrong!

Tracy

Married on 09/30/2016

The event was flawless. Tanoan Country Club was a terrific place to hold a special event. I would use them again.

Priscilla

Married on 09/05/2015

I don't even know where to begin! I booked the Tanoan Country Club in February and Michelle the event coordinator was there every step of the way until the day of the wedding. She was very professional, friendly, flexible, and easy to get ahold of which was super important. The view is just breathless trust me when I say this.. Your wedding pictures will be amazing! You will get great service, variety of options for your menu, reasonable prices, outstanding photos! I absolutely recommend this place!!

Sabryna

Married on 08/08/2015

I was unbelievably happy with this location they made my day the best it could be. I absolutely love tanoan and I highly recommend them

Iggy

Married on 03/09/2013

I held my wedding and ceremony at Tanoan Country Club in Albuquerque, NM and was EXTREMELY pleased with how everything tuned out. Lauren, Sunny and Kaitlyn were so friendly, and helpful. They were prompt in answering all my questions and were very professional. Also, they were very flexible with my rehearsal being available at 7:15pm on a Thursday night to accommodate my bridesmaid's work schedules.
This venue is beautiful with amazing views and incredible staff. I wouldn't think twice about recommending Tanoan Country Club to my friends.
Thank you,
Matt & Iggy

Annalyse

Married on 07/19/2008

This place is amazing! If you live in Albuquerque you know that Tanoan is "Ritzy"...let me say that the price is worth what you get!!! I could only get married on ONE day and they helped me accomidate everything for the reception! The food was amazing and the view from the room was incredible. The city view was wonderful and the mountain appears huge next to the club. You get beautiful pictures out on the golf course.

The staff was wonderful! During the event we had appetizers sent to us on the golf course and we lounged in the bar downstairs while our guests ate and drank upstairs... We were so blessed!

The Event planner worked out a deal that was perfect to our budget - we had a maximum amount that we could spend that met the minimum for the banquet...and we just added up the totals of our food and beverages until it met the maximum...it ended up that we had a little extra we could spend and got AMAZING appetizers!!!

It was a perfect day...it really was!

Elyse

Married on 08/25/2017

Sunee is the best and helped us create our perfect wedding. Thanks so much!

Krista

Married on 07/23/2016

We LOVED our reception at the Tanoan.

Tanoan Country Club hosted the cocktail hour and reception for my March wedding. The event director was a pleasure to work with. She acted like an on-site wedding planner which was exactly what I needed as a bride planning an out-of-state wedding. The food was delicious! Most of guests commented on the food. The rest of the staff was helpful and professional. The views of the Sandia Mountains from the ballroom were spectacular! It was a dream come true to have my wedding reception here.

Keenan

Married on 07/16/2016

Tanoan was great! The backdrop is absolutely gorgeous. They worked around our schedule and accommodated everything we needed. The only problem we had was our coordinator over there left about a month and a half out and that slowed us down a bit. For not having a full time coordinator for a brief time they still did a great job at meeting with us and making sure everything was satisfactory. My wife and I highly recommend it!

Tiffany

Married on 07/21/2012

Overall I was satisfied in our choice of Tanoan for our ceremony and reception. The ceremony site was beautiful and they did a nice job decorating for the reception. The food was really good and they provided us a tasting for the bride, groom, and two other people. We did run into a few snags with Tanoan along the way. We signed our contract 13 months before our wedding after an extensive meeting with the person in charge of weddings at the time. I had a list of questions that she answered and because of her answers we chose Tanoan as our venue. A couple months after signing our contract I found out this woman had been terminated when trying to call about making a payment. I met with the new person in charge of weddings as was given conflicting information. I had originally been told if we brought our own chair covers and sashes they would put them on for free. I was also told that alcohol would be included in the the minimum amount we were required to spend. The new lady in charge said they could not agree to either of these things. So I would recommend getting everything in writing from them. She did agree to put the chair covers and sashes on for $1 each trying to compromise. I was satisfied with her responsiveness she always called back or emailed me responses to my questions usually the same day. My other concern came with our rehearsal I scheduled it 10 months in advance on a Thursday evening. A month before the wedding when I went in to make a payment I was asked if I had made a decision about how I wanted to change the rehearsal. I explained I didn't know what they were talking about. I was told that someone had scheduled a wedding for the time of our rehearsal so we could either move our rehearsal to 1:00 the same day or to a different day. The day of the wedding the room where the reception was held was very HOT. I would recommend making sure the air conditioner is in working order if your getting married in the summer.

This venue is absolutely beautiful! And the staff during my wedding was great. Especially Joe, one of the servers. He was always making sure my husband and I had everything we needed and was cracking jokes with us which made us even more comfortable. He made us feel like we were working with family. As a matter of fact, I had more contact with him than my banquet captain, who I think I only spoke to twice in the whole event. My only complaint that I would say I had about this venue is I expected the ceremony space to be ready at least an hour before my ceremony was going to start, and it wasn't. But all in all, my day was still special and I will have many great memories of my wedding at Tanoan Country Club.

Tanoan Country Club's reply:

Carla,
We are so happy to hear that your wedding was so special! You were so fantastic to work with so calm about the whole process.
I am sorry for your disappointment about when the ceremony was set. Sometimes we must wait to set the ceremony site because vendors (photo booth, DJ, cake, etc.) have not set up yet and must come in through that space. We certainly do not want them to ruin the aisle runner or decorations. I am sorry if we didn't communicate that to you properly.
I wish you and your husband nothing but the best in the future! Thank you for choosing Tanoan Country Club!
Best Wishes- Sunee, Tina and the Tanoan Team

We had the reception there and everything was beautiful. They set up all the homemade centerpieces I brought and were flexible with how I wanted the theme to look. I would have liked to have the ceremony there, but it was just too small for 170 guests. Plus it was outdoors, which would be a little too cold for a November wedding. They were really willing to help with everything we needed too. They even helped suggest other vendors within our budget. It was a little more expensive than I was planning though, but they did a great job.

Ashley

Married on 12/15/2018

Excellent Initial Arrangement - Execution a Little Lacking

My husband and I had our wedding reception at Tanoan this past December. The location is great, the space is wonderful and the view from the windows of the Sandia Mountains is beautiful! Sunee, the coordinator who works with you to arrange the event, is amazing; she is professional, prompt, and she is very easy to work with. The planning part was, for the most part, pleasant. Unfortunately, the night of our reception didn't go off without a hitch--Sunee wasn't present, and the staff who were there serving at our wedding seemed a little confused and scattered. I was supposed to have a couple of flower vases; one for my bouquet and another for flowers on the guest table, but there were none to be seen--so I had to ask the reluctant bartender to find a few for me. We also had a hot cocoa bar set up, and I asked for the decoration to match my wedding colors--purple and silver--but it was set up with red (which didn't match anything else). We were told, during the course of the night, by our DJ, that the kitchen was pressuring him to announce the cake cutting; which we agreed to have him do, but when we got to the cake, there was no knife or serving utensils ready to use--which I had been told there would be. We had to catch a waiter, who seemed confused, but said he'd go look for some. We waited in an embarrassed silence for several minutes with an audience watching, until they found a knife for us to use. The cake cutting service was slow to happen after that (a service we were charged for) and many of my guests told me afterward that they hadn't received a piece at all. All in all, these things didn't ruin the night and were comparatively minor, but they were unfortunate, especially since they had been directly addressed beforehand in our initial reception planning. The table setup was great, the view was awesome, and we had a lot of compliments on how pretty and fun our reception had been.

Jalena

Married on 07/06/2019

Horrible service, beautiful location.

The person you meet and worked with in the beginning is an absolute delight. Unfortunately she is nowhere to be found when the time comes. At our rehearsal we suddenly got a different person entirely and so much of what we planned didn't get passed along. We were 15 minutes late to the rehearsal dinner because of construction and she started tearing down the site and told one of our wedding party, not us, that if we had limited time. This was never communicated to us and left me standing there with 32 people and no rehearsal. She ended up letting us do it but she expresses irritation. I had pre approved my disabled fathers service dog and the day of the GM threw a fit and very rudely forced my father to go to an up stairs restroom and get dressed by himself, this was the father of the bride, and he has difficulty navigating stairs. They didn't set up the sound system at the ceremony site because "they assumed my DJ has this covered". Our final guest count was 81 people of which 76 showed up and for some reason they were telling my guests that they may not get served. We paid for a keg to add a free option and the bartender didn't tell a soul this was am option. That $400 keg went untouched until 10:40 at night and when I asked the bartenders to just take if off the bill as there was no way we could go through even half the keg by this time they simply said it had already been tapped and couldn't. We were told we had the reception hall till 12:00, suddenly it was 11:30 leaving the banquet crew exceedingly upset, this was not something hid well and the captain even began yelling at one point. In our rushed abs stressful attempt to clean up quickly we left our engraved champagne flutes my father had given us on the table and the next day they told us they told us they never found them. Our gratuity for this event ended up being $1200. And they couldn't even be bothered to box up my cake. Horrible service. With all that being said, the location was absolutely stunning.
Are you interested?
Send a message