20 Reviews
Recommended by 100% of couples
Quality of service

5 out of 5 rating

Average response time

5 out of 5 rating

Professionalism

5 out of 5 rating

Value

5 out of 5 rating

Flexibility

5 out of 5 rating
Awards
9 User photos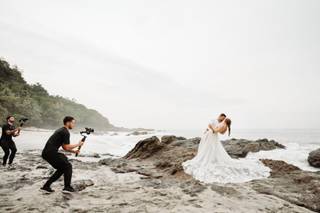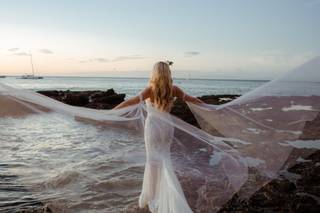 + 5

photos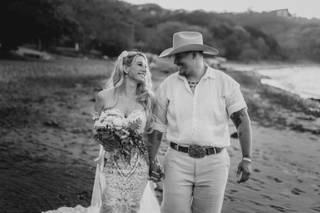 Featured

Katie S.

Married on 07/17/2021

Best decision you'll make for your wedding

I can't recommend this team enough. In late 2019 I started my search for the perfect videographer. When I tell you I researched all major videographers in Costa Rica, I'm not exaggerating. Our wedding video was probably the 2nd most important aspect for our wedding, so I was pretty picky about who we would go with. When I found TamCam Media, they had less than 5 wedding videos on their profile. But every single video was absolutely amazing. They captured moments, personalities, light, nature, and all of the small details in a way that other larger videography company's didn't. It was easy to see that they strived to give their clients a unique wedding video specific to their wedding day.

Our wedding was originally supposed to be in July of 2020, but due to the pandemic, we had to postpone to 2021. TamCam was super flexible and we had no issues rescheduling our date. We received our wedding video a month after our wedding and it was absolutely BEAUTIFUL. The music they chose for our video was perfect, and Angelo and Joey work so well together as a team. They definitely have a gift/talent and captured our wedding day beautifully.

Jason

Married on 04/03/2022

Very Flexible Company

We hired TamCam to do videography for our wedding in Tamarindo, Costa Rica, however, the wedding had to be postponed due to COVID-19. They were very quick in returning our deposit and if we're able to reschedule, we'll absolutely hire them again. Their videos are great and we hope to have a video of our wedding at some point in the near future.

Heidy Q.

Married on 04/02/2021

Absolutely Amazing!

TamCam Team is absolutely amazing, they are incredible attentive, talent, organized and make the clients the best day experience, as a Wedding Planner I can say the success for an event depends of the all team of vendors working together in harmony, and I can highly recommend them as a top vendor and as a top videography company to work with!! Don't miss the opportunity to have the best Video for your Event!

TamCam Media's reply:

Thank you so much Heidy. It was a pleasure working with you and you organized one of the most beautiful weddings we have ever seen! Looking forward to working with you in the future.

Are you interested?

Send a message

Sonia K.

Married on 02/27/2021

Awesome Amazing Team! Book Them!

AMAZING! This review is well overdue since our wedding was in Feb, but I wanted to make sure I got on here and gave them credit for their great work!
Last year was a crazy hard yr for us for personal reasons and going to Costa Rica was a breath of fresh air. Meeting people like Angelo and Joey helped to make it an incredible 3 week adventure. They were so easy to work with. From meeting by Zoom before hand, to keeping in touch on getting details of what we wanted, to the day of. They were very helpful at guiding us in what to do and while they took their job professionally they seemed to have fun doing it. I'm a very easy going person and I liked that they were easy to work with and talk to. It makes it so much more relaxing.
The videos they did for us were incredible! We've been thanked by so many people for having video taken to share with those back home that didn't make it. I loved the style and way they did the video. Including remembering to add little things I asked them to like local scenery, turtles, etc. They even did a video for us of the speeches and the wedding party jumping in the pool afterwards. They put so much thought and effort into the details it was very much appreciated. There's been a lot of happy tears by all that have watched it. Meghan was a great help in communicating with us post wedding as well on getting the finishing touches done for the video. Thank you!
I 100% recommend them and would use them again if I were local. Who knows maybe someday I might be! I can't post the video, but ill post a couple picts from the day.
Don't hesitate & book this team! You'll be glad you did.
Christopher & Sonia

TamCam Media's reply:

Sonia, thank you SO MUCH for taking the time to write such a heartfelt message. You are such a loving and deserving couple. We wish you the happiest marriage and the most amazing life together.

We really hope that our paths will reunite someday!

Autumn A.

Married on 05/10/2020

The Absolute Best

We had the best experience with this film crew. Their work blew us away. We knew it would be good but had no idea that it would be perfect. Everyone cries when they see the sweetness captured. They worked with two fussy toddlers and even caught a few smiles in the process. Would absolutely recommend them to anyone who is looking for a videography team!!!

TamCam Media's reply:

Thank you SO much Autumn & Eddie for the beautiful review. We almost cried too! We had a great time with you and the girls and hope to see you again sometime :)

All the best,
TamCam Media

Randall W.

Married on 03/16/2020

All around the perfect choice in a videographer

This team is great, I'm so glad we went with them to make our wedding video. My fiancé and I looked at so many wedding videos and companies and landed upon TamCam with full confidence. They have excellent communication (fast, straightforward, accommodating), were fun to work with, pick our great song selections and made a video that perfectly captured out wedding day. They were great at picking up on the "vibe" we wanted for our video and helped us to pick out songs and make suggestions while at the same time completely open if we wanted to make some changes or add in a few shots from the raw footage we loved. After watching all the footage, we even decided to upgrade to the longer video! They were professional before during and after the wedding and worked well with our other vendors. Thank you TamCam for making this experience a wonderful one, we love your work!

TamCam Media's reply:

Thank you so much Randall & Anthony for your beautiful review. It means a lot that you took the time to write out each detail. We are so happy for you two (and your dogs haha!) and we are certain that you will have a long and happy marriage! Thank you for trusting us with the important task of capturing your special day. Love, TamCam!

Elizabeth E.

Married on 03/05/2020

Wedding Video

TamCam did an amazing job with our wedding video. We had a small wedding so it was a beautiful way of sharing our special day with the many people that were not there. The video itself brought tears to our eyes. It captures the many emotions of a wedding day, and will be a forever reminder how special that day was for us. They came in such a timely fashion, knew exactly what they needed for certain video shots and were super friendly. My only regret is not choosing the longest video option... it is just so special to watch and in hindsight I wish I chose the longer one and splurged $ . Advice: get the longest option possible, you'll want it after your wedding day is in the past. Cheers to TamCam , they were wonderful.

Patricia F.

Married on 02/29/2020

Excellent job, we loved them!!

Outstanding team! They're so professional and efficient and you can tell that they love what they do. So impressed by their work and would highly highly recommend them!

Ericka

Married on 02/16/2020

Emotional Video

The best crew to work with, thank you very much , Megan, Angelo and Joy . You guys are the best, you video touch our hearts the love and magic you put it into . Thank you from the bottom of our hearts.

TamCam Media's reply:

It was such a pleasure working with both! Hope to see you again soon :) We wish you a long and happy marriage!

Melita G.

Married on 01/05/2020

Excellent Wedding Videographer

Tam Cam produced an awesome video of my daughter's destination wedding. They capture Costa Rica's beauty along with the emotion of the day. I would highly recommend them. Trust in their vision.

Elissa D.

Married on 12/04/2019

Highly recommend, high quality videos and great service

This team was such a pleasure to work with! They were extremely professional and answered all of our questions to make sure everything was covered. Their attention to detail and amazing attitudes made for such an awesome experience. We can't thank them enough!! Would recommend 100%

Michelle O.

Married on 06/29/2019

Beautiful and heartfelt highlight video

Our video was beautiful and heartfelt. It was so cinematographic! I loved the song they chose. It was unique and upbeat! For those that we're not able to come I feel it definitely captured the energy of the day, the crowd and of the beautiful location.
Every time I watch it I cry, my husband even cried! It is worth everything and is such a lovely highlight video of our special wedding day.
Tam Cam was so lovely to work with and very friendly! I highly recommend them and their services !

James K.

Married on 06/15/2019

A day to remember

I just want to start off by saying thank you so much to Angelo and Joey for their wonderful services on my mother's wedding day. They did such a beautiful job. They not only were professional and great at what they did but they also made the atmosphere comfortable and easy going. Their editing skills are next level and they told a beautiful story through their work. Highly recommended. Pura Vida!

Kathryn G.

Married on 06/09/2019

Professional Top Creatives

Without much guidance TamCam knew exactly what we wanted out of our wedding video. They capture even the littlest moments we will cherish forever. Very professional and polite as well for such a young team. Amazing job and highly recommended!

Valerio M.

Married on 05/11/2019

Fantastic!!!

On my daughter's wedding I wanted to have only the best and a very special memory that would last forever. I was stunned by the quality and professionalism of the guys of Tamcam. I really didn't expect such an amazing result, the video is like an Hollywood movie that caught unbelievable details and moments I can't understand how I've missed during the ceremony.
I've watched it again and again with family and friends and they were all glued to the screen with their mouths open!
I can't thank you enough for this wonderful movie. Fantastic job, Tamcam!!

Lina M.

Married on 05/01/2019

Wedding experience video

Where do I even start with how incredible the video TamCam media made for my wedding. They managed to capture memories in a video that I will forever cherish. They made me relive the best day of my life and I will be able to relive it as many times as I want to with my loved ones. I highly recommend TamCam media to let you experience this feeling as well. Very professional and amazing service they provided us with a good price. They incorporated moments and let us see our night in a special kind of way. All smiles! Thank you once again! You guys made my wedding that much more magical!

Meghan K.

Married on 04/02/2019

The full package!

Having TamCam there on my wedding day was one of the best decisions I have made! They were easy to work with and made me and all my guests extremely comfortable (I'm camera shy). They completely understood the vibe of the wedding and translated that to a beautiful video. Incredible attention to detail, great candid moments and the fact that they are a team of 2 means they don't miss a beat.
We still cry when we watch it. Thanks again guys, looking forward to future projects with you.

Anton

Married on 11/21/2018

Amazing time

I was in charge of the video for my sisters wedding and stumbled across TamCam while browsing. And I am GLAD I did. The amount of effort and care they put into getting a nice compilation done for us was astonishing! Very professional and a pleasure to work with !A++

Sarah

Married on 10/01/2018

The BEST videographer

These guys are not only professional but they're amazing people. They made everything so easy and fun! I'd definitely recommend them. I had some personal request and they did everything I asked and more!! Thanks guys!!

Tali H.

Married on 06/21/2018

Unbelievable experience!

I was absolutely blown away with the video these guys produced for my wedding! They captured all the best moments beautifully and the way they pieced everything together was incredible! My family and I were in tears after watching the film. It was a true masterpiece! Thank you so much for creating such a beautiful memory.
Are you interested?
Send a message