57 Reviews
Recommended by 100% of couples
Quality of service

5 out of 5 rating

Average response time

5 out of 5 rating

Professionalism

5 out of 5 rating

Value

4.9 out of 5 rating

Flexibility

5 out of 5 rating
34 User photos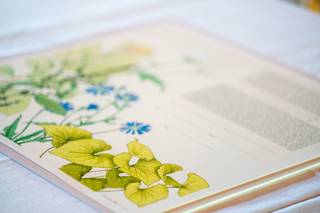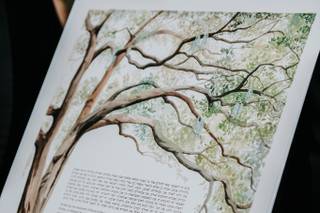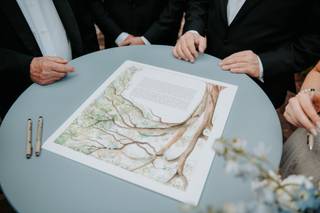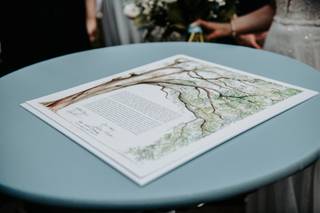 + 30

photos
David M.

Married on 12/29/2022

Wonderful work

Rachel and Tallulah were wonderful, fast, communicative. The item was well-packaged and looks beautiful on our wall. Thank you!

Hallie P.

Married on 12/03/2022

Beautiful Ketubah!

Our ketubah was so beautiful. Rachel was quick in getting back to us, and her beautiful wording and handpainted design look beautiful in our home.

Amanda F.

Married on 10/08/2022

Absolutely love our Ketubah from Tallulah Ketubahs

Would highly recommend Tallulah Ketubahs. Not only is our Ketubah beautiful and we were able to design the text to fit our two backgrounds, Rachel was great work with. Professional, fast communicator, flexible, friendly, and she put some lovely final touches on our Ketubah when she sent it. Can't say enough good things!

Are you interested?

Send a message

Mallory M.

Married on 10/08/2022

Beautiful ketubah!

Working with Tallulah Ketubahs was truly a pleasure. Rachel was super quick to respond and very kind throughout the entire process. She ensured everything was perfect before sending it to print. As part of an interfaith marriage, we wanted to make sure the ketubah represented both of us. It came out exactly as we wanted it and it is absolutely gorgeous! We look forward to having it on display for all to see in our home. Thank you so much!

Marshall S.

Married on 09/24/2022

Wonderful, unique Ketubah!

We chose a very unique Ketubah from Tallulah Ketubahs. She was very responsive, and we were able to choose our text (and even make corrections to some of the Hebrew phrasing); they were very gracious and accommodating, and were able to get the ketubah shipped out quickly and well-packaged (including an archival ink pen).

Emma K.

Married on 09/04/2022

Gorgeous and unique

We love our ketubah! We chose a secular ketubah in English which was perfect for our interfaith marriage. It is modern and unique and absolutely gorgeous. It arrived quickly and we had seamless communication throughout the process. So happy with our experience! Highly recommend!

Julia S.

Married on 07/30/2022

12/10 would recommend

Working with Rachel to design our ketubah was incredible. Her designs are beautiful, she was so responsive and helpful editing the wording and making sure we were 100% happy with everything. I cannot recommend her enough - we get so many compliments on our ketubah!

Alex H.

Married on 06/26/2022

Gorgeous ketubah!

Rachel was a pleasure to work with and our ketubah is gorgeous. It came even more quickly than we expected and was flawless. We went through just a couple of proofs, and Rachel was very speedy each time. We also used a text for our ketubah that wasn't one of the sample ones, but it was not a problem at all! Overall, we couldn't be happier with the experience and the result!

Barak

Married on 06/19/2022

Artistic, Creative, and Attentive Calligrapher

When Lauren and I we were seeking out the special calligrapher who could create our Ketubah in the way that we imagined, we stumbled across Tallulah Ketubah and we are so happy that we did.

Rachel quickly caught on to our vision and was attentive to our various special requests as she worked closely with our Rabbi, and provided us with sketches and proofs along the way so we could better imagine the final product (and especially so there would be no mistakes or surprises).

Thanks for such a beautiful work and for making our Ketubah as visually special, as it is everything else

Ethan A.

Married on 06/12/2022

Incredible!!!!

Working with Tallulah Ketubah was such a highlight of our wedding. Not only were they incredible and thoughtful to work with, but we now have a gorgeous ketubah in our home to remember the day. Rachel was so thoughtful and open to collaboration for a multicultural ketubah, we incorporated features from our Jewish and Hindu backgrounds. Rachel did a lot of research on her own to bring in elements that represented us! She is a true artist and we're so grateful to have worked with her.

Bill R.

Married on 05/22/2022

Beautiful and everything we wanted

Rachel was really easy to deal with, we gave her some thoughts on what we were looking for and she came up with a beautiful design that we love and the colors she selected were perfect. We were able to tie our Rabbi in to make sure the text was good, and all was easy. Once we received it the week of our wedding it took our breath away!

Talia R.

Married on 05/21/2022

Beautiful ketubah

Rachel made all the little changes we asked for and provided us with a a proof very quickly. The Ketubah came and we could not have been happier with it. This beautiful symbol of our marriage will hang in our home for years to come 💗 thanks Rachel!

Todd C.

Married on 05/01/2022

Amazing Ketubahs!

Tallulah Ketubahs did an absolutely amazing job in making a unique and customized ketubahs for my wife and I. She took our high level comments, worked with our through multiple drafts, and ended up producing a beautiful ketubah that was unique and special to us. I would highly recommend her work to any couple!

Natalie M.

Married on 03/19/2022

Beautiful Ketubah

We absolutely love our ketubah and it was such a meaningful part of our wedding. Rachel was wonderful in adjusting the Hebrew according to our Rabbi's recommendations, and it now adds beautiful decor to our home.

Jodie R.

Married on 03/06/2022

Review of our custom Grand Canyon Hamsa Ketubah

I reached out to Rachael with a intricate idea for the ketubah for our wedding. She listened intently and was able to provide suggestions to bring our vision to life! Her artwork is truly one of a kind! We are thrilled to have our ketubah hanging in our house as our first custom commissioned piece of art!

Rachel captured our love for each other and love of the desert in our Grand Canyon themed hamsa ketubah! Everyone (goyim included) told us that ours was the most beautiful ketubah that they had ever seen. Our guests were so enamored by it that we had to find somewhere else to eat at our reception! Her calligraphy is gorgeous and adds to the beauty of the ketubah and we're so glad we decided on that option.

I would 100% recommend her to anyone who is looking to have their ketubah as a centerpiece in their wedding and home.

+ 14

photos

Hannah S.

Married on 02/20/2022

Gorgeous art, easy to work with

It was great working with Rachel and our ketubah turned out beautifully! She had lots of text options to choose from, and was very open to customizing both the Hebrew and English based on adjustments we asked for.

Haleigh

Married on 10/29/2021

Amazing service

Rachel was absolutely wonderful! Her communication was almost immediate and we received the product so fast. It was absolutely perfect. We are an interfaith couple and the wording brought tears to ours and all our guests eyes. My uncle painted around it as this is our family tradition.

Highly highly recommend using this company. They are amazing. Plus what a special touch to hear from Rachel the morning of our wedding wishing us well.

Photos by : Hanna Walkowaik Photography

Laura R.

Married on 10/23/2021

Easy, fun process to make beautiful custom ketubah

Easy to work with, great communication, and now we have a beautiful custom ketubah that will hang in our home forever. Rachel is based in PA and I'm in CA. Ketubah arrived on time in perfect condition. Thank you!!

Heather K.

Married on 10/15/2021

Beautiful work and easy process

Rachel's work is beautiful and she is very easy to communicate with. I also found that this was a reasonable price for such lovely artistry.

Merissa F.

Married on 10/10/2021

Beautiful work!

My partner and I couldn't be happier with our ketubah. It's so beautiful and we it was a joy to work with the vendor.

Danielle B.

Married on 10/10/2021

Meaningful and Professional

Working with Rachel to customize our ketubah was a fantastic experience in the months leading up to our wedding. My partner and I chose the text that spoke to us, but also wanted to make a few alterations to the Hebrew, which Rachel was able to accommodate with ease. She even attended my Jewish Wedding Book Club to talk about the art history behind ketubahs, which added extra meaning to our ketubah design process. Today, our "Lovebirds in the Garden" papercut ketubah hangs in our home and is a beautiful symbol of our commitment. I would absolutely recommend working with Rachel on your dream ketubah!

Lexi B.

Married on 10/02/2021

Rachel Marks

I worked with Rachel Marks to support the design and creation of my Ketubah. She was extremely timely, creative, and accommodating. My husband and I wanted to find someone to bring our vision and idea to life. Rachel spent time on the phone with me and sent me numerous proofs before finalizing the Ketubah. She worked closely with our rabbi to ensure that all the Hebrew and English translation was correct and she was extremely detail oriented throughout the process. I would highly recommend working with Rachel as she is a top notch designer and artist. 10 out of 10!

Jessamine C.

Married on 09/10/2021

Personalized, Beautiful Ketubah with Ease

Tallulah Ketubahs was an excellent resource for us when creating a non-standard ketubah for our blended marriage. We chose Tallulah Ketubahs because they were able to personalize our ketubah completely and use the text we wrote ourselves. We chose the butterfly garden design and also included a parents gift, which went over very well! Rachel, the founder and designer, was very responsive to my questions and so helpful throughout the process--she even sent us a sweet note on the day of our wedding. Rachel made it super easy to know how to frame our Ketubah and even included the correct pen to use! It means so much to have a work of art that represents us so beautifully in our home.

Emily

Married on 08/28/2021

Beautiful personal work of art!

Rachel created a beautiful ketubah for my husband and me. We are a mixed faith couple, but loved that ketubahs represent our commitment to each other. We used one of the non-denominational templates for the written words, and had our close family and officiant sign the ketubah at our intimate wedding. We now have the piece framed and it looks wonderful! We would recommend Tallulah Ketubahs for couples interested in an artistic representation of their marriage.

Michelle S.

Married on 08/27/2021

Incredible!

Stunning Ketubah that we will cherish forever. Working with Rachel was amazing. She was so responsive and helpful. Would recommend to everyone!
Are you interested?
Send a message