Reviews
4.9 out of 5 rating
Quality of service

4.9 out of 5 rating

Average response time

4.8 out of 5 rating

Professionalism

4.9 out of 5 rating

Value

5 out of 5 rating

Flexibility

5 out of 5 rating
98%
Recommended by couples
Awards
36 User photos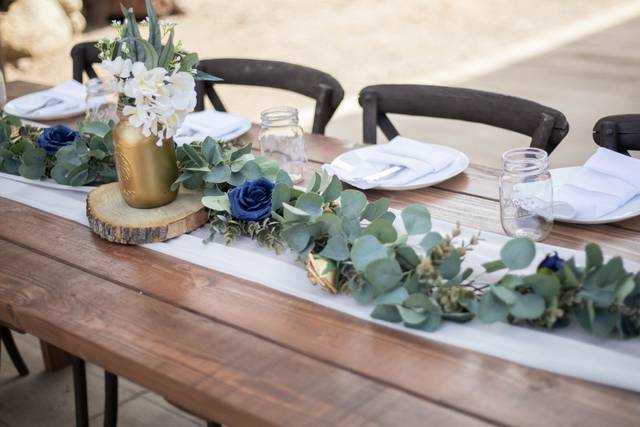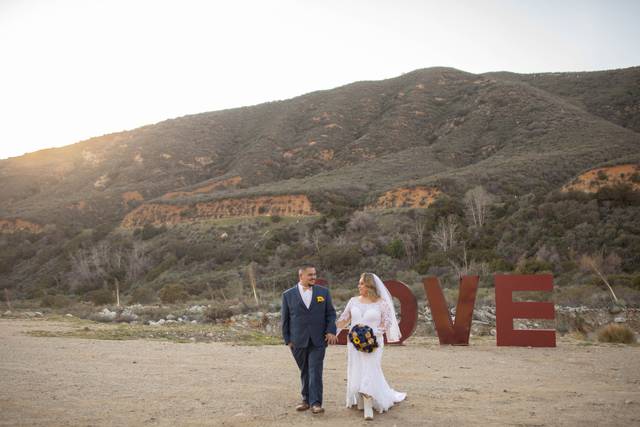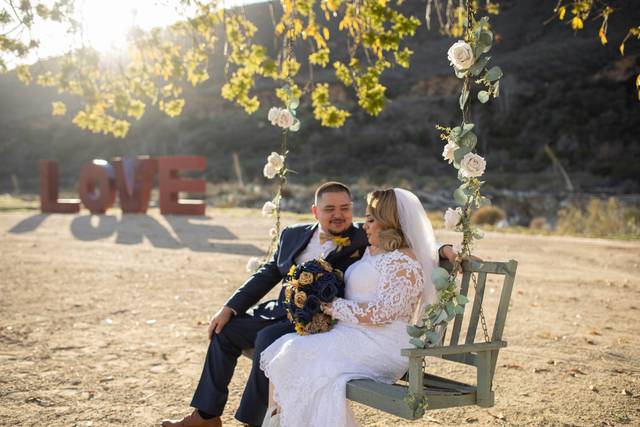 + 32

photos
Falicia

Married on 01/28/2022

Do not hesitate

I cannot put into words how much this venue and staff did for our special day! This was our dream wedding come true, I promise you they will take care of you and more. From day one they welcomed us like family. I highly recommend the all exclusive as literally everything was taken care of. We got to do the fun stuff, and I really mean the fun stuff. The whole team went above and beyond and more. From the pricing, delicious food that all our guest talked about and DJ that kept us dancing and photographer who captured our best moments, literally the whole package. I cannot express enough how much I love the sweet pea ranch crew. Not only will I recommend them but I will say if you don't go with them you will truly be missing out. If you are looking to have your dream wedding at an extremely affordable price look no further. Words are not enough, we love you Sweet Pea!

+ 4

photos

Sarah

Married on 09/05/2021

Everything & more!

I wish I could go back to my wedding day just to soak it all in a little longer. Sweet pea was the whole package! When I say they made my wedding dream come true they did just that!!! Till this day our wedding guests loved our venue and they keep talking about how good the food was. Thank you so much to the entire sweet pea Ranch for doing it all and keeping me calm at the same time.

Jeremy D.

Married on 09/26/2020

Fell in love immediately

Right when I parked my car outside of Sweet Pea Ranch I had this gut feeling that it would be the venue for my fiancé and me. It was so cute and quaint and all of the decorations and details were so thoughtful. Chelsea has been amazing and extremely helpful and responsive. I can't wait to have my wedding here!

Are you interested?

Send a message

Kaytlin

Married on 06/07/2020

Amazing. Cant wait to start planning!

Met with this vendor and immediatly fell in love. The ladies are so amazing and so sweet.the venue was everything we hoped for with the beautiful red barn and all the wonderful scenery. We didnt even get that far when we left before I told them this was the place we wanted to say I do. Still got a ton of planning to do but I know im in good hands! We are beyond excited!

Hillary V.

Married on 12/10/2019

Our Dream Day Came True!

Working with Sweet Pea Ranch for our October 12th wedding was an absolute dream. I was incredibly nervous going into the wedding planning process. The idea of having to coordinate everything was just overwhelming and I was sure where to begin. I stumbled upon Sweet Pea on The Knot's planning app and instantly fell in love with the photos of the venue. Then learning that it was all inclusive, I knew that that was the way for us to go. We had a long engagment but knowing that everything was set and waiting for us to be ready for our big day, was such a stress relief. The fact that all we /had/ to do was get ourselves dressed, get someone to take photos, and someone to marry us (which now is a package option at Sweet Pea as well!) made the few decisions we did have to make so much easier! Our day was beautiful and went off without a hitch, though it did seem that the DJ didn't play many of our requested songs which was a bit of a bummer (but the music he did play was fun!) but I'm so grateful that I found Sweet Pea Ranch! We could never have planned the beautiful day that they gave us!

+ 12

photos

Deborah

Married on 11/08/2019

Great overall experience

We got married at Sweet Pea a couple weeks ago. They did such an amazing job of bringing our vision to life and made a crazy day go well! Food, DJ, and staff were all amazing!

Christy M.

Married on 10/25/2019

Great place

My daughter got married here on 10/25/19 it was amazing wedding no Stress on us they took care of everything Tess was so nice and her staff food was great I would recommend anybody to get married here

+ 3

photos

Cathryn

Married on 03/23/2019

A Dream Come True

Honestly I've been planning my wedding since I was a little girl. My cousin and I would tell each other our dreams of what we would like if the day ever came when we would marry our true loves. Well when I turned 16 an old family friend got married at the Sweet Pea Ranch and since then I knew I wanted to get married here. Well my dreams came true, but not only that they were surpassed bug time. Tess and everyone at the Sweet Pea Ranch made sure that everything went perfect. From being able to enjoy ourselves and our big day, to the beyond amazing food, and don't even get me started on the flower arrangements they had done. We couldn't have had a better wedding even if we tried it was all so perfect and we have everyone at The Sweet Pea Ranch to Thank!

Cassi

Married on 05/18/2018

To say that Tess is amazing, is an understatement.. She has made every bit of the planning experience so enjoyable, and has constantly gone out of her way to make sure I am at ease and never have to face any stressful situations. She became family to us ❤️

Michelle

Married on 04/07/2018

My son and his beautiful bride got married at Sweet Pea Ranch 4/7/18, and it was amazing. Tess and her team did an awesome job from the planning stages through execution. When they say they have it handled and you don't have to worry about a thing you don't! We provided our own officiant, and photographer, other than that, they have it taken care of!!

Christina

Married on 02/09/2018

Absolutely go to sweet pea! They have an absolutely amazing venue and everyone there is so nice!

Sweet Pea Ranch's reply:

Thank you so much Christina! You were also an amazing bride, and gave us loving moment to look back on and be a par of! Cheers!

Erin

Married on 07/01/2017

We booked at the sweet pea ranch and couldn't be happier .. Tess is literally the nicest lady.. The venue is amazing .. I ca t wait to get married at sweet pea ranch.

Sweet Pea Ranch's reply:

Hi Erin! We couldn't be happier that you were here with us and also gave us very good memories to look back on! Cheers!

Laura

Married on 06/17/2017

Not just because it was our wedding, but because this truly was the best wedding in the world! Let me tell you about Sweet Pea Ranch. From the way I found this venue to the way the staff delivered, it was a blessing, like it was meant for us.
I found this venue by simply "hash tagging" #BARNWEDDING on instagram, just to get ideas, not even looking for venues yet. However, out of the millions of pictures, this red barn kept showing up and caught my eye. We searched it and realized it was close to our house. We emailed them and right away got a response and we set up a meeting. The meeting felt like we were being invited to a friend's home. The hospitality was definitely not that of a business, but that of family. We absolutely loved the team from the start. That day was like a showcase of the ranch. They had bbq, the dj playing, and the venue was set up including the centerpieces. So on top of the customer service who treated my family and us so kindly, we also fell in love with the venue/ranch details.

My husband and I fell in love with this ranch and decided THIS IS IT. Honestly, it was the only venue we looked at and had no desire to "shop around." We had found a piece of paradise and knew this was where we wanted to exchange our vows. On a piece of God's creation that surrounded this ranch. The nature, scenery and peaceful beauty had us in awe. Tess, the owner shared her beautiful home with us and accepted us not as her clients but as her family and made our wedding planning so easy. We had a really difficult work schedule but Tess and the Sweet Pea Ranch team understood and created a way to work with us.

I appreciated their patience with us. We asked so many questions and Tess always answered them and helped us in which direction to go. She took the time to get to know us on a personal level and from there

Dale

Married on 05/27/2017

Absolutely the most amazing place with exceptional service from Tess and her crew. We were overjoyed with the outcome of our daughters wedding 5/27/17 everything was exactly what my Daughter wanted. You cannot find a better place to have an outdoor wedding with the high costs associated with the wedding world today the price is so affordable for what they offer. My heart is overjoyed at how professional and thoughtful they are. i would definitely have another event here again. Again Thank You To Tess, Valerie, Buddy the DJ and the whole crew for all your hard work and exceptional service.

Sweet Pea Ranch's reply:

Thank you Dale for such wonderful words! Jessica and Jordan are very special to us and we are so grateful for the privilage to host their Wedding day. We are looking forward to many family days here at Sweet Pea! We will keep you all posted on upcoming a events! Looking forward to meeting baby Harper soon.
Hugs,
Tess

Theresa

Married on 12/10/2016

Beautiful place for wedding!! Everything I wanted

Sweet Pea Ranch's reply:

Hi Theresa! Thank you for the amazing review and for letting us a be a part of yur amazing day!

Marti

Married on 07/23/2016

Two weeks ago, our daughter was married at this fabulous venue! If you're looking for country rustic, this is your place. Tess, Val, and the entire staff went above and beyond what we ever could have dreamed. Their kindness, attentiveness to details, and easygoing personalities made the planning process nearly stress free. Both families and everyone involved had the best time ever! Thanks is not enough for helping us host one of the most special days of our lives. Be sure to check this venue if you're looking for a country rustic venue...we checked out many and this was by far the best choice for us. FIVE STARS!!!


Sweet Pea Ranch's reply:

Hi Marti! Thank you for this amazing review!! We are so happy you were so happy! Thank you also for giving us amazing memories of your day!

Nikki

Married on 09/10/2015

We had the most fun and experience on our wedding. The planning was so easy and no stress at all, it felt like what I wanted was just there live and I did nothing.
Our guest raved about the food and staff. We just feel in love with Tess and Sweet Pea Ranch.

Sweet Pea Ranch's reply:

Hi Nikki! Thank you so much for this amazing review! We all loved you too!!

Valerie

Married on 05/16/2015

I knew I wanted a country type wedding and I found Terilyn and Tess. I took my fiancee at the time and my sister to view the site and the second I seen it I was sold. Tess was a little firecracker full of fun. Trillion is the sweetest thing and will do whatever to accommodate you for your special day. Our wedding went so smooth and beyond gorgeous. Our guests thought we spent well over $30,000 on our wedding because it was so beautiful and so different. The food was delicious everyone raved about it, the cake was delicious, the DJ they have was great. I cannot find anything bad to say. I had the wedding I always dreamed of and more. I am so sad that it is over. I send my friends the video clip my photographer sent me (he was amazing too) and every photo the scenery is gorgeous. If you are looking for the most beautiful and reasonable place for your dream day I HIGHLY recommend visiting Terilyn and Tess at Sweet Pea Ranch it is amazing.

Sweet Pea Ranch's reply:

Hi Valerie! Thank you so much for your review, and you equally made it amazing for us! Cheers!

Kelly P.

Married on 08/06/2021

One stop shop

If you want to truly enjoy wedding planning process and your day then I would 10/10 recommend booking with Sweet Pea Ranch. I am so happy that all of our vendors were u see one roof! I just sought out photography and hair on my own. I enjoyed piecing together our event one questionnaire at a time and appreciated their flexibility if we had changes. I am also grateful that they always discussed soft and hard deadlines on different matters. Their portal was easy to use for payments and communication as well. Everyone was very accommodating and worked hard to keep everything going smoothly and on time on our big day. This location gave us a large chunk of time for our event and I'll never forget getting to enjoy a s'more with my best friend on my wedding day :)

+ 2

photos

Michael J.

Married on 09/26/2015

Our wedding was almost three years ago and we are so happy we selected Sweet Pea Ranch! The venue was gorgeous then and they have made more improvements over the years. The staff was helpful and responsive. The vendors they used for the food and music were great! Our guests had a blast and raved about the beautiful venue and delicious food! The only reason for giving 4.5 for service and professionalism was due to the turnover in staff and the hors d'oeuvres not being served. These are both minor things when we look back on the amazing day. If we had to go back in time and select a venue we would choose Sweet Pea Ranch time and time again.

Lucia B.

Married on 06/23/2013

Hello, I accidentally left a pair of white Abilene's gloves with seed pearls have they shown up there.my cell phone is 7145890359 email.Sandraball2010@hotmail.com. Thank you
Sandra Ball

Kate

Married on 05/04/2019

Low responsiveness during planning, but incredible wedding day!

Everything about the wedding day was perfect. SPR employees gave a 10/10 effort to make everything run smoothly. All of the guests were totally wowed by the beauty of the venue, the appetizers, food, drinks, and music. My husband and I were really impressed by how smoothly the day went, without us having to worry about anything or lift a finger.

The only downside - due to this venue hosting up to 3 weddings a week or sometimes more, email communication can be slow during the planning phase. I think the staff do the best they can but it's something to keep in mind. I still would highly recommend this venue.

Wendy

Married on 05/21/2016

My wife and I recently got married at The Sweet Pea Ranch. Tess and Rachel were both great! We opted to get the all inclusive package which meant all we needed to do was find our photographer. With our busy lives this removed a lot of stress leading up to the big day. All of our guests had a great time and they were truly impressed with everything. The day ended up just as we pictured it. Thank you!

Sweet Pea Ranch's reply:

Hi Wendy! Thank you so much for your review! You were just as amazing and so much fun to work with! Cheers!
Are you interested?
Send a message