50 Reviews
Recommended by 95% of couples
Quality of service

4.8 out of 5 rating

Average response time

4.8 out of 5 rating

Professionalism

4.8 out of 5 rating

Value

4.8 out of 5 rating

Flexibility

4.7 out of 5 rating
Awards
4 User photos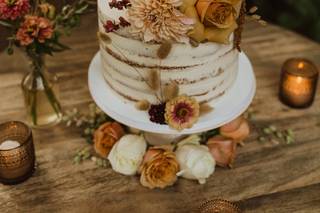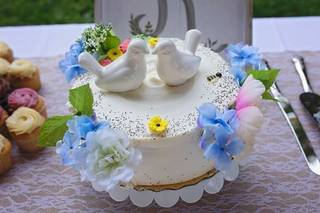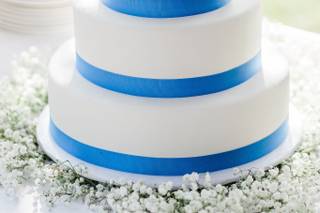 Chris C.

Married on 08/10/2021

An Amazing Cake

Throughout the process, Sweet Life was great. They set up the tasting for us to sample flavors and once we made our choice everything was arranged simply and efficiently. Our wedding was quite far away from Eugene and the delivery fee didn't make sense, but they worked with us to make everything safe for transporting and it worked great.

The cake itself was so good! It was beautiful and tasty and a perfect dessert for our wedding. We would highly recommend them!

Christina L.

Married on 02/22/2020

Delicious cakes from a local bakery

Sweet Life made us a perfect single tier cake for cutting and provides three half sheet cakes which were delicious and fed all of our guest with cake to spare. The single tier cake was simple and beautiful and all of the cake was excellent and at an excellent price.

Tara

Married on 06/29/2019

Gluten free cutting cake

I love sweet life! They always do a great job with gluten free items and our cutting cake was exactly what I wanted.

Are you interested?

Send a message

Michaela

Married on 06/21/2019

Jaw dropping amazing!

They created my dream cake. It was perfect. The flavors were amazing and just cannot get enough of!

Betsy B.

Married on 06/07/2019

Exceptional and more!

All the raving reviews are THAT and more! You just have to experience the high quality, attention to YOUR detail needs/wants experience from all the yummy samples to the personal interactions with everyone on site to Q and her responsiveness with communications. Sweetlife is an absolute MUST MUST MUST for any event having dessert!

Jordan H.

Married on 08/17/2018

Simple, delicious, and worth the price

We got a simple 3-tier wedding cake. We called about 2 weeks before the wedding and they were able to fit us in. I liked how customizable they were. Each tier could be a different flavor and they had many vegan options as well. The cake was simple but that is exactly what we wanted, we added our own fresh flowers to the top. Definitely worth the money.

Chelsea

Married on 08/11/2018

It was like they saw the cake I was imagining and made it real! Q was so friendly and helpful. They took elements from several images and got it perfect!

Kathy

Married on 07/23/2016

A Sweet Life Patisserie recently prepared my daughter's wedding cake. Not only was the cake beautifully presented, mostly importantly it was incredibly delicious. Many of our guests raved about the flavors and fillings we choose. We worked closely with Q, who was both professional and courteous. Her attention to detail was most appreciated. Without a doubt, I would recommend this bakery!

I had always dreamed of having a Sweet Life wedding cake after attending the University of Oregon and enjoying countless Sweet Life desserts. Unfortunately, I had my wedding in the Portland Metro area, so it seemed like my dream cake may have been slipping away. I contacted Sweet Life, and fortunately the bakers were able to make some excellent recommendations for my situation. They suggested that we go with short and sweet cakes with sturdy frosting, such as fondant or ganache. We took their advice, and had the florist make cake toppers as decoration rather than having elaborate cake designs. My very kind Aunt, Uncle, and Cousin successfully transported the cakes on their drive up from California and they looked great at the wedding. Everyone raved about the unique flavors, and the portions sizes were generous compared to other bakeries allowing us to take home a few leftovers. Sweet Life made my wedding dream a reality and overall was a great value as well!

Kyndra

Married on 08/22/2015

Our wedding cakes were amazing! We ordered eight cakes and a pie at least four months in advance. Each cake was a different flavor, and many were gluten-free and dairy-free. Everything was perfect and tasted spectacular! We transported all the cakes (and pie) to Oregon City.
They were very flexible with times when we could pick up the cakes! Presentation was gorgeous! Sweet Life is the best bakery in Oregon! We got large sheet cakes to accommodate the number of people were were having (around 150+), and it was VERY AFFORDABLE.

Elise

Married on 03/22/2015

Our wedding cake was beautiful and really yummy!!! They did just what we wanted. Turned out great!

Sarah

Married on 09/20/2014

The cake turned out beautifully. Q helped us pick the right size and suggested various design ideas. She then gave us time to make decisions and helped me by sketching my ecclectic ideas and turning it into a beautiful cake! Besides the looks it was delicious!!

I love Sweet Life! We got their short and sweet wedding cake and had a friend decorate it. It was delicious and their portion sizes are very generous!

Micki

Married on 09/14/2013

It was so much fun to work with Q and her team to design our wedding cake. We had an outdoor wedding which shaped the event in so many ways including the cake design. She was great about working with our ideas and our personalities to create a cake that fit us, our wedding, and our setting. The tasting process is a bit do-it-yourself which was intimidating at first, but we made it playful and had a great time creating cake and filling combinations to really make the cake our own.

User1333133

Event on: 09/09/2013

The best desserts I have found near Eugene. They also have amazing coffee and teas. For my birthday, my husband surprised me with a custom cake from sweet life, which he had neglected to order in the suggested time period. They were able and willing to rush an order so that I had an amazing cake for my birthday. Thank you sweet life!

Kellie

Married on 08/03/2013

We had several guests with food allergies, and Sweet life was able to make 3 different kinds of cakes, and they all looked the same and tasted the same (I tried all 3 to compare!) None of the guests with gluten intolerance got sick, which was huge!

Stephanie

Married on 05/11/2013

Our cake was AHHHHHHHHHmazing! We also purchased a few dozen of their brownies (a mixture of flavors) as our wedding favors for the guests. Lets put it this way... if my mother in law hadn't stashed a few brownies for us we would not have gotten to enjoy them! They were a huge hit that I still hear about to this day! The cake as simple, yet elegant which is exactly what I wanted. They even made an edible coral ribbon to go along with the colors of our wedding. The flavors cannot be explained in words, other than sinful and delicious. This place is an addiction, and I'm so glad we had them do our cake for our special day!

SO Delicious! If you don't want to over-spend on the "wedding cake" premium, you can order a sample box of cakes for $25, then a regular sheet cake for under $100. Your guests will be blown away with the perfect flavors and textures. We got the chocolate cake with blood orange buttercream. It was out of this world!

Jamie

Married on 09/09/2011

Amazing 5 layer cake! Just what I wanted and I did a terrible job explaning it =) Q is the best in the business, I can't say enough great things about her!! And of course the cake was delicious =)

Kathleen

Married on 07/30/2011

They cake was wonderful it was exactly what we envisioned and it was delicious!

Cait

Married on 09/19/2010

I already knew that Sweet Life made great pastries but the cheesecakes we had at our wedding were HEAVEN! We ordered three cheesecakes and four dozen cupcakes from them for our wedding and we barely had anything left by the end. It was the perfect combo for low fuss wedding cake and looked great. My mother-in-law loved the lemon sourcream cupcakes we had and she is so hard to please on sweets! I would highly recommend using these guys for any get together or celebration.

Sweet Life Patisserie's reply:

Thanks Cait and Brandon! Glad you enjoyed our sweets and thanks for the review!

It shouldn't surprise anyone that Sweet Life produces amazing cakes, but they sure do. Our guests absolutely melted over the two flavors we chose. In fact, I think someone ran away with our cake top. We had to order a small cake for ourselves for our one year anniversary...it was that good. :)

The best part is the cake tasting. They go out of their way to make that a fun experience. But it's a hard one...all the choices are fantastic.

Tiffany

Married on 06/26/2010

We choose sweetlife for our wedding reception and our guests are still talking about how beautiful our cake was...and how delicious! We had several flavors but the most talked about was the chocolate orgasm flavor. We also choose orange flavored cake with orange flavored buttercream. People said that it was the best wedding cake they had ever had..and we would have to agree! We enjoyed every bite! I gave the cake designer an idea of how I wanted the cake designed and let her work her magic. I remember walking in and seeing my cake for the first time..it was so beautiful it brought tears to my eyes. Sweet life is THE place to go for your wedding cake.

Jen

Married on 06/26/2010

Sweet Life makes such amazing cakes. They aren't the typical dry wedding cake...every piece is fresh and delicious! Our cake was so good and our guests loved it. There are lots of choices with flavors and Q perfectly carried out my design.

Megan

Married on 05/15/2010

Absolutely beautiful AND delicious! Sweet Life made my cake better than I imagined and worked really well with deciphering what my husband and I wanted even though we came in with vague ideas.
Are you interested?
Send a message