84 Reviews
Recommended by 98% of couples
Quality of service

4.8 out of 5 rating

Average response time

4.9 out of 5 rating

Professionalism

4.9 out of 5 rating

Value

4.9 out of 5 rating

Flexibility

4.9 out of 5 rating
1 User photo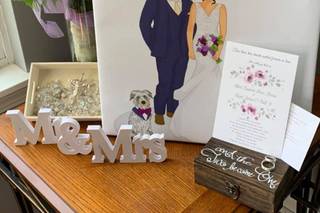 Suzanne D.

Married on 02/04/2023

Incredible Night!

I cannot recommend Steve at Sureshot Productions enough! He was unbelievably professional, kind, and all around amazing at his job! It's very obvious he's well versed with weddings and all that they entail! Super professional with the other wedding staff, and all around just a stand up guy! Will absolutely be working with you again, Steve! Thank you for everything!!! 🖤🎥🖤

Emily J.

Married on 10/15/2022

Sureshot was the best decision we ever made

I hired Sureshot to shoot my wedding last October.. It was one of the best decision we made on our wedding. Steve got all the best shots on our wedding date and even got the last shots on my grandmother dancing and talking. I am so grateful to Steve and his team for his diligent work. Our video is so fun to watch and we have watched it a few times. Our whole family just loves it.. Thanks Sureshot!

Cory W.

Married on 09/10/2022

Great Video and highlight too!

Steve and his assistant were great. They were unobtrusive and did a great job on my wedding video. They also did an amazing highlight video that the whole family loves. I would recommend them again!

Are you interested?

Send a message

Paige K.

Married on 08/20/2022

Amazing team to work with!

If you're thinking about having videography for your wedding - you should absolutely pick Sureshot Productions to capture your day! Steve and Bea are the ultimate hype squad, so nice, friendly and professional. From the very beginning of reaching out, Steve was quick to respond and answered all my questions. They have a great selection of packages and so affordable! For my wedding day, they arrived early and ready to get started. They are so personable and easy to connect with and they make you feel like you've known them for years. Your wedding day goes by so fast, but with the work of Steve and Bea, we will be able to treasure our video for years to come. I would absolutely hire them for any event again. Thank you Sureshot!!

Dale L.

Married on 02/19/2022

Great service from start to finish.

Sureshot shot my sisters wedding and did a great job. I did the planning and decided on Them. Steve and Sureshot arrived on time, worked hard and did a great cinematic highlight video that our whole family is in love with.. Steve and sureshot were a great investment. Dale..

Michael S.

Married on 09/24/2021

Great Experience - Highly Recommend

This is a long overdo review. Working with Steve and B was a pleasure, and a great addition to our wedding. Steve answered every e-mail promptly, every call, and met every request. They were the first ones to show up at the event, and one of the last to leave. We were very excited to see our wedding videos. The fact that they provide two videos is great. 1 was a highlight reel, which included the ceremony, getting ready, photo shoot, and everything you would want in a summary video. They also supplied a 2nd video that had more candid shots throughout the day, which was about 2 hours long. We gave them the names of several songs that we wanted in the videos, and there was no issue with song selection. The price was more than fair for an entire days work. Their professionalism, promptness, reliability, and final products are all great reasons to hire sure shot to film your wedding, or any event. Many people will cut out video for one reason or another, and everyone I have talked to regrets it. The video will last forever, and capture things that a photographer can't. I highly recommend considering Steve and SureShot for your wedding and event. They also supplied a USB and a couple DVD copies. Thank you again for being a part of our day.

Terry B.

Married on 09/19/2021

Sureshot Productions was a pleasure to work with

They were very responsive and flexible to what our needs were. Their rates were reasonable as well. I would definitely recommend them to friends or family in the future.

Danielle P.

Married on 07/24/2021

Hire Sureshot!

If you are considering videography for your wedding - do it! Steve was a great videographer for our day. He was very kind, responsive, prompt and professional. And his services were affordable. Now we can look back on our wedding and re-live the memories. Thanks Steve!

Susan P.

Married on 07/09/2021

Incredible Highlights, Incredible video

I am so glad I hired Sureshot... Steve did a great job answering questions, and following through. He arrived on time and did a really creative job shooting my wedding video and editing it too. His highlight video looks great and all my relatives all think it looks and sounds great! I would not hesitate to hire Steve and Sureshot productions!! 5 stars!!!!

Raj C.

Married on 07/03/2021

Couldn't be happier

Steve and Bea went above and beyond our expectations. We could not have been happier with their work. They were very committed and you can tell they really care about making your event as special as you like it. She even helped me put on my bow tie! Not everyone is that committed lol. They were always where they needed to be and had so many great ideas. They are very creative and the nicest people ever. I highly recommend them and we will be working with them more. One of the best decisions I ever made.

Silvia O.

Married on 05/22/2021

Highly recommended if you want to have a good memory of your wedding

I had the best experience with Bea, Steve and their services.
Even thought my wedding day went by fast they made sure everything everything was capture.
I loved Bea's ideas, her laugh and happiness (that is what you want to on a somehow stressful day).
Steve was always communicating with me since day one and made sure to cover all my requests. They were punctual and professionals.
I loved the outcome of my special day, captured in a movie type trailer and video.
Thank you so much Steve and Bea for making my day so perfect!
I will definitively hire them again if I have another big event.

Anna Z.

Married on 01/01/2021

Excellent!

We had a great experience with Sureshot! Our Videographer was punctual and professional and the finished product turned out great! My sister in law had Sureshot for her wedding last year and we loved how her video turned out so we had to have them at our wedding as well. I highly recommend!

Madison

Married on 10/03/2020

Amazing work!!!!! I could not be happier with the quality footage we received!

Christine K.

Married on 08/01/2020

Great Service, Great Value

When I started looking at Videographers I realized that they might be out of the budget. Until my wedding photographer recommended SureShot. The had the most reasonable prices I had seen. On our wedding day, they showed up on time and were professional. They best part was that they worked seamlessly with my wedding photography. After the wedding, we received our video in just over a month.

Jim J.

Married on 08/01/2020

Absolute professionals

Sureshot productions did an awesome job within our budget. Very easy to work with. I Highly recommend them. They went above & beyond to get the job done.

Marita S.

Married on 04/25/2020

Amazing job--100% recommend!

Sureshot productions is the way to go if you need an amazing video experience for your wedding. My husband and I were married during the COVID pandemic, and had to have a closed ceremony at church. We initially did not plan to have our wedding videoed, but since we were not able to have any friends or family in attendance, we had to come up with a plan B on the fly. Steve was so accommodating, and created a video package for our needs at the last minute (we contacted Sureshot about 1 week before the big day) The video came out even better than we could have hoped for. We were not able to live stream due to restrictions from our church at the last minute, and Steve made sure to post the video privately to YouTube ASAP so our guest could watch it. My husband and I were also struggling to come up with music to use, but Steve provided songs that were perfect and fit the mood and the tone of the sacrament perfectly. The turn around time for the video editing was fantastic and looked very professional. We will be recommending Sureshot Productions to anyone we know that has videography needs, and will be contacting them in the future for anything we need as well! Five stars!

Yasmeen R.

Married on 03/13/2020

My fairy tale wedding

Steve and his wife Bea were such a blessing during our big day! They captured every beautiful moment of our wedding and worked within our limited budget. I was scared of missing this element of my wedding but Steve just made everything come together so smoothly! The organization skill set by both Steve and Bea were also just unbelievably great! They worked closely with my photographer to make sure everything was captured in the most elegant and beautiful way! I high reccomend to anyone in need of great video services!

Jessica W.

Married on 10/13/2019

Super amazing!

My Maid of Honor and I felt very comfortable upon our first meeting with Steve and Bea regarding our wedding video. They were very easy to talk to and easy to work with. I kept in contact with Steve via e-mail and he was always quick with his responses. On the day of our wedding, Steve and Bea were all ready to go and taped our ceremony, tram ride, and reception. At most times, I didn't even see the video camera. But, I knew they were capturing amazing moments on my special day! :) After the wedding, Bea kept in contact with me about how long the video editing will take and always kept me in the loop of what was going on with the video. Just recently, I saw the 9 minute reel video and I immediately fell in love with what I saw. They included drone shots and other amazing video shots of my special day. I am super thrilled that I had booked them to videotape my wedding. You will not regret it!

Steven S.

Married on 09/22/2019

Great job videotaping my wedding.

Steve did a great job video taping my wedding. I woyld highly recommend him.

Stephanie

Married on 06/22/2019

Great packages!

Sureshot Productions was a great company to work with. Steve was very responsive to all of my inquiries. They had great price points and packages, and the option to add on all raw footage in addition to the edited video which would be fun to watch later. We had a team of 2 videographers at our wedding and both were great at getting all of the shots we wanted while also remaining in the background. We loved re-living our wedding day and watching the edited highlights reel and full edited video. We would recommend Sureshot to anyone looking for a wedding video at a fair price.

Sara

Married on 06/09/2019

Creative video from a great company

Steve was a great videographer who came early, And did an outstanding job capturing our day. He was responsive to emails, was unobtrusive, and did not miss a thing. The highlight video was incredible with drone shots and some really creative shots. His editing was concise and precise. My family would recommend him to anyone. His prices were more than fair and he came through with a great video... Sara

Rebecca

Married on 04/06/2019

Great choice to capture your memories!

Sureshot Productions was recommended to us through two other friends that used their services. We are so happy we went with them. They were so professional and responsive and offer great options for couples looking to capture their wedding without breaking the bank! We also got our videos back really quickly after our wedding and loved reliving the moments. I would definitely recommend!

Tracy

Married on 08/04/2018

You've found quality and value. Look no further

Sureshot went above and beyond what they offered to provide. The video was well edited and given to us within the contract time. Email responses were prompt and professional. We are so happy to have a quality video to see some of our special moments again, and we're sure that you will be happy and impressed with the value of Sureshot.
- Tracy and Cliff Thomson

Kevin S.

Married on 07/07/2018

Sureshot has it all.

Steve at sureshot did a great job capturing my wedding video in July. He had a great attention to detail, was creative with his shots, was not obtrusive at all. His video looked and sounded perfect, with great editing and all the great moments captured perfectly. His highlight video was so well edited we shared it with all of our friends and they all loved it. His turn around was pretty fast, only a few months. The most important part is the price. His was lower than most, AND he did not charge us tax or travel charges. We are super happy with Steve at Sureshot and would recommend him to all of our friends and relatives.

Bethany

Married on 06/16/2018

Wonderful beautiful videos!

So happy we found this vendor, 10/10 recommend! They helped coordinate with the photographer & family & friends, they were fantastic! They were ontime & didn't miss anything important on our big day. They were really quick with responding and helped us find a good video package at a price that worked with our budget. Our package was for 10 hours, very reasonable pricing.
We just got our videos & watched them all, they really captured the day perfectly! we love that we'll have this to watch on our anniversaries in the future. I can't say enough good things about this company and their work!
Are you interested?
Send a message