Superior Sound Professional DJ Entertainment Reviews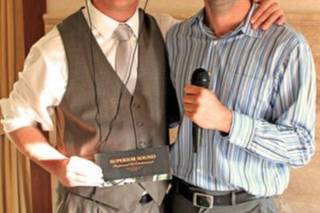 Superior Sound Professional DJ Entertainment
New York, NY
View more information
45 Reviews
Recommended by 92% of couples
Quality of service

4.6 out of 5 rating

Average response time

4.6 out of 5 rating

Professionalism

4.6 out of 5 rating

Value

4.6 out of 5 rating

Flexibility

4.6 out of 5 rating
Awards
Cathy

Married on 08/19/2017

We had a backyard wedding reception. Guests of all ages were dancing & enjoying themselves. After the event, many of our neighbors shared with us how they loved the music playing. They even opened windows & doors to enjoy it better.

Heather

Married on 03/05/2017

Sean and Nick are absolutely amazing!! They have DJ my mom's, my sisters, and most recently my wedding. It happen to rain, hail, and thunder on my wedding day, but it never phased them one bit. They were still able to accomadate all my music needs and I had very specific requests! Through it all they remained extremely upbeat and super positive which made me the bride very happy and my guest danced the afternoon away! I would definitely recommended them in a heart beat!

Jamie

Married on 11/14/2015

SO much fun! Highly highly recommend!!

Are you interested?

Send a message

Ash

Married on 09/06/2015

Sean Field is the real deal! He provided a very high level and professional D.J service that surpassed our high expectations. His music selection was very diverse. Sean had the exceptional ability to read our group, directing the mood of our wedding and energizing the crowd. He truly was the pulse of our wedding and I couldn't imagine our wedding being so successful without him. He made our wedding awesome and we appreciate it. Thank you Sean!

Derek

Married on 06/27/2015

My husband and I booked w/ Superior Sound for our 90 person wedding in San Francisco. (St. Francis Yacht Club). Sean was great to work with, super professional, and very much met our tastes for the evening. A+ experience. -D&N

Jennifer

Married on 05/31/2015

OMG!!!!! I cant not say enough amazing things about Superior Sound Dj's . They were AMAZING from start to finish! A lot of dj's that we looked into would only let us pick a few songs for our wedding playlist but Superior Sound did anything and everything they could to please us! They asked all sorts of questions to get to personally know us and our music favorites and style. Our wedding was a success and all because of the music! Music at weddings are everything and you must pick Superior sound because everyone will be up dancing all night !!!

Natasha

Married on 05/02/2015

Superior Sound DJ'ed my wedding 2 weeks back and I could not have been happier! They were prompt, super responsive and very flexible. They heard me out, knew what I wanted and made it happen. Not once did I have to ask the DJ for anything during the wedding and to make it even better, he came and checked in with me to make sure I felt that everything was going well and if I needed anything! He even brought me a drink! WOW!! Keep up the amazing work guys! If you need a fantastic DJ that you will not need to worry about and who will give your guests something to talk about, book with Superior Sound, you will not regret it! :) Cheers!

Andrew

Married on 03/28/2015

Nick and Sean did an absolutely amazing job. Their music selection was spot on, but the best part about them was that they had as much fun as we did at our wedding. They kept the party going, had a great sense of humor, and made the day.

Out of all the choices we had to make for our wedding, hiring Nick and Sean was the best. I'd hire them again in a heartbeat.

Celeste

Married on 03/21/2015

These guys MADE our wedding. We had a swanky grown-up affair at La Mar Cebicheria on the Embarcadero. People complimented the food, the beautiful views and the intimate ceremony but we got more positive feedback about Superior Sound than any other aspect of our big day. And for good reason - they were awesome!

Sean and Nick balance each other out perfectly. We were totally confident in Sean's professionalism, punctuality and know how. Nick was energetic, attentive, and set a fun tone for the night. People were up and dancing early in the evening and we had to kick people out of the restaurant to get them to leave the dance floor. ;)

I would (and have) recommend Superior Sound for your special event!

Haley

Married on 09/06/2014

Best investment we made for our wedding, hands down. Not only did Nick play music that EVERYONE danced to all night long, but he kept the day moving along seamlessly. We knew he was going to be good when we hired him, but we didn't know he was going to be THAT good! He even made sure that both my husband and I had a full glass throughout the whole evening! His energy and enthusiasm was contagious, and we couldn't have been more happy with his services. Best DJ EVER!

John

Married on 08/24/2014

There are no words to describe how awesome Nick and Sean are and how amazing their company is. They made my wedding go from amazing to epic. They both are professional, prompt, fun, and creative. They know exactly how a wedding should be run and I would not have had them DJ my wedding any other way. Nick met with us multiple times before the wedding to hammer out the details and worked with our day of coordinator on the wedding day to make sure all went to plan. They really went above and beyond what I expected and had everyone dancing the night away! Thank you, Nick and Sean! For anyone to go with any other DJ company for their wedding would just be silly. Thanks for all the good times and memories! Let's Go Oakland!

Cendahl

Married on 08/20/2014

Nick was flexible with our date (it was a Wednesday); he emailed/called when we needed him to, and worked very well with the fact that we were out-of-towners! He arrived early, set up and was ready to go, so it was one less thing for me to worry about. He took requests and was flexible with our music choices up until the last minute, even! His music choices were spot-on and we received multiple compliments about our music and songs. We highly recommend him!!

Jennifer

Married on 08/02/2014

Thank you Sean and Superior Sound! Our August 2nd 2014 wedding was so much fun, and largely because of your efforts! I had many compliments from my guests saying how much fun they had, and how they "have not danced that much in years" because the music was fantastic. You kept the energy flowing and perfect throughout the evening.
I really appreciate how you kept the reception moving smoothly, and you checking in on us frequently. We are so happy to have hired such a great Bay Area Dj, and the overflow of good reviews are completely accurate. Thanks for being easy to reach, easy to schedule, and fun to brainstorm with.
There were a few magical moments that you created on the dance floor when some of our guests gathered around us and encircled us with holding hands on our last slow dance. This was such a spontaneous and cool memory that we will remember forever. Epic.
I would encourage everyone to hire Superior Sound, they will create the soundtrack to your new beginning :)

Thanks guys, we really appreciate it.

Brittany

Married on 04/12/2014

Choosing Nick as the DJ was the best decision we could have made. Nick knows weddings and exactly how to take them to the next level! He was so great at incorporating anything we threw at him. When it came to the itinerary of our wedding we had no clue where to start. Nick knew exactly what he was doing from the ceremony music right down to the organization of speeches, dinner, first dance all of which he orchestrated and played the most excellent music. He truly captured the setting and emotions through music throughout our wedding. It was a great relief knowing everything would work smoothly because Nick was there to keep guest involved and having a blast!! Our wedding day would not have been so EPIC (according to our guest) without him. Thank you Nick, you truly have a talent in creating great times and memories for couples and their guest on their wedding day. Love you!

Marissa

Married on 10/11/2013

I wanted to write this review because I have lost count of the number of people who I heard from in the days following the wedding saying that they've never danced more at a wedding or experienced better music, which as we all know really makes or breaks the night with your guests. The dance floor was too small for the number of people on it at any given time and Nick and Sean are amazing. They've been doing this a long time and they can really read the crowd like no other, listen and manage any unexpected circumstances with poise and a sense of humor, and are loved by everyone in the crowd (and avoid cheesy DJ voices) You won't regret booking Superior Sound for your next event!

Kelly

Married on 10/05/2013

Superior sound did a fantastic job at keeping the tempo upbeat at our wedding. Nick is an amazing MC and the crowd naturally loves him, he is composed, enthusiastic, and is completely at ease in front of large groups. I am so happy that we selected him as our DJ, he made sure everyone kept dancing ;) I would recommend him in a heart beat.

Jacquelyne

Married on 09/27/2013

WE WERE SO HAPPY WITH SUPERIOR SOUND! We could not have picked a better company to have had dj our wedding. Not only did they play AMAZING music, they pretty much made sure our whole wedding ran smoothly. Nick MC'd everything and was phenomenal, he was so organized with our time line and when we wanted songs to play. He had so much fun with our guests and really set the tone for how awesome our night was going to be. He brought some help and they were just as great, professional, and fun. Not only did Nick and his company make my wedding day spectacular he also made the days of planning a breeze. He was so helpful and met with us to make sure everything was mapped out perfectly. He was so helpful with things like how to set up my recessional, the time line of the whole day, and speeches. I highly recommend Superior sound for ANY of your special events. Dont miss out on the best dj in the bay area!!

Steven

Married on 09/21/2013

One of my best friends came into contact with Sean and Nick at a previous wedding a recommended that I reach out to them (because I had been searching for a DJ for my wedding). Sean personally came to my house and sat down with my wife and I and helped us put together a "tailored playlist," as well as went over the wedding specifics. To be honest, before then I did not know what to expect from a wedding DJ, nor did I know the specific details involved with the planning process. Sean was really easy to work with, very professional, and really put my wife and I's mind to ease. During the wedding Sean and Nick did a fabulous job MCing and DJing! I WOULD DEFINITELY RECOMMEND THEM TO ANYONE SEARCHING FOR A DJ!

Sean and Nick, Thank you very much for making our wedding such a memorable one!

-Steven and Sachi

Amanda

Married on 08/23/2013

I would highly recommend Nick and Sean from Superior Sound! Nick was an amazing MC for our August wedding... His energy is absolutely amazing! He listened, was organized, and made sure my husband and I were taken care. If you are looking for a fun DJ who will keep your guest dancing all night long Superior Sound is definitely the way to go! I can't thank Nick and Sean enough for making our special day so amazing!

Chelsea

Married on 08/10/2013

I don't even know where to begin! Nick and Sean are the most amazing people! The dance floor stayed packed the entire wedding and all of our guests had a blast! Not only did they keep everybody dancing, but they helped move the festivities along and kept the timing where it needed to be. Working with Nick prior to was so easy and he was there to answer any questions or concerns and helped put my mind at ease. My favorite part was when they would jump off the stage and take turns dancing with us and our guests. They even helped me keep people from stepping on my dress during the dancing festivities! Their choice of music was on point, and I even had guests asking if we were going to send out a reception soundtrack! I could go on all day and night about how great these guys are. I can't wait until I have another event where I need a DJ. There is no doubt in my mind that these guys are the two best DJs you will ever find. If they're available for your event date, you should use them. If not, you should change your event date! Is a DJ appropriate for Thanksgiving??

Shelby

Married on 08/03/2013

Nick and Sean Field from Superior Sound provided DJ and MC services for my wedding in August 2013. Sometimes it is hard to write a review because you struggle to find the words to describe how amazing a service was. I am in that position now, but I will do my best. :)

Nick and Sean worked together to bring us the most amazing wedding experience. They did everything we needed with professionalism and enthusiasm. They started by meeting with us and going over, in detail, our wedding timeline and what music we would like during our wedding reception. They listened intently to our vision for the wedding and they understood the type of vibe and energy we wanted to provide for our guests. They also provided the speakers and lapel microphones for our ceremony so that all of our guests could clearly hear the service and our vows. The sound was perfectly controlled and crystal clear.

During the reception, Nick was the MC and flawlessly controlled the timing of the evening and made all of our guests excited for the toasts, dances, cake cutting, etc. Nick has a certain flare and energy that is so unique and impressive. He makes a night more fun just by being there. He is the absolute best MC for any event. Sean and Nick both chose the perfect songs for all of the right moments during our special day. I have never had so much fun dancing at a wedding and many of my guests told me it was also the most fun that they had ever had as well.

You just cannot find a better DJ/MC company than Superior Sound. They will make your event fun, exciting, and unforgettable.

-Shelby Miller

Megan

Married on 07/27/2013

I just had my wedding a few months ago in July. Nick and Sean were honestly the best part of my wedding. They were incredibly organized experienced, and professional and made the entire day run very very smoothly. Like some of the reviews before mine, I too lost count of the number of people who told me that they had never been to a wedding where the music and dancing was as fun as mine. ALL of my guests literally danced the night away. My wedding was fantastic in large part because of Nick and Sean, my husband and I could not be more grateful.

If I could give them more stars I would. I recommend them 1000%, do not miss this chance to make your wedding DJ experience as amazing as it can get with Nick and Sean

Brooke

Married on 06/16/2013

I can't say enough good things about Superior Sound. Nick and Sean DJ'd our wedding in June of 2013 and they did an AWESOME job. I left a lot on the table when it came to which types of music I wanted played, but Nick nailed it! He played everything I wanted to hear at all the perfect times, i.e. classic love songs during cocktail hour, dance songs after dinner and everything in between. Both Nick and Sean are extremely personable and upbeat and are great with crowds. Since our wedding, I have been encouraging others to use Superior Sound for their events. Several of my friends have used them as a DJ for their own weddings and I have heard nothing but fantastic reviews from them. Thank you so much Superior Sound! You guys rock!!

Melissa

Married on 05/11/2013

Nick was awesome!

He kept the party going and made sure everyone was happy all night!



Melissa

Married on 05/11/2013

Nick was an awesome Dj, he played amazing music, kept the crowd dancing, and even added in some fun touches I had not seen at weddings before!
Nick is so personable and was very easy to work with, he understood what I did and did not want played and made sure to play stuff that me and my husband would enjoy. He checked in throughout the night to make sure we were enjoying the music.
I could not recommend him more!
Are you interested?
Send a message