27 Reviews
Recommended by 99% of couples
Quality of service

4.9 out of 5 rating

Average response time

4.9 out of 5 rating

Professionalism

5 out of 5 rating

Value

4.9 out of 5 rating

Flexibility

4.9 out of 5 rating
24 User photos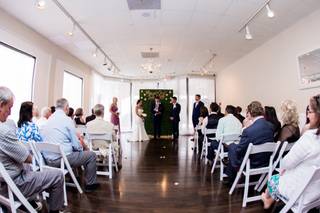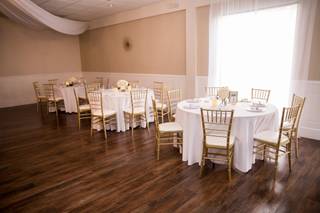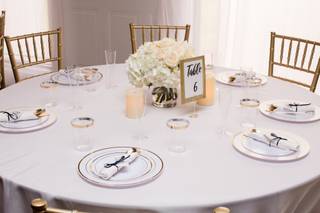 + 20

photos
Logan H.

Married on 07/24/2020

Banquet hall

Absolutely gorgeous venue loved how everything turned out !

Margie M.

Married on 06/07/2019

Amazing, affordable inside venue!

Suite Forty-Eight was the PERFECT place to host our intimate wedding of 70ish guests. It's beautiful and affordable and it's inside - which is great for unpredictable and hot summer weather. Angie and Susan helped me every step of the way and they are the sweetest! We opted for a mostly DIY package (can hire your own caterer and bring your own drinks AKA money saver!!) but thankfully we could add on things as we realized we needed them instead of seeking them elsewhere (DJ, tables, chairs, linens, etc), which made planning SO much easier. One month before the wedding my ceremony venue cancelled on me and, in the midst of a bridal meltdown, Susan and Angie were able to put me at ease and were so accommodating to help me add the ceremony here last minute! If you opt to have both your ceremony and reception here, I suggest you have the staff break down the ceremony during dinner, that way the space is opened up for the reception as it's a perfect place for guests to mingle away from the music as well as put favors and add a photo booth! Suite Forty-Eight made planning my wedding a breeze and the end result was laid back and SO much fun - exactly what I was going for my wedding day!

+ 8

photos

Melissa

Married on 12/08/2018

Suite Forty Eight

This is the perfect place for small ceremonies, parties or business events. The entire staff is very professional from beginning to end. Angie was a pleasure to work with. Thank you!

Are you interested?

Send a message

Brittany C.

Married on 10/27/2018

Awesome Service

This venue is amazing for small-medium sized events. We hosted a baby shower for my brother & sister in law, which was about 60-70 people. It was a great price, way more affordable than some other places. They allowed us to set the place up how ever we wanted to acommodate our needs. Many guests commented on how great it would be for a small wedding. If my mom had known about this place when she got married last year we would have had it there. They made the process simple & easy. We were able to bring in our own food instead of having to use their services, which also contributed to the affordable piece. We decorated how we wanted and had an AMAZING time!! I would definitely use their services again in the future and recommend it to others!!!

Cindy

Married on 09/02/2018

Truly the best venue !!! Perfect space, perfect location, perfect staff .
Very happy with our wedding venue...

Corey W.

Married on 06/10/2018

Suite 48 is a great spot on a budget!

We wanted to have a small 100 person wedding! This play suited it perfectly! I would not say this place is for everyone but if it is setup correctly then you will happily enjoy it! We did outsource most of everything to better suite our budget but still overall a fantastic place!

Natacha S.

Married on 04/29/2018

Baby shower

Amazing! Thank you Aggie!!everything went well!

Jennifer

Married on 02/17/2018

Angie and Susan were amazing to work with for our wedding. I was pretty easy going on how to decorate just gave them the colors and my personal decor and let them go to town. They did an amazing job keeping everything running smooth and keeping the guest happy. They went above and beyond. Would definitely recommend them in the future

Phenicia

Married on 11/18/2017

Suite 48 was the perfect venue for our event (40th Birthday Social). The entire process from reservation to post event was simple and easy. The staff was very responsive and accommodating. The venue itself was gorgeous and included some design elements I was not expecting. I would definitely utilize Suite 48 in the future.

+ 2

photos

Alexis

Married on 10/28/2017

Suite 48 was perfect for our wedding. We had about 120 people in attendance, and there was enough space for everyone. The staff is great-- one of my favorite parts about Suite 48 is that we didn't have to set up any of the guest tables, we came in and they were all set up for us, linens and all. This space is affordable for people with a small budget and beautiful. I would recommend Suite 48 to any couple getting married :)

Ashley

Married on 10/28/2017

This place is amazing! They were such a big help I will recommend this place to everyone :). My husband and I got married on October 28, 2017. Two weeks before the wedding, we originally had another reception in Cape Coral on 47th Terr for that day, the reception hall called and had to cancel on us due to hurricane Irma destroying the roof of the building and the damage and wouldn't be fixed until sometime in January 2018. I called every place I could think of and everywhere was booked, we really didn't want to cancel our wedding due to everything until finally we came across this place. We called and told them our situation and luckily they had an opening for half the day at night! Perfect! They were so understanding and helped us out very much! The place was gorgeous and they decorated the place beautifully :D The only thing that we had to worry about was that we had to change the Ceremony location, Reception location and time, but after what they did to help it was perfect and we loved every minute of it! Thank you so much Suite Forty Eight!

+ 5

photos

Angela

Married on 10/08/2017

I cannot say enough good things about Suite 48! My reception was beautiful and my ceremony was breathtaking! Angie is a godsend! I cannot even count how many times I emailed her with questions or concerns or to change something last minute and she was always quick to respond with answers or recommendations and she was so patient and professional and helpful! I cannot imagine having to plan a wedding without her! You all really go above and beyond and I wish you all the success in the world! You deserve it!

Sarah

Married on 03/04/2017

We decided to have our reception at Suite Forty Eight in the Spring of 2017. Most of the wedding was planned by us, and we had all contact and communications with the venue up until the week of the wedding. That's when we hired Angie from Platinum Florida Wedding Company to be out day of the wedding Planner and coordinator. She then took over coordinating all vendors including Suite Forty Eight for the big day. If there is one tip we can give every new couple planning a wedding, it's to make sure to hire a "day of" wedding planner. They will put your mind at ease and to take a load of your shoulders, I promise. Our Wedding Ceremony was at the Sidney Berne Davis Art Center and the Reception was at Suite 48. Having the wedding at two venues meant a lot of planning ahead of time.

But working with Suite Forty Eight was a great experience and we loved the locations and that we could rent the tables, chairs and linens from them as well. Their attention to details such as matching the up-lighting to match the LED Glow theme of the wedding made the day even more memorable.

Communication: 5 Stars
On Time: YES
Delivered as Promised: Went above and beyond
Professionalism: YES
Quality: TOP Notch
Value: worth every penny
Our Favorite Part about booking Suite Forty Eight for our Wedding: How easy it was to book a beautiful venue for our wedding

We also want to show our deepest gratitude for that great service and making our day perfect in every way. It was such a pleasure working with Suite Forty Eight and their Team. THANK YOU to everyone that made our day even more Special. If you are looking for a Venue for Ceremony and/or Reception we can highly recommend their rooms and would definitely use them again in the future.

Shyla

Married on 02/19/2017

We were very happy with Suite Forty Eight. They worked very hard to ensure our event went beautifully. I would defiantly recommend to anyone. We had our Grand daughters Sweet 16th party there.
Thank you for making our event a night to remember!!

Alicia

Married on 02/17/2017

The venue was beautiful! It is very spacious and nicely laid out. They are very flexible, accommodating and responsive, which made planning my event much less stressful!

John

Married on 09/29/2016

Our event was an informational event for the public about our organization so we did not need many of Suite Forty Eight services, but the venue was perfect for what we did need, had all of the recourses we needed and the staff was excellent to work with. While most of our attendees found the venue with no difficulty, a couple did have trouble finding us. If there is any way to enhance the signage, I would recommend doing so. Even temporary signage for a particular event would help.

Tracy

Married on 07/23/2016

great venue awesome customer servie

Susan

Married on 06/10/2016

I spent countless hours looking for a space to host an 8th grade graduation party for 50 teenagers. Everyone I spoke to in Lee County refused to rent their space to us because of having teenagers. Then someone told me about Suite Forty Eight, so I called and told them what I was trying to do, fully expecting them to say....oh sorry, we can't help! I was delightfully surprised when they said YES! Oh and this was 2 weeks before the party, talk about scary! I was invited to come over and take a look the following afternoon and it was perfect. To my surprise, Angie and Susan were even offering ideas about what to do with the party. I was so excited. Then it happened, the night of the event, I was so nervous, being judged by 50 teenagers....yuck! It was the BEST, the kids had a great time and the parents even came in to check out the space. This is Lee County's hidden gem. The staff was great and I will recommend this place to anyone looking for any type of event hosting! I am a happy customer and will definitely be back!!! Love you guys!

Doreen

Married on 06/03/2016

We used Suite 48 for our Daughters High School Graduation Party. The Venue was PERFECT We had approximately 75 guests and the size was perfect. We utilized the entire venue. Angie was amazing to work with. Would totally go back if the need arrives.


Carmin

Married on 04/02/2016

Suite Forty Eight was magnificent! The staff was excellent and quite cooperative with making certain that everything went well for our wedding. The layout of the building was just the thing for the perfect wedding experience. I am the mother of the groom and I choose the venue and thereby was responsible for decorating and staging everything. I was highly impressed with Suite Forty Eight and the staff, they were awesomely delightful and accommodating. I would highly recommend their facility without hesitation.


Colleen

Married on 01/23/2016

My wedding day was perfect thanks to a very special venue & two very splendid women.
If you are reading this review chances are you are looking for a venue for a special occasion. Please look no further! Suite 48 is it!
Everything was perfect about Suite 48 especially the women managing and planning the event site Susan & Angie!
The venue itself is absolutely beautiful from the beautiful wooden floors and decor to the open space and multiple rooms that could still feel close if you wanted are absolutely ideal for any event. There was plenty of parking and open room with an enchanting outside area with water & garden fountains around the entrance. Please give it a look you will be glad that you did! I myself looked at 5 venues prior but fell in love with Suite 48. Now let me tell you about these special women who helped make my wedding run so smooth & calm. Susan & Angie. In these times it seems customer service has fallen to the waste side in daily places or even event settings. However that is not the case with Susan & Angie. They were phenomenal in every way!!! I never once felt ignored or worried about not knowing something. They both had immediate response times with email and texting and phone calls and as * stressy * us Brides can get that was a huge relief and very much appreciated! Susan met with me on several occasions just to clear my head regarding the littlest details. Angie also helped me with everything down to the final minute of our entrance as husband and wife. I could truly go on for quite some time on how much I admire and am grateful to the both of them but I think you should quit your search and give them a call. You will not regret it the venue is exquisite and so are the event planners who will help you along the way to your big day! Please at least give them a try but I guarantee you will love the venue!
To Angie & Susan - Thank you from the bottom of my heart my wedding day would not have been the same without you <3

Martha

Married on 07/10/2016

Take the tour! Stunning venue.

Used it for my daughter's baby shower. The tall windows with the simple sheers made it super elegant yet not over the top. Wish I could do it again!

Deanna

Married on 12/03/2016

Angie is who I more personally worked with and she was very good about communicating with me and answering the questions that I had. For the value you get a decent amount of space, we utilized all rooms for our wedding. One for the ceremony, one for the reception, the lounge for cocktails, and our catering team setup in the kitchenette. There is a big pro or con dependent on what type of wedding you are having. If you are a big do-it-yourself and want to plan everything down to the last detail, this space allows for that. If you don't want to think about the small things, like silverware, dishes, glasses and its not provided by a caterer, you might want to look at multiple venues. I didn't have any problems with the staff, all the tables and chairs were ready for us to add our personal touches the day of.

Jelissa

Married on 07/16/2016

Great space, amazing company. Loved our decor and Angie is the bomb. My husband and I couldn't have asked for a better reception venue.

Kelsie R.

Married on 01/09/2021

Great & Affordable Venue

The venue was very spacious and great for a more causal wedding, or someone who is on a budget! They have a room for the ceremony or you could have it at one of their separate beach locations. This could also be a great reception only location. The 2 women I met with were informative and responsive with all of my questions, and I asked a lot. The only downfall is the outside of the building was a sore sight for anyone who wants outdoor pictures.
Are you interested?
Send a message