18 Reviews
Recommended by 95% of couples
Quality of service

4.8 out of 5 rating

Average response time

4.7 out of 5 rating

Professionalism

4.7 out of 5 rating

Value

4.8 out of 5 rating

Flexibility

4.9 out of 5 rating
54 User photos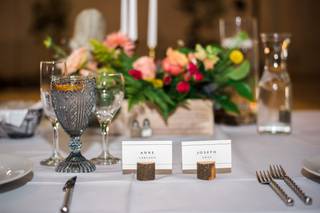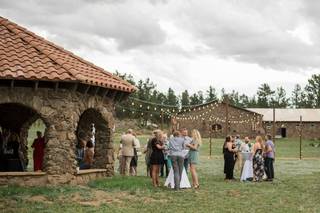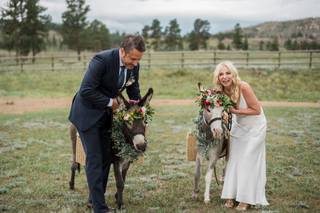 + 50

photos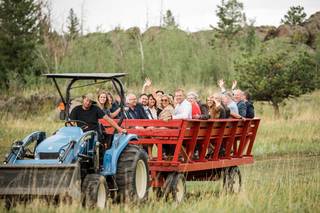 Anne C.

Married on 08/13/2022

A Dream Colorado Wedding Venue!

I cannot say enough good things about Stove Prairie Ranch! The location cannot be beat...set on 450 acres in the mountains is absolutely breathtaking. The best part of the ranch is Lori; the wedding coordinator extraordinaire and everything you need to make your wedding special...she also runs the ranch and is a total rockstar. Not only is she such a joy to work with but she makes sure every single detail is taken care of so you can relax and have fun! My husband and I just loved working with her and are beyond grateful for the work she put into our wedding to make it ours! We had people come in from all over the country and they are still talking about our wedding...imagine walking down the aisle with llamas under the pine trees with all of your favorite people and finishing the night in the barn dancing to a fabulous band under the twinkle lights. If you are looking for a dream wedding venue...you have found it! We so love Stove Prairie Ranch!

+ 6

photos

Stove Prairie Ranch's reply:

Thank You so much for your kind words! It was wonderful to work with you two and make your vision come to life. I'm so happy to hear your guests enjoyed the ranch and all the added entertainment! Our Llama's plus the "Farm at Sparrow Hill", Mini-Beverage Burro's were a big hit! Congratulations to you both and come see us anytime! We wish you a wonderful adventure together!

Stove Prairie Ranch

Jaclyn W.

Married on 09/26/2021

Perfect venue and team!

Lori and the whole SPR team went above and beyond to make sure that my husband and I had the most perfect day! From creating my timeline and contacting all our vendors to make to everything ran smoothly, to decorating and putting everything in place for us we could not have had a better place or team to help us!!

+ 3

photos

Stove Prairie Ranch's reply:

Thank you Jaclyn for your kind words! Stove Prairie Ranch was honored to host your wedding and assist you in creating a special day for you, your family & friends! Your wedding was beautiful! We wish you much happiness together as you continue your journey as Husband & Wife! Your adventure has just begun!!

Congratulations again!
SPR Team

Paige T.

Married on 08/21/2021

My dream come true

My wedding experience at Stove Prarie Ranch was more than I ever expected! Lori was more than amazing and I would highly recommend this venue to anyone who wants the stunning view and amazing staff! Everything was perfect and Lori made it to where I didn't have to worry about anything the day of the wedding!

Are you interested?

Send a message

Jessika C.

Married on 09/12/2020

Best Venue and Wedding Coordinator Ever!

The first time we took the drive to Stove Prairie Ranch we fell in love. The seclusion and the pure beauty of the property made it hard not to!

The owner lives on the large piece of land and he drove by to say hello each time we came by during the planning process. He even picked my Dad and I up from the "getting ready" cottage on the day of and drove us to our ceremony site, letting us sit in the air conditioning before walking down the aisle!

Lori is the onsite coordinator... And I couldn't say enough good things about her. She was amazing through this whole process and became a great friend. From the beginning we could tell that she cared and she was very flexible with us after we had to cancel our original wedding in Cancun due to COVID. She replied to all of my texts and kept me in the loop. She was in contact with our vendors during and before the wedding to ensure everything went smoothly. Our September wedding with COVID was already hard enough to plan, but then Colorado broke out in fires and the venue was actually closed due to being in the evacuation zone two days before the wedding. Lori was calling up a storm and writing emails to the sheriff's office titled "In the name of love" and got us an exception the day before, SAVING OUR WEDDING!! It was literally like out of a movie, I still can't believe we pulled it off But we definitely couldn't have done it without her.

There are several buildings on the property for you to use, including a cottage for one party to get ready at, and a loft with pool, darts and a great view for the other party to hangout at before the ceremony. My wedding party did a lot of walking that day because we couldn't have cars going up and down the road with the fire restrictions, but nobody complained and everyone loved the scenery.

The property is beautiful and there's so many different venues locations. We were able to help our ceremony upon the hillside where our guests were brought up by a tractor pulling a hay wagon, which all of our guests loved! We had the most beautiful location with giant rocks as our background with the mountains right behind. But we couldn't have asked for a better location!

Once the ceremony was over everybody walked down the hill and Lori helped coordinate getting people to the reception location. The reception was held outdoors on the terrace which was so rustic and cute! It was a huge hit. She decorated it perfectly. We were able to get some alone time inside the barn at our sweetheart table before the hustle and bustle began. Where Lori made sure we had food sitting at our table so we could eat. She came and brought me drinks, kept me smiling and helped coordinate with our very awful DJ haha.

The indoor barn area is huge but we were able to utilize space with COVID and keep people very distant! They have the most beautiful lighting set up in the barn and very nice restrooms for your guests. They even have a dance floor they put down for you! Inside the barn is a gravel dirt combination but just make sure to book the dry cleaning package for your dress! I wouldn't have changed anything.

Thank you thank you thank you to Lori and the owner of Stove prairie Ranch for a day that we and our guests will not forget!!!

+ 6

photos

Stove Prairie Ranch's reply:

Thank You, Jessika & Austin, for sharing your special day with all of us at Stove Prairie Ranch! We were so honored to host your Wedding Event and so happy to assist in making your day come together!

Have a wonderful adventure together as your love continues to grow!

Congratulations!
Stove Prairie Ranch

Amanda S.

Married on 07/04/2020

Awesome venue!

We loved Stove Prairie Ranch from the moment we saw the beautiful mountain venue! Lori was great to work with. It is obvious that she absolutely loves what she does. She helped make our vision a reality and provided a lot of ideas that we would have never thought of, but they made our wedding even more special. I was able to ask Lori any questions I had and she was always very quick to respond answering my questions.

We had a late morning ceremony up on the hill, a cocktail hour outside on the terrace and used the indoor arena for our reception where guests were able to eat brunch while still having plenty of room to spread out and allow for proper distancing. We also had yard games set up in the lawn next to the terrace.

We were able to choose our ceremony site on the property from a few different options and personalize it to our liking. We decided on the open site up the hill with a backdrop of mountains and big rocks. Our wedding party was given a tractor ride up the mountain to the ceremony, which was a fun experience! Due to COVID, our guests had to walk up the hill rather than also riding the tractor, but many of them commented that they enjoyed the short walk to the site and how pretty it was once they got to the top. The owner was nice enough to give my grandparents a ride to the ceremony in his car and also gave them a ride back down to the reception. They greatly appreciated his kind act and still talk about how special that made them feel!

We had multiple guests tell us what a beautiful venue it was and that it was one of the most fun and unique weddings they had been to. Our wedding day was everything we had imagined and more! Lori was so supportive and helpful throughout the entire process. I would highly recommend this venue! I can't thank SPR and Lori enough for making our day so amazing!

Brian E.

Married on 06/09/2020

Very Flexible and Easy To Work With

The staff at Stove Prairie Ranch was so good about being flexible and there was no stress working with them. They weren't impersonal or difficult in any way. We would highly recommend them!

+ 7

photos

Stove Prairie Ranch's reply:

Thank You so much for your kind words! We truly appreciate your recommendation and always strive to make our events as stress-less as possible!

Stove Prairie Ranch

Charlotte B.

Married on 06/22/2019

AMAZING venue and staff for our wedding!!

Stove Prairie Ranch is an INCREDIBLE venue for a wedding and has THE most amazing team of people to work with. The venue is absolutely beautiful and Lori is wonderful to work with. She is SO helpful, kind, thoughtful and thinks of everything. It gave me such peace of mind to know that Lori had so much under control - everything from tables and chairs, to the heater we needed to get two days before the wedding because, yes, it snowed in June! :) We loved that we could provide our own alcohol (DEFINTELY helped us stay in our budget) and that we could choose our own vendor for dinner. This venue provides so many services, but is also really flexible. Making sure our wedding day was perfect was Lori's goal and she did everything to make sure that happened. It was an added perk that there was a bridal cottage for the ladies to get ready in and where we also got to spend our wedding night. There is also a place family can rent for the night on the property, which facilitated our morning brunch together the next day. It was really nice to get to stay on the property and take our time cleaning up the next day, rather than rushing around after guests left.

My husband and I loved having our wedding at Stove Prairie and received so many compliments from our guests about how beautiful it was. I would highly, highly recommend this venue to anyone and I know you will love it too.

Stove Prairie Ranch's reply:

Thank You, Charlotte & Eric, for your kind words and support of Stove Prairie Ranch! Your Wedding was so beautiful and you both were a pleasure to work with. We enjoyed being part of your special day and assisting in making the vision of your event come together.

Not only did I get to know you and your family but feel we will be life long friends! Thank You again and have a wonderful adventure together!

Katy D.

Married on 05/25/2019

Best Wedding Venue We've Ever Had

We are an 'older' couple and never been married before so most of our friends have kids already and many came from out of town. Since we wanted our wedding to be a family affair, this was a fantastic venue to include all the kids with plenty of room for them to run & play. The llamas were a hit with both kids and adults! Lori is super accommodating and easy to work with and the ranch was very picturesque for photos. Overall, this was the perfect spot with mountain views to celebrate and enjoy time with our family & friends!

Stove Prairie Ranch's reply:

Katy & Shawn,

Thank you so much for your kind words! We loved hosting your wedding event and so happy your were pleased with our venue and the flexibility we offer in giving you the freedom to create a signature day.
We wish you must happiness and look forward to seeing you at Stove Prairie Ranch for your anniversary celebration.

Warmly,

SPR Team

Colleen K.

Married on 07/07/2018

Dream come true wedding

Had a wonderful experience with SPR. Lori really helped me to execute my vision and make our day incredibly beautiful and special. Have gotten uncountable compliments about this venue.

Stove Prairie Ranch's reply:

Colleen,

Thank you so much for choosing Stove Prairie Ranch to host your wedding celebration! It was a pleasure to work with you and Lee and be part of executing your creative vision. We wish you much happiness as you take your life journey together!

Stove Prairie Ranch

Dakota

Married on 06/09/2018

If you want a beautiful Colorado wedding this is the place! There are so many options for ceremony sites and the whole ranch will have your guests in awe! Plus Lori is so sweet to work with and will go above and beyond to make your event perfect! She treated us like family and was so genuinely excited throughout the whole process. All of their staff really! Bob was so wonderful in helping everyone, he made my 3yr old nieces day by letting her sit on a horse! It was all the little things everyone did that made our day so
magical! I highly reccomend this venue!

Josh K.

Married on 05/12/2018

Stove Prairie Ranch was the perfect place for our wedding. As soon as my now bride saw it, we were in! It's a gorgeous setting with beautiful buildings. Lori's style meshed perfectly with Kate's and we worked out decor very well. Our ceremony was in the gazebo and reception was the first they've had in the disused horse barn. It turned out just exactly like envisioned. We had a small, intimate event with just over 50 people and everyone was gushing over how great it was. The SPR staff was very accommodating on everything we needed and made the place welcoming for our families who stayed on in the two available houses on the property. Overall, it was perfect! -- Josh&Kate

Matthew

Married on 08/12/2017

Stove prairie ranch is a great venue. They have top notch amenities and their employees are outstanding. Mike, Bob and Lori are wonderful people to work with and go completely out of their way to make sure everything is perfect! There are multiple ceremony sites to choose from. All of them are beautiful and taken care of. The grounds are very well kept and don't show any signs of neglect. I would definitely recommend anyone to stove prairie ranch if they are in need of a venue.

Stove Prairie Ranch's reply:

Matthew, thank you so much for selecting Stove Prairie Ranch to host your recent wedding. We sincerely appreciate your comments and wish you both all the best for your future together.

Bobbie

Married on 08/13/2016

LOVE Stove Pairie Ranch!

The quintessential Colorado venue! Beautiful space, great team. Lori is a gem. Efficient, attentive, and pleasure to work with.

Stove Prairie Ranch's reply:

Thank you so much for your kind words! We always appreciate hearing from our clients! We are always trying to improve our venue to create special events and lifelong memories!

Danielle

Married on 06/10/2017

Stove Prairie Ranch was the perfect venue for my country chic wedding. I couldn't have asked for a better setting than this beautiful ranch in the mountains. This ranch has such a romantic feel. We knew from the moment we saw the ranch that we wanted to get married there. It is a up and coming venue and I'm positive it will become one of the most sought after venues in the Northern Colorado and surrounding areas! The staff are very sweet and it is obvious they care first and foremost about making your wedding day the most amazing experience possible. I tell everyone I know about this venue because it is just such a beautify and perfect place to say I Do! The ranch is in Bellvue, Colorado about 30-45 minutes northwest of Horsetooth Reservoir but 100% worth the drive. The venue has multiple location options for ceremonies and an indoor or outdoor option for the reception. There are even a few horses on the property to make it feel even more majestic. I couldn't have imagined my wedding turning out any more perfect and just as I imagined thanks to my gorgeous venue and the personable and dedicated staff at Stove Prairie Ranch.

Amanda M.

Married on 04/09/2021

A VERY Colorado Wedding Venue

Lori, the on site coordinator, was a dream to work with. If your looking for a venue with flexibility, they is the place for you! I wanted a few specific thing for our wedding and Stove Prairie was unique in being able to provide all of them: flexibility to do what we wanted to make our day ours, privacy from the public, enough room for each of us to have our own space with our crew on the big day, and last- something VERY Colorado.

A few things to remember: this is a ranch. There's dirt. It's subjected to the elements. It's entirely outside (with the exception of the tent onsite). We had a long winter and the the grass did not grown back in where it should have in the tent area. That left a lot of dirt. We were able to make the dance floor bigger and add a few detailed items to take away from it but that was a bummer and something I hadn't considered. Honestly though, other than that, everything was perfect, elegant and beautiful. Most importantly is was very us and very Colorado. I can't thank Lori and the staff enough on the property enough for making our Dream day come true.

+ 3

photos

Stove Prairie Ranch's reply:

Thank you Amanda for your kind words! We throughly enjoyed hosting your wedding and meeting your family and friends.

It was unfortunate about the natural flooring in the Marquee tent but the extended dance floor addition made a good cover-up. As you know our Colorado mountain weather is quite unpredictable and as you said with our late winter, the grass just did not recover in our tent area. We are working on some solutions for future events.

Your wedding planner Jenna @Revel & Roots was a dream to work with and a true professional. Your creative vision on your decoration, lounge area and centerpieces made a luxury statement. We can hardly wait to see all your photo's!
Thanks Again for choosing Stove Prairie Ranch. We wish you a life full of adventure and happiness!

Kind Regards,
Stove Prairie Ranch

Craig

Married on 08/06/2016

Stove Prairie Ranch provided an outstanding setting for our wedding in August, 2016. Our wants and needs were accommodated on all fronts. Even though Stove Prairie was in the process of completing the wedding venue, there was never any stress involved in pulling together our wedding and everything was in order in a timely fashion. The various folks involved were a pleasure to work with and made us feel like family. All in all, we had an amazing wedding that went as smoothly as we could have hoped and that left us and our guests with memories to last a lifetime.

Jessica

Married on 09/09/2017

We loved our wedding at Stove Prairie Ranch. The location is a dream and we were really able to have a wedding that fit our vision. Lori, Glen, and Tracy were extremely helpful and it was clear that they wanted our day to be special. You really won't find another venue like it!

Stove Prairie Ranch's reply:

Thank you, Jessica & Charles, for choosing Stove Prairie Ranch to host your beautiful wedding event. It was a wonderful journey and memories of a lifetime were created. Congratulations!

Emma V.

Married on 06/07/2021

Beautiful venue, but...

Stove Prairie Ranch is absolutely beautiful and was a wonderful setting for our wedding, but working with their coordinator Lori was definitely one of the most stressful parts of planning our wedding. She never took a single note during our conversations so when she said she would send us something we would have to ask her five times, and I lost track of how many times she asked me about the color of tablecloths we wanted. If I emailed her with several questions she would answer only one or two of them so I would have to email her again. Without us prompting she would offer to do things that she didn't have to do and then when we agreed she would never do them, which was far less helpful and more annoying than if she hadn't offered in the first place. She also tried to switch our outdoor tent wedding to an indoor wedding without our approval and in violation of our contract. Things worked out overall, but the process was incredibly stressful. I would only recommend this venue if you hire your own coordinator and don't work directly with Lori.
Are you interested?
Send a message