109 Reviews
Recommended by 95% of couples
Quality of service

4.7 out of 5 rating

Average response time

4.8 out of 5 rating

Professionalism

4.7 out of 5 rating

Value

4.7 out of 5 rating

Flexibility

4.8 out of 5 rating
6 User photos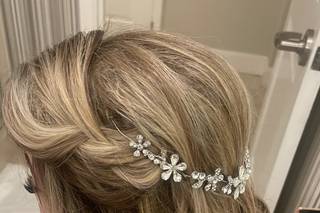 + 2

photos
Milenia M.

Married on 01/04/2023

Great job!!

Erica did great and awesome job!!!

+ 2

photos

Jamie

Married on 11/26/2022

Fabulous Jasmine was THE BEST

Jasmine was absolutely amazing

Mandy J.

Married on 11/20/2022

Unbelievably Amazing

OMG...words don't explain the amazing job Erica did for my wedding. I hired Erica to do my wedding party and my hair and make-up-she provided soooo much more. She was AWESEOME. She did hair and make-up for my group: my 9 yr old nieces -my 75 yr old mom-we all looked amazing. Erica also did my nephew's hair, helped with the million buttons on my dress and fixed my nephew's tux pants. I HIGHLY recommend her. She is worth way more than she charges for her services. I also want to share that Erica is relatable and calm-with the craziness of a wedding, she kept things, calm, flowing, and fun!!!

Are you interested?

Send a message

Angela T.

Married on 11/16/2021

Hair and Makeup

Wow is all I can say. The sweet ladies that did my hair and makeup were early, efficient and helped calm my nerves with conversation.

Jennifer P.

Married on 04/03/2021

Just Perfection

I have never been more impressed with a service! In one hour these young women made my daughter look as if she had just walked off the cover af a magazine. Tasteful, elegant, beautiful! My husband said he felt as if he was dancing with a movie star. Lovely job, outstanding customer service, and I simply cannot recommend this studio enough! Thank you

Shannon D.

Married on 03/19/2019

My Wedding

I would highly recommend Mrs. Steeve Danielle. She was very sweet, kind and very professional. She came to our room and did my hair and makeup for my big day. There was no stress at all. I enjoyed every bit of it for our big day. She did what I wanted for my hair. Again thank you Steeve Danielle for making my day so special.

Almira

Married on 11/05/2018

The Eads Wedding

The team made me feel and look like a princess

Megan

Married on 06/10/2018

I cannot rave about my experience with Stevee Danielle Hair and Make Up enough. Erica did my hair and make up for my wedding. She is brilliant! And so kind and fast. I did a trial before my wedding. Loved the make up and liked the hair, but we decided to make some changes on the wedding day. I felt some anxiety because I wasn't in love with the hair on my trial, but that was completely my fault. I tried a style and decided I wanted something else when we were done. We talked about the changes and got on the same page for the wedding day. Holy cow. I looked awesome! I got SO many compliments on my hair and make up. I looked even better than I imagined I could. My hair and make up stayed in place all night. I definitely recommend the airbrush makeup...that was awesome. You are absolutely in great hands with Erica in particular, but I'm sure other stylists are fantastic as well. I got quotes from other makeup companies in town, but they charged twice as much. I was very, very happy with the value and experience with Stevee Danielle. Trust the great reviews, I did and it was well worth every penny.

Marcy

Married on 06/09/2017

I honestly couldn't have picked a more sweet and talented stylist for my hair and make up on one of the most important day of my life. Thanks to Stevee for making me beautiful on my Big Day!

Jen

Married on 11/12/2016

She did such an amazing job on the hair and makeup for myself and my two bridesmaids! She made the three of us look absolutely beautiful! Our hair lasted all night, the makeup looked perfect in real life and in pictures, and she was a total sweetheart during the whole process!

Shauna

Married on 07/04/2016

I would absolutely have Stevee and her staff style me again when I come to Vegas! I was extremely happy with the outcome of my hair and make up for my 10 year vow renewal. My 5 bridesmaids were also thrilled with their make up and we all felt fabulous that day! We appreciated the quality of service Stevee and her staff gave us. Thanks ladies!

Amy

Married on 06/15/2016

THEY WERE THE BEST!!!

I got married back in June and they made the whole process so easy, Im from the UK but got married in Vegas so worried about choosing the right people for the job! I went over in March to have a test run which went perfectly!!

We planned everything via e-mail, appointments and payment were very easy. The air brush make they used was soo good and my bridesmaids and mum loved it too!! The make up and our hair lasted all day and night!

I want to thank them for making me feel amazing on my special day!! Wish i could do it all over again!

Amy

Rebecca

Married on 05/05/2016

I live in the San Fernando Valley, my fiance was from Oxnard...and we decided to get married in Las Vegas. I had to find someone to do not only my hair and make up but also the hair and make up of my mom, my maid of honor, and my bridesmaids. It's really hard when you get married out of town (out of state really) to find someone who will do a great job and isn't shady. I checked the reviews on this website along with Yelp and other wedding websites and I was super impressed by the pictures that were on Stevee Danielle's website. I decided to email her and as her about her pricing. She responded the same day. NICE. For as great as her work was in pictures, I couldn't help but wonder why her prices were lower than everyone else's.

The day of the wedding, she showed up with "Khaleesi" (Sorry, I forgot your name but we all remember you as Khaleesi from GoT. :-D) Stevee worked on air brush make up while Khaleesi worked on hair. They were super fast!! Within 2 hours, 5 of us got our make up done and 6 got hair done and we all paid and the ladies cleaned up their work space. I couldn't be happier (and neither could my best friends and my mom) with how BEAUTIFUL we looked AND felt that day. Thank you so much you two for doing such an awesome job! You both are amazing what what you do!

Seriously, if any of you come across my review, stop looking at any other vendor and just book Stevee Danielle. You will NOT regret it.

Side Note: She took before and after pics of how my friend and I looked. Here are the links:
Myself - http://static1.squarespace.com/static/540759bbe4b04f2a4fe86fed/55805257e4b0117c1398cb7c/5739c99522482e97a85722f8/1463404958285/Image+%284%29.jpg?format=750w

and

My best friend - http://static1.squarespace.com/static/540759bbe4b04f2a4fe86fed/55805257e4b0117c1398cb7c/5739ca2c3c44d8a1805bc327/1463427546089/Image+%286%29.jpg?format=750w

Rita

Married on 03/21/2016

I was referred to them by my photographer and I was impressed from the start. I received an email responding to my questions quickly. I booked without having to make a payment which is unheard of. I was able to make changes without an issue and the whole process was smooth. Erica was my stylist and I couldn't be happier. I showed her a couple photos and she worked her magic. My make up was flawless and she made me feel comfortable and I LOVE the way my hair turned out. She was FAST, like really fast. If we had a large group she would have been able to have them all done by herself and I wouldn't have worried. I will recommend them to anyone who asks and will be using them again in the future for sure!

Kristen A.

Married on 11/04/2015

The two ladies that did my hair and make up were quick, caring and efficient. I showed them a picture of a hairstyle and they replicated it. My make up was done to my specifications and colors. They both made slight corrections when I asked them too. All and all it was a very nice experience and I would highly recommend Stevee Danielle for any make up and hair styling needs for your special day!

Celina

Married on 10/25/2015

I loved using this company to do my hair and make up for my wedding. The girls were so amazing!!! Their names were Erica and Teddi. LOVED them!!! They did mine and my mothers hair and make up. These girls are so talented they did both at the same time. While Teddi was working on my hair Erica was working her magic on my make up. They were fun, professional , and quick. Book them asap.

Best prices and best reviews so I booked them. With all the hustle and bustle, I had forgotten to come up with an idea of what I wanted! That was no problem... she was able to clip in my extensions and do a fabulous updo that accentuated the highlights. She also made my birdcage veil fit in perfectly! And nothing moved in my outdoor wedding or our afterparty! My makeup was awesome and exactly the dramatic purple smokey eye look I asked for! Plus, the conversation helped keep me calm as the minutes ticked by closer and closer to my wedding! I would recommend this vendor to anyone! Even the customer service from the moment I sent the first inquiry email was faster, more congratulatory, and significantly nicer than any other I had contacted!

Amanda

Married on 10/07/2015

I'm from Canada, so planning my wedding in Las Vegas was based mostly on online reviews and email communication. I chose Stevee Danielle Hair and Makeup based on the many online reviews and photos of their work, and I couldn't have been happier with my decision! I met with Erica the day after I arrived in Las Vegas to do a trial run on my hair style. I only had a few pictures, nothing concrete as to what I wanted to look like. She styled my hair based on the pictures I showed her and it turned out amazing, and even gave me a few options of how to alter it for different looks on the big day! On my wedding day, Erica and Teddi showed up and immediately got to work. They were efficient, friendly, and overall wonderful to work with! My hair and makeup beyond exceeded my expectations and I felt absolutely beautiful when they were done with me. My hair and airbrush makeup lasted through a pretty hot day and well into the night! I totally recommend Stevee Danielle Hair and Makeup to any future brides, they are amazing!

Laura

Married on 09/25/2015

Erica is amazing. She made me feel so incredibly beautiful on my wedding day. My hair and make up lasted all day! She even answered my frantic phone call at 11:30 PM at night for last minute schedule changes! Great people, great business, and great hair and make up. Thanks for everything.

I was very pleased that I booked Stevee Danielle and her team to get my bridal party and I hair and makeup ready for my wedding day! I love the convenience of the hair and makeup team coming to us to our Vdara suite.
We even had a party of 12 ladies in my bridal party, and Stevee Danielle with her team got us ready in time. All the ladies looked beautiful!
Thank you for your excellent service!

Megan

Married on 06/16/2015

I am not really one to write review unless the service his completely horrible but I feel compelled to write this review because of the amazing job that Stevee Danielle and especially Erica did on my wedding day. My now husband and I had decided to have a semi-elopement in Vegas for our wedding. I wanted something small and intimate and away from my home town. When we decided on Vegas I was worried about where to get my hair and make-up done for a reasonable price the day of the wedding. I was looking anywhere and everywhere online when I cam across Stevee Danielle. I looked at the pictures and decided to reach out and book the appointment, about a month in advanced, so I could make sure I got in. Conversing with Stevee was seemless and she answered all the questions I had and got me booked. About a week before the wedding my mother decided she wanted to get her hair done too and Stevee was able to get her added with no muss of fuss! When my big day came I was excited to meet the stylist as I had some ideas of what i wanted and wanted to get stated. Erica was absolutely AMAZING! She listened to what I wanted and then gave her opinion and when it was decided we got to work! Once she finished my hair she was adamant that I be brutally honest, if I didn't like it she wanted to know which I thought was fantastic! Granted I love love loved my hair so no change was needed. Then she went on to my make up. We did the airbrush and she add a little dramatic color while keeping a natural feel which was PERFECT with the look of my dress. After I was done she started to work on my mom and at the last minute my mom decided to add on air brush makeup and Erica just stepped up and got it all in and done on time! This company is amazing and they come to you which is a great bonus especially for destination weddings. I highly recommend this company and especially Erica as her passion and love for making the day special for you just shines out. Thank you Steeve Danielle and Erica for

Allison

Married on 05/30/2015

I just had my wedding at The Aria on 5/30. Stevee Danielle and her girls were amazing !! They were punctual, flexible , easy going.. They did a great job on my 2 sister in law, 2 aunts, my mother in law, stepmom, mom, and myself. We looked beautiful and they were fun to talk to. They felt like family !! I would highly recommend them. Stevee is a young entrepreneur. but is wise beyond her years.

Jillian

Married on 05/24/2015

Best price in town & they came to me! Hailey & Erica were on time, friendly & did an exceptional job! Couldn't have asked to feel prettier on my wedding day! Thank you!
Jillian Russ

Natalie

Married on 05/05/2015

I found Stevee Danielle on Wedding Wire and am SO happy I did! I booked them right away. Their before and after photos on their website and facebook are amazing. I did a trial hair and airbrush makeup 2 days before my wedding for my bachelorette party and Erica had done such a great job! The day of the wedding Stevee and Erica came to my room and did hair and airbrush makeup for 6 of us. They did such a great job, everyone looked absolutely incredible! We were all so very happy with how everything turned out. We only showed them 1 picture each person and they went to work right away. They were so nice and talkative the whole time with us, you can tell how much they love what they do. I would definitely recommend them to anyone looking for hair and makeup for their wedding day. I know I will for sure be booking them again in the future!

Kristen

Married on 03/14/2015

I cannot say enough about the professionalism and talent of the team who helped get us ready for my wedding. For a bride, three bridesmaids and two moms, Stevee and two of her talented team traveled to our hotel and had us in great shape. Erica came for a trial two days before the wedding and she was amazing. I showed her a dozen pictures and she picked the one that would be most flattering for me. I couldn't decide between traditional and airbrush makeup, so did one, took my picture, had me wash my face, and did the second one. She was friendly, professional and charming, keeping up a steady stream of small talk so I would be comfortable. She was on time for the trial and spent as much time as I needed to be comfortable.
The original quote was for 2 stylists; when I asked for 3, the answer was yes immediately. I was nervous that I didn't book us to start early enough, so the day of the wedding Erica and another stylist appeared early. Stevee herself came to finish us off and all three women were delightful. Everyone was thrilled with the results, and the makeup looked wonderful under the hot sun of the desert. I wish I lived closer to use their services again.
Are you interested?
Send a message