138 Reviews
Recommended by 100% of couples
Quality of service

5 out of 5 rating

Average response time

5 out of 5 rating

Professionalism

5 out of 5 rating

Value

5 out of 5 rating

Flexibility

5 out of 5 rating
18 User photos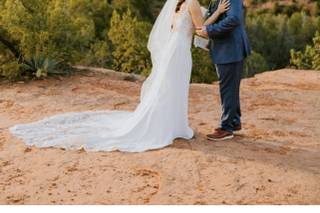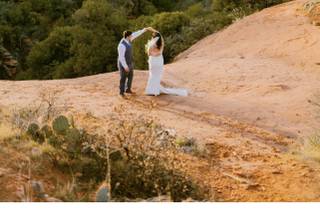 + 14

photos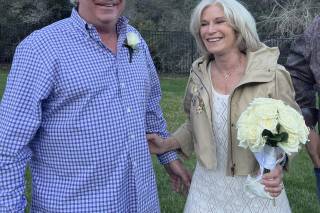 Zoe

Married on 07/09/2022

MUST have officiant in Sedona, AZ

Shanandoah was absolutely amazing. My husband and I live all the way in Chicago and we were blessed to find Shanandoah in Sedona for our elopement!! She was so personable, calming, and you could tell she was actually interested and involved in our love story. We had multiple calls to get to know each other and what we were looking for in a true elopement. She asked all the amazing questions and gave us GREAT recommendations. The night before our wedding we had to CHANGE locations, and Shanandoah kept me calm and offered an even more amazing spot to elope!!!! She knows Sedona like the back of her hand and we trust her so much, the pictures do not do it justice. Her words were just SO meaningful and we received a keepsake with our ceremony in it to remember forever. Just absolutely 10/10, thank you so so much Shanandoah!!! - Love, The Belmontes

Sterling Weddings of Sedona's reply:

Zoë,

I am delighted you found your ceremony so meaningful! I LOVE to work with each couple, find the magic of their relationship, and let it shine in their ceremony. You were an AMAZING couple to work with and even flowed when the Forest Service closed your first choice location. I am so happy my last-minute location recommendation shimmered in your hearts!

I wish you both a Blessed Journey in Marriage!!
~Rev. Shanandoah

Cynthia G.

Married on 04/02/2022

Thankful to find her

After being together for many years, we wanted to make our ceremony extra special & personal. From our first conversation , we knew Rev. Shenandoah was passionate about her calling. It was as if she knew us for years providing wonderful suggestions to make our day even more special. Our wedding ceremony was above & beyond our expectations. We highly recommend Rev Shanandoah !!!

Stephanie A.

Married on 03/13/2022

Perfect experience!!



This experience was so, so special because of Shanandoah. From first contact to the ceremony she took control and we were blessed with her caring soul!!!

Sterling Weddings of Sedona's reply:

Stephanie and Pat,

I am honored to know you and witness your faith and devotion to one another! I wish you Joy, Happiness, and Many Blessings!!

Rev. Shanandoah


Are you interested?

Send a message

Stephanie A.

Married on 03/04/2022

Easy to work with, helpful, trustworthy!

Shanandoah was very sweet and informative from the get go. We had a meeting with her beforehand so she could learn more about our love story. She really paid attention to detail and created a unique ceremony from the details of our story and our spiritual preferences. We had some last minute changes the day of the wedding and she was very flexible, even helped with some tasks in preparation for the ceremony which was much appreciated. We both felt reassured and supported by her throughout the whole process. Beautiful person and very professional. We highly recommend her!

Sterling Weddings of Sedona's reply:

Stephanie,

I am so happy you both took the time with me! I find it very telling of a couple's dedication to their relationship by their love story. Each story helped me create your ceremony.

And I was happy to help on the day of the ceremony. Even though there was spring rain, we still managed to have your ceremony under an outdoor covered stone patio overlooking Sedona's red rock mesas!

Blessings of Joy in your Marriage!!
~Rev. Shanandoah

Melissa W.

Married on 11/06/2021

Shanandoah is exactly the Reverend you want

Shanandoah has an ease, a radiating joy and a gentle smile that made my special day absolutely perfect! So thankful for her.

Sterling Weddings of Sedona's reply:

Melissa,
I was honored to be a part of your wedding day! The autumn weather was perfect by Oak Creek at L'Auberge de Sedona. Your wedding day was beautifully blessed!

I look forward to seeing you and Shane when you revisit Sedona.

Congratulations!
Rev. Shanandoah

Amanda B.

Married on 11/02/2019

Soulful, Spiritual, and Beautiful!

My wife, Sandra and I were looking for something exquisitely unique and different from the "traditional" wedding. I wanted an elegant ceremony, Sandra wanted everlasting. We both wanted rocks and water.

Sandra and I both decided that since we were making a lifetime commitment, we would marry into a Covenant Marriage - which requires marriage counseling before the actual wedding (this is a special marriage recognized in three states).

I knew I found the right person after my first talk with Rev. Shanandoah. Her calm demeanor, pleasant personality, and ability to translate our vision was more than we would have imagined.

Rev. Shanandoah spent several months guiding Sandra and I through sometimes difficult discussions, encouraged us to look deep within ourselves, and understand that our marriage is more than words written on paper.

The day of our ceremony was well orchestrated and designed just for us! Reverend put much effort and work into our beautiful nuptials (and keepsake booklet) and with her whimsical personality, brought it all to life. Her melodic tone sang our song and her presence sealed our magical moment. I couldn't have imagined a better Officiant and friend to be present for our special day.

We are forever grateful and look forward to renewing our vows with such a soulful, beautiful person. Thank you, Rev. Shanandoah for sharing your time, beautiful talent, and translating our vision with us!

Susan R.

Married on 05/17/2019

Do NOT get Married by anyone else BUT Shannadoah Sterling!

We had a wonderful experience with Shannadoah as the officiant at our wedding. She made the service personal to us, intimate and special. We eloped to Sedona and we met Shannadoah over the telephone in pre-wedding meetings and in person the day before our wedding. Our service was exactly what we hoped it would be. We completely recommend her to other couples.
Susan and Anne Reid

Emily

Married on 10/06/2018

Supportive, Professional, Personalized Ceremony

We are ever grateful for Shanadoah. She brought a grounding, calming spirit to our intimate ceremony, and also laughed with us along with way when we couldn't hold in our giggles. She spent time getting to know us over the phone prior to the ceremony and incorporated the story of how we met and our journey together just beautifully. Our ceremony was personalized and incredibly meaningful. We feel so lucky to have found her. We loved incorporating our family members with the "one word blessing" and the blanket wrapping felt sacred. Shanandoah's professionalism is exceptional and her approach made us feel at ease and so very supported.

+ 4

photos

Tammy

Married on 09/30/2018

Rev Sterling is a gifted and beautiful soul who absolutely made our wedding ceremony the most memorable part of the entire day! We worked together starting a few months in advance and had a phone consultation followed by emails to coordinate the final details. We could not be happier with her professionalism, flexibility, compassion and ability to make us feel like we were the only two in the world at that moment. We chose some Native American aspects including the ring smudging/blessings, personal smudging/blessings, and our personal quotes/sayings were from her multiple page collection (we chose one Apache wedding blessing, and another from The Dalai Lama). We met with her before guests arrived, she held our hands and our gaze and helped center and calm us, then and during the ceremony with the personal smudging. We cannot thank Rev Sterling enough for her role in making this the most special day of our relationship. Tammy & Mike

Robert

Married on 06/20/2018

Shanondoah is an excellent officiant. She is articulate and perceptive. Thank you for making our wedding day very special

Jill

Married on 04/21/2018

We are forever grateful for how Shanandoah made our nuptials so easy, effortless, and absolutely catered to who we are as a couple. She seamlessly planned our wedding ceremony based on just a few phone conference calls. In fact, we didn't have the opportunity to meet with her in person until the event itself. AND, it was perfect. Thank you, Shanandoah, for your attention to detail, insight and foresight into a bride and groom and their mothers, all with very different personalities and quirks, and to your ability to orchestrate a beautiful, blessed moment in time that we will never forget.

Jodi

Married on 04/18/2018

Shanandoah is amazing. She took the time to get to know us and wrote the most perfect ceremony. She incorporated native american elements into our elopement and helped us to feel so present, grounded and connected to Sedona in such a special way. She is extremely organized, thoughtful and passionate about creating the perfect day and kept in touch often in the days leading up to our wedding.

We would highly recommend her if you are are looking for a unique and customized ceremony. SO GOOD!

Nicole

Married on 09/30/2017

Shanandoah did an excellent job of guiding us through the process of planning our ceremony and making sure that the details were a perfect match to our personalities and relationship. She has a tremendous amount of experience to draw from and she offered a variety of options to choose from for each element of the ceremony. We planned our wedding in Sedona completely by phone as we live in Rhode Island. Shanandoah made us feel comfortable that she had everything in hand before we got to Sedona including helping us acquire the marriage license. When we arrived, she met us and went through the final details the day before the wedding. We were a bit late arriving due to our flight and she was willing to be flexible with her time so we could have a breather before meeting with her. The day of the wedding, she was kind, personable, well spoken and had an incredible energy that welcomed and included our guests while focusing on the two of us as a couple. We were honored to have her be a part of our wedding day. She set the tone of the whole day. Several of our guests commented on her as A Class for an officiant. Exceeded our expectations!

Chelsea

Married on 08/19/2017

Shanandoah was absolutely fantastic. If you are looking for an officiant in Sedona I highly recommend her! She put so much time into getting to know us and made sure our ceremony was crafted exactly how we wished. She had a calm and beautiful energy which all of our guests loved. My ceremony was my favorite part of my wedding day and I owe it to her for helping to make it so special.

Karley

Married on 05/18/2017

Our wedding ceremony was so beautiful and peaceful. Shanandoah made us beyond comfortable and was available for any questions before and during our ceremony which was fantastic as we were planning this out of state. I can not speak more highly of her!

Haley

Married on 05/12/2017

Shanandoah was a pleasure and an ease to work with. We loved having her as our officiant. I would recommend her to anyone. She was always prompt and on top of things. We didn't have to worry about a thing with her. We knew she had it covered. She even made a special wedding booklet keepsake of our ceremony! Very sweet and kind woman. Thanks Shanadoah!

Marjorie

Married on 05/06/2017

Grace. Shanandoah exudes grace. We are unable to adequately express our gratitude for having had Shanandoah officiate our wedding ceremony. We chose to have a Native American ceremony, in which Shanandoah so graciously allowed us to share in the traditions of her ancestors. It was intentional and powerful and when I close my eyes I can still feel the connection I felt to the universe in that moment. After having had the experience of being in Shanandoah's presence we wonder why anyone would have a wedding any other way. If you are trying to decide on how you want to begin your life as a married couple, I hope you will allow Shanadoah to share with you in beginning this new journey together. She is conscious and evolved. The world is a better place for having such a woman lead the way in the healing this planet so desperately needs. We sit in gratitude for having had Shanandoah as our officiant. Words are not enough. Thank you Shanandoah for making our day everything we hoped it to be, and congratulations to all of you who will make such a wonderful decision in allowing Shanadoah to officiate your ceremony.

-Marjorie and Holly


Sterling Weddings of Sedona's reply:

Marjorie and Holly,

Your words touch my heart, humble my spirit, and bring tears to my eyes. I am grateful to have shared ceremony with you and wish you an amazing marriage!

Susan

Married on 04/04/2017

We were so lucky to find Shanandoah! She was exactly what we were looking for. We wanted someone who could co-create a meaningful but simple wedding ceremony out in nature that would be memorable and moving. From beginning to end Shanandoah was a dream to work with. She had fantastic recommendations for not only the elements of the ceremony, but also every other part of our wedding experience, like flowers, dinner, music, procedures for marriage license and changing my name, etc.
We did the Native American wedding ceremony and it far exceeded our expectations. Shanandoah is half Native American and our ceremony felt very authentic and real. It was truly magical! One of our guests said it was the best wedding he'd ever attended. It was so unique and she allowed us to personalize it in whatever way we wanted, without feeling like we had to create the whole ceremony from scratch. We met via Skype since we are from out of state. She was constantly available to consult and bounce ideas off of and we truly felt like she was there for us. We never met her until the day of our ceremony but it felt like we had known her for a long time! She created a great connection with us.
Shanandoah is very kind and spiritual without being airy and unreliable. She is grounded and organized and I felt like we were in good hands at all times. She had every detail covered, things only a local would know about the logistical requirements and how to adapt in case of bad weather. It was a worry-free ceremony. We were thoroughly satisfied and would recommend Shanandoah to anyone who wants to create a really memorable ceremony.

Tisha

Married on 03/10/2017

Reverend Shanadoah Took us from A-to-Z for the entire process. She even helped to get us reservations for dinner after the ceremony. She has a very calming sweet loving energy and she was a pleasure to work with, she made the whole process extremely simple. I would highly recommend her to perform your wedding ceremony!

Deborah

Married on 02/26/2017

The ceremony that Shenandoah provided us was one in which we wanted to have the Native American Indian traditions in combination with the traditional ceremony. She made us feel comfortable from the beginning to the end. Allowing us to help in the process of structuring the ceremony.

She also provided us with links to video, photography and flower services in the area. I hope to have her also be a part of when we renew our vows in the future. I was very pleased, and would suggest her services to anyone.

Cory

Married on 01/13/2017

Shanandoah was on our preferred vendor list for our venue in Sedona. From the first website browse, we had such a great vibe about her, and the phone call with her sealed our impression; she was so sweet and calm and was so genuinely interested in us and our story to make sure she was the right officiant for us. She told us to think on it, but as soon as we hung up, we knew we wanted her to marry us. We only met with her the day before the wedding since we came in from NY, but right away we felt comfortable with her, like we had known each other for years.

We wanted a spiritual ceremony and were delighted for her to share the Native American ceremony with us. The blessings and ring clearing and blanket wrap were so beautiful. She remembered all the notes from our phone call and incorporated a piece of our story into the ceremony. And I found out later on that she rearranged the chairs to how I described when they weren't set up right. She made sure everything flowed smoothly and wrote such a wonderful ceremony for us.

We are so grateful for having Shanandoah officiate and be part of our wedding. She took the time to get to know us as a couple and understand what we wanted from the ceremony. I recommend her to anyone marrying in/near Sedona.

Barry

Married on 12/20/2016

Rev. Shanandoah exceeded all of our expectations. Everything was perfect and tailor made to our every desire. From the beginning we knew that we had made the right choice. Not only did she bring her expertise and experience to our wedding, Shanandoah brought warmth and a genuine presence to our special day.

Derek

Married on 11/26/2016

Shanadoah went above and beyond in every area. Six stars would be more appropriate. She listened and gave us ideas that we could incorporate into our ceremony in ways we would have never thought of. She was fun, inspiring and super organized. Moreover, she was plugged into resources such as photographers and planners and locations to help us develop a wedding plan that worked for our budget and intentions. We are spiritual people and believe in the sacredness of marriage, but not in the traditional sense of most wedding ceremonies. Shanadoah understood that, and help us create a heart-centered union that felt like we were casting a powerful magical spell, forging our marriage on new energetic level. At the ceremony, she delivered a powerful pronouncement grounded in ancient wisdom, sacred connection and magnificent, uplifting oratory. My wife said the ceremony surpassed her wildest fairytale fantasies.

Brad

Married on 11/25/2016

Shanandoah was terrific! We called her within a week of our wedding date and she squeezed us in. She performed the sweetest ceremony. Everything went perfect because of her hard work and caring soul! We thank you so much!!!!

Christina

Married on 10/15/2016

From the very first moment we spoke with Shanandoah we knew she was the person we wanted to officiate our ceremony, and was going to make our day wonderfully spiritual and truly perfect--and she exceeded our every expectation. We were planning our AZ destination wedding from our home in Chicago, which wasn't easy, but even during our very first phone call S. gave me great advice and tips for planning, which I utilized throughout the entire planning process--all her advice helped tremendously. She also took the time to Skype with us so we could "meet" from across the country, and when issues arose with our ceremony location she took even more time to visit with us, chat and show us other locations all around Sedona--truly above and beyond what we ever expected from her, and we appreciated it even more than we could ever express. My (now) husband and I always talk about how even just hearing Shanandoah's voice makes the world seem so calm, so relaxing...like nothing could possibly go wrong. During our 18 month wedding planning process Shanandoah worked with us directly to create an incredibly personalized ceremony that meant so much to us, and she didn't even flinch when, a week before our wedding, we said "surprise! we decided that we want to write our own vows too!". We loved having her incorporate blessings of her ancestors into our ceremony as well, as her spirituality was something we really admired about her. We honestly can't even express enough how absolutely integral Shanandoah was in making our wedding day absolutely perfect. Even with some issues that arose, issues beyond anyone's control, with her help our day came together even better than we had originally planned, and was more incredible than we ever imagined. Shanandoah was so helpful, very hands on in helping create our perfect ceremony and day, a calming presence, enthusiastic and uplifting and we truly felt like she wanted to celebrate us and be a part of our wedding day.
Are you interested?
Send a message