122 Reviews
Recommended by 100% of couples
Quality of service

5 out of 5 rating

Average response time

5 out of 5 rating

Professionalism

5 out of 5 rating

Value

5 out of 5 rating

Flexibility

5 out of 5 rating
101 User photos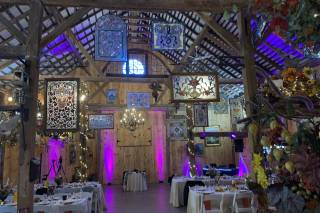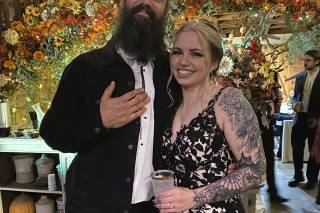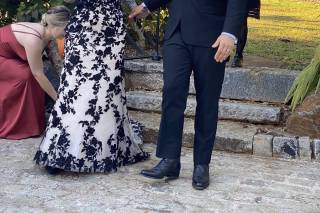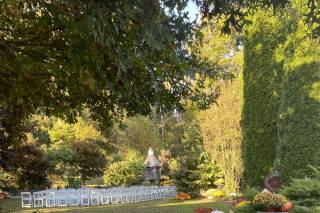 + 97

photos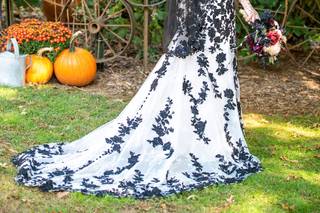 Paula T.

Married on 10/21/2022

Amazing Venue

My daughter was married at Springhill Manor on Friday, October 21. It is the most beautiful venue I have seen by far with all the decorations Jamie the owner already has out there only added to The magnificence of the wedding. Jamie was there for the whole ceremony and celebration afterwards and made sure everything ran so smoothly we couldn't of asked for anything better. I highly recommend this venue for any celebrations you may have.

Rachel T.

Married on 10/21/2022

Spring Hill Manor made our wedding feel like a fairytale!

Spring Hill Manor was an absolute dream! Jamie was so helpful and amazing and he really made sure that our special day was perfect! We cannot thank him enough for everything he did, it really was a fairytale wedding! The venue is so incredible and unique and every guest I spoke to mentioned how beautiful the venue was and how much they loved it. It has a very fun vintage/rustic vibe and is so perfectly decorated that we barely had to do anything besides decorate the dinner tables! We got married in late October and the outdoor ceremony area surrounded by pumpkins with the botanical arch looked like it was straight out of a movie. The small garden area was perfect for photos and we utilized it for our first look which was magical!

Jamie, the owner, was so responsive to emails and incredibly accommodating, he really made the whole process very easy. He gave us a ton of advice and recommendations that were really helpful. He was an absolute joy to work with and was so kind and fun! Spring Hill Manor was the best decision we could have made, it made our autumn wedding the most memorable night for us and our guests!

Ashley P.

Married on 10/14/2022

Absolute dream wedding

Where do I even begin.... the venue is STUNNING. Jamie the owner is AMAZING . He makes sure your special day is that special!!! The fall decor is absolutely perfect for an October wedding, the views and just everything about it is perfect. All our guests raved about the venue. We really couldn't have asked for a better place to begin our journey together. I am sad it's over; I could visit there weekly just to take in the scenery and hang with Jamie.

+ 3

photos

Are you interested?

Send a message

Rob J.

Married on 10/01/2022

Incredible Charm with stellar service...

Incredible Charm with stellar service, that sums up Spring Hill Manor. If you're looking for a unique venue that provides a beautiful setting along with cool features, then look no further. Jamie has established a marquee venue that provides the makings of a dream wedding for the couple & their guests. Thank You for hosting our special day, we loved it all! Rob & Cassidy Jugler

Patricia

Married on 06/05/2022

Magical fairy tale

Magical….that is how I would describe Spring Hill Manor. There is truly a feeling of magic in the air as you drive up to the property. While the property is absolutely stunning, it is more the feeling you get while there. I believe a huge part of that has to do with the beyond incredible owner, Jamie. You can see and feel the love that he has poured into the property. Spring Hill Manor feels like a fairy tale and home at the same time. And again, that is in most part due to Jamie. He treats everyone that walks onto the property with great care and does whatever he can to ensure that everyone's happiness and comfort is met. Truly, we are so happy to have experienced our wedding at the Spring Hill Manor.

+ 6

photos

Felice R.

Married on 10/15/2021

Spring Hill Manor is the best!!

I can't say enough great things about this venue. The venue itself is beautiful, is already decorated which is a huge time/cost saver at the time of the wedding, and has the best owner ever- Jamie. Our wedding would not have gone as seamlessly as it did without the help of Jamie. From the moment we reached out to him through the end of the wedding night, he was responsive, helpful and always our biggest cheerleader. All of our guests were raving about him by the end of the night with how much he helped out and wanted to make our special evening go so smoothly. I would highly recommend this venue to anyone!

Jasmine J.

Married on 10/08/2021

Amazing Service

Jamie was very attentive. This is the best wedding venue I've ever been to. 10/10 for Jamie

Connor B.

Married on 10/08/2021

Jamie is amazing!

To start, the venue is beautiful, accommodating, and affordable. Between the pool, fire pits, fall/antique decorations, beautiful view, and much more, you and your guests will never be bored. Despite all this, the absolute best part of this venue is Jamie. Jamie was more than a pleasure to work with. His advice and guidance, as well as his kindness allowed us to have our dream fall wedding with extremely low stress. You can tell that Jamie truly enjoys being around and coordinating weddings. We couldn't be happier with how our wedding turned out!

Brenda

Married on 08/28/2021

Above and Beyond

Jamie, the owner of this venue was amazing! He was so helpful from the beginning of the process all the way to the end! Helping to make Our day an absolute wonderful day!! I can't say enough about this beautiful venue and it's owner. All of my guest have raved about it and shared pics of their own saying how much they enjoyed themselves there!!

Alyssa M.

Married on 05/29/2021

A Magical Venue!

We had our wedding at Spring Hill Manor and couldn't have been more pleased. The venue itself is gorgeous and Jamie was so helpful, responsive, and cheerful throughout. We had so many people come up to us to tell us how interesting and beautiful the venue is. Would highly recommend!

Karessa U.

Married on 05/15/2021

Beautiful venue!!!

Our guests couldn't express enough how much they loved the venue and how perfect it was for our spring venue. Jamie is nothing but friendly and is there every step of the way to make the day go smoothly. The venue made our day that much more perfect.

Kristin S.

Married on 10/31/2020

Above and Beyond

Jamie, the venue owner, really put his all in to make our handfasting the best day of our lives! We can't thank him enough for all he did for us. The venue was absolutely stunning, and definitely something our guests will talk about, especially the giant turtle!!
If we ever do vow renewals, we are definitely going to come back here for them!

Christa B.

Married on 10/17/2020

Perfect, magical, best day ever!

What a magical place, perfect wedding day and by far the best venue owner ever! Jamie was so helpful from the time I sent my first "can I come check out this place" email, right down to the last second of my spectacular wedding. My husband and I knew right away that Spring Hill was for us and I am so grateful to have found this gem. Not only is the property stunning and completely magical but Jamie is out of this world amazing and helped me every single step of the way. He promptly answered all of my many questions, suggested vendors, set up items the day of the wedding, assisted me with organizing my crazy thoughts during the final walk through and on the day of the wedding. So many of my guests told me how wonderful he was to speak with and how he helped them get food or drinks. His energy is infectious, his heart is big and you can really see how much love is put into Spring Hill. Another comment I heard over and over again was "How did you find this place? its unreal!" If you are looking for a unique venue that is beautifully decorated and filled with love, look no further and go see for yourself how Spring Hill checks ALL of the boxes. I am excited for all the Spring Hill couples that come after us to experience what we did because our wedding was just so perfect. I cannot thank Jamie enough for EVERYTHING. I'm so grateful to have had such a positive wedding experience, a major part of that is Jamie.
With love and gratitude in hearts,
Christa & Will C.

Evan A.

Married on 10/16/2020

Absolutely Amazing Venue

This venue is absolutely gorgeous and was everything my husband and I were looking for! Jamie was very attentive to all of our wants and needs and was amazing to work with! This venue is the perfect place if you're wanting a rustic themed wedding. Thank you so much forneverything Jamie!!

+ 5

photos

Kelly C.

Married on 09/26/2020

Picture Perfect

As the mother of the Bride, I cannot thank Spring Hill Manor enough for making my daughters wedding truly amazing! The venue was absolutely beautiful and every single guest has shared with me that it was "the best wedding they have ever attended "! Spring Hill Manor was extremely helpful in the planning, recommendations with the catering, and also shared amazing ideas to help plan for my daughters special day! Just a remarkable venue!

Sherry T.

Married on 09/12/2020

Mother of the Bride

I do not even know where to begin. This venue was nothing less than perfect! Everything about Spring Hill Manor is beyond words. My daughter has the best wedding because of this venue. The property and the barn is just amazing. Jamie was such a big help and made this day so worth everything that had to be gone through with postponing the wedding from may- sept. Would definitely recommend this place to anyone looking for a venue for their special day.

Jessica H.

Married on 07/11/2020

The Most Perfect Day

Everything about Spring Hill Manor is perfect, especially the owner, Jamie. From the moment we reached out to set up a tour, to meeting him for the first time, to having to postpone our big wedding, to having our smaller scaled down celebration, Jamie made everything easy. He was quick to respond to any communication, settle any nerves, and we LOVED that he also joined in on celebrating with us.

Spring Hill Manor is the MOST STUNNING place you could ever find- the meticulous grounds, the well thought out and placed antiques in the barn, the outside spaces available. It was all more than we could've asked for in a space for our big day! Our day would've been perfection, no matter what, but celebrating at Spring Hill Manor just made it that much more perfect.

Michele M.

Married on 06/10/2020

Stellar Service

Just a few days have passed since my daughter married the love of her life. As I sit and reflect on the event I cannot think of one thing that didn't go as planned, or promised by venue owner, Jaime. Spring Hill Manor has it all...beautiful view, eclectic design and Jaime...and, honestly...Jaime is all you need! He tended to so many details that I joked that he must have cloned himself to get it all done while making it look effortless! He was hospitable, friendly, helpful and mostly, he was committed to making our Brides have the VERY BEST day ever! Spring Hill Manor is a must-see venue! We will cherish every memory for many years to come. Michele McRae

Kelsey S.

Married on 05/27/2020

Magnificent, Magical & Absolutely Gorgeous

The Spring Hill Manor made our special day a fairy tale wedding. The venue and grounds are absolutely breath taking, and we have heard from many of our guests telling us it was "the best wedding they have attended". Jamie is amazing and will accommodate you in any way he can to bring your dream wedding to reality. This venue is a 10/10 in our eyes and each of our guests. We cannot thank them enough.

Chia-Hua L.

Married on 10/26/2019

Perfect Wedding

What can I say, this was the best day of our lives (so far). We received so many compliments on this venue. It is really a unique, beautiful, engaging space. Jamie is also a fantastic host. He went above and beyond every chance he had. Thanks, Jamie!

Kelley G.

Married on 10/13/2019

When You Wish Upon a Star..

Dreams will come true.
This venue is beyond exceptional. Jamie was amazing with helping throughout the entire process; his service was to infinity and beyond. There isn't one thing I would change about our special night. Thank you, so much, for creating the best memories.

Lauren S.

Married on 10/11/2019

What Dreams are Made of!!

My husband and I knew we wanted to get married at Spring Hill Manor as soon as we drove up to the property. The grounds are unbelievably beautiful, from the rustic barn and the stunning landscaping, to the magical moon gate! Once we met Jamie, we knew we had to have our wedding there. I cannot say enough good things about Jamie. He was so patient and understanding with us throughout the entire planning process. He was always available to answer any and all questions we had and allowed us to come visit the property what seemed like a million times before the big day. Our entire experience with Jamie and Spring Hill Manor was unbelievably amazing and one I will never forget. My friends and family cannot stop talking about our wedding and how beautiful and unique Spring Hill Manor is! Thank you Jamie for everything!

+ 7

photos

Tiffany

Married on 10/05/2019

Hands down the best!

Jamie was such a pleasure to work with. No matter what question or concern I had he helped me every step of the way. He went above and behind to help us for our special day. Spring Hill Manor was more then I expected and I am so glad we chose it for our venue. The scenery was just gorgeous, and couldn't ask for a better venue. I have no complaints whatsoever, I will recommend Spring Hill to everyone that is looking for a venue!

Layla B.

Married on 09/22/2019

Amazing Venue

Hello let me begin with the owner Mr. Jamie Sherridan I fell in love with him. He is Amazing very kind and friendly and so helpful. Second the Venue itself is Gorgeous and all original all of the added features all genuine. I was looking for a real functional barn not just one made to look at a barn and this was the place. Mr. Jamie's Passion for weddings was so apparent on the first meeting so I knew this was the place where I wanted to make my memories. Jamie again was so helpful all of my guest were amazed at how he handled and helped us. All of my guest raved and said My God how did you ever find this place is Beautiful and they wondered who was this Amazing Friendly Helpful man (Jamie).
With so many personal misfortunate events that had happened in my plans God sent me Springhill Manor and Jamie and he was there with me through it all and made me and my Husband feel like Family and a True Friend. Mr. Jamie you are the Ruler of Weddings and your Venue gets a 10 ⭐ Review From Us and all of our Guest. Thank you from the Bottom of my Heart for making my Special Day Unforgettable.
Mr. & Mrs Randy Bullock



+ 4

photos

Mackenzie

Married on 09/21/2019

Forever Home

I dont even know where to begin. Choosing Spring Hill Manor was the best decision we made with our wedding. Both my husband and I are from Long Island, living in Jersey.. our families are from New Jersey through Maine, and yet we stumbled upon Spring Hill Manor one day on wedding wire. I showed my, at the time fiancé, and thought he would never say yes. He isn't a barn guy. He took one look and immediately asked me to contact the owner. I remember the first time Jamie called me. I was sitting in a Target parking lot praying that he would give me the response I needed to every question/concern I had as a bride. We agreed to meet and the second we pulled up my fiancé took my hand and said "this is going to be it." Jamie greeted us with a friendly smile and we fell in love with Spring Hill as we toured. We knew it was the perfect spot for our wedding, but we didn't know that this place would be somewhere we considered to be a home. Jamie was so easy to work with and had ideas that never ended. He let us be adventurous and try new things and was up for any ride we put him on!! Our wedding was UNIQUE, FUN, AND US. I don't think that anyone in our family can top this wedding, it's simply impossible. Spring Hill will forever be the place where I love you's were shared, forgiveness was given, support was shown, and Im sorry's were said. It will forever be the spot where my husband and I received love and support from every person in our lives for the first time out of 10 years. It will be a special place in our hearts, it will be a place that reminds us of love and support, and it will forever be a home for us. Jamie, thank you for everything. Thank you for starting off our marriage in the most BEAUTIFUL way.
Are you interested?
Send a message