Southern Graces Catering & Planning Reviews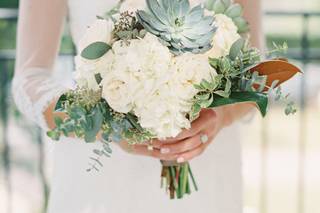 Southern Graces Catering & Planning
Beaufort, SC
View more information
Reviews
4.5 out of 5 rating
Quality of service

4.7 out of 5 rating

Average response time

4.1 out of 5 rating

Professionalism

4.6 out of 5 rating

Value

4.6 out of 5 rating

Flexibility

4.6 out of 5 rating
90%
Recommended by couples
Emily

Married on 05/11/2019

Excellent Experience with Southern Graces

Crystal's team was incredible! Crystal was very responsive and easy to work with. From the planning to the food to the event design, our day was perfect due to Crystal's team. I would recommend them to anyone in the Low Country. People are still telling us how much they enjoyed our wedding, and that is solely due to Southern Graces.

Zach S.

Married on 01/19/2019

Love southern graces!

We just got married this past weekend in Beaufort at The Tabby Place. All of the families involved could not of been happier with our choice to go with Southern Graces. Crystal took care of everything from food, flowers to rental and coordinating the whole wedding! She made our dream wedding a reality. Thank you Southern Graces (Bethany, Crystal and all of the staff)!!!!

Melody

Married on 11/17/2018

Bethany and Chris provide a one of a kind experience that will definitely go beyond all your expectations. Chris is the best chef and Bethany basically does the rest. They handle it all! The decorations are so beautiful and the food is amazing. I highly recommend them for your wedding or any event you might have.

Are you interested?

Send a message

Nina

Married on 09/01/2018

Crystal did a spectacular job throughout everything. She was on the ball with food, decor, and kept a very positive attitude throughout the entire process despite having to work pretty much exclusively through emails and phone calls (it was a destination). The wedding went very smoothly and everything we tried out during the food tasting was replicated to a T on wedding day. We were both very pleased with everything as well as all of our guests. Most of them traveled 10 hours plus and it was good to see a quality product delivered that nobody will forget.

Would highly recommend Southern Graces and would request Crystal as my wedding planner if I had to do it all over again. She was awesome!

Caitlyn

Married on 08/18/2018

Southern Graces made our day PERFECT! We did not have to worry about a thing and we loved only having to communicate with one person as the wedding became closer and closer! They did our rehearsal dinner as well and it was ALL PERFECT! And not to mention delicious!

Carole

Married on 04/29/2018

Southern Graces was our dream come true for a wedding planner.
As soon as the venue was chosen, we chose our wedding planner. My daughter had seen photos of weddings Southern Graces had done and thankfully, Bethany was free on her wedding date. After our first phone conversation, I knew we had made the right choice.
We met one time early into the process so I could tell Bethany what my daughter wanted (and what she did not want). I texted photos whenever my daughter saw something she liked. Bethany listened to everything my daughter wished for and made it happen.
As an added bonus, we went to Beaufort for our food tasting. It was by far one of the best gastronomic days of our lives.
As vendors were chosen, I would send Bethany their contact information and that was all I had to do. She coordinated everything with them for the wedding.
We communicated best through email or texting. After seeing Bethany in action and seeing her devotion to my daughter's wedding day, I understand why sometimes it took a bit of time getting back to me.
The wedding day was magnificent. The way Bethany pulled everything together was breathtaking. What a wonderful experience we had. Bethany and her incredible team went above and beyond anything we could have ever imagined. I had to do absolutely nothing. Bethany took care of everything – every last single detail, details I would have never thought of.
The wedding, cocktail hour and reception were exquisite. Bethany did everything – flowers, food, tent, furniture, decorations, plates, wedding cake, food…did I mention the food? Her husband is the chef. OMG. Incredible! We had 200 guests and every one of them could not believe how wonderful the food was. And the way the food was displayed? Off the chain!
Bethany and her team at Southern Graces were a delight to work with. I kind of wish I had another daughter so I could hire her to do another wedding. Bethany, thank you. I cannot imagine an

Phenomenal!

Christopher, Bethany and Crystal are talented phenomenal, professional, and articulate. No stress was involved for our Daughter's Destination Wedding because of the amazing Team at Southern Graces. They worked with our Daughter and Fiance' to bring their vision to life. Food was delicious, and displayed beautifully. (Bay Shrimp Wraps, Bourbon Glazed Pork Belly Lollipops and desserts melt in your mouth!) Flowers were breathtakingly gorgeous. Tabby Place was transformed exquisitely for their special day. We could not have chosen a more perfect Team to provide our Daughter and Son In Law with the Wedding of their dreams. We will be eternally grateful to Southern Graces for their hard work, enthusiasm and pride in putting together such a magical and perfect day. Thank you from the bottom of our hearts, you will forever be a part of our precious memories of their Fairytale Wedding.

Janna

Married on 09/23/2017

Southern Graces was incredible!! They went above and beyond for us and we cannot thank them enough!! Bethany, Chris, Crystal and the whole crew were amazing. All of our guests raved about the food and setup and people are still talking about it. They met all of our needs and they did everything that I asked and set up all of my own decorations that I wanted. I would recommend them to anyone!! They are AMAZING!

Chris

Married on 04/08/2017

We have worked with Southern Graces on over 10 events. Each time is different. The food is always delicous and presented beautifully. The decor is amazing.
However, what really sets this group apart is how special they make your guests feel. The service is above and beyond anything I have ever experienced. If you really want an amazing day, call Southern Graces.

Brandi

Married on 04/23/2016

My husband and I live in North Carolina, but we are both from the midwest. We decided that we wanted to have a southern wedding, and we knew we couldn't do it on our own. That's when we found Southern Graces. I first spoke with Samantha and gave her my "vision" for our wedding, and I knew she really listened to everything I had said when we received the detailed proposal for our wedding. Of course, the initial proposal underwent some changes, but the level of attentiveness was clear immediately. On our first conference call, I provided Samantha and Bethany with a wedding presentation with my ideas because, although I knew exactly what I wanted, I was no good at describing it. After the first call, there was hardly a thing that needed said because Bethany just knew exactly what to do.

To say that I had the most beautiful wedding I could have dreamed of is an understatement. Everything was perfect. No detail was spared. The service staff was absolutely out of this world. The food was incredible. The hanging flowers and draped linens in the clear top tent were breathtaking - the glamorous tablescapes with my painted wine bottle vases and candelabras were just perfectly displayed. I had imagined a glamorous, romantic garden wedding and Bethany's design surpassed my wildest imagination. I honestly don't know how a bride does it without a planner, but even then, I don't know how they do it without Bethany!

If you are having a wedding in or around Beaufort, SC, there is no one better than Southern Graces (Bethany) to help make your dreams come true.


Leah

Married on 11/15/2015

We loved using Southern Graces for our wedding! We actually went to a friends wedding that they had done a year earlier and were so blown away that we signed on with them to do ours. Samantha and Bethany have everything down to a science and even if I didn't hear from them for awhile, I was completely comfortable knowing that they had it under control. The monthly calls were very helpful just to touch base and we got to go to beautiful Beaufort, SC for our tasting which was absolutely fabulous. We felt like a King and Queen! Chef Chris is extremely talented and we were so happy with the food they provided for the tasting and the reception. The weekend of the wedding was great as well. They assisted us with a brief rehearsal and made me feel at ease knowing they were handling anything that came up. We were fortunate enough to have the bridal party get ready at our location (The Charles H. Morris Center) and Southern Graces provided all of us breakfast and lunch while we got ready. They nailed every single detail and even though I had a pretty clear picture in my head of what I wanted, they went above and beyond and delivered a product that I could only dream of. My wedding would not have been a fraction of what it was without them. All of our guests were extremely complimentary of the decor and the food and the service their staff provided during the reception was top notch. We even had our own personal server that made sure we had whatever we needed. They also did all of the clean up for us and coordinated for our bags to be brought to the hotel we were staying at and surprised us with plates of food since they knew we didn't eat as much as we liked during the reception. I absolutely loved working with everyone at Southern Graces and would recommend them in a heartbeat to anyone planning an event.

Rhonda

Married on 10/24/2015

I adore Bethany and her team. We hired Southern Graces as our florist and dessert team. Bethany quickly understood my daughter's inarticulate vision for her wedding day, and boy, she delivered! As both my daughter and I both live over hundreds of miles away, we relied heavily on Bethany as our eyes for making the venue beautiful. I credit Bethany and her incredible talent for detail for making my daughter's wedding gorgeous. Her flowers and arrangements were out of this world. We are still receiving compliments on her work. The dessert bar was a huge hit with our guests! My only regret is that I did not meet Bethany sooner to help with my other children's weddings!

Diana

Married on 10/18/2015

We were invited to a party at the soiree and were very pleased with the setting and the fabulous food. I would highly recommend Bethany. She was extremely cordial and pleasant. All the servers were so pleasant and present. The duck was wonderful. The butternut squash soup was to die for.

Nancy

Married on 08/08/2015

We are from Alabama planning a wedding in South Carolina! Everyone at Southern Graces went above and beyond to make our wedding reception everything my daughter wanted it to be. Decorations were perfect and food was delicious! Thanks to all of you at Southern Graces!

Colleen

Event on: 07/26/2015

Southern Graces did a phenomenal job setting the theme for the annual Beaufort Waterfestival's Change of Watch. This event has tradition, history, and southern charm. Southern Graces captured the tradition, history, and southern charm of this annual event in decor and food. They have become an important part of this event.

Patty

Married on 05/23/2015

Bethany, Samantha and Chris were wonderful. Their attention to detail, customer service, and food were outstanding. They listened to the bride and groom and made everyone feel special.

Bethany and her amazing team made all my dreams come true on my wedding day from the decor to the cake to the outstanding service! It's almost as if she read my mind and brought everything to light. Our wedding was absolutely MAGICAL! Christopher, the chef, did an amazing job on the food. EVERYONE was complimenting me at the wedding and afterwards on how it was the "best meal I've ever eaten". Some even asked me to ask for recipes!!! I am so excited about the outcome of my day. People are still talking about it now and my wedding was a few months ago. Would love to get married again in the future just so I can hire SG and experience it all over again!!! LOVE LOVE LOVE THEM!!! xoxo

I had the pleasure of working with the Southern Graces team to plan my wedding last September. They were extremely professional and organized. My entire family was out of town and Bethany arranged every detail for the wedding weekend. The food was out of this world and the floral arraignments were breath taking. It was a simple perfect day.

Lauren

Married on 05/21/2016

Southern Graces made our wedding beautiful and set me at ease! Bethany and Kirsten were wonderful to know how to guide us through the planning and our wedding day was more than I could have hoped for!

Mary

Married on 01/02/2016

This was not a wedding, but a marketing event . However, we have a wedding booked with them in January for my daughter. To see the venue decorated with beautiful lighting, be able to sample the delicious food, and marvel over the presentation of the really set me at ease. The space is small and intimate, but yet seemed so large because there was room for all. It makes the wedding seem very real now, and my excitement is growing!

Jen

Married on 10/10/2015

Southern Graces far exceeded our expectations!! The food was outstanding--which was a major requirement for us. I wanted our guests to thoroughly enjoy their experience--and they did!! The folks working our wedding were super friendly, beyond helpf and genuinely happy for us. Southern Graces did a wonderful job!

Charlotte

Married on 12/30/2017

We used Southern Graces for almost all of our wedding needs: catering, beverage service (we provided alcohol), day-of planning, florals, rentals, cake and event design. The initial proposal blew us away. The level of detail, connection to my Pinterest ideas/vision, and organization is what sold me. It was also extremely convenient and cost-effective to have so many of our services through one company. We had a year and a half engagement and we booked Southern Graces about a year out from the wedding, so I will say candidly that we had to get on the same page communication-wise. I expected more prompt communication/turnaround early on, but I do realize now that Southern Graces (and other wedding planning/event management companies) have to prioritize their events based on which ones are in the immediate future. Once Bethany and I found what worked for us (i.e. texting was better than email; both being clear on schedule of deliverables; setting up calls a month out, and realizing there was a good six month lag time with a long engagement when there is really nothing to do) we were very content. As we got closer to the wedding (a month out), I really started to feel more at ease. Bethany and team had great insight and advice when last minute things came up. What really blew us a way was the day-of service. Bethany and her team were absolutely incredible. From the rehearsal onwards, everything we needed was taken care of. This is where Southern Graces shines. You can tell they are experts in event design and management. When we walked into our wedding finally, everything exceeded our expectations from the florals and event design to the delicious food and cocktails. I never had to think about what was coming next, Bethany and her team led us through it all with ease. Our wedding was absolutely perfect and we cannot recommend Southern Graces highly enough.

Emily

Married on 03/11/2017

We booked Southern Graces as the caterer for our wedding and couldn't have been happier. The food was out of this world, and we got so many compliments on it from our guests. Bethany and Crystal were very easy to work with--I gave them our budget and they put together a menu that was perfect. The majority of our guests were from up north, so being able to serve them delicious, gourmet southern food was a real treat. I feel like anyone can have chicken or steak at a wedding, but having chicken & waffles, shrimp & grits, and Cheerwine BBQ really makes your food stand out! I couldn't recommend them enough!


I sent this email the evening after my daughter's wedding reception at Soiree:

Bethany and Samantha,

THANK YOU!

What an exceptional event you provided for us last night. Soiree looked
so stunning, it was magical. Simply magical. Rhiannon was very happy to
see everything as she had envisioned. Her guests were captivated by the
charm of the brick walls and lights and lanterns and spanish moss.

The food was delicious. Both my daughters want the potato recipe! I loved
the outdoor area, the settee and chairs were charming. Inside, the
lanterns looked fantastic and the wall of lights was stunning, especially
with the mirrored chest and antique mirror on display, and the filmy
panel hanging over the lights. The table foliage was beautiful, and the
place settings perfect. You are so creative.

Kudos to your wait staff and bartenders for being so pleasant and
helpful. And for checking with me so frequently if all was well. It
couldn¹t have been better.

I cannot wait to see the photos. I can¹t imagine any other event being
more beautiful.




Paula

Married on 04/11/2015

Last fall, living in Charleston, my son and his future bride took an afternoon trip to Beaufort, SC. Being a history major, he had always expressed a deep desire to be married at Old Sheldon Church. While visiting one weekend they came upon the Beaufort Inn. They decided to stop in for dinner and fell in love with not only the beautiful setting for a wedding reception, but the food. As the mother of the groom and the planner of the wedding, I went back to visit and likewise fell in love with the setting. Once we secured all of the rooms at The Beaufort Inn for our wedding party and guest we set out to find a location for the Rehearsal Dinner and a caterer for the reception. With all of the blessings that could be showered on us, we found out that Southern Graces, the owners of the restaurant at The Beaufort Inn had a small quaint venue just across the street that would be perfect for a Rehearsal Dinner, and they would also cater and manage our reception in the adorable courtyard at The Beaufort Inn. Given a budget for 100-150, and the word "fun", we set down and began planning. I am one like likes a party to be different from the status quo and Bethany and her team did not disappoint. From the incredibly unique menu to the hanging outdoor chandeliers, not a person left that evening that didn't say this was one of the best weddings and receptions that they had ever attended.

For the mother of the bride or the groom, or the wedding couple themselves; whomever is taking the lead for their next wedding, I would encourage you not to stress over the planning. Discuss with Bethany your desires. She knows her food and venues so well, that she can advise you. She allows you to be creative and have a hand in making this event your own, and was very accommodating to us when we wanted to add our unique flare. On a weekend when every detail matters, Southern Graces partnered with us to pull off the wedding of a lifetime! Have faith!


Are you interested?
Send a message