56 Reviews
Recommended by 100% of couples
Quality of service

5 out of 5 rating

Average response time

5 out of 5 rating

Professionalism

5 out of 5 rating

Value

5 out of 5 rating

Flexibility

5 out of 5 rating
2 User photos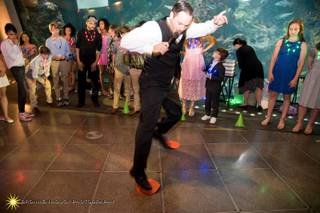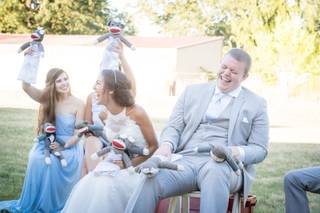 Heather L.

Married on 11/16/2019

Mother of mitzvah

We have used Canon for two of our children's mitzvah celebrations. He was amazing!! Very professional, organized, reliable and can read the crowd well. Both were wonderful events thanks to him. Many people from the events have since used him at their celebrations. He helped make the night stress free, fun and successful. I would hire him again in a heartbeat.

Seth G.

Married on 08/17/2019

A stellar choice to provide entertainment and management of your party!

From the planning through the festivities on the day of the event, Canon and Amberlynne (and their team) were thoughtful, creative and professional. They engaged well with our other vendors and the event staff and were a delight to work with throughout! As a result, we had a FANTASTIC party, with multiple guests asking where we'd found such an excellent DJ and how they could get his contact info. Genuinely delighted by our interactions with them and looking forward to working with them at another event. I cannot rave enough about the quality of their service, their great communication, and the superior party that we and our guests had as a result. Run - do not walk - to book them!

Rebecca

Married on 08/03/2019

Highly recommend

Canon and his wife were the best! They make you feel like you've known them forever and Canon can really work the crowd. They were very helpful with day of organization and helping us figure out a timeline for the day.

Are you interested?

Send a message

George A.

Married on 07/20/2019

Amazing Experience !!! Best DJ and MC ever!!!

I've received so many compliments on our DJ and MC from our Wedding (Canon and Amberly). They were awesome!!!They kept the party going all night. They are so professional in every aspect. They are wedding experts . They know every detail about wedding and we prepared with them before wedding . They executed every single thing flawlessly, top to bottom. It was an absolute dream come true. These guys are professional and timely, focused yet relaxed, and really a delight to work with. I am One. Happy. Bride. THANK GOD we hired them !! They made everything so easy and stress free for us.

Ruth S.

Married on 07/06/2019

Amazing DJ/Emcee

It was a real pleasure having Sound Source Seattle as our DJ/Emcee at our wedding!! Our wedding was multicultural (my husband is Nigerian, I'm American) so it was important to the both of us to have a fun atmosphere and someone that could carry the crowd, and Canon did just that!

Not only was he able to keep our guests entertained while we were out changing into our Nigerian dress and taking pictures, he led games that kept us engaged and laughing so hard we about fell out of our chairs! (Ask him about the shoe game and goodluck dance)

Leading up to the wedding, Canon met with us a couple of times to talk about our vision, what was important to us, and the kind of music we wanted. He & Amberley were able to deliver just that and incorporate both cultures into the mix. Canon and his crew also added a nice touch to our venue with great uplighting that only added to the ambience.

Overall, our wedding reception was loads of fun, and a lot of it wouldn't have happened without Canon's (Sound Source Seattle) involvement.

Thank you Canon!!

Andrea

Married on 05/25/2019

Outstanding Evening

There is no question that I would hire Sound Source again in a heartbeat. Canon and his team are truly outstanding! We hired them for our daughter's Bat Mitzvah in May 2019. Not only is he organized, fun and knows the latest trends but kept the whole group entertained all evening long. Canon's ability to get over 75 teenagers involved, laughing and having fun for hours is amazing in itself. However his personality and joy exudes throughout the entire crowd. We received more compliments on how much fun everyone was having and I know it was in part due to Canon and his team. Thank you for helping us make the night exactly as we wanted it, fun for everyone!

Rio A.

Married on 05/10/2019

Best decision we made for our wedding

I cannot say enough about how amazing Canon and Amberley are. We saw them at the wedding of some other friends, and once we started planning our own wedding we knew we had to hire them as our DJ/MC team.

As with everything, there will be cheaper options, but with them you are getting your money's worth and SO much more. They have a LOT of experience, and it shows. Canon will make sure that at no point is anybody at the wedding bored, while Amberley will make sure that everything behind the scenes is running as it should. With them, you are getting WAY more than just a DJ/MC. I honestly believe our wedding would have been lesser and would not have gone as smoothly if we didn't have the two of them helping us.

Canon makes a point of getting to know his clients and does a great job weaving it into his MC work, to the point that we had people ask us if him and Amberley were long time friends of ours before the wedding. On top of that, we got a bunch of compliments on how good the playlist was during the dancing portion of the evening, a compliment I don't think I've ever heard of other weddings.

Again, I can't say enough about how great Canon and Amberley are. Give them a call, talk to them for a bit, and you'll immediately see what I'm talking about.

Amy K.

Married on 03/07/2019

Awesome! So much more than a DJ!

Canon was the glue of our event! He ensured that everything went smoothly, even before we secured the venue. He is an absolute professional and a pleasure to work with. Most importantly, he had our whole crowd engaged and having a blast, from kids to grandparents! Canon truly enabled us to enjoy our event, we relaxed knowing that he had everything under control! Thank you, Canon!!!!

Nic

Married on 08/18/2018

You can tell when somebody loves what they do; Canon & Amberley did a fantastic job helping us coordinate our wedding, and the MC / DJ services that day were amazing! Canon had everyone dancing and partying with us for the whole night, and the whole evening seamlessly fit together thanks to them both. Having never planned a wedding before, we were very thankful that they had worked so many events, and saved us from many pitfalls we hadn't even considered.

Alex

Married on 07/14/2018

Sound Source was the best decision we made for the whole wedding. Their timing, professionalism, knowledge base and organization are unequaled. Would love to work with them again for a future event!

Rishav

Married on 05/20/2018

Working with Canon and Amberley was an absolute joy; we cannot imagine our wedding without them! Canon is the most fun and gracious emcee you could possibly choose for your wedding while Amberley's planning skills and attention to detail will ensure that everything goes without a single hitch. Their experience shows in their work. Our friends and family came up to us and asked how we found such a wonderful DJ/emcee and planner. Canon made the wedding an absolute blast while Amberley managed anything and everything that came up.

Leading up to our wedding, they helped us plan, create a timeline and work in some magical touches in our ceremony! Canon and Amberley met with us several times to walk through every detail and to make sure that we had thought of everything. We simply cannot recommend them enough!

Amanda

Married on 01/13/2018

I was recommended to Sound Source Seattle by a friend who hired them for her son's wedding. She showed me a few pictures and videos that really showed they were something special. We just had no idea how special! Canon took extra time to get to know David and me and really got a feeling for what we wanted for our special day. The day of I was not stressed at all! Everything was timed and planned perfectly (without the scheduled feel a lot of wedding have). Amberley (Canon's wife/our DJ) has a true talent when it comes to song selection. She can read the room and know exactly what song will fit. Canon's talent, quite frankly, is not a talent you see anymore! Canon had everyone laughing and involved. Canon and Amberley will make your wedding one of a kind! We are still getting comments about how our wedding was so fun and the best anyone has ever been to. A Bride's dream! Don't let any price scare you because they can charge hundreds more and still be worth every penny! The absolute best decision and investment we made for our wedding. You won't be sorry.

Nancy

Married on 09/10/2017

When we started planning our wedding, we knew we wanted something a little different. Canon and Amberley helped us create a celebration that honored our closest family and friends as a huge part of our relationship. Afterwards we heard from many of our guests that it was the most incredible wedding they'd ever attended. It was truly magical, and we credit much of it to the efforts of Canon, working with us to make our vision a reality, and to both of them for pulling it off flawlessly.

Ronda

Married on 07/22/2017

The wedding would have not been nearly as perfect without your invaluable help, thank you!

Stacy

Married on 04/22/2017

Sound source was amazing, very professional, and super fun to work with! I would highly recommend them parties and events! Check out their website!

Sarah

Married on 07/16/2016

I can't even say enough good things about Canon and Amberly! Canon was recommended to us by a friend, and he was the best investment we could have possibly made in our wedding. He helped with the planning process and really steered the direction and vibe of our whole day. He was the perfect mix of wedding coordinator, emcee, and DJ. When I got bogged down in ridiculous wedding details, he was there to help guide me while still respecting all of our wishes. He was an integral part of the both the planning process and the actual wedding.

Our reception was an absolute blast! Canon made the flow work really well, so that people went to where they were supposed to be. He kept people engaged by doing fun and unexpected things. The music was fun and exactly what we wanted. Canon even saved me from and unexpected wedding meltdown, which certainly wasn't in his job description. He truly went above and beyond to make our wedding a special day, and we have received countless compliments on how great he was.

Jennifer

Married on 01/16/2016

We are forever thankful and grateful to Canon and his wife Amberley for being a part of our wedding. They were a huge reason for the success our our special day because what they provide is not just a service and when you're done working with them, you won't think of them as a DJ or vendor... they are so much more. We met with Canon a handful of times before our wedding and he took the time to get to know us as people and he got to know our music likes and dislikes through our personalities. He helped us create a thorough timeline for our ceremony and reception and gave us the comfort knowing the biggest day of our lives was in good hands. Canon and Amberley are incredibly friendly, funny, professional, thorough and easy going. The actual music that was played at our wedding was just the tip of the iceberg of what they provided. We played a shoe game with hand puppets and Canon was definitely in his element because he had the room cracking up. We also did mad libs to release certain tables to the buffet and it was a huge hit. All of our friends and family were asking us where we found Canon and Amberley because they were so great. They aren't just a DJ service... they were a planner, coordinator, host, DJ and now forever friends to my wife and I. It's also clear that they don't just look at themselves as just a DJ either. This is their passion and that's evident in the final product they provide and the way they prepare for it. We couldn't be happier with our decision to hire Canon and Amberley and we will be recommending them to all our friends who get married.

Tammy

Married on 11/07/2015

Cannon and Amberley were beyond words wonderful. Cannon did a great job reflecting our personalities in his selection of music and just the way he talked during the reception. He was entertaining and his excitement keep the crowd involved in our reception. Amberley was so wonderful with my wife especially keeping her on track. My wife had a tendency to worry about things farther down the road. Amberley was very gentle with her and said no, no we worry about that in Oct. what we need to talk about now is blank. Out day could not have gone so smooth without such a great team. Cannon and Amberley work so well together there is such trust between them, that you can see not one detail is ever forgotten.
Amberley was really good about meeting with us often and reminding us what we needed to be doing when. I don't know that we could have done it without her.

Canon was absolutely wonderful. He's great at his job and you can tell he loves what he does. He was very responsive and accommodating to all of my needs and very helpful when I had any questions or needing anything changed for our wedding. He also goes above and beyond and helps with timeline planning and makes great suggestions from past experiences. He truly wants his bride and groom to have the best day of their lives and wants to make sure this happens. The day of was a blast! I've had so many comments since on how great Canon and his wife were at creating a fun party atmosphere. I am so happy I went with them, and will refer all of my friends to them in the future.

Ben

Married on 09/12/2015

Great professional team that made our wedding day unforgettable. Thank you so much!

Everything asked for was delivered and more by Cannon and his team. Great engagement with the audience; he'll deliver (from games to special requests) as much or as little to suit your needs. That said, I would encourage you to allow Cannon and Sound Source to get involved with your audience and ensure they have a great experience. Highly recommend if you are looking for a professional in this arena.

Erin

Married on 07/24/2015

Canon was amazing! Helped us from the very beginning of our wedding planning he is very organized and thinks of everything! The day of the wedding he ran everything flawlessly and kept the night moving never an awkward silence or pause. Even our guest had compliments about how well the evening was ran and how Canon kept the guests involved! We would recommend Canon to anyone! We have zero complaints! Our day was truly prefect!

Britney

Married on 07/19/2015

Canon is an awesome! He and his wife are a dynamic duo! They always play the music that you want and make sure you and your guests are having a great time.

Andrea

Married on 06/27/2015

We loved Sound source! They were on time, very good at what they do and really listened to our wants as well as read the energy of the guests. Truly, our wedding was awesome because of them!

Yael

Married on 05/16/2015

Canon was amazing. He is worth the cost for his service. He was able for 2 hours to have a group of boys and girls of different ages be engage in unique games and made our bar mitzvah a success. He has tons of experience with different types of audiences and knows how to make the party a success.
Are you interested?
Send a message