65 Reviews
Recommended by 98% of couples
Quality of service

4.9 out of 5 rating

Average response time

4.9 out of 5 rating

Professionalism

4.9 out of 5 rating

Value

4.9 out of 5 rating

Flexibility

4.9 out of 5 rating
34 User photos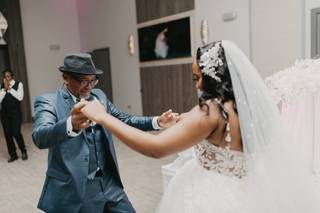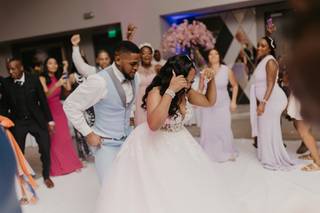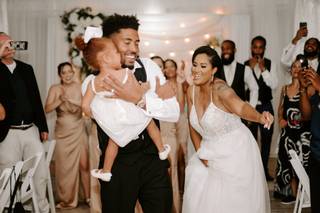 + 30

photos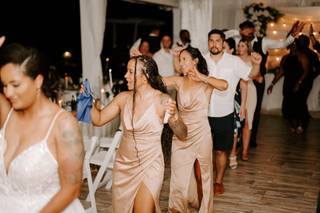 Dakota&Savannah P.

Married on 01/07/2023

Danced the night away!

Just wanted to take a second to shout out the guys at Soul O Bliss. We came to St. Lucia to get married and needed of a DJ. We wanted someone to really liven up the reception. Shane (DJ) and Mcquain (Emcee) at Soul O Bliss turned all the way up. They had our family and friends dancing like we've never seen. They exceeded our expectations and were the absolute perfect match to really top of off our special night. We loved the hype and jumping music. 10000000% recommend Shane and Mcquian if you are wanting to really blow the roof off your occasion. We cannot thank them enough for making our wedding night perfect!

Savannah H.

Married on 01/07/2023

Dancing all night!

100% recommend Shane & Mcquian

Hudson G.

Married on 12/03/2022

Amazing wedding dj

We are a luxury wedding planner from Scottsdale AZ who planned a wedding for our clients in St. Lucia.

The wedding DJ is the vendor I am most selective and picky about here in the states so I was very nervous heading to the island without having worked with this company before and let me tell you, they BLEW me away. We truly couldn't have asked for anything better.

DJ Romanaus was wonderful with communication leading up to the wedding and then just totally knocked it out of the park on wedding day. He played all the songs the bride requested, knew how to keep the dance floor going and was so responsive and quick when I had announcements I needed him to make on the fly.

I can't thank him enough for that easing all my nerves and for exceeding all our expectations. I would leave so many more stars if I could!

Are you interested?

Send a message

Janicq L.

Married on 10/30/2022

The Limas are saying THANK YOU!

Romanus! Also known as SoulOBliss did an extraordinary job at my husband's and I wedding at Sandals Grande. Romanus showed an immense amount professionalism. Him and his team were timely, equipped and well prepared. Our guests had an amazing time and struggled to get off the dance floor! He's not only great for playing music but also the vibe be brings himself! Would definitely recommend.

Regards,
Janicq and Jean

Stephanie E.

Married on 10/22/2022

Seriously The Best!

Rule number 1 on planning a wedding; never compromise on your DJ! I had followed DJ Romanus on IG and watching his stories for all the weddings he was doing I just knew I had to have him be apart of my wedding! He knows exactly how to get everyone involved and played every song we requested! Everyone loved him at our wedding he is seriously the best in Saint Lucia! You will not be disappointed with soul o bliss they are seriously amazing!

+ 2

photos

Sharnard S.

Married on 09/25/2022

Wedding day

Romanus is very professional. He gave us exactly what we wanted on our big day. His photo-booth was a crowd favorite. The music was amazing and suited both my husbands Spanish culture and my West Indian culture. We highly recommend him for your big day, you won't regret it!!!!!! Book him!

Blayne B.

Married on 09/01/2022

Best. Wedding. Ever

Following DJ Romanus, reading reviews, word of mouth, nothing, not a single thing could have prepared us and our guests for the level of partying we were about to do that night. Our wedding was in Soufriere, Saint Lucia which boasts the world's only drive through volcano and I must say, I thought it would erupt with the raucous we caused. Heavy sweating. Articles of clothing came off. Table napkins were used as flags to wave as we jammed all night. ALL of our guests said the same thing: "we never partied so hard". He knew exactly what to play and when to play it. His timing was perfect with all our specificities from ceremony to reception. He also functioned as our MC and held it all together without missing a beat. Thank you again brother. We would definitely recommend this team to anyone looking for an absolute blast here in St. Lucia. We will be contacting him for our renewal of vows!!!

+ 2

photos

Brooke R.

Married on 08/13/2022

The hit of the wedding!

Definitely the best part of our wedding and the talk of all of our guests! He knew exactly what to play and when and had everyone turning up! One of my guests whose been to dozens of weddings even talked about bringing him stateside for her wedding next year! 20/10 recommend, you are guaranteed to have a good time!

Natalie

Married on 07/23/2022

What a vibe!!

DJ Romanus was such a pleasure to work with. Having great music at our wedding was of course essential, so I was a little nervous when we started planning because I wasn't aware of any DJ's on the Island at the time. Initially I found DJ Romanus on Instagram first, looked at his work and just knew he would be great for our wedding. Our wedding planner then recommended him to us without knowing and that's when I knew he was the ONE!!
Well …he did not disappoint! Our guest absolutely loved him; it was such a great vibe all night and nobody wanted to leave! He also did our "Guess who, Bride or Groom" table game at the reception which was so much fun! And provided our wedding photobooth which was a last-minute decision but so glad we did it because our guest absolutely loved it and we now have so many memorable photos! I would definitely recommend DJ Romanus to anyone having an event in St. Lucia. Thank you again Romanus!

Jacqueline R.

Married on 06/21/2022

Good vibes!

DJ Romanus was such a pleasure to have as our wedding dj. He's very professional yet relaxed and chill, we loved his vibe. Our ceremony and reception were at 2 separate locations, he transitioned to the second location so quickly and smoothly, even with it being about 15 minutes away driving. He did a great job being able to tell what type of music vibes the guests were feeling. We highly recommend him to any couple looking for a DJ for their wedding!

Soul O Bliss Entertainment's reply:

Thank you for this review Jacqueline. Your wedding was beautiful and special and we are happy to hear that we contributed to that! Your guest were amazing and full of energy and rocked the dancefloor!

Kelly L.

Married on 05/14/2022

Best DJ ever!

DJ Romanus was the best part of our wedding! Music was the most important part of our day, and Romanus made it his priority to made everyone have fun. He made it so easy to send in our playlist requests and was very flexible working with our venue to DJ the ceremony and part of the cocktail hour before and after our live musician played. He was on time and incredibly organized! Romanus was a fabulous MC for the reception and had out guests dancing the entire night! No one left the dance floor, it was incredible. We are SO grateful for him and all the fun we had that day!

Soul O Bliss Entertainment's reply:

Hi Kelly, we definitely agree that music is extremely important so being your wedding DJ was truly an awesome experience. Ease of communication for our customers is our top priority and we are extremely happy that you experienced it . Your guest we amazing and rocked the dancefloor all night. Thank you for giving us an opportunity to DJ at your joyous and memorable event.

Abeni K.

Married on 04/28/2022

The DJ you need for your wedding!

DJ Romanus was super pleasant to work with. Responsive, knowledgeable, easy-going, and just the ultimate professional. This man knows how to get the party started and keep it going! Our guests were on the dance floor all night long. DJ Romanus played the perfect mix of soca, reggae, rap, reggaeton, afrobeats and even found the perfect Trini chutney tunes too! It was the best wedding reception ever due to our awesome music selection played. We highly recommend him! 👏🏾💃🏽🕺🏾🎵

Shelby M.

Married on 04/25/2022

The Best DJ in St. Lucia!

If you're reading this review you've come across the best DJ in St. Lucia! Hiring vendors for a destination wedding can be stressful, especially when you can't meet them prior to the big day. I happened to come across Romanus on Instagram, started following him, and immediately knew I wanted him at my wedding! He did not disappoint! Romanus was timely and professional. Everything from the ceremony music, to the dinner music, to the dance music was perfection. He kept us on the dance floor all night and my guests were talking the next day about how much fun they had! I can't say enough great things about DJ Romanus. Don't miss out on booking him for your event-you won't regret it!

Kay

Married on 03/26/2022

Wedding DJ

Soul o Bliss entertainment was immensely professional and responsive to our requests for our wedding and reception. He arranged a conference call a week before the wedding to review the playlist and ensure all the details were accurate. We had a blast at the wedding and loved the photo booth add on. I highly recommend him.

Chelsea S.

Married on 03/05/2022

Best party ever

After postponing our wedding for two years we finally had the wedding of our dreams . There aren't enough words to explain how Dj Romanus and team made our wedding the party of a lifetime!! Our guests danced all day and night and even in the rain. Romanus thank you for the vibes, for keeping the party going. Romanus DJ'd our wedding and catamaran cruise and it just wouldn't have been the same without him.

Soul O Bliss Entertainment's reply:

Good day, Chelsea! Thank you for your thoughtful words! It was an absolute joy to serve as your DJ for your wedding and catamaran party; we had just as much fun as everyone else.


Yuriko K.

Married on 02/26/2022

A-m-a-z-i-n-g!


Romanus was one of the best services I've hired for my wedding!! Feel very lucky to have found him!

I've had the pleasure to meet him at Caille Blanc during my trip to prospect wedding venues in the island, and from the get go , I've observed that he just have this cool vibe about him and always a big smile in his face!

After hiring him to DJ in our wedding, we exchanged messages and he inquired us about our musical taste, went over the songs that were key elements for the ceremony, 1st dance etc but also asked us about any "must have" songs or unique preferences. He was very open to the suggestion of sharing our Spotify Playlists with him. We also talked details about lights and I felt like we had a solid plan !

But Romanus didn't stop there: he went the extra mile and helped us to find someone to source a dance floor (though we ended up not having it), and anything we could have asked his help! He kinda of became our unofficial "TO-GO" guy, always willing to help or point us towards the right direction as he is very connected!

Once we arrived at the island, he met us in our hotel in the 1st day to go over expectation and timeline for our wedding that was scheduled for 4days later: what an incredible thing to do!

Finally at the wedding, everything went amazing! People were happily dancing and it was a great balance of musical genres. I had a mix crowd, very multicultural but in the end old folks appreciated it, Brazilians and young folks too!! 😊

My only and deepest regret was not being able to hug and say goodbye to Romanus: and my only excuse was that time flew by my eyes, alongside with few drinks deep, hahaha and jumping and getting myself soaked late at night in the pool!

Please know that I'm very grateful for you and happy with how everything turned out!

Please keep it up with your charism and energy! Will recommend you hundred times over !

Thank you so so very much, Yuriko

Maggie M.

Married on 02/14/2022

Amazing! Would hire again

Romanus DJ'd our wedding in St Lucia and did a stellar job! Everyone had so much fun and all my guests were dancing

Soul O Bliss Entertainment's reply:

Hello Maggie,
Thank you kindly for taking the time to write a review. It means a lot to us that everyone had a good time.

Ashley H.

Married on 01/22/2022

A true highlight of our big day

I am pretty sure I told everyone at my wedding that I wanted our DJ to follow us around forever and make the soundtrack for the rest of our lives… We had an absolute blast dancing all night long! He truly kept everyone on the dance floor from our first dances until the sound curfew cut us off. We had given him a quick playlist of a taste of the music that we wanted and he RAN with that and absolutely killed it. The next day we had everyone over for brunch and the only complaint was that everyone's feet were raw from dancing on the deck so long the night before. Music was such an important part of our day for us and we are thrilled to have worked with Romanus. 100% a must if you're getting married or hosting an event on St Lucia!

Soul O Bliss Entertainment's reply:

Ashley,

It was an honor to be a part of your memorable day. It gives me great pleasure to know that you value my work so highly.

Everyone had a great time dancing until we were forced to stop. We could have easily stayed until the next day.

Kirstey M.

Married on 01/20/2022

Amazing!!!

Absolutely the best DJ on the island. The most amazing evening. The music was just what we asked for and the atmosphere is electric. Everyone was on their feet all night. Check out his Instagram to see the quality of this chap. Thank you soooooo much !!

Soul O Bliss Entertainment's reply:

Hello there, Kirstey.

I'm honored that you think so highly of me. It was an incredible evening. We're overjoyed that everyone had a great time at your wedding and danced all night.

Allette A.

Married on 09/17/2021

DJ Romanus

We had a great time at our wedding beginning to end. The DJ definitely made sure everyone was up and dancing. He was able to make it to the rehearsal so that was great for us to practice. We discussed over the phone all different songs that would be needed. Everything went great. If you are in St. Lucia and you need DJ services, you need to check out Soul O Bliss!!

Max

Married on 07/03/2021

He knows his music

DJ Romanus rocked our wedding. The dance floor was never empty. The light the sound and the tunes were everything. He was responsive throughout the wedding preparation and more than delivered at the reception. Highly recommended.

Amber S.

Married on 05/01/2021

Best experience!

Romanus should be your #1 go to on the island. I wish he lived in the US! He was completely responsive & professional from the start. He DJ'd our wedding. He always responded to my emails within the same day and answered all of my questions with patience & guided me when I needed it. He was on time & ready to go! He was so much fun & knows how to read the crowd. We got to know him pretty well & I feel like we all became life long friends! Don't hesitate to book him, he's amazing.

Soul O Bliss Entertainment's reply:

Hi Amber, thank you for this beautiful review. It was a pleasure working with you to ensure that your wedding was special and memorable. Your guest we're so pleasant and energetic and rocked the dancefloor from beginning to end!

Morgan P.

Married on 04/03/2021

Fantastic!

Dj Romanus accommodated our wedding party for an after party to help us celebrate! The energy and enthusiasm made all the difference for us and the whole group it still talking about it over a month later!

Tiffany V.

Married on 02/16/2020

DJ Romanus is the BEST!

We had the absolute best time with DJ Romanus and Soul of Bliss productions. We even had an epic impromptu dance party Before dinner even started..then we took a break for dinner and speeches then continued late into the night. DJ Romanus was a very accommodating to our song requests and brought great quality speakers and projection lights. When we first reached out via Instagram/WhatsApp, he was very responsive and added songs from the Spotify playlists we gave him to the set.

He was all smiles and good vibes from the very first moment and offered to stay as late as we wanted him to. We would highly recommend DJ Romanus and his crew for any wedding or event!

Soul O Bliss Entertainment's reply:

Thank you for taking the time to write this review, Tiffany. Your wedding was amazing, and the spontaneous party before supper was incredible.


Ron L.

Married on 02/01/2020

Absolutely Excellent

So this is long overdue but I couldn't celebrate my anniversary without remembering the DJ who put our wedding day on cloud 20. You were an absolutely amazing person to work with. We had special requests to edit songs for our ceremony and you executed to perfection. You also took our thousand plus song list and made it into rocking party.

We danced our shoes off that night and still wanted more when we had to leave. I couldn't ask for a better DJ experience. Oh and the sound quality which was my biggest concern... Absolutely perfect. No noisey or grainy feedback high were nice and high and bass was booming.

Thank you for an amazing musical experience Soul o Bliss, its one my wife and I shall never forget.
Are you interested?
Send a message