22 Reviews
Recommended by 92% of couples
Quality of service

4.5 out of 5 rating

Average response time

4.4 out of 5 rating

Professionalism

4.7 out of 5 rating

Value

4.5 out of 5 rating

Flexibility

4.7 out of 5 rating
Awards
4 User photos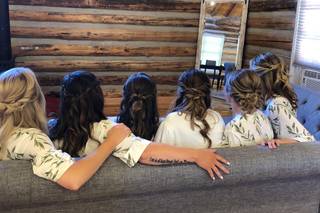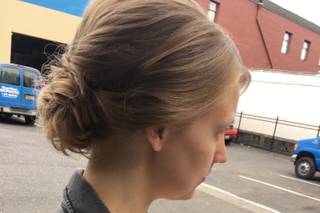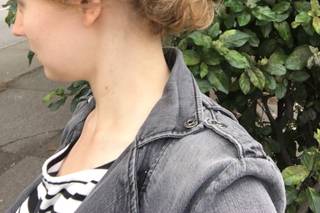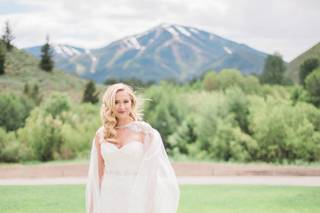 Mel

Married on 07/20/2019

They did so good!! No complaints here!

I had the pleasure of working with Amanda and Katie from Sorrida Salon and I'm so pleased with them!! They did a fantastic job on myself, my bridesmaids and my mom! I would recommend them to any future bride!!

Ansley

Married on 07/15/2018

I would highly recommend Sorrida Salon for any bride looking for wonderful hair + makeup artists for their big day! Rylee was super sweet and fun to work with. I know virtually nothing about hair and makeup, so she was a big help in figuring out my vision for myself and making it a reality. Having the trial was particularly helpful for me to figure all that out with Rylee without the stress of it being the wedding day. On the wedding day, she was so sweet and did tweaked things in my hair and makeup for me as my little nervous bride self fretted over minuscule details. A lot of my bridesmaids and other female family members did a-la-carte services and they turned out beautifully as well! They even gave us a lipstick touch up kit so we could freshen up before photos/walking down the aisle. Rylee and her colleague who helped with my bridesmaids were professional, timely, and easy to get in touch with, and I could not recommend them more!

Lilli

Married on 01/27/2018

I am the mother of 4 daughter's and just put on the last of the weddings. The last 2 weddings we have had Sorrida Salon do the make up and hair. They were wonderful to deal with and everyone was thrilled with their results. Not one bit of touching up or fussing with anything after the stylists were done. The best part was how smoothly everything went. Michelle, the owner operator, did a time line for us. We were all finished in time for photos and there was not a moment of stress. Hard to do with large wedding parties and mother's! We had top rated vendors for the other 2 weddings - but the ones with Sorrida salon went so much better. Pictures started at 10:30 AM and dancing ended at midnight - and everyone's hair and make up made it through.

Are you interested?

Send a message

Megan

Married on 10/28/2017

These girls were great with responding I unfortunately could not get the minimum required in order to book. My bm did not want to pay the amount so I wasn't able to book them.

Carlee

Married on 07/29/2017

Sorrida Salon is the very best!! The owner is extremely professional and trains her girls well. You will not be disappointed. I had a wedding with 12 bridesmaids, a bride (me), two mother's of the bride and groom. Everyone loved their hair and make up! Choose Sorrida for your wedding! I promise you will be so happy!

Morgan

Married on 05/12/2017

Rylee with Sorrida Salon was so wonderful to work with! I loved my trial and only made a few minor changes for my day of, like lipstick color and more eyeliner! She was super easy going, both she and her assistant were pleasant, on-time and finished ahead of schedule! They did hair and makeup for myself, 2 matrons of honor and 2 moms and we all felt gorgeous!

Brianna

Married on 11/12/2016

I fell in love with the website first, All the brides they featured on were stunning. I knew I wanted to look as pretty as them on my special day. Michelle was so sweet through emails and always got back to you as soon as she could! It made everything stress free when planning everything else! I also LOVED that they came out to where we needed them on the day of. It made the morning relaxing and fun! Thank you for making me feel like a princess on my special day!

Jenaca

Married on 06/10/2016

The women at Sorrida Salon's professionalism and creativity set the bar for hair and makeup services. Leading up to my big day, Michelle and team helped me zero in on the look I was going for [which is no easy feat for a bride with an overwhelming wedding vision "pinned" on multiple online accounts]. They really took the time to understand what my hair was capable of, and created a timeless glamour that photographed well on me and my bridesmaids. Day of, the Sorrida team was mastered versatility for each of my bridesmaids, and avoided that over-styled crunchy look. Into the evening, we continued to look and feel our best - Thanks Sorrida!

Chelsey

Married on 12/12/2015

Michelle and her team were absolutely amazing to work with! The trial for my hair and makeup took place in Michelle's extremely cool and stylish studio in downtown Seattle. She worked with me on the exact look I wanted, and with limited input from me, she made me look absolutely gorgeous! The day of the wedding, her team arrived right on time with all of their equipment. The ladies did hair and makeup for all my bridesmaids, myself, and my mother. They had us all done in record time. They were so fun to work with, and listened to music with us and laughed and had a great time. They even made us mimosas (we had the supplies in our kitchen)! They had all the bridesmaids come over as they were done for my approval, and I only had slight recommendations for 2 of them (bigger wings, more blush, etc), and the artists took my requests so professionally and politely and fixed them immediately. All of my bridal party looked absolutely fabulous. My hair and makeup lasted all night too! I normally have pretty awful skin and my hair is super short and thin, but Michelle made me look absolutely stunning, and I couldn't have asked for a better partner for completely my wedding day look.

Sorrida Salon's reply:

Chelsey,
Thank you for all the kind words! You were a blast to work with and I was in LOVE with the vintage style you wanted. Happy marriage bliss :)

Sorrida Salon was a positive joy to work with and did beautiful work; I was thrilled with how not only my hair and makeup turned out, but my whole bridal party. Highly recommended!

Christina

Married on 10/09/2015

I can't say enough good things about Sorrida Salon and Michelle. I came in skeptical, I had never had an updo I liked, and I have long dark thick hair. Michelle took up the challenge and created the most amazing 20s inspired updo. I've never felt so beautiful. When I've been in weddings in the past, sometimes the bridesmaids are overlooked in favor of the bride but all of my bridesmaids all looked amazing and were so happy with their hair and makeup. Sorrida does amazing work and I highly recommend!

Sejla

Married on 05/23/2015

Sorrida Salon is an absolute for bridal hair and makeup! From the initial touch base all the way to the day of the wedding, I had not one thing to worry about. Michelle responded very quickly to my emails and assured me they would be able to do 10 bridesmaids and the bride on the morning of the wedding! From there we set up a trail hair and makeup appointment at their studio in Seattle, which btw is gorgeous! Michelle was able to do the look I was going for and I couldn't be more pleased! All the bridesmaids loved their looks and had a great time with the artists. I would recommend Sorrida to any prospective bride and bridal party!

Tanya

Married on 03/21/2015

Using Sorrida Salon for hair and makeup for bride, MOB and 5 bridesmaids at my daughter's 3/21/15 wedding was one of the best decisions I made in the entire process. It was a real splurge financially but so, so much fun to sit around sipping champagne and being able to laugh and enjoy the beautification process in advance of the wedding hubbub. Speaking as the MOB I can tell you I felt more confidant having been professionally spiffed up, ha ha. Michelle, Vanessa and Rachel were all so professional, prompt, skilled and fun to be around. And the preview hair and makeup appt at the Sorrida Salon was completely fun and helpful and worthwhile also. Highly recommended.

Michelle and team performed amazing work. My hair and makeup were perfect for my wedding day and the same detail was used for the bridesmaids and moms. Great level of professionalism and loved having the team come to us on wedding day. Highly recommend Sorrida Salon!

Torie

Married on 07/27/2013

I absolutely loved having Michelle do my makeup. Her and her partner did an amazing job achieving a very specific look I was going for, and they were even able to accommodate an extra person last minute. All of the bridesmaids, the moms, and myself were all very pleased. She was also really calming, which I liked :).

Sarah

Married on 09/03/2016

My experience with Sorrida, and Sierra in particular, was nothing short of amazing. While my wedding was in the Seattle area, I live and planned my wedding from Southern California. The communication was solid throughout, which put me at ease during the planning stages, and Michelle often responded within 24 hours (a few times communication took longer). Even when an unplanned venue change occurred 5 months prior to the wedding, Michelle and her team were accommodating to the changes. My pre-wedding trial took place 2 days before the wedding. One of my biggest compliments is that Sierra took all of my notes from the pre-wedding trial and made the perfect adjustments on the day of. I gave Sierra 5 images from Pinterest for my hair, and she was able to creatively merge them into the exact vision I had. I also had 4 bridesmaids, 2 moms, and 1 grandma get their hair and makeup done on the day of. While some people had a strong vision and others had almost none, the Sorrida team did a great job of adjusting to each person, and everyone felt absolutely beautiful on the day of the wedding. Lastly, I just wanted to thank everyone for their flexibility. On the morning of the wedding our venue sent them team to setup in the wrong location, and Sierra and her team had no issues quickly adjusting for the snafu. Thank you for making the day special, and making all of us feel so beautiful!

I bought makeup and hair packages for myself ($220) and all of my bridesmaids ($110) as well as my mother ($135)for my wedding. Michelle did my hair and makeup and also did my consultation. I was a little nervous after my consultation because it wasn't 100% perfect but I was extremely impressed the day off. I wanted her to change my eye shadow color from the consultation and do more of this, less of that, etc and she was very accommodating! Plus she came to our rental house in Chelan for the same price that she does weddings in Seattle. I was very happy with the service! My only complaint is that I know my hair and I know it does not hold a curl with a flat iron, only a curling iron (which I told her in my consultation). She still used a flat iron the day of so my curls came uncurled rather quickly (and I forgot an emergency curling iron for touchups!). Still, great services and we all looked amaaaazing.

Nicole

Married on 09/24/2016

Sorrida Salon provided hair/make-up for my bridal party and mothers. Everyone looked very beautiful and each girl had a slightly different hair style, but the stylists still tied them together. They were on time and ready to go when they said they would be and finished on time. I was little worried after the trial as it did not look perfect and a few pieces fell out, but can say they take a lot more time the day of and everyone looked wonderful and I was very happy with my hair and my bridal party's.

Sorrida Salon's reply:

Thank you for the kind words. I'm happy you felt beautiful on your big day!

Katie

Married on 08/26/2016

Sorrida did a lovely job on makeup and hair for myself, my lady maids, officiant, and mom on our wedding day. We were very happy with the way everyone's styling turned out. Rylee was awesome to work with- willing to try various hair styles at my trial and happy to change things as needed day-of. We ran a little tight on time- finished at around the time the first-look was scheduled for, though everything ended up running late so this wasn't a huge deal for us, but something to be aware of. It would not stop me from working with them again- but I recommend discussing the timeline and exactly what time you'd like everything done prior to the day-of.

I had some initial difficulty getting a response from Michelle at Sorrida. I had heard wonderful things and wanted to book them so I stuck with it, which worked out for us eventually. Once the ball was rolling, communication was faster.



Adrienne

Married on 09/02/2018

Beautiful hair and makeup with a friendly team!

I used Sorrida for my wedding hair and makeup. From my booking to the wedding day, I felt like Michelle and Sydney were receptive to what I wanted and eager to make it happen. Sydney worked with me to do two trials to nail the hair I wanted.

On the day of the wedding, they managed to work with all of my bridesmaids, who wanted different hairstyles, and my mother and mother-in-law wonderfully. None of us are big daily makeup wearers, so they did a great job of keeping everyone comfortable but still looking incredible! And they were actually done with everyone a bit early, which according to my photographer never happens with other local hair and makeup teams!

My only minor issues are that I had some trouble getting in touch with Sydney between my first and second trial to discuss changes and that my lip color sadly did not stay on at all. Otherwise, they were a joy to work with and I felt beautiful on my wedding day!

I loved the makeup that was done for my wedding day. But the hairstyle was just terrible. I had told her I wanted volume since my hair is so thin. And it was a simple curly hair down style I just wanted lots of volume. The end result was super flat..I looked like a cat licked my head. I told her can you please add more volume on top it looks super thin..all she said was oh yeah I put some volumizing powder so just tousle it and it will pump up. That was not what I wanted and it didn't even look good. I'm so thankful my good friends best friend was present and also does hair..because she fixed me up after this lady left. I would have cried walking down the Isle if it wasn't for her fixing my hair and actually adding volume. This lady apparently doesn't understand thin hair. And to top it off she made me pay a tip..I was not going to tip but she didn't give me an option she just added it to my total. Ridiculous. Don't spend your money here ladies please. I regret it. Even though the makeupmakeup was beautiful..the hair was not. And she also did my mother's hair and makeup and didn't even come close to the picture we showed her..my mom was unhappy aswell.. but what can you do. My friend fixed her as well. So ladies find something better!!!!

Sorrida Salon's reply:

Hi there,

I am so sad to read this review. You obviously feel very passionately and I would love to hear more details. That way I can schedule some trainings and make sure this never happens again!

Please email me when you have time!
Contact@sorridasalon.com

Kacey

Married on 08/22/2015

Dealing with Sorrida Salon has been one of the most stressful aspects of planning my wedding. The salon not only lacks customer service, they also lack overall talent and artistry.

My bridal makeup trial was with a girl named Kenzie, after providing a Pinterest board of pictures and very precise, descriptive attributes about what I was looking for in makeup, I was left with unshaped brows, crooked eyeliner exposing my lash line, a weird silver/black shadow combination (when I asked for a neutral smokey eye with champagne/taupe shimmer) and coral/red lips instead of the pink I requested. After two hours and an attempted touch-up from the Salon's owner, Michelle, it was clear Sorrida was incapable of doing makeup in general.

At the end of the day I could have done a better job doing my own makeup. They didn't even put mascara on me! I left my consult to attend an event and had to completely redo my makeup in the car because I looked horrible, I didn't even look like myself.

Michelle has been accommodating in agreeing to return part of my deposit but the entire experience, dealing with Sorrida Salon, has prompted me to want to warn other brides. Bottom line, I would not trust Sorrida to touch me on my wedding day.
Are you interested?
Send a message