41 Reviews
Recommended by 98% of couples
Quality of service

4.8 out of 5 rating

Average response time

4.9 out of 5 rating

Professionalism

4.9 out of 5 rating

Value

4.8 out of 5 rating

Flexibility

4.9 out of 5 rating
24 User photos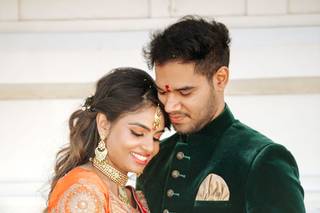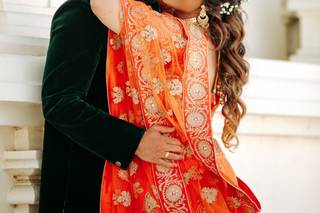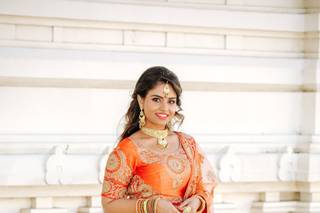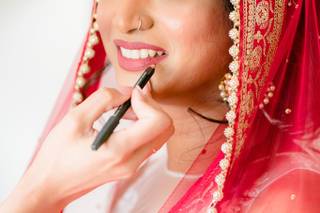 + 20

photos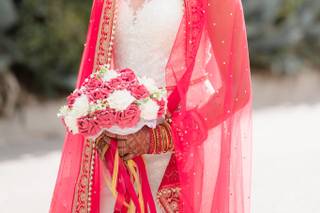 Farah

Married on 07/09/2022

Wedding H&M

Soreya is so incredibly talented! I was searching for a H&MU artist for my wedding, and I felt stuck for a while knowing how picky I am and how difficult my hair is (SUPER thick), until I found Soreya. I was so impressed with her portfolio, but after I had the trial, it was the easiest decision for me.
She gave me recommendations but was also attentive and sensitive to my preferences. She helped me figure out what I wanted and was patient with me the entire time. My glam lasted ALL day and night, through all the sweat, tears, and dancing. Looking at my wedding photos, I am still so obsessed with the H&MU. Couldn't have been more perfect. So glad I found Soreya!

Aishwarya N.

Married on 04/12/2022

Made me beautiful princess

I loved how Soreya made me feel comfortable. Especially when I was sick she gave me a really good remedy. I loved her work and i looked like a princess on that day and I didn't even need to do touch up lasted me throughout my whole engagement. for any brides who want to look flawless on your special day... I will recommend Soreya hands down.

Neisha R.

Married on 02/22/2022

Excellent, professional and amazing spirit

Soreya did my make up for my wedding day and she did a phenomenal job. She is by far, the best makeup artist I have ever encountered. She was super professional, fun, and listened to everything I said as to what I wanted and didn't want. I looked stunning, and I am not one to say things like this, being a tomboy, I have no idea how to put makeup, all I know is that I could not be happier with how she made me feel and look on my wedding day. She is an absolute joy to work with! She has an amazing spirit and positive energy she brings with her. Can't wait to work with her again

Are you interested?

Send a message

Prachi J.

Married on 12/27/2021

Soreya is a rockstar - best hair and makeup for my wedding day

Soreya was a God send, I couldn't have asked for more. For my wedding day, I chose a no makeup makeup look with smokey eyes. During my intro call with her she understood every detail that I verbally explained and was able to make it real. It was flawless. Two of my bridesmaids also took hair and make up from her and they loved it too. Soreya was flexible to accommodate odd hours for my photoshoot and also added my mom's and bridesmaids' makeup last minute. She also provided male grooming for my husband, that I would say was very rare to find. She was a one stop shop for all my wedding needs like prepping my hair a day before, hair cut for my husband and even provided chest and back makeup. Just amazing !! Looking forward to many more makeups with her.

Shane M.

Married on 12/11/2021

Soreya is simply Amazing

Soreya is simply the best, she handled the hair and make up for my than fiancé for our wedding last December 2021. For myself she did my haircut and color and styled my hair on our wedding day. She and her team arrived in time for event and she will not waste your time. Her rates are very reasonable and for all the things she will do for the couple on that day it is well worth it. I highly recommend trying her services or book a pre trial with her and I can assure you you will not be disappointed.

Paula

Married on 06/01/2021

Well organized, knowledgeable, detail-oriented

Soreya and her team of hair and make-up artists were amazing! I previously used her services when one of my best gal friends were getting married and I knew instantly that I would go back to her for my own wedding. She not only did my make-up, but made sure my hair was wedding ready as well. Love the subtle highlights she added to my hair. I had told her what I wanted for both my hair and makeup and she delivered. She is detailed, knowledgeable, and well-organized. I was so relaxed and at peace knowing she knew what look I was aiming for. I definitely recommend her not just to those getting married but for those who are looking to look blamed up for any event. :)

Keisha J.

Married on 02/28/2020

Amazing!!!!

Soreya and her team is amazing! She was able to turn my vision into a reality and made me a beautiful bride the day of the wedding. She used top notch make up brands that did not leave my skin with any rashes or acne. One of the best decisions ever. I'm so happy I went with her and her team. Everyone in my bridal team including the moms look gorgeous!

+ 2

photos

Sami E.

Married on 09/08/2018

Amazing experience

I could never ask for a better make up/ hair stylist for my wedding day. I had a trial with Soreya before my wedding and I absolutely loved her amazing work, but I loved my hair and makeup on my wedding day even more. She has a great attitude and goes out of her way to make sure you are happy with her service. I was so nervous and stressed out on my wedding day, but she was able to make me feel relaxed while she was working on me. I highly recommend Soreya to all my friends and family.

Emily Y.

Married on 07/14/2018

Absolutely Superb!

Soreya and her team did an ABSOLUTELY SUPERB job with my hair and makeup for my big wedding day. I was originally referred to her by a dear childhood friend of mine that had her hair/makeup done by her, and Soreya made it so easy with no complications whatsoever. I did two hair trials with her - an up do and a hair down version, as well as one make up trial. Soreya is located in Studio City, but I was so appreciative of her work that I drove to see her all the way from Redondo Beach. Heck, to this day I still drive all the way to see her for my regular hair appointments. Soreya, thanks a million once again for all your hard work!

+ 2

photos

Marianne

Married on 10/01/2016

Soreya did my hair and makeup for my wedding in October 2016 and she was really great to work with. She made sure that everything was exactly how I wanted and even took into consideration my sensitive skin. On the morning of the wedding she had a very calm presence to her which was nice to be around especially when things get so hectic. She never rushed and was professional the whole time. She's very easy to get along with and that makes it easy to work with since sometimes working with wedding vendors can be difficult. I am glad I went with Soreya for my wedding day and I would recommend her to everyone.

Christine

Married on 12/13/2015

I am thankful and blessed to find Soreya. Aside from her talent and passion to what she does, she is very friendly and easy to work with. She knows her craft very well. I have seen her love to what she does and so her work was a masterpiece. I am very satisfied on how she did my wedding hair & makeup. It was just perfect! Just the way I wanted it. I can still see myself even with the makeup. I had fun working with her. Made the right decision to hire Soreya! I hope u guys will make the right decision too :)

Maria

Married on 11/21/2015

I used Soreya for my enagement photo shoot and am so happy I did. We had an 8 hour long shoot with some rain and my makeup still looked great at the end of the day. She was very responsive and flexible which made booking her stress-free. The day of the shoot she showed up at my house right on time (early morning) and got to work right away. I showed her some pictures of what I had in mind and got exactly what I wanted. Too bad I am having a destination wedding in Mexico...I would have booked her in a heartbeat!

Erica

Married on 11/20/2015

Soreya is such a gem! Back when I was a new bride to be, I had my hair and makeup trial by several others and turned some down because their work seemed to lack novelty. But when I met Soreya, she amazed me by making my hair and makeup trial an exceptional experience. She was so responsive when contacting me and keeping me up to date on upcoming appointments and times, so I wouldn't miss any or be late (which is so handy when your mind is busy on planning details for the perfect wedding). On the day of the wedding, she brought all new makeup to apply on me to get the perfect shade/color for my big day, and replicated the exact hairstyle she did for the trial. I'm so pleased with her work~ not only was it GORGEOUS but it stayed on all night when I fell asleep in it after the wedding!! I woke up looking as I did the night before LOL. I can't wait for my next big event so I can have her do my hair and makeup again :)

Marlo

Married on 04/25/2015

Soreya did my hair and makeup for my engagement shoot as a trial and it turned out wonderful however I realized shortly after that I wanted to do another look and booked her for a trial again, this time with my mom. She did an amazing job the second time too and this time I knew this is how I needed to look on my wedding day. I looked like me, but a better version :) She enhanced my natural beauty and I loved it. For hair she is SO talented. She can do so many twists and curls and not sure how she does it but it just looks beautiful! On the day of the wedding it turned out even better than I could have imagined too. She takes any feedback you provide and works on it to make it turn out exactly how you are envisioning. I love that about her. If you are close enough she travels to you. On the day of the wedding her and a team of two girls arrived right on time to my hotel suite and were so fun and professional. I am so glad I choose Soreya. Not only is she talented but super down to earth and sweet. Thank you Soreya!

Joshua V.

Married on 01/03/2015

I came across a friends engagement photo on Instagram and she tagged her makeup artist. I called Soreya, made a trial hair/makeup appointment, and before the end of the appointment my search was over! She transformed my skin, into a luminous, flawless canvas, that lasted the entire day/night of my wedding! At the trial she did my hair in a low bun but I ended up changing my mind shortly before the wedding and had my hair down. She was very professional and personable to talk with, and most importantly punctual. The morning of my wedding she did hair and makeup for myself and my mom. Although I was not worried about myself, my mom is a VERY simple woman, and her daily makeup routine consists of nothing but a moisturizer. I was nervous how my mom's makeup would look, since she did not have a trial and she wears such minimal makeup. But seriously, seeing how beautiful my mom looked was an absolute highlight of my wedding day. I really appreciated the time and detail she put into completing both of our looks. My now husband, was not very found of when I got my makeup professionally done, but even he complimented me multiple times through out the day! I was overall very happy with the end result and my ONLY REGRET, is that I didn't hire her for my engagement photos! I seriously can't wait to use her for future events!

Thank you Soreya! :)))))))

Leticia

Married on 12/27/2014

There are not enough words to describe how happy I was with Soreya's work. She did such an amazing job on my make up. She took her time to really examine what tones worked for my skin type. She took notes during our trial run and was able to pull the exact colors for the day of. She came down to my house and was very prepared. So easy going and a pleasure to talk to. Very professional during the entire time. My make up looked flawless! She knew exactly what I wanted. Looking for another excuse to hire her again!

Kasey

Married on 09/13/2014

I hired Soreya for my destination wedding. Before the wedding she was extremely responsive, professional and was amazing to work with, coming up with my day-of look!

Once my wedding weekend arrived her and her team did a fabulous job doing hair and makeup for myself, my bridesmaids and Moms. They were on-time, efficient and were very aware of the time as we had 12 women for hair/makeup. She was a delight to work with, great attitude and energy. To top it off, I LOVED my hair. She listened to me and did exactly what we did in my trial. My entire wedding party looked absolutely stunning!

Bridgette

Married on 05/25/2014

Soreya and her assistants worked on my wedding party including my husband. Her service was top notch! I cannot say enough on how pleased I was with how everyone looked. Soreya is extremely creative and a true artist. I am not one to wear much makeup, I am actually kind of afraid but she made me feel comfortable with her genuine and candid opinions - this instilled my trust she would do a good job... and an AWESOME job she did! Not only is she an amazing artist but she approaches her work with the utmost professionalism. I'm a very indecisive person, Soreya accommodated me with multiple trials until I was pleased. I will definitely use her again for another event.

Soreya is amazing! She is truly dedicated to her craft, you can tell she's passionate bout making her client feel beautiful. I had a great experience with her for my engagement shoot hair & makeup and I highly recommend her. Soreya is a super chill person and made the whole appointment relaxed and enjoyable. She provides the perfect balance of giving the client what they're looking for but also using her professional judgment. I never thought I could look as beautiful as Soreya made me and I am very grateful. Pricing was moderate but WELL worth it, I feel that I received very high quality service.

Talin

Married on 11/30/2013

Soreya is incredibly easy to work with, super professional, always on time, flexible (traveled when needed), so warm, kind and just an absolute pleasure to work with. Half the time she's working on me, we're laughing and having a great time. All that aside, she's an incredible artist! I've always been super picky and never completely satisfied when I've had my hair/makeup done (I tried so many different hair/makeup artists before I discovered Soreya). With Soreya, I've been nothing but completely happy with my hair and makeup and just absolutely amazed at how talented this girl is!! I've always walked out looking great and have received tons of compliments! Look no further, it's a total waste of your time! Love this girl!

Kimberly

Married on 07/20/2013

I recently got married on 7/20/13 and hired Soreya to do my hair and makeup. Words cannot describe how much of an amazing job she did! She was extremely professional and kind throughout the whole experience. She took the time to listen to what I wanted and the execution was more then I had imagined. I have been to so many makeup and hair artist before and they never quite give me the look I desire. Soreya did more then just that. She took her time and made sure I looked amazing on my wedding day. I never once had a worry in my mind that I wouldn't look the way I wanted because I have the utmost trust in her. My mother also got her hair and makeup done by her and was amazed at how great she made her look. I can honestly say that Soreya made what could have been a nerve racking experience a wonderful one. I will never go to anyone else again when I need my hair and makeup done for a special event. She is by far the best around and I would highly recommend her to anyone!!!! If you are getting married or have a special event coming up, please do not consider anyone else other then Soreya! She is will deliver exactly what you want and more!!! Trust me on this lol...I am not easy to please when it comes to hair and makeup and she hit it on the nail! I cannot wait to get my wedding pictures so I can share what she did for me :)

Jaleh

Married on 04/20/2013

Soreya was awesome from beginning to end! She catered to all my needs and was easy to work with.

Caroline

Married on 04/05/2013

AMAZING! Soreya did such a wonderful job on my hair and make-up for my wedding. She is by far one of the most professional mua I have met. She pays attention, takes her time and her work is so detailed. I received endless praise and compliments on my hair and makeup and I can't wait until another event to just have Soreya do my hair and makeup…actually I might just pick a random day so she can help me look beautiful.

Sandra

Married on 02/22/2013

Soreya Yann was extremely professional. She listen to me and most importantly she worked well with me. I felt so comfortable with her service. I will hire her again.

I was referred by a friend to hire Soreya and I'm so glad I did ! There were other makeup artists and hairstylist s in the area but I fell in love with her work. It was soft and timeless, exactly what a bride should look like. Plus she does both hair and makeup for a reasonable price.

On the day of the wedding, Soreya arrived on time. She is very punctual and profession al. She was ready to work. She setup her station neatly and started to work on me immediately. We made a few minor adjustment s for my hair trial and it turned out better than I expect ed. For my make-up , I wanted a natural look, and she delivered. She applied my make -up very gently, it almost felt like I was having a handless facial. Her hands didn't even touch my face once. I was very impressed. She took a total of almost 4 hours!!! Now I really understand why she charges what she charges, she took her time in making everything look perfect. Time is money I suppose. Then she helped me get into my wedding dress and did minor touch ups: hair spray here, lipgloss there and I was ready for pictures. Then she handed me a cute make -up bag filled with a touch-up necessities and a full size lip gloss! So happy :D

Throughout the 6 hours of my wedding my make-up and hair help up the entire time. I had a side up-do and I didn't have to fix it at all. I was extremely tired after the reception that I went to sleep with my hair up (cause I wasn't going to attempt to pull out a hundred pins from my hair) and the next morning I woke up my hair was still securely on!

Thank you Soreya for making my special day easy and memorable! I will definitely recommend you to others on they're big day.
Are you interested?
Send a message