25 Reviews
Recommended by 100% of couples
Quality of service

5 out of 5 rating

Average response time

5 out of 5 rating

Professionalism

5 out of 5 rating

Value

5 out of 5 rating

Flexibility

5 out of 5 rating
12 User photos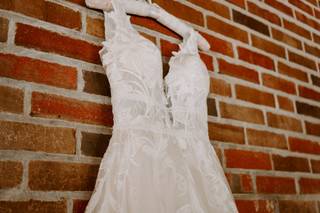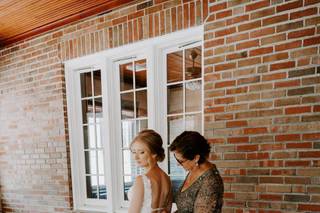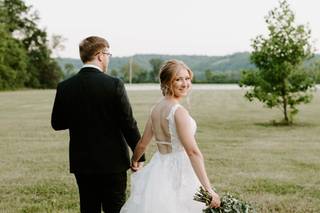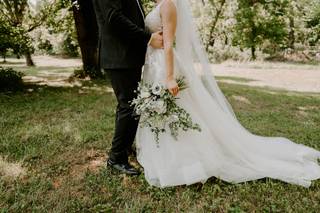 + 8

photos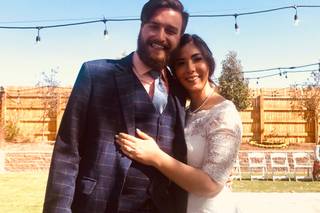 Anastasia Y.

Married on 06/25/2022

A personalized experience and a perfect dress

I don't even know where to begin with this, as Melanie and the staff at Sincerely Yours were absolutely amazing. I went to Sincerely Yours to find my bridal dress, and I could not have had a more comfortable and personal experience finding my dress. Melanie was able to help me find dresses based on my vision, and also helped my mom, MIL, and one of my friends feel involved as well. Ultimately, she made sure that I was leaving with a dress that was perfect for me. She was incredibly knowledgeable, and called me with updates about my dress along the way, which made me feel like she truly cared and wanted to make sure that I knew I was in good hands. Melanie and the other ladies at Sincerely Yours are professional, but also incredibly personal which led to a very comfortable experience and of course, the perfect dress. I can't think of a better place to have the best experience and would recommend Sincerely Yours to anyone!

Sincerely Yours Bridal's reply:

Thank you so so much, Anastasia! It was truly a pleasure helping you and your family. We are LOVING the photos you shared and yours words made us blush! Thank you again and we wish you the best as you begin your marriage. All the love, Melanie and staff.

Diana F.

Married on 01/06/2021

Made All My Dreams Come True Even Through a Pandemic

Sincerely Yours Bridal provided me with the best bridal experience I could have ever asked for. Melanie Salzman is the owner of the store and goes above and beyond to make sure every bride who enters her store feels special and celebrated. I was unfortunate that my wedding took place during the 2020 COVID Pandemic. Melanie called me with weekly reports on my dress, my mother's dress, and my bridesmaid dresses. Every time I spoke with her I felt happier. She truly loves what she does and has been my cheerleader through getting married during such a difficult time. She has gone above and beyond in every way possible. I hope you go to the store yourself and experience the excitement, love, and celebrations that occur the second you walk in the door.

Marissa

Married on 10/08/2019

Melanie rocks!

Melanie was amazing! First she brought in a dress that I had fallen in love with online for me to try on. She made sure I had my dress and veil in time for the wedding (I moved states and had to get everything shipped). She always responded quickly and she made the experience so special. I didn't have any family in state with me so one of my coworkers I got close with came and Melanie treated us as if we were her family.

Are you interested?

Send a message

Sharon D.

Married on 10/05/2019

Excellent gowns and service

I was expecting that I would have to go to a few bridal shops before finding the right wedding dress for me and a dress for my bridesmaid. However, I was in for a pleasant surprise in that I found the perfect gown for me and for my bridesmaid and at a reasonable price and this was the first place that I had gone. The help that I received was exceptional. Melonie made me feel at ease, was professional but personable, provided me with several gowns to try on based on what I was looking for, and was very attentive. I would definitely recommend this shop.

Kerry

Married on 04/27/2019

Amazing Shop!

My mom and I were so happy with Sincerely Yours! Melanie, the owner, is the nicest person, and she made our experience unforgettable. Although it's a small shop, she has tons to choose from, and they have the best seamstresses. There was a lot of altering to do for my dress, and it fit perfectly. You have to check out this store!!

Laura

Married on 04/27/2019

Amazing, Amazing, Amazing

I can not say enough good things about this place. I had gone to 9 different stores. NONE of them compare to this place. The owner has made helping brides her life and she is the greatest. If you are even the tiniest bit self conscious or nervous about dress shopping, go here! She makes you feel so special.

Kathy

Married on 12/01/2018

I went along with a friend for a fitting and we had a wonderful time. There is a great selection of dresses and the staff is friendly and knowledgeable. I already had my dress, but I did find a beautiful head piece to wear! Highly recommend.

Barbara W.

Married on 11/10/2018

Exceptional!

I can't say enough about Sincerely Yours Bridal. The owner, Melanie, is professional and friendly and offers personal service to all of her customers. She helped me pick out the perfect gown. Joanne, who is a member of her staff, was also very helpful with her attention to detail. I couldn't be happier! Thank you so much!!!!

Sincerely Yours Bridal's reply:

Thank you so much, Ms. Barbara! We loved every moment with you creating your perfect gown. We wish you the very best and can't wait to see pictures from your big day! All our love, Sincerely Yours.

Tenley M.

Married on 09/22/2018

Wonderful, beautiful people -- and dresses!

Hands down one of my favorite vendors we worked with throughout the whole planning process! Melanie and her team are outstanding. The experience in the salon is lovely, with the dresses out on racks for you and your girls to pull out and look at. You will get very personal attention in trying on the dresses, and you will also get guidance as to what other styles might fit. There is also a wonderful in-house tailor who did a great job with my alterations. When I had questions early on about the supply chain for a dress designer I was considering, Melanie reached out to them and got an answer for me, and when I was having trouble deciding on a particular dress, Melanie surprised me by finding that dress in the exact color I was considering! My most profound part of the whole experience came when Melanie could tell I was getting overwhelmed by all the choices and opinions from my girls (I brought five of them with me, which I would highly advise you not to do). She helped me feel at ease, asking me what I loved about my fiance and helping me remember why we were there in the first place. Melanie doesn't sell dresses. She does so much more than that, and she is a godsend for it. Stop looking, and contact Sincerely Yours to set up an appointment right now. You will be so glad you did.

Kim M.

Married on 06/30/2018

Great selection and expert staff that personalize the experience

Sincerely Yours Bridal made wedding dress shopping my favorite part of the wedding planning! The staff (Melanie, JoAnn, and Barb) went above and beyond to make sure I was comfortable and 100% happy with my decision. They took the time to listen to my opinions and I trusted their expert advice. They made my vision become reality by adding some lace to the top of my dress (and finding the perfect match to do so!) They made me feel like a princess and my confidence shown through on my wedding day. I got countless compliments on my beautiful wedding gown. I highly recommend Sincerely Yours Bridal!

Teresa

Married on 06/08/2018

Melanie was so wonderful. I had such a great time picking my wedding dresses with my friends at Sincerely Yours. She was excited and caring throughout my multiple fittings. I loved that this was a relatively smaller shop than other bridal shops. It felt like a more personal, one-in-a-lifetime experience. At the same time, Melanie was so knowledgeable about dresses and listened so carefully to what I wanted from my dresses. Thanks so much, Melanie. You are the sweetest and I'm so thankful that I got to meet you from this experience!

Julissa

Married on 04/27/2018

I actually met Melanie at the St. Louis Bride dress run. We had been trying on dresses for close to 3 hours and were worn out and down to the best 3 dresses and I honestly wasn't IN LOVE with any of them and ready to give up. Melanie stepped in and offered to go look for a dress for me picked out 3 more dresses 2 of which I loved so much I had a hard time deciding!!! She was super helpful and was able to pinpoint dresses that I loved when I couldn't articulate what I didn't like about the previous ones. I can't express my gratitude. You will not regret the decision to get your dress from her!!!

Katie

Married on 11/04/2017

Melanie and her team are amazing! They make every single bride feel special and they really know what will work for each bride. She's uplifting and positive which makes the whole experience so much more enjoyable then most other bridal locations.

I will forever recommend brides to this wedding shop!

Megan

Married on 10/07/2017

Thank you so much, Melanie, for helping me find my beautiful wedding dress yesterday!! Melanie was so great at pulling dresses for me that fit my specific style. When I visited Sincerely Yours, I had already been to two other bridal shops in the St. Louis area and had no luck finding any dresses that I was really sure about. But Melanie caught on right away that I was looking for something different, and she had me try on several dresses that I absolutely LOVED! I went from thinking I wasn't going to find anything I liked, to trying to decide between three amazing dresses! The one I picked is perfect, though, and it was under my budget, too -- even better!! Melanie was a joy to shop with and I'm so happy I decided to visit her shop and didn't settle for something I didn't love. I highly recommend checking out Sincerely Yours Bridal, you won't be disappointed!

Jennifer

Married on 09/08/2017

Great experience. Based on what I liked as I was trying on my original selections, Joann picked a dress for me to try and that was it! I absolutely loved the experience!

Sincerely Yours Bridal's reply:

Thank you Jennifer! We are delighted that you have joined our family. :) We are excited to see your pictures from your beautiful wedding!

Krystal

Married on 07/07/2017

Melanie is amazing! My family and I had a wonderful experience shopping for and purchasing my wedding dress from Melanie and the team at Sincerely Yours Bridal. Melanie was flexible with my schedule as I live out of state and was a constant calming and supportive force throughout the entire wedding planning process!

Alexandra

Married on 04/22/2017

Trust me, if you go here, you will not want to go anywhere else! Melanie was wonderful. She definitely watched what we were picking and listened to our comments as we tried on dresses. She helped me find the perfect dress for my special day! She made the experience so special for me. I used one of her seamstresses to alter my dress, and she was great as well. So easy to as I just had to go back to the dress shop for all the fittings. Definitely was a wonderful experience! :)

Sincerely Yours Bridal's reply:

Thanks Alexandra! I'd love to see some pictures of you and your handsome husband from the park! And if you didn't read that as a "hint hint", you didn't read it correctly! lol. Thanks for the review. :)

Alyssa

Married on 04/22/2017

I cannot say enough nice things about Melanie. She is the nicest, most caring, sweetest person ever. She let us stop in, even though they were closing in 30 minutes and stayed late (at least an hour!) with us until I found my perfect dress and she even seemed to be having fun with us! I ended up getting all my bridesmaids dresses from there too because she was so amazing I didn't want to go anywhere else, plus she had a great selection of bridal and bridesmaids dresses! Every time I emailed her (which was a lot!) I heard back within a day (usually within hours!). She truly cared about us and the wedding and making our dreams come true! The selection is great, the lighting is perfect (not fluorescent like some places and not so dimly lit that you just look amazing in everything...but real lighting). The store is beautiful and clean. I wish I had an excuse to go back there, just to visit with her!

Sincerely Yours Bridal's reply:

Thanks Alyssa! I absolutely loved seeing the pictures from your wedding. You and your ladies looked amazing!!! You better come back and visit me! lol

Jennifer

Married on 02/07/2017

?????? By far the BEST experience anyone could ask for! Melanie and Joann are AMAZING! As a plus size girl I was terrified to go through this experience as a say yes to the dress fanatic! I love designer everything and just wanted to feel beautiful! I expected to go to several salons and end up in disappointment. But SYB was my 2nd salon and what a MAGICAL experience I had. The second I walked in Melanie made me feel so welcome and like family. I had a vision and ended up with a completely different dress and can't imagine wearing anything else! I expected to hate strapless and only humored Melanie by trying it on and I cried instantly. 5 different times to be exact! It was th 3rd dress I tried on and I tried on 5. I tried it on again and cried again and again and again and again. I knew it was the dress instantly but wanted that full bridal experience. I couldn't believe she picked out my PERFECT DREAM DRESS! Then we added the 2 veils and the headband. Fell in love all over again! I have been to the salon 4 times already. Even got my mom's mother of the bride dress there! Which is also beautiful! The atmosphere, service and quality made me feel like a princess! Melanie and her team are absolutely wonderful! My Dress and veil came in under a week! They let me put my dress on every time I go in there. I never feel like I'm inconveniencing them. They are dedicated to each and every bride! She went above and beyond for my entire bridal party. Unfortunately my girls won't be getting there gowns there bc of our expenses for our CA wedding but if it was local they would have gotten them there. Such a beautiful variety. And I can't forget the quality! The materials are excellent. Best quality of any shop we've been to. AND I even got my earrings there after I had already bought them and a necklace from Jared. Returned those immediately. And we can also rent the ties from there! They have an amazing selection to order for men as well!

Kirsten

Married on 10/29/2016

Joann and Melanie are THE BEST! After a terrible experience at another shop, they were recommended to me. A breath of fresh air. Beautiful shop, they are so sweet, dresses are beautiful, well made and on trend, they provide the "bridal experience" & are complete professionals! They will know you (& your dress) by name when you go in for fittings. They will feel like part of your family by the time your wedding day arrives. Lastly, but most importantly they got my perfect, brand-new dress from the designer in less than a month! (Perfect since we got married 4 months after we got engaged!)

Adira

Married on 08/22/2016

What a magical experience! From the second I walked into this store I felt like a princess. Melanie made me feel so so beautiful and amazing. She helped make the potentially stressful job of finding a wedding dress, so easy and fun. I highly recommend going here, it is affordable and has beautifully elegant gowns which are great quality. Really such a great place!

Kayla

Married on 08/20/2016

25 STARS FOR SINCERELY YOURS! Why anyone would shop anywhere else is beyond me. Melanie and Joann made all my wedding dress dreams come true. On a $1500 budget I could try on nearly every dress in the shop. I never once felt rushed and in no time at all I found the dress of my dreams. When I knew it they knew it too--they were crying with us! AMAZING customer service. Barbara their seamstress had my dress fitting like a glove--I was concerned with buying a dress with a sweetheart neckline because I didn't want to be pulling it up and I didn't have to touch my dress once the day of my wedding. I will forever tell EVERYONE I know about my amazing experience with these women--they make you feel like family!

Amy

Married on 08/13/2016

It was a treat to go here. Beautiful store. So fun to stand in front of the mirrors. The staff was so friendly and knowledeable,

Sincerely Yours Bridal's reply:

Amy it was such a pleasure working with you! You look gorgeous in your gown! Can't wait to see your pictures after you say "I Do." Thanks for your review and for being a SY Bride. <3

Kirsten

Married on 05/07/2016

I noticed an immediate difference walking into Sincerely Yours as compared to the other places I tried on dresses. Melanie was took exactly what I was describing and made sure to help me find gowns that would match my vision. She was always personable and even remembered details about the wedding planning process, like a good friend. I was beyond thankful to Joann and Barbara as well, who helped make sure that my dress would be comfortable the day of the wedding. Barb made sure to put just a little extra lining on the straps of my dress so they didn't rub or dig in to my skin, and it made all the difference! The dresses in the store were unlike any I saw at any other shop, and they all were exactly what I was looking for from the start! Between the beautiful dresses and Melanie and her team, there is no need to go anywhere else by Sincerely Yours!

Sincerely Yours Bridal's reply:

Thank you so much for your review and your card in the mail!!! We loved seeing your pictures. :D We miss you and your mom...if you ever have a spare second (not likely with school and musical therapy, lol) stop in and say hi! Thanks again!

They are miracle workers!! Long story short, disaster struck my first dress that I got elsewhere. This shop was brand new to Manchester, so I stalked the front of the store until they put the name and phone number on the windows. Called her immediately! I came to Melanie two weeks before my wedding, needing a new dress. I tried on several options before I put on "The One", and knew it right away. Melanie and JoAnn got the dressed shipped in, altered, and wrinkle-free in less than 1 and a half weeks!! The dress was perfect! Melanie kept me updated on the status of the dress almost every other day. I appreciated how invested she was and how on top of this she was. She really cared! Her seamstress is a doll, too! So helpful, so detailed! Wonderful Job!! If I could do 7 stars across the board, I would. :)

Sincerely Yours Bridal's reply:

Thank you so much! I loved working with you and your girlfriends...I will never forget watching you waltz in our store when you found your dress :D We were so pleased we could get YOUR dress in in your timeframe and that you were so happy. Blessings on your marriage!
Are you interested?
Send a message