21 Reviews
Recommended by 99% of couples
Quality of service

5 out of 5 rating

Average response time

4.9 out of 5 rating

Professionalism

5 out of 5 rating

Value

5 out of 5 rating

Flexibility

5 out of 5 rating
Awards
15 User photos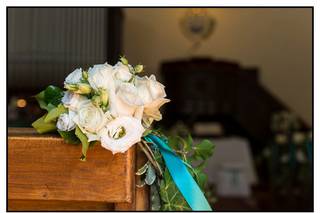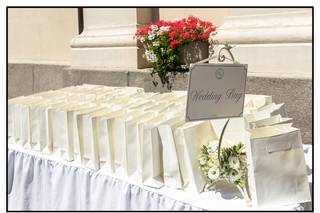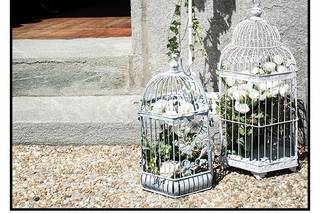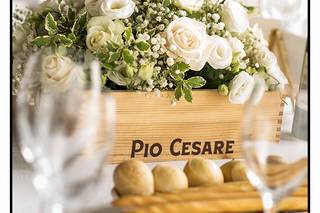 + 11

photos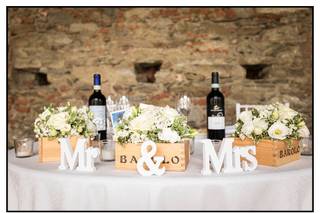 Lisi M.

Married on 09/29/2018

What a ubique team!

We are satisfied about the service provided by Simmi. In fact, they supported us during the organization of our wedding, taking care of several aspects: flowers, design, party favors and support all over the day. They succeeded in exceeding our expectations! Highly recommended!

Clara B.

Married on 09/01/2018

Simmi is amazing!

Simmi is amazing!

They made our wedding unique and special, just as we wanted it!
The kindness of all the staff is priceless, they can make even the most complex things easy.

The settings and flowers are among the most important things for the success of the wedding and with Simmi you are always in good hands!!!

Thank you Simmi :)

Valentina A.

Married on 07/21/2018

Protagonisti di una favola romantica

Organizzazione impeccabile, professionalità di altissimo livello, disponibilità a realizzare ogni desiderio, cura del dettaglio...tutto questo solo con Simmi! Ci siamo sentiti come protagonisti di uno dei più bei film romantici...il tutto coordinato dalla mitica regia di Camilla. Ancora ad oggi a distanza di mesi tutti i nostri invitati ricordano con piacere il giorno del nostro matrimonio, definendolo uno dei matrimoni più belli a cui abbiano partecipato.

Are you interested?

Send a message

Susanna C.

Married on 07/08/2018

Fantastico

Amazing setting! Fantastic ideas for the wedding.

Giulia F.

Married on 06/23/2018

Supporto e complicità da parte di chi sa lavorare con passione e amore

Simmi ha significato per noi supporto e complicità durante tutto l'anno di preparazione del matrimonio. Camilla, Beppe e Simonetta sono una famiglia fantastica, affiancati da uno staff incredibile.
Ci hanno consigliati, supportati e sopportati sempre!
Il giorno del matrimonio è stato tutto perfetto, meglio di come avremmo mai potuto immaginare!
Ogni dettaglio è stato curato con passione e competenza, il loro supporto durante tutta la giornata è stato fondamentale nella gestione ottimale dei tempi e degli invitati.
La loro presenza costante, gentile e discreta (quasi invisibile) ha permesso a noi e alle nostre famiglie di goderci al 100% la nostra giornata speciale.
Grazie dal profondo del nostro cuore Simmi, per tutto!
Giulia&Fabio

Gia

Married on 05/26/2018

Simmi is AMAZING. Camilla is a godsend. She listened, met with us 8 months prior when we were on vacation in Italy going over details. Kept in touch through the whole process even though we were 4000 miles away. She did our welcome dinner the night before the wedding too - took my exact vision and brought it to life. Plus some! I asked for lemon trees to be brought in, got them. Asked for elaborate party favors including miniature bottles of limoncello and olive oil in personalized picnic baskets, got them. She was kind, aware, on top of everything and made my day go smoothly. When I had a problem or question she was immediate to take care of it. HIRE THEM!!!! I want to throw another party in Italy just so I can work with this amazing team again.

+ 3

photos

Silvia V.

Married on 05/25/2018

The perfect wedding on the beach

Il nostro sogno è sempre stato quello di sposarci in spiaggia, ma sapevamo che non sarebbe stato semplice e che la linea tra un Matrimonio elegante ed una caduta di stile era molto labile. Abbiamo conosciuto Simmi alla fiera sposi Torino e siamo rimasti immediatamente affascinati dalla bellezza ed eleganza dell'allestimento proposto. Dopo esserci recati al negozio, non abbiamo avuto dubbi, SImmi Flower era la scelta giusta per noi. Siamo stati ascoltati e seguiti in tutte le nostre esigenze, personalizzando ogni singolo dettaglio e con consigli preziosi per la buona riuscita del matrimonio. La loro professionalità è estremamente importante così come la loro esperienza, nel creare atmosfere uniche, romantiche e sempre eleganti. Ci siamo affidati a loro per l'intero allestimento del matrimonio, improntato sulle trasparenze del vetro, la lucentezza dei cristalli e il mix dei colori da noi scelti: verde petrolio e bianco.
Solamente le foto possono rendere giustizia al lavoro meraviglioso che hanno svolto per noi, in trasferta fino alla location della festa, le Rocce di Pinamare (Andora, SV).
La mattina del matrimonio ogni dettaglio era curato nei minimi particolari, il bouquet e le boutonier erano strepitose, gli allestimenti sui tavoli eleganti e ricchi ma mai pacchiani. La scalinata di ingresso adornata di boule in vetro e cristalli… ma il pezzo forte è stato il gazebo montato in spiaggia, dove abbiamo svolto il rito civile. Una meraviglia che ha lasciato tutti gli ospiti a bocca aperta. Anche l'allestimento per taglio della torta e bomboniere è stato perfetto, sobrio ed elegante, senza parlare della qualità dei confetti (che ancora oggi mi chiedono) e delle golosità intavolate insieme, caramelle, bonbon ecc.
Non avremmo potuto fare scelta migliore per il nostro grande giorno, per questo ci sentiamo di consigliare a tutti di affidarsi alle loro mani esperte, sicuramente non rimarrete delusi.

Michela

Married on 09/16/2017

Camilla and her parents are simply marvellous... It's been years since they started their activity, following the wedding tendencies and fashion. Their shop is fulfilled with thousand of objects which can be chosen for your ceremony. Simmy Weddings provides a comprehensive service for your special day, flower arrangement and furnishings. I strongly recommend you to take a look of the shop you will fall in love for the atmosphere and for the warm family feeling

Massimiliano

Married on 07/08/2017

Fabulous team

Professionali, cortesi, creativi e con un'esperienza trentennale nell'organizzazione di matrimoni ed eventi. Consigliatissimi se si vuole fare bella figura e stupire i propri ospiti

Anna

Married on 06/23/2017

Professionalità al massimo livello dalla pianificazione alla realizzazione. Cura del particolare. Vasta gamma di materiali per realizzare gli allestimenti. Presenza fino a fine evento.

Silvia

Married on 05/20/2017

I have been in the shop and meet Camilla and the first impression was so good that I decided immediately to have them as a partner of my Day (my wedding) for the decoration of the church and the location and a support me as a wedding planner.
They are a really professionals: taking care about everything and supporting us on our wishes. They realised a amazing results in terms of flowers and organisation. All the guests were surprise about the atmosphere.
I can say for sure that they are working with high quality and will make your wedding a success!


Erica

Married on 10/01/2016

Siamo rimasti davvero soddisfatti di tutto! L'organizzazione è stata perfetta in grado di realizzare tutti i nostri desideri rendendo il nostro matrimonio un giorni speciale ed indimenticabile...un sogno. Camilla e il suo team hanno saputo consigliarci al meglio nella scelta di ogni minimo dettaglio. Consigliamo Simmi a chiunque desideri un matrimonio curato ed elegante contando sulla loro esperienza e professionalità.

Valentina

Married on 09/17/2016

Abbiamo conosciuto Simmi alla fiera Nozze da Sogno dell'anno scorso. Eravamo all'inizio dell'organizzazione del nostro matrimonio e cercavamo soprattutto delle idee: non è che ci si sposa tutti i giorni e volevamo qualcuno che potesse consigliarci e indovinare i nostri gusti. Lo stand ci ha colpito subito, era bellissimo: curato nei minimi dettagli con tantissime proposte di un'eleganza e raffinatezza non così comuni. Ricordo di aver parlato la prima volta con il papà di Camilla che è stato gentilissimo e ci ha spiegato come si occupino di tutto, dalle partecipazioni ai fiori passando per i confetti e ogni tipo di allestimento.. ho preso il numero e dopo qualche giorno ho chiamato per prendere appuntamento. Arrivati in negozio mi ero già innamorata delle vetrine! Abbiamo conosciuto Camilla e capito subito che sarebbe stata il punto di riferimento ideale per il nostro giorno: disponibile, attenta e soprattutto in grado di comprendere e interpretare le nostre esigenze traducendole in realtà. Ogni appuntamento era un momento che aspettavamo con ansia: parlare con lei e costruire un passo alla volta il matrimonio è stato divertente ed entusiasmante, anche perché ogni volta riuscivamo a trovare nuove idee da mettere in pratica e dettagli sempre più definiti. I nostri invitati ci stanno ancora facendo i complimenti per l'organizzazione e la realizzazione di tutta la giornata: nonostante la pioggia (che fino all'ultimo ho sperato di evitare..) Camilla è riuscita ad adattare tutti gli allestimenti e gli intrattenimenti senza perdere in stile ed eleganza. L'allestimento per la torta era meraviglioso, così come la confettata e tutto il resto. I dettagli hanno fatto la differenza, ogni cosa era al posto giusto e curata alla perfezione. Insomma fidatevi, non lasciatevi scappare Simmi, non ve ne pentitrete!!


Elena

Married on 09/04/2016

Simmi and his staff was the best choice for the realization of our marriage. Meeting after meeting, picture after picture, we have created together every detail of our day. Camilla was crucial not only in the preparation of the flowers but she understood our needs throughout the event. Her presence on your wedding day was discreet but she was always with us to make sure that everything was perfect in its place. Simmi has created an original version of what we had in mind, it would not be the same without them.

Serena

Married on 07/25/2015

Servizio eccellente ed impeccabile. L'intero team ha svolto un magnifico lavoro rendendo reale ogni mio sogno e richiesta. Presenti e attenti ad ogni minimo dettaglio con creatività e professionalità. Semplicemente eccellenti!!

I deeply reccomend Simmi Floral Design, they can help and support every couple!
Thank you very much Simmi!

We discovered Simmi during an event dedicated to weddings in Turin (Italy): the first impression was so good that we decided immediately to book them for the decoration of the church and the location. We could not have chosen better!
There was agreement on everything, they understood immediately our wishes, the atmosphere we wanted to create and with great creativity they succeeded. Their organization is perfect, we studied together the various moments of the day to figure out how to set up the various areas of the location and how to make our guests feel at ease and never bored.
Their long experience is evident even in small things, in the details and in the care they take to make sure that everything runs smoothly and that nothing is damaged (thing which unfortunately happened to some friends who trust the wrong people and then had to pay damages to the location ...).
Their presence throughout the day is really valuable, because after having determined the event lineup, they think about everything (the management of the guests and of any incident...) in order to free the couple from anxieties and thoughts and let them enjoy their day.
In short, choosing Simmi is a guarantee of quality, professionalism and success!

Francesca A.

Married on 06/20/2014

totally recommended for high quality service.

Sara

Married on 09/08/2018

As a fariy tale

Siamo stati davvero fortunati ad avere SIMMI al nostro fianco nell'organizzazione del matrimonio: dagli inviti alla confettata, dai fiori all'angolo cubano. I nostri ospiti sono rimasti a bocca aperta sia per i meravigliosi e scenografici allestimenti sia per la loro professionalità.

Lara

Married on 07/22/2018

The perfection

They will help you making your dreams come true!

+ 6

photos

Federico

Married on 09/17/2016

Il matrimonio non si limita ad un unico giorno ma è il frutto di un "lavoro" molto più lungo e, tra le varie scelte dei fornitori che bisogna fare, vi posso assicurare che non vi pentirete di Camilla e della sua famiglia.
Le prime parole che mi vengono in mente sono professionalità, entusiasmo e servizio.
Professionalità perché il giorno del matrimonio sono precisi, puntuali, seri ed organizzati e ti permettono di dedicarti completamente ai tuoi parenti ed amici. Sembra una cosa banale ma avere qualcuno che detti i tempi e realizzi quanto pensato in precedenza insieme è fondamentale per farti godere il giorno senza nessuna ansia aggiuntiva (oltre a supportarti i mesi prima).
Entusiasmo perché amano il loro lavoro. Sono molto attenti ai dettagli, hanno buon gusto e ti trattano come in una famiglia, ti supportano e consigliano e ti aiutano a realizzare quello che hai in mente.
Servizio perché ti permettono di trovare in un unico posto fiori, bomboniere, confetti, allestimenti e altro ancora. Non si tratta di un wedding planner che coordina e consiglia gente esterna, loro ti danno qualcosa in più perché realizzano le cose e ti seguono dalla cerimonia al ricevimento.
Are you interested?
Send a message