ShutterSpeed PhotoBooth - Photo Booth Rental Reviews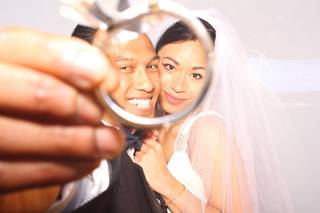 ShutterSpeed PhotoBooth - Photo Booth Rental
Seattle, WA
View more information
11 Reviews
Recommended by 91% of couples
Quality of service

4.5 out of 5 rating

Average response time

4.5 out of 5 rating

Professionalism

4.5 out of 5 rating

Value

4.5 out of 5 rating

Flexibility

4.5 out of 5 rating
Awards
Laura

Married on 07/07/2012

I tried my hardest to use all small, local businesses in town but when I won a discounted rate at the local Macy's Sip and Scan event and I couldn't find any local vendor that could match the deal or come close on the services I decided to go with ShutterSpeed. Boy was I ecstatic that I made that choice!! Their customer service, willing to help and flexibility to meet my needs while planning our wedding since they are not located in the Tri-Cities area. The quality of the pictures, the product that you receive and the all around whole package was beyond amazing!! I was able to customize the photo strip, we were given a flash drive of all the pictures at the end of the night, and although there was some miscommunication about the scrapbook - they by far made up for it going above and beyond scrapbooking my event and mailing me this gift along with additional copies of all photo strips at no extra charge to me. I have a Memory book that I will cherish for a life time.

Jasmine and Woody are truly great people to work with and their company is fun and in tune with this new idea swarming wedding receptions like crazy.

Thank you for being apart of my amazing day! Laura Kramer
http://shutterspeedphotobooth.biz/

Sharice

Married on 06/30/2012

I really wanted something unique and not just a photography or disposable cameras so photobooth was the way to go. Shutterspeed is so affordable and the service they provide is amazing I could not have asked to work with better people. There was no fuss no muss and everyone absolutely loved it and the quality.

Jasmine and Woody were fantastic to work with. They were a self-sufficient vendor and brought everything they needed. I was a bride with very particular needs and they met all of my needs without any fuss. Our wedding guests loved the photo booth! Jasmine and Woody were hands-on and helpful with getting people in and out of the booth and helping them switch out props in between shots. I recommend ShutterSpeed Photobooth without any reservations.

Are you interested?

Send a message

Ayshah

Married on 03/03/2012

They showed up on time, the guest loved it. The scrapbook was amazing, especially because the guest get to keep a copy of their pictures, and we get to keep a copy for our scrapbook. Very professional. Cant wait to book our next event.

James

Married on 02/17/2012

This service was great. They took care of everything! They came to the venue the day before to make sure they could match our decoration. They were very prompt in answering email and actually answered the phone when I called! The photos were great and the attendant helped our guest make a beautiful scrap book. I wish the photographer I hired was as helpful as shutterspeed photo booth! The photo booth and attendants were very upscale in appearance as well as service. I would recommend this service to anyone interested in a zero maintenance photo booth service at their wedding!

Brenda

Married on 01/08/2012

"Thank you for being so accommodating and professional. I would HIGHLY recommend anybody to you for ANY event. It was a blast having you guys. Seriously, you were a great hit at our wedding. EVERYBODY loved it!!!" Brenda Raj

Sharifah

Married on 12/10/2011

Shutterspeed was phenomenal! We planned our wedding in less than a month. Jasmine and her team did a superb job accommodating all of our needs. They were punctual and understanding of our timeline. The prints are great and you can customize the layout, branding and color. The booth was sleek and modern. Thanks again for the photo fun!

Rosa

Married on 11/26/2011

We were just married this November and got a photobooth for the reception. Definitely one of the best purchases we made! Our guests loved the booth and the memories we got out of it are hilarious. Even the older folks who we didn't think would get into it were in and out of that thing all night. The guest book is one of our favorite keepsakes. I couldn't have asked for a better photo boothing experience and I am so glad we splurged on this entertainment/ wedding favor. Thanks Shutterspeed!

Sarah

Married on 11/26/2011

I was the maid of honor for my best friends wedding and was in charge of the entertainment. I am the type of person that has a lot of questions … and the customer service at Shutter Speed Photo Booth Rentals was ready and willing to answer all of them! They are prompt with their email replies and very accommodating to our requests.

Not to mention the actual photo booth... It is awesome and they have a few options on which booth type we wanted. Shop around and you will see what I am talking about!


Kathleen

Married on 04/14/2012

We won a free photo booth rental from ShutterSpeed through a drawing at a Macy's registry event. Since everything was free, I wasn't too worried if they showed up or not, but the fact that we paid no attention to them and everything went smoothly, I would have to give them full stars for quality of service! They coordinated the technicalities with our venue, so we didn't have to worry about then at all. I loved that their prints weren't strips because they made AWESOME thank you cards! Despite being out of town and extremely busy, they communicated relatively quick and were very straight-to-the point. Our guests absolutely loved them, and I really recommend SS Photobooths!

Sue

Married on 08/08/2015

I hired the photo booth company to provide services on our wedding day. The company provided the worst service and product. I had the photo booth up and running from 5 pm-11 pm and some how only produced 106 photo strips. Their employee ate and drank food at our reception that was for our guests and was not attending the photo booth and sitting in a chair a few feet in front of the photo booth with his back towards the booth. It malfunctioned a few times and my guests had to come find me to have me ask the attendant look after it and do his job. It was very frustrating. I later emailed on my honeymoon which was immediately after the wedding and out of the country, the owners Woody and Jasmine informing them of the number of photos I received on the thumb drive and the poor service provided. Woody responded with an email saying that he apologized for the service and that the number of photos seemed low for the amount hours that the booth was up and running. Woody offered a time to call while I was on my honeymoon to discuss the loss of photos and the customer service.

He promised me answers to where the lost photos were and an amount of a refund by Sunday August 16, 2015. I gave him until Monday at noon to call. I received no phone calls from either Jasmine or Woody on Monday or Tuesday as I left messages both days.I received an email on Wednesday August 19th from either Jasmine or Woody stating they found an additional 300 photos, a refund of $300 and 4 extra prints each photo along with a $300 refund. I am not willing to accept this refund as I don't believe that it is fair. I emailed them on August 20th asking for the above and instead of $300 in return but $400.
I have not heard anything from either of them nor do I wish to speak to them on the phone. I would rather communicate everything over email for documentation purposes.At this point I would like all my photos, the prints and all my money in return.
Customer service and satisfaction is not valued.