33 Reviews
Recommended by 95% of couples
Quality of service

4.7 out of 5 rating

Average response time

4.8 out of 5 rating

Professionalism

4.8 out of 5 rating

Value

4.7 out of 5 rating

Flexibility

4.7 out of 5 rating
Awards
2 User photos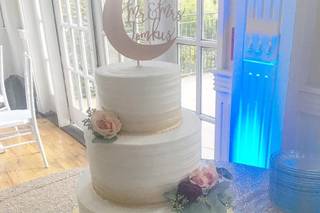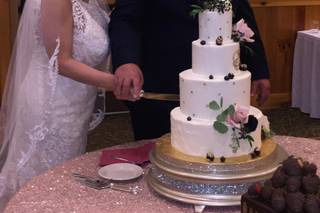 Stephanie L.

Married on 05/30/2021

Best cake in nwa

Shelby Lynn's is 100% the best cake in the NWA area. I come from a family of bakers and cake is my favorite dessert, so I was very excited to try cakes for our wedding! I tried three places but so many people had told me Shelby Lynn's was the best and I thought "how good can they really be?" Oh boy was a I wrong. Their cake blew everything else out of the water! All their cake and filling flavors were incredible, so we included as many different combinations in the wedding cake as we could! Now I want to get a cake from them for every occasion. I cannot recommend Shelby Lynn's enough!!

Ashley H.

Married on 09/21/2019

The best cake

I think our wedding cake from Shelby Lynn's might have been the hit of the wedding! We ordered a cake a little bigger than we knew we'd need, because when we did our tasting we loved it so much we knew everyone else would too. Everyone was talking all night about how amazing our cake was, and kept going back for more! We wanted something super simple in design, but absolutely amazing in flavor, and this cake was everything we dreamed of!

Paula

Married on 09/14/2019

Very pleased...everyone loved

Excellent quality, taste great!!! We were so pleased with both are cakes, we loved them.... great taste and beautiful!

Are you interested?

Send a message

Beth

Married on 06/02/2018

We used Shelby Lynne's to make the cakes for my daughter's wedding reception. The cakes were beautiful as well as moist and delicious! Many people complimented the beauty as well as the taste of the cakes. They took our vision and made something extraordinary , completely exceeding our expectations! I highly recommend Shelby Lynn's for your cake needs. My daughter's wedding was 4 days ago so I don't have the pictures yet, but you won't be disappointed.

Ashley

Married on 05/27/2018

I cannot say enough good things about Jennifer and the work from Shelby Lynn's! Our cake was absolutely stunning. It way surpassed my expectations. The grooms cake was a hand-piped army seal, that was very detailed. It was awesome, too!! That's without even mentioning the taste. The taste was unreal. I'll be hard pressed to buy cake from anywhere else ever again! She did a personal tasting session with us where we got to taste the fillings and the cakes. We discussed our ideas, and before we were finished tasting, she had a sketch with colors and all that she showed us. She is very impressive. The cake was maybe my favorite item at the reception. I would have paid more.

Hannah

Married on 05/05/2018

Best choice we made. Delicious, easily to work with, friendly, fast communication! We got our wedding cake and groom cake!

Emily

Married on 01/28/2017

I cannot say enough about Shelby Lynn's! We had so many comments on how it was the best wedding cake our guests ever had and those who had our specialty flavor were raving about how unique and delicious it was. And the design! Jessica is a true artist. It was so much visiting with her and watching her turn my vision into a picture, she even recreated the lace pattern on my dress. Shelby Lynn's Cake Shoppe was recommended to us by everyone we talked to and now we know why!

Brittany

Married on 09/24/2016

Words can't describe how amazed I was at my grooms and wedding cakes! Shelby Lynn's Cake Shoppe designed my cakes exactly how I envisioned them! I surprised my husband with his grooms cake and he absolutely loved it!! He couldn't believe how detailed the mountain bike was!! On top of how beautiful they were, the flavors were so delicious! I didn't have any left over to take home because all my guests ate it all!

Kayla

Married on 09/03/2016

Hands down the best! Very flexible with cake orders and the price was shockingly reasonable. Highly recommend!

R.b.

Married on 08/27/2016

Reatha mom of bride

Shelby Lynn's is the only cake shop that we have used for years so it was the natural choice for us when my daughter got married. The cake was stunning and so delicious. It was 3 layers with each layer a different flavor. Jennifer never disappoints. Getting ready to order one for son-in-laws birthday!

Yasmin

Married on 06/11/2016

Shelby Lynns is incredible from our engagement cake they made to our wedding day bridal and grooms cake they were awesome to work with! With our tasting we got to try many different types and it made it hard to choose from so we went with many different types because they were all so good! They also made our visions come to life perfectly and they were absolutely beautiful! People were talking at the wedding how delicious the cake was and how amazing they were.
Thank you.

Shae

Married on 06/20/2015

Shelby Lynn's was great from start to finish during our wedding planning period. We went in for a cake tasting with Jennifer. She was super friendly, very creative, and great to work with. I told her the vision for my cake and she drew out a quick sketch as we were sitting there. She was very patient with us when we need to change our idea for the groom's cake, a couple of times. The cake tasted GREAT and everyone at the wedding wondered where it came from.

Rebecca

Married on 06/06/2015

Shelby Lynne made two BEAUTIFUL cakes for my wedding, and they were delicious. It was also a great price, even with delivery to a site that was 2hr away. If you are getting married in NWA area, it's a no-brainer to go with them!

Gabrielle

Married on 05/12/2015

Shelby Lynn's Cake Shoppe was absolutley fantastic! My mother and I were trying out venders and we were treated with such personal attention at Shelby Lynn's! Jennifer was so sweet and personal! She brought out about a dozen different cake flavor combinations for us to try, then when I was describing the kind of cake designs I liked she started sketching. I went there with no idea what sort of cake I wanted, I simply had a pinterest board full of ideas that were not quite what I wanted. Jennifer literally reached into my mind and drew up the perfect cake for me! I was floored!! We tried going to look at Rick's Bakery later that day because their prices are better but it just wasn't the same. Jennifer is an artist, once I tasted her cakes and saw her designs I knew she was the person I wanted baking my wedding cake. And when I saw the finished cake at my wedding reception I was so impressed! Her execution was perfect! I could not have asked for a better wedding cake or a better baker, she was sweet from start to finish.

Stormy

Married on 05/02/2015

I loved working with Shelby Lynn's. She worked with us to get the cake we wanted and it was in our budget. I will be going back for all of our events.

Megan

Married on 06/22/2013

I found Shelby Lynn's to be wonderful and accommodating. We made an appointment for a tasting, and we received great service. It was actually the only appointment at which we were offered ANYTHING to taste. My husband and I had a pretty specific idea of what we wanted (a Dalek from Doctor Who), and Jennifer told us it was completely doable and would not cost an arm and a leg. This was a complete 180 from what we'd heard at other places, including Rick's, who'd told us that it either couldn't be done or that it would cost upwards of $800 for a cake that would serve 60. Yikes! Needless to say, we chose Shelby Lynn's and were EXTREMELY pleased. She was enthusiastic about our cake, as weird as it was; she was easy to get ahold of; she was flexible. And the cake was amazing to taste as well as to behold. I seriously lost it when I saw it at the reception. It was just incredible. She was definitely one of our favorite vendors.

Katie

Married on 10/14/2012

We received rave reviews on our wedding and groom's cake. Jennifer was wonderful to work with. The flavors and design of our cakes were delicious and beautiful. We had a destination wedding and were able to arrange it all through emails and phone calls (my in-laws did the tasting since they live nearby!). We are huge Razorback fans so the helmet shaped groom's cake was a big hit. The wedding cake was just what I wanted - simple and elegant. Jennifer and her team helped make our wedding day perfect.

Jennifer

Married on 05/26/2011

Our cake was so beautiful, and tasted just as good as it looked! In my experience, wedding cake isn't usually very moist, as the cake is typically made days ahead of time. This was not the case with our cake! Our cake was so moist and delicious! Two weeks later, we were still eating off of it!

Chelsea

Married on 05/01/2010

Everything was amazing! Their cake flavors where many, we went with untraditional flavors and it turned out great. Months after the wedding people are still talking about the cake.

Ashley

Married on 03/06/2010

Jennifer at Shelby Lynn's Cake Shoppe is SO talented! I truly believe that she is the best in the Northwest Arkansas Area. I had a minor problem with my cake topper being to heavy for my cake, and thus causing it to lean, but I think that is a rare problem. She was so wonderful to work with and always willing to do what you'd like.

Amanda

Married on 08/05/2006

Jennifer was so very friendly and helpful! She sat down with us to look through several books of cakes. She helped us design a cake, described several different types of finishes, toppers, etc., and even drew a picture of it for us. We set up another visit to sample different types of cake, which went really well. We decided on a three tier cake, and even later added a groom's cake to our order, which she had no problem adding. The cakes were delivered to the reception site. They turned out absolutely amazing! And tasted great too :) Jennifer is an amazing artist and baker, and I would recommend her to everyone!

Jacqueline

Married on 12/06/2003

He was the most inexpensive I found. Even less than the grocery stores! He did an amazing job. It was beautiful and tasty.

Carrie

Married on 06/10/2016

Jennifer did an amazing job on both our wedding and grooms cakes! Her cakes are not just beautiful and creative but they are seriously tasty too! She has a great selection of cake and filling flavors that are just melt-in-your-mouth good. During our consultation with her she was able to take my thoughts and sketch out a perfect cake arrangement on the first try. From the moment she handed me the sketch the cakes were one of the things I was most excited about for our wedding and I was not the tiniest bit disappointed when I saw the real thing. I wish I could swing by right now for a another piece...

Good to work with, good quality cake.

Marcia

Married on 02/28/2009

I have never had a better tasting cake or one that looked nicer than the wedding cake that was made by Shelby Lynn's.This is a superb bakery and a must for any wedding.
Are you interested?
Send a message