120 Reviews
Recommended by 100% of couples
Quality of service

5 out of 5 rating

Average response time

5 out of 5 rating

Professionalism

5 out of 5 rating

Value

5 out of 5 rating

Flexibility

5 out of 5 rating
50 User photos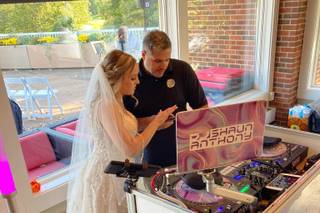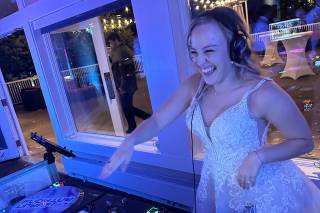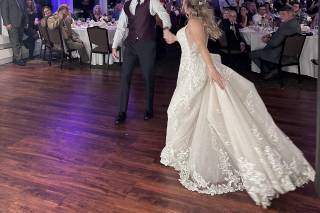 + 46

photos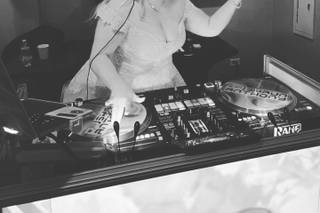 Michael R.

Married on 01/14/2023

Talented and Helpful

Shaun was amazing to work with as our DJ for our wedding. His preparation process made the lead up fun, and eased a lot of worries. Being set up on his website allows you to constantly tinker with your song request list as you think of new songs you want added. He even accommodated mixing in a handful of ethnic songs to the more common wedding tunes, so it got the whole party a taste of the two families coming together. Shaun's a talented mixer of music and is attentive to the reactions on the dance floor to keep building the party mood. We would definitely recommend hiring Shaun as your wedding DJ.

Samantha M.

Married on 10/08/2022

The Party Never Stopped

We knew DJ Shaun would be great since he did my sisters wedding. He created an amazing night for Mark and I from the lighting, to the sound system, to the music. He was a great MC and kept everything on track. The dancing never stopped and everyone had a blast!! He played all of our music requests and had a great read of the party and knew exactly what to play next to keep the dancing going. He also got some great photos for us from the night. We received so many positive comments from our wedding guests about how great DJ Shaun was. We truely cannot thank him enough for how great he made our night!

Emily W.

Married on 10/07/2022

Danced the Night Away

Our guest and ourselves had such a fun time at our wedding and we owe it all to DJ Shaun! He kept the dance floor full all night and was such a good sport with some of our rowdier (and persistent) guests. Shaun worked with us to create a plan for the evening that fit our venue's dinner schedule and also included what was important to us. He was a serious hype man for us all night and we were thrilled he was available to be apart of our day! Highly recommend DJ Shaun for any wedding reception where you're looking to have a great time!

Are you interested?

Send a message

Cheryl

Married on 09/17/2022

Epic DJ !!!!

Unbelievable evening celebrating my sons wedding . Shaun IS the best DJ in Chicagoland. Shaun brings so much energy, professionalism and added features to a wedding.
As a Previous Wedding Coordinator I've experienced many full dance floors enjoying Shaun's talent. For my own family we chose the wedding date based on Shaun's availability. Our guests said it was the best celebration they've had due to the amazing DJ! Thank you Shaun you ARE the best!!!

Eric S.

Married on 09/03/2022

The Greatest Wedding DJ Of All Time

Simply put, Shaun is the greatest wedding DJ of all time. We think so. Numerous guests at our wedding told us so. He is the pinnacle of professional. Plans things out to the minute. Incredibly easy to work with. Responsive to emails. Awesome as an MC, orchestrated the evening flawlessly. Perfect music selection. He was the first wedding DJ we spoke to when looking for someone and when we finished the zoom call we looked at each other and said "...we should probably book him immediately." Best decision ever! I would give my strongest recommendation to anyone looking for a DJ and it's not even close.

Elizabeth J.

Married on 08/12/2022

Amazing wedding dj

We are so happy with our choice in choosing Shaun for our wedding. From the very beginning of wedding planning and our first meeting with him, he made us feel so comfortable and listened to about what we wanted. Shaun encouraged us to speak with other DJ's after him to really make sure we found the right fit. He didn't put pressure to make the decision right then and there and that put us at ease. Despite the advice, which we did follow, my husband and I still got off our first call with him and knew he was the right DJ for us. His planning system to upload your preferred songs is extremely easy to navigate and allowed us to fill out some questions for Shaun to get to know us further.
Lastly, I have been to many weddings where the DJ as the emcee kind of makes it about them. This is NOT Shaun. Shaun made our reception completely about us and THE PARTY. Shaun has a photo booth, for a slight extra charge, and this was a huge hit with our guests. I cannot tell you the number of guests that have continued to compliment Shaun and how much fun they had. Our dance floor was FULL the entire night. Would HIGHLY recommend Shaun and his services to any couple for their wedding day.

Catie D.

Married on 06/04/2022

Best. DJ. Ever.

Shaun was AMAZING!! A friend recommended him to us and we could not be more pleased with our decision to go with Shaun for our wedding. The dance floor was PACKED the entire wedding and guests were coming up to us constantly telling us how amazing the music was, how much fun they were having and how great the vibe was! I would recommend Shaun to anyone I know that's getting married - he was wonderful to work with and delivered an amazing experience for all of our guests!

Heather B.

Married on 06/04/2022

A-m-a-z-i-n-g

Shaun was absolutely fantastic from the start to the finish.

Lindsay

Married on 04/23/2022

Absolutely amazing

If you are looking for a DJ, look no further! You have just landed on the page for the best DJ ever! DJ Shaun came recommended from our venue and we are so thankful we found him! We knew from the minute we had our conversation with DJ Shaun, we were going to hire him! His caring and passionate personality stood out and he understood what our priorities were from the minute we started our conversation! He also made the planning process very personal and easy! I was very stressed when we had our planning meeting and DJ Shaun made me feel so much better after our conversation! On the wedding day, I could not wait until the time arrived when DJ Shaun would take over because I knew I would not have to worry! Our dance floor was PACKED the whole night and I never left it! We had so much fun and we owe it all to DJ Shaun! Thank you for such an amazing experience!

PS: we also did the digital photo booth. The photo booth was also packed all night and we have amazing photos to look back at for memories! GET THE PHOTO BOOTH, it is worth it!

Shannon M.

Married on 03/12/2022

Best night EVER!!

If you want to show your wedding guests the time of their lives then you need to book Shaun Anthony! . Once you step into your reception your DJ is going to be your guide for the evening, so you want someone who not only knows how to get the party started, but how to make the night flow seamlessly from one moment to the next. Shaun had such great energy from start to finish and really knows how to run an event. He is so knowledgeable about how to create the best experience possible.
We talked several times before the wedding, and he was very thorough. He asked us not only about our music preferences, but details about our relationship and families which allowed him to add personal touches throughout the night that made it all the more special. He gave us helpful suggestions about song choices for different moments throughout the night and helped us organize the timeline. He even helped us figure out when the toasts should happen so as not to interrupt the timing of the plated dinner service.
And last, but certainly not least, Shaun kept the dance floor full and hopping till the very end of the night. He even pulled me up into the booth to "scratch". I had no idea what I was doing, but everyone on the floor seeing "The Bride on the 1's and 2's!" It was such a funny and cool moment. We could not have asked for a better experience.
If you're planning your wedding, and you want the best DJ in the west, Shaun Anthony is IT!


Dylan A.

Married on 12/19/2021

Absolutely fantastic!

Shaun was amazing. Throughout all of our communications he was friendly, organized, and helpful. We booked him to give us the dance party of our dreams, and he WAY overdelivered! Not only were his mixes great, but he really knew how to read the room. It was hard to find a good time to leave the dance floor, because he didn't leave any! We were absolutely thrilled with our experience, and would 100% hire him again.

Anna

Married on 11/06/2021

Best Wedding DJ/MC of All Time

When guests come up to you during and after your wedding to tell you how amazing the DJ is, you know you made the right choice. If having a party atmosphere and a packed dance floor is your goal - book Shaun. His mixes are incredible, he has a gift for reading the room, and he knows what music gets a crowd on their feet. If you want an organized reception and a thoughtful MC - book Shaun. His online portal helps him learn details about the couple and their relationship, and we were so impressed by him recommendations for timing, speeches and first dances. Those small details really make a difference. I've been telling all my engaged friends to go with Shaun just so I can attend a wedding he's at. He's just that awesome!

Marycate R.

Married on 10/23/2021

100/10 Would Hire Again

All of our guests raved about our DJ. He was amazing. He kept our night organized and lively! Shaun was so accommodating to work with, we even had a meeting at 9 pm so our daughter would be asleep so we could plan! We would absolutely recommend him to any and everyone for their special day!

Sidney V.

Married on 10/09/2021

Exceptional DJ

Shaun was our favorite vendor! Everyone was super impressed with his MC and DJ skills. We loved all the songs and he did a little dance off for the hyper pack of kids attending to keep them entertained lol. He even went above and beyond to help out behind the scenes making sure dinner and cake were served on time. If there's ever another party or wedding we'll definitely be recommending Shaun!

Dominique Z.

Married on 09/18/2021

Amazing amazing amazing 🴥

I don't even know where to start with Shaun ! He was AMAZING ! Very helpful and kind hearted . I can not stop recommending him to clients I have that just got engaged ! The lighting he brings with him and the personalized monogram . Speechless to say the least ! Oh also he will let you play dj 😂 if you want your dance floor packed with everyone you love HIRE THIS MAN !

Mary

Married on 09/04/2021

Wow, wow, wow

Wow - all I can say for our experience with Shaun and Frankie. From the start, he came HIGHLY recommended by our venue, and now we fully understand why! Shaun was an absolute pleasure to work with from day one - he is funny, knowledgeable, kind and SOOO fun. He is a pro at DJing and creating mixes. We had never been to a wedding with a DJ who mixed music like Shaun, but wow. We are one of the last of our friends to get married, and every single one of our guests said it was the best music and dance floor they had ever seen. People I had never seen dance at weddings never left the floor! Shaun's mixes were incredible and he read our audience to a tee. His planning guide is beyond helpful and he really took the time to get to know my husband and me. I never knew the importance of an emcee until I saw Shaun flawlessly execute our wedding party intros, speeches and dances. Not only is Shaun the best at what he does, he is incredibly kind. He made us a beautiful slideshow, texted and emailed us back immediately and always had our backs. Shaun was the most fun part of our day, and I cannot recommend him enough. I wish every bride and groom could use Shaun as their DJ! Thank you for making our day so fun and special, Shaun!!

+ 2

photos

Alex V.

Married on 08/28/2021

Shaun is the best

Shaun crushed it for us. Set us at ease each meeting and had people dancing all night. Highly recommend.

Hannah

Married on 07/23/2021

We had a flawless experience with DJ Shawn Anthony

We received dozens of comments from guests saying that DJ Shawn was the best DJ they've ever heard. He absolutely killed it at our wedding. 100% would recommend to anyone.

Kaylie M.

Married on 06/05/2021

DJ Shaun Anthony

When planning our wedding, we never understood just how important our DJ would be in helping us turn our vision into reality. Until we had the privilege of working with Shaun. We had our reception in a vintage barn, which Shaun transformed into an absolutely amazing space with additional lighting and personal touches for us. He went above and beyond for us in every way possible to make sure our day was perfect. He got to know us as a couple, and even spoke on us/our relationship and how we met during our reception. We left all music choices up to Shaun, giving him full trust and control, and that was the best decision we could have made. Everything was flawless and beyond perfect.
His commitment to our big day extended even beyond the music. At the end of the night, he surprised us with a record of all the music played, recorded live throughout the night.
Choosing Shaun as our DJ was one of the very best decisions we made for our wedding. And now, every wedding we attend, we can't help but compare to our own, and no one stands up to Shaun.

Barb M.

Married on 05/01/2021

Phenomenal wedding entertainment!

5 stars are not enough!!! Absolutely phenomenal!! THANK YOU, SHAUN for making sure we all had a blast at our family wedding! You and Frankie kept the dance floor packed the entire evening. Thank you for your heartfelt and enthusiastic introductions for the speeches and special dances. Thank you for your excellent communication, guidance in planning, passion and kindness throughout. Everyone also loved your spacious, clean, modern, social photo booth! So easy and quick and tons of fun for all ages! We highly recommend Shaun Anthony Signature Entertainment and are forever grateful to have had them for our DJs!!

Cassie B.

Married on 02/06/2021

DJ Shaun Anthony is IT !!

DJ Shaun Anthony is the absolute BEST!! When I tell you that everybody was on the dance floor all night long at our wedding, I mean it ! He was a true MC and was on FIRE ! Not only was he our MC and DJ but he also went above and beyond to help organize the day! He is hilarious, personable, and overall a great guy to work with! Our catering service was delayed and he truly saved the night ! We highly recommend him ! We wish we could give him more than 5 stars. He turned our wedding into the ultimate party! Thank you so much Shaun!

Kevin K.

Married on 01/02/2021

We will never recommend another DJ!

Hiring DJ Shaun was one of the best decisions we made for our wedding! Everything from our ceremony through the last song at our wedding went super smooth and he was a huge part in making that happen. His attention to detail is something that you will not find in other DJs and his ability to read the room kept everyone on the dance floor the whole night. Our guests kept commenting on how great the music was! We cannot recommend DJ Shaun enough!

Jacqueline S.

Married on 09/13/2020

Perfection among the chaos

Shaun was awesome!! In a time where we didn't know what was going to happen with our small wedding Shaun provided flexibility and understanding. He worked with up until the last minute to make sure everything went smoothly. Not only were his music services on point (like his awesome personality), but he also provided the photo booth stand which was a major highlight. The stand was popular, room great pictures and provided various media formats like GIF's, video, & more. Shaun gave our special day the musical soundtrack and memories it needed to be even more memorable!

Madeline P.

Married on 04/18/2020

DJ Shaun Anthony made our wedding amazing

My husband and I used DJ Shaun Anthony for our wedding this past Spring. We loved working with him and would highly recommend him to any other couple planning their wedding. He took the time to get to know us as a couple so that he could plan the night accordingly. He told our story throughout the night, which was so special to hear altogether. The music was absolutely perfect and really made the night even more special. We can't say enough great things!

Kelsey

Married on 02/29/2020

Wonderful!

Shaun is FANTASTIC! Absolutely FANTASTIC! He is knowledgeable, friendly, hilarious, and genuinely concerned that the bride and groom have the best possible time. He met with us face to face beforehand to ensure he knew everything we wanted, and was wonderful with offering suggestions to us. He kept the dance floor full throughout the whole night, and went out of his way to make it the best day possible for us. 100/10 would (and already have!) recommend to a friend!
Are you interested?
Send a message