131 Reviews
Recommended by 99% of couples
Quality of service

4.9 out of 5 rating

Average response time

4.9 out of 5 rating

Professionalism

4.9 out of 5 rating

Value

4.9 out of 5 rating

Flexibility

5 out of 5 rating
11 User photos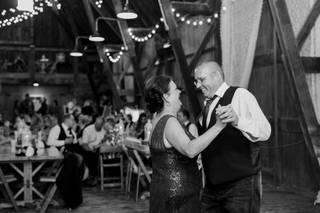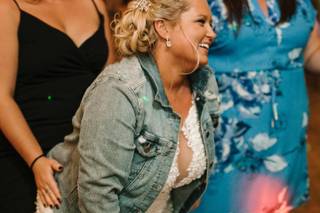 + 7

photos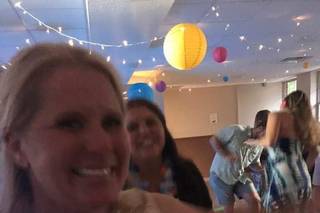 Nicole B.

Married on 08/21/2021

DJ Josh Super Flexible and Understanding

Josh went above and beyond for our special day in August 2021. He's so easy to work with, quick to respond and will have your guests out on the floor all night! If you want someone who enjoys what he does and will make the planning process easy look no further!

Janet G.

Married on 07/25/2020

Superior DJ! Highly recommend!

We hired Josh for our daughter's wedding celebration in July. He did a phenomenal job working with extreme heat in a barn with no air conditioning. Josh played a wide variety of music for the age ranges and styles of music our guests requested. He was very flexible and could function on the fly with modifications/requests we had as well as having equipment for indoor and outdoor needs. We were able to request many songs ahead of time with thousands of choices available. Josh has a wonderfully friendly personality and is easy to communicate with all along the way. We would highly recommend Josh (SGDJ) for any venue. Can't say enough about him! ⭐️⭐️⭐️⭐️⭐️

Jenna

Married on 10/26/2019

Kept the dance floor full!

We selected DJ Don't Josh Me from SGDJs. He was wonderful to work with. Communication was excellent from booking to the day of. He is very responsive and makes sure all of your questions are answered. You also get access to an online planning account to provide the details of your day and select your favorite songs. He kept the day moving and helped with the flow of the wedding. The dance floor was packed from the first dance to the last song and my picky little brother looked at me and said "this DJ is really good." Highly recommend!!

SGDJs & Magic Mirror Photo Station's reply:

I have to say you might be the first review I've got just two days after the wedding. I'm so thankful and had a great time. I was in the zone and made it my mission to tear up the dance floor. You've been iced! Haha. Pretty sure Danny didn't see that coming.

Thank you for the five-stars,

-Josh

Are you interested?

Send a message

Taylor B.

Married on 10/19/2019

Out of this world

Josh did an exceptional job DJ our wedding. He was flexible did exactly what we asked which was to not play every song for the entire song. We wanted to keep the night rolling on and he did just that. He's an awesome guy. If we ever need a DJ again we will definitely use him!

SGDJs & Magic Mirror Photo Station's reply:

Thanks, Taylor. What a great experience. First time rocking a wedding with a college mascot. I wish you guys a life full of happiness and adventure. I loved dropping music different than at other weddings. Best wedding dancers ever!

Thomas R.

Married on 10/19/2019

Best DJ Ever

Josh What is the absolute best DJ I've ever experienced in my life. I've been to many weddings and many parties and Josh for formed better than any of them ever. I would recommend him to anyone looking for a DJ

SGDJs & Magic Mirror Photo Station's reply:

Dang EVER? That's some generous words. All I can say is I had a blast and loved every minute of your wedding. I loved being able to mix in more hip-hop and high energy mixes!

Dan

Married on 10/12/2019

Did everything we expected and more

Josh really listened to what we wanted and even helped to make sure the whole wedding went smoothly. Had the dance full jumping.

SGDJs & Magic Mirror Photo Station's reply:

Thank you so much, Dan. I had a great time DJing on the river for you and your wife, friends, and family. I never did get to try those donuts; I will have to find you at the fair next time! Congratulations again to you and your beautiful family.

Vanessa F.

Married on 10/05/2019

Best DJ ever!

He got us and felt out the room to see what to play and was funny on top of it! He was always making sure that any requests were told to us to make sure it was ok and we had so much fun. If I ever need a DJ again, it'll be SGDJs

SGDJs & Magic Mirror Photo Station's reply:

Thank you for the love. I'm so happy you and Pat had such a great time. I think seeing the excitement on Pat's face made me want to keep mixing and trying to impress you guys. Congratulations again, and I am grateful that you took time out of your day to leave a review 🎆.

Kayla

Married on 10/04/2019

Poppin' dance floor!

Josh at SGDJs was awesome- he knew we really wanted a fun dance floor the evening of our wedding and made sure to play the requested songs from our list. He was great and I would definitely recommend!

SGDJs & Magic Mirror Photo Station's reply:

Thank you, Kayla, I had a great time and thank you for the excellent review. I loved your theme and colors. Very classy and fun. Enjoy the Honeymoon in January.

Anna

Married on 09/28/2019

Great experience

We came with a vague idea of what we needed for our small wedding and Josh did a great job helping us figure out what we needed. We found the magic mirror as a surprise addition that ended up being a huge hit! Ben did a great job operating the magic mirror during our reception. His personability made the night for our guests, especially the nieces and nephews!

SGDJs & Magic Mirror Photo Station's reply:

Thank you for the awesome review. I am so happy everything went as you imagined. Ben and Joy said they had a great time. Congratulations, and please don't hesitate to reach out if you need anything else. :-)

Shana

Married on 08/24/2019

Ben is the best

Ben from SGDJ's was wonderful. He was very adaptable and kept people moving on the dance floor. Very pleasant to work with. Thanks so much!

SGDJs & Magic Mirror Photo Station's reply:

Thank you for the sweet review. I am so happy you had a great time. Congratulations and thanks so much for trusting in us.

Josh

Tayler F.

Married on 07/20/2019

Phenomenal

Our experience with SGDJ's was absolutely phenomenal. From the moment I booked with them through the end of the reception, Josh was very communicative and responsive to us and our guests. From the ceremony, grand march, speeches, and reception music everything flowed seamlessly. Our dance floor was packed the entire night. We can't say enough GREAT things about SGDJ"s. Thank you for such an incredible day.

Dustin V.

Married on 06/15/2019

Review 2019

True professional keeps things rocking through the night. I was at a couple weddings this season and you can tell very distinctly when someone knows what they are doing. Haven't seen anyone better since that wedding wish I'd have known him before I got married we would have used SGDJ for sure!

Mark '.

Married on 06/01/2019

Premium DJ and Excellent Service

We had an amazing experience, excellent customer service and attention to detail. They coordinated our ceremony music and did an awesome job during reception and dinner. I received a lot of great feedback from my guests about how much the enjoyed having Josh as our DJ. They do not just simply play music, they go above and beyond with getting to know you, the wedding party etc to make it a special night. Our wedding day flowed really well and we couldn't have had such a success without Josh. Great value, they definitely under promise and over deliver.

Alexia B.

Married on 01/25/2019

Best wedding dance party!

Josh did an exceptional job at our wedding! He was so flexible in last minute changes and responded to my emails within 5 minutes of being sent. We asked him to create a night club feel for our dance party and he delivered well above our expectations! He mixed the music so well and his pyramid lighting package was killer - I highly recommend it! Our family and friends thought it was the best dance party at they ever experienced at a wedding. He received numerous requests from my guest for his card as well! Everything was so smooth and he pumped up the party - nice work, Josh!!

SGDJs & Magic Mirror Photo Station's reply:

Wow what an amazing review. This was one for the books. I'm so happy you guys had a lot of fun. The crowd was nice. You guys were so sweet to me and I appreciate everything you did to make my job easy. And thank you so much for the generous gratuity. Congratulations AGAIN!

Your friend always,

Josh

Kayla

Married on 01/19/2019

SGDj review

Josh is really great! He kept the wedding vibe up and played a lot of music that people danced to. Really great guy and very knowledgeable about what kinds of music should be played so that all ages are on the dance floor.

SGDJs & Magic Mirror Photo Station's reply:

Thank you so much for the nice review. I had a great time with you guys. You were so nice to me and I was happy to be a part of your big day.

Lindsey D.

Married on 10/16/2018

On time, on budget

Very professional, easy to work with
Responds quickly
👍👍👍

SGDJs & Magic Mirror Photo Station's reply:

Thank you for the kind review. I always love it when we cross paths. Your business and friendship is much appreciated.

Allison

Married on 09/08/2018

Josh Taylor was amazing. He was so flexible and very professional. We didn't have to lift a finger, he was organized and knew exactly what to do at every moment. Being the Bride, I was so busy during the reception and it felt good to have someone have my back and stay on top of the moments that were so important to me. He was detailed and knew the perfect music to play. I think my favorite part was his personality, he is an upbeat person that keeps the party alive. I was very impressed by his talent as a DJ. Through my experience it is not something you should get just anyone to do. You need someone with experience and talent and that is what we got from Josh Taylor. One more item that is so important to me was the trust part, I went through a few other companies that didn't stay true to their word. Then a relative told me about Josh and the honesty and trust was there right away - he actually cares about the client. There were no hidden costs or tacky promotions, it was one price and that was it. He is true to his word and he communicated with us very well. He responds quickly and is there to help every step of the way. We were very lucky to have him! I will recommend him to every friend and family member in the future.

SGDJs & Magic Mirror Photo Station's reply:

I want to thank you for having me be a part of your BIG day. It is hard to choose who will do an excellent job for you when there's 1000's of choices especially when other DJs will say anything and go as cheap as possible to land the job. I am happy that you see the value in my company. I do care, and I try my best every time. I am so excited for you and Billy. Congratulations again and enjoy the married life!

Solveig

Married on 08/25/2018

My husband and I had Josh DJ at our wedding this past weekend and I can't say enough good things about him! The dance floor never cleared ONCE. People were commenting that he was the best DJ they'd ever heard at a wedding! If you want people dancing all night long (like we did), he's your guy. Josh also went out of his way to meet with our venue to ensure our day was perfect. He also called me a few days before to make sure we had everything we needed. I highly, highly recommend him! You will not regret it!

SGDJs & Magic Mirror Photo Station's reply:

Thank you again for having us be a part of your big day. I had a lot of fun, and it was great working with you guys. I am happy for the both of you and even though I don't have to wish you much luck because you guys will be amazing together no matter what. I will instead wish you health and happiness and a exciting future together. Congratulations once more!

Angela

Married on 08/11/2018

They were super awesome. I've been to many weddings and by far this is the best DJ service I've seen. I'm so happy that they were our vendors for our wedding!!! The magic mirror was a show stopper. The music was just awesome!!! Will totally reccomend!!!!

SGDJs & Magic Mirror Photo Station's reply:

Thank you for having us. One of the coolest weddings I have been to. So much time and effort went into making this day special for you guys. I am so happy it showed.

Sheila C.

Married on 07/28/2018

MUST READ!!!
We wanted to throw an insanely amazing Wedding!!!
Christopher and I got married at the Earl Brown Center in Minneapolis, MN with a guest count of 280. I found Josh on Wedding Wire. We were looking for someone that had the magic mirror and amazing DJ'ing skills! We didn't know who to go with considering there are thousands of DJ's in the state. I read his reviews and he had 5 stars across the chart with 88 reviews! 8 is our lucky number call it cliche, I call it meant to be! I gave him a shot and I'm SO HAPPY that I did! Josh is prompt and caters to every single detail that we needed for our wedding day. He met us at our venue a few times to go over details on where the stage, lighting, truss system, tables etc.. should be. He was always there quickly to respond to any questions or concerns that we had. We decided to bring in a truss system, Josh and his team made it happen and did an amazing job. We are beyond happy and Josh exceeds beyond our expectations on what we were looking for. We would recommend him to any future newly weds or anyone that just wants an awesome party! We gain a new friend after all this. Thank you Josh

SGDJs & Magic Mirror Photo Station's reply:

Wow thank you so much for the incredible review. I also want to give you guys 5-stars. You were nice, easy to work with, fun to be around, just all around good people. I'm excited for your marriage, you two are perfect for each other. I had a lot of fun working my butt off to make sure that we made this A Night to Remember.

Graham

Married on 07/13/2018

Josh is an awesome DJ at any event he takes on!

Lauren

Married on 07/07/2018

Josh was great for our wedding! It was outdoors at my parents and he had all the necessary equipment to work with our non-professional system. He made the music sound very professional and kept the dance floor bumping! Would highly recommend

SGDJs & Magic Mirror Photo Station's reply:

I had such a great time. You guys were excellent, and your parents were such great hosts. Thank you for having me be a part of your celebration.

Rob

Married on 06/30/2018

Wow, where do I start. I was put into contact with Josh by my best man. I was so overly impressed with his professionalism and ability to adapt to last minute chances and even come up with solutions for problems that stemmed from our venue. Absolute A++ and I will recommend SGDJs to anyone looking for a great DJ for any event! Thank you again! Our night would not have been the same with anyone else! Thank you again,

Rob and Ona

Nicole

Married on 06/16/2018

My guests loved it so much I had a great time with it too

Mitch

Married on 06/09/2018

Josh did an excellent job DJing our wedding. Very professional and flexible. We weren't going to announce each couple from the bridal party as we entered the reception space before dinner but my wife changed her mind last second. Josh was able to accommodate without issue and crushed it along with the entire night.

SGDJs & Magic Mirror Photo Station's reply:

Two words! Your wedding was OFF THE CHAIN. Or is that three words? Lol. Thank you for having me. Loved working with you guys and the event planner was on point. Congratulations on your marriage again.
Are you interested?
Send a message