Reviews
4.9 out of 5 rating
Quality of service

4.9 out of 5 rating

Average response time

4.9 out of 5 rating

Professionalism

5 out of 5 rating

Value

4.9 out of 5 rating

Flexibility

5 out of 5 rating
99%
Recommended by couples
1 User photo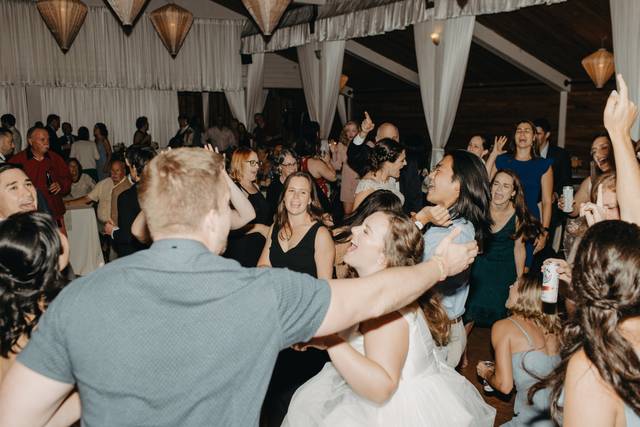 100% recommend DJ Sean & Seattle Parties!

I cannot say enough positive things about DJ Sean and DJ Leslie at Seattle Parties! They stuck with us through two COVID postponements, and when the day finally came, DJ Sean exceeded all our expectations. Our ceremony music was exactly what we wanted and transitioned at the perfect times. He was punctual, professional, fun, and helped make it our reception a smashing success. DJ Sean helped manage the flow of the evening and worked seamlessly with the venue's day-off coordinator and our photographer. He was attentive to how the crowd was feeling throughout the evening, and perhaps most importantly, our dancefloor was packed from start to finish! DJ Sean played a crucial role in making sure everyone was having an incredible time without ever being overbearing (I'm sure we've all been at the wedding with the DJ who treats the reception as his own personal stand-up show—no shade if that's your thing, but we did not want that, and DJ Sean was perfect in this regard). We also worked with DJ Leslie to talk about our day-of plan (because Sean thought he might not be able to make our second rescheduled date—very understandable), and she was also great at walking us through what to expect. All in all, I never had to worry about any aspect of the music or "vibe" of the reception, which is so important on your wedding day, and I owe a huge debt of gratitude to DJ Sean for making that aspect of my big day so easy!

Emily O.

Married on 05/15/2021

Exactly What I Hoped For

Sean was so great and professional! He followed my requests to the T. I asked for lots of Taylor Swift and he delivered! He had all the equipment he promised and made the whole day go so smooth. He stayed on schedule with all of his cues and brought such positive fun energy. I would definitely recommend him to anyone looking for a DJ!

Sarah

Married on 09/02/2018

DJ Sean is the man! We hired him for our wedding on Whidbey Island and could not have been more pleased. He did a great job organizing the crowd without being over the top or distracting. Super professional and classy. He was very receptive to our pre-discussed music selections but also took recommendations and tailored to the crowd. He even let us use his projector at the last minute at no additional cost.

All around great find.

Are you interested?

Send a message

Greg

Married on 09/02/2018

Off the hook!

Leaslie and Seattle Parties were a hit. They were priced right. Not the cheapest and not the most expensive either. The value Leslie delivered exceeded our expectations. Use them if they are available.

Having Leslie MC, and help guide our wedding night along was done flawlessly. People couldn't stop talking about the music and from the time the music started, people didn't stop dancing until the end of the night. A blast was had by all.

We loved DJ Sean! From our first meeting you could tell he was passionate about music in general and a true expect in his field. We had a wide span of ages and tastes and he covered them all. The sound for the ceremony was perfect, no glitches, and he made us an audio recording which we love. His pricing was fair and inclusive. We didn't have to worry about extra hours or add on's. Highly recommend!

DJ Leslie was recommended to us by our photographer, and we couldn't have imagined how perfect she was for us! She was wonderful during the planning, did a great job helping us choose music for various parts of the wedding, was happy to use random music I provided (including a "prank" first dance!) and even helped with setting up a video camera and moving a table during the ceremony. She was willing to meet & communicate as much as we needed. And she's just flat-out fabulous. Couldn't have made a better choice.

Molly

Married on 07/20/2017

We were referred to DJ Leslie of Seattle Parties through our friends who had hired her for their wedding. The moment we met her, we knew that she was the perfect choice to bring the party on our special day! Leslie met with us several times leading up to our wedding and was very resourceful in helping us select songs. On the day of our wedding, she not only had everyone out of their seats dancing, but she also did a great job keeping us on a timeline for toasts, first dances, etc. She went above and beyond to make sure our day was perfect, and she definitely didn't disappoint! I would highly recommend DJ Leslie and Seattle Parties to anyone for their special event. Thank you, Leslie!

Ann

Married on 04/29/2017

DJ Ben was excellent! We loved how chill and accommodating he was from the get-go, and he did a wonderful job helping us work out our playlist and fill in the gaps himself. We really liked his vibe and he did a great job keeping the dance floor moving! He was also able to accommodate our maids of honor's toast/rap and helped us find the right version of songs we wanted. Highly recommend!!

Cindy

Married on 10/29/2016

DJ Leslie was AMAZING at our Halloween wedding. She came into the venue as I was getting my hair and makeup done, and my mother-in-law remarked that she was impressed with how Leslie immediately jumped into testing the sound system with positive energy, using her test announcements to cheer on the people that were prepping the space and making people more happy and relaxed with her awesomely fun attitude. Leslie also added uplighting before the ceremony, coordinating with the groom to get the perfect look for us, and strongly supporting our overall vision for the look of the space. Since we were having a Halloween wedding, she brought along a couple of fun spooky props that really added to the space too. During the ceremony, our music sounded great and she hit all of her cues exactly right. During dinner, she played songs that matched our playlist and style that we wanted, and she was super-accommodating as various plans shifted around at the last second, like when certain things were announced or the order that toasts would happen. Leslie especially shone during the reception. We are kind of a geeky crowd and not the most prone to letting loose and dancing the night away, but she was great at reading the room, playing songs that matched our style while keeping people having fun and dancing. Her announcements were hilarious and she and her assistant were clearly having fun, dancing and enjoying themselves up on stage, which a lot of people in the room enjoyed watching. That is the most that I or the groom have ever danced by far, and other people in the room were also surprised by how much fun they had getting their groove on.

All in all, AMAZING, WONDERFUL, "FANG-TASTIC" DJ. I cannot say enough good things about Leslie. She was absolutely perfect for us, and our guests cannot stop talking about how great she was. Recommended 1000% .

Cathy

Married on 10/18/2015

My husband and I hired Sean from Seattle Parties to do the music for our wedding, He did a great job of reading the crowd, and we got a lots of compliments on the music from all our guests. Sean is very easy to work with, he's professional, organized and caring. We would definitely recommend Sean to our friends!


Linda

Married on 08/22/2015

Hiring DJ Sean was one of the first and best decisions we made. He has a very laid-back approach and we were immediately comfortable with him - he isn't about the bells and whistles, just wants to play great music and throw a good party. Our reception music was perfect and everyone had a great time on the dance floor. Everything was exactly as we discussed and the songs transitioned smoothly; we got a lot of compliments about the music from our guests too. He also helped cut our first dance song to our desired length and provided uplighting.

I couldn't recommend Seattle Parties more - they're affordable and Sean was so easy to work with. Thank you!!

Janet

Married on 05/23/2015

She was truly wonderful. Playing the music at just the right times to get everyone dancing. people kept commenting to me how great she was. She is a best!!!


Jordan

Married on 09/13/2014

DJ Sean is the best. My wedding planner recommended Seattle Parties to DJ for my wedding, and it was immediately obvious why. Sean is friendly, easy-going, responsive, and had really good advice about how to achieve the vibe we wanted. We had a friend officiate our wedding and Sean provided all of the microphone and audio equipment needed. He also provided uplighting that looked great in our venue. We had a number of 'must play' requests which he seamlessly incorporated into his playlist. He also did a fantastic job of matching the music to the audience: lots of fun kid-friendly songs at the beginning when all the kiddos were on the dance floor, then party music when the adults took over. I highly recommend Seattle Parties for anyone searching for a great DJ.

Amy

Married on 05/10/2014

AMAZING! My partner and I just got married and music was a critical component of the entire day. When we met DJ Leslie, we knew she was the right choice. She listened as we talked about the type of music we wanted and guided us through brilliantly - from the moment guests arrived until the last one left. Music was always present and always fit the moment in time. Our day was so special and she made it truly unforgetable. This was a destination wedding that required a few hours of travel. She never gave it a second thought. We had every confidence in her and she didn't disappoint. I'd get married again just to hire DJ Leslie!


Kaitlyn

Married on 04/12/2014

We recently got married in our favorite city, Seattle despite both being from and living on the East Coast. After some frustration trying to find an affordable, professional DJ long distance, we simply googled "Best Seattle DJs" and found Seattle Parties. Everyone we spoke with was helpful and accommodating, and we were set up with DJ Sean. His dedication to making sure everything was perfect was evident, and he had even worked the venue we were using before.

The website Seattle Parties was surprisingly comprehensive and intuitive. We were able to painlessly provide our entire evening's timeline, and make special request notes on just about everything. We picked out our songs for special events, and then went about putting together a playlist of requests we wanted throughout the evening. Every song we added could be assigned to a specific event or time, and I was able to add special notes, all of which were taken into account.

On the day of our wedding, DJ Sean was awesome. The music for the ceremony was timed and amplified perfectly, despite being outside. When one of my groomsmen fainted (he's 12) Sean assisted in his recovery behind the scenes, while seamlessly making sure the music went on when our ceremony resumed a few minutes later. Everything from our arrival at the reception, to toasts and other events were announced perfectly. One of my biggest stressors in wedding planning was finding a DJ with the right personality, and DJ Sean had it. He obliged my unorthodox requests, and when my wife decided she wanted more of the "classics" played after dinner (to get parents dancing), he did an excellent job with that as well. In case this doesn't go without saying, his attire, communication, and set-up were all very professional.

I would recommend Seattle Parties to anyone in need of a DJ, and suggest giving them a phone call. We never got a sales pitch or felt pressured to hire them, and couldn't be happier with our decision to go with them.

Emelie

Married on 09/21/2013

I would highly recommend Seattle Parties. They worked with our meager DJ budget and found someone willing to do our wedding. DJ Vodka Twist was AMAZING. Everyone loved the music. People danced their butts off! The whole night was a success and DJ Vodka Twist was great at announcements, looked super professional in a white tux, got people onto the dance floor and went crazy with the lighting. It was just amazing. The whole event. But our DJ was a key part in that! I still can't believe the value we got!! Thanks!!!!

DJ Troy did an awesome job at our wedding, and I highly recommend him. We worked with Troy a little bit in describing the overall sound and feel we wanted for the music, and from there he ran with it to put together a really well compiled set list. Our guests loved the music and commented on it throughout the evening. The music flowed beautifully from cocktails to dinner and then dancing, and he has a sixth sense for channeling the energy of the party into the right music. I was especially impressed that he got a lot of our multi-generational guests dancing--and kept them dancing!

Aside from having excellent musical taste, DJ Troy was also 100% professional both before the event and during. He was timely in email and phone correspondence, and he served as a host during the wedding to help transition guests from one event to another.

Five stars well deserved.

They were there with a sound system for our ceremony, which had to be moved from outside to inside at the last minute. Great at reading the crowd and keeping everyone on the dance floor later in the evening.

Michele

Married on 05/26/2013

Seattle Parties was OUTSTANDING! They were nothing but responsive from the get go, and were willing to work with our budget. DJ Troy was amazing!! Our wedding ceremony was flawless, he was very personable with our guests, played a good variety of music, and knew how to work the flow of the reception when we went over time. We all had a great time and everyone danced until the end! DJ Troy was simply professional and we would recommend him to any bride and groom!

Rouella

Married on 02/23/2013

We had DJ Leslie DJ our wedding and she was the best. Her collection of songs was great and she read the crowd wonderfully. We had a dancing crowd and a mix of Indian and American friends. She blended Western and Indian music beautifully and kept the party going. Our wedding is talked about as the best dance party ever among all our friends.

Sheila

Married on 08/26/2012

In all aspects of wedding planning I was most concerned about our music. Even though Sean and Seattle Parties had had infinite other good reviews, it was hard to believe anyone dj could handle the diversity we needed. I think, Sean might truly be a bit of a genius. Check it: We needed the music to link: Folk music, to Persian Pop, to Southern old School, to Seattle alternative, to 80's depeche-mode, Cure and them some Jam Bands at the end for the Groom. So the job of Sean was not a light one....'Hey can you make it comfortable for a bunch of hippies, Southern folks, a whole lot Persians (Persians LOVE TO DANCE) and all my friends who love goth 80's music?! Yes, yes he could. And did. I mean, every fade out and transition was...like...perfect. Let me emphasize, I was MOST concerned about music in all aspects of our wedding, as it was they key to bringing all these cultures together- and I think it is the key to celebration in general. I can honestly say there were ALWAYS people dancing from the 1st dance to long after last call. Oh, and Sean...was an amazing support throughout the process. He came to our rehearsal (!!) stayed nearly an hour later than booked, and brought gorgeous lighting that matched our very specific periwinkle hue, and we didn't even ask for that......truly frickin' incredible. You'd be lucky to book him.

My daughter was married August 24th on the Skansonia. They recommended Seattle Parties for a DJ. Are we glad they did! Sean did the most wonderful job of not just playing the dance music, but of making all the announcements. I can't thank you enough.

Theresa

Married on 07/27/2012

Sean was an amazing DJ! He was really easy to talk to from the get-go and didn't mind our indie/eclectic music tastes; he even gave us some other good ideas for songs! The day of the wedding, he helped make the night run smoothly and handled requests with ease. Our friends/family had a blast dancing the night away. I'd highly recommend him for any wedding!

Freya

Married on 06/02/2012

Ben came through for us last minute! Did an excellent job of playing our requests and keeping the dance floor busy!
Thank you!!

Erin

Married on 03/10/2012

I knew that I was going to use Sean at Seattle Parties way before I got engaged. He was the DJ at a friend's wedding, and as a guest at wedding (or even at a club), the most important thing to me is if the DJ plays what I request. And at my friend's wedding, he played everything I requested. He was great to work with, we met twice with him, and he did a great job of helping us figure out what we wanted. He brought some lights to the reception that fit with our decor and helped light up our slightly dim room.
Are you interested?
Send a message