Reviews
4.8 out of 5 rating
Quality of service

4.8 out of 5 rating

Average response time

4.8 out of 5 rating

Professionalism

4.8 out of 5 rating

Value

4.7 out of 5 rating

Flexibility

4.8 out of 5 rating
96%
Recommended by couples
4 User photos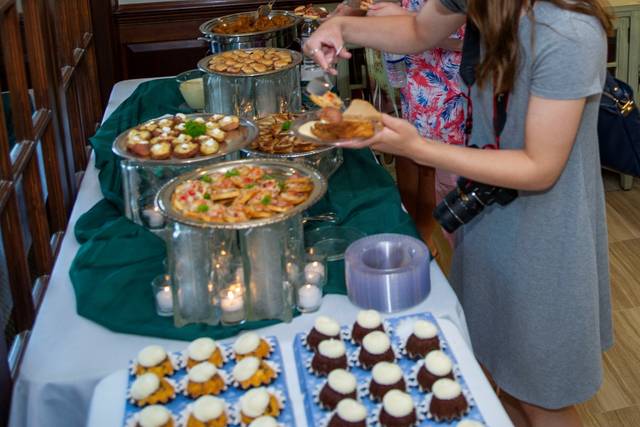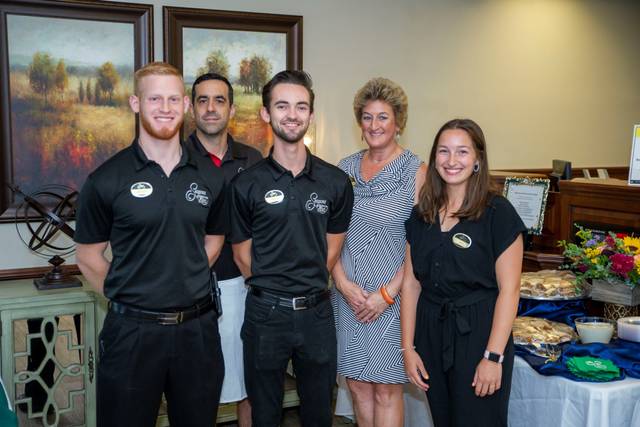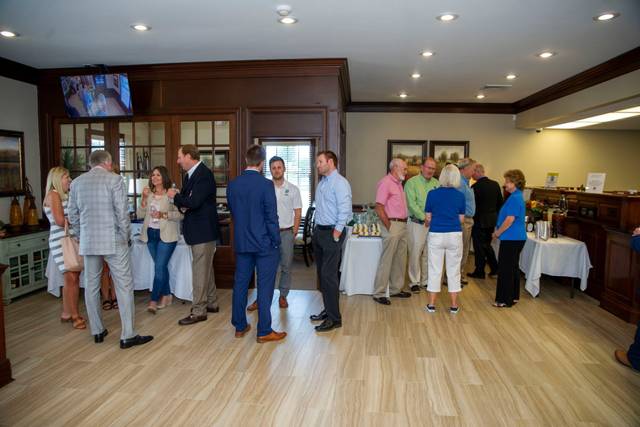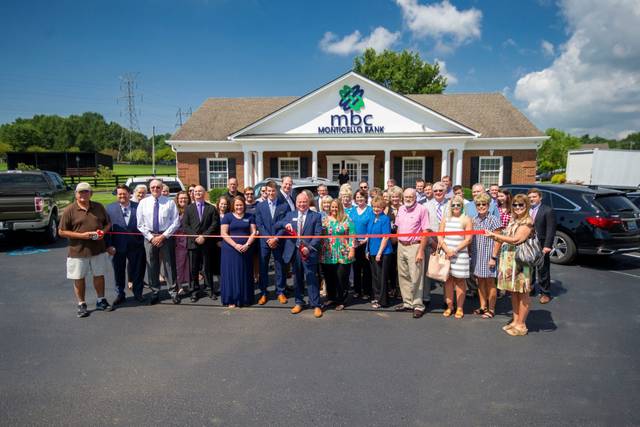 Patricia

Married on 09/02/2023

Kellie
Through all the last minute decisions, lateness, inability to get in the facility and so on, you were absolutely amazing. Thanks to all of you for your service, patience, dedication and perseverance. I greatly appreciate everything. Also, I will recommend you to anyone that needs your services. Again thanks and have a wonderful day.

Thank you,
Patricia


Wonderful caterer - would highly recommend

Seasons catering was absolutely wonderful to work with for our wedding! They had so many delicious food options - including for vegetarian guests! The staff were all lovely at the wedding reception and set up the catering table beautifully. We would highly recommend them!

Miranda H.

Married on 06/17/2023

Outstanding Catering Service!

I cannot say enough positive things about Kellie and the Season's Catering team! From the moment I reached out to inquire about catering, Kellie was super responsive and professional. She not only answered my many questions (right up until the very last minute!), she made sure things were on my radar that I hadn't even considered. She and the chef helped create a delicious menu, provided dietary accommodations where needed, and the entire team provided exemplary service the day of the wedding. The food, presentation, and service was perfect, and we have received so many compliments! Even the venue complimented the great job they did and mentioned that they wished all caterers were on par with Season's. My husband (who is hard to impress) keeps talking about what a fantastic job they did. If you are looking for a catering team for your event, run, do not walk, to Kellie and the Season's team!

Are you interested?

Send a message

Katherine F.

Married on 10/02/2021

Such a joy!

Our family chose to work with Seasons Catering for our 12-person, at-home reception in Lexington, and it was the best decision! Kellie curated a menu that featured Kentucky classics for our out-of-town guests without being gimmicky. The food, presentation and collaboration during planning were just what we needed. Kellie helped me to feel it was a significant day and like a *bride*, even when I felt lost, going through the logistical motions of planning. Her catering team were also a joy and pleasure to have out our reception. I highly recommend you support this female-owned business for your reception/party!

Seasons Catering's reply:

Thank you Katherine, it was a complete joy working with you and your mom from start to finish. It was such an honor to be able to share in this very special day with you. (I loved meeting you on our site check & going over all the details-beautiful!) I'm blessed to have met you and your husband! Blessings to both of you for a long, loving happy marriage!

S. M.

Married on 09/25/2021

Phenomenal

I normally do not get into the review thing, but here lately I have been. But I could not by pass this one. My then fiance and I got married on Sept 25th, 2021 ( which I found out later that's Kellie's bday. Anyways we had already been talking with the owner of Renada's Kitchen since Nov of 2020, scheduled a tasting in Jan of 2021, and after the tasting we paid the deposit. Moving forward. July of 2021 we made numerous calls to Renada's Kitchen trying to schedule a date and time to come in to pay the remaining balance. Everytime I'd call, the owner wasn't available. Waited a week, called back, still wasn't available. So after about the the 4th or 5th all I asked specifically who can I speak with about this payment and was told that the individual that we paid the deposit too is no longer handling the catering services, we have someone new. So to make the long story short, we paid the balance I'm full with this new individual, still no signs of the owner up until 3 days before the wedding. Sending this long email stating that she had not talked to us, and wanted to know if we still wanted to use her business as far as the catering services go. Well why did she do that! It was on after that. Renada's Kitchen is a joke, will scam you out of money, and act like nothing ever happened!! STAY away from that place of business! You'll thank me later! We don't have that kind of money laying around to just throw away! All I have to say is when you have faith, trust, and believe in God, he always comes through! Right on time! I told Kellie( Owner of Season's Catering) that she was God sent! Every catering company was already booked for the 25th. Season's Catering was the last one to call. It was that Friday before our wedding. I was hysterical. We did not know what we were going to do about food for our reception. So I stopped worrying so much, & prayed. I called Season's Catering, spoke with Kellie and she told is to come on in. Mind you she was booked as well. She told us what she do since it was so last minute, AND gave us a discount AND because it was so last minute she couldn't send any of her workers for us, but she gave someone else a call and got it done. Kellie made it happen. Oh and by the way, the food was too die for. We are still sorry that we didn't give Season's Catering a call from the start. But we know now! If I could give this company 20 stars I most certainly would. Look no further when it comes to your Catering needs!! Book with Season's Catering!!



Katelyn

Married on 07/04/2021

July 4th Wedding

FANTASTIC!!! The food was beyond amazing, every server and bartender was extremely kind and helpful! Kellie was absolutely amazing and kept everything on track! I highly recommend choosing seasons for any event you have!!

Seasons Catering's reply:

Thank you so much Katelyn. Your wedding was gorgeous and so was your dress! I am so glad you had a beautiful day. Thank you for allowing us to be a part of it. I heard lots of rave reviews on the food! Chef loves to cook! Wedding wishes to you both!

Jen R.

Married on 04/04/2021

Not just a vendor, but a partner

The Retired Racehorse Project has used Seasons Catering for several events over the years. We are a non-profit and they go well out of their way to help us be cost-effective and present an excellent experience for our guests. I've been to a number of other events they've catered (one wedding fundraisers, a farm-to-table dinner, corporate events) and they are full of ideas and inspiration to make the event unique and memorable. I would highly recommend them.

Seasons Catering's reply:

Thank you Jen, a partnership for sure! This we both know! We are so blessed to know you and your team. Thank you for always having faith in our company along with all of your referrals. We enjoy our partnership with you and love working with you on creative ideas.



Active W.

Married on 02/04/2021

Quality food AND Service

We hired Seasons for a private event of about 60 - 100 people. The Seasons team was great from start to finish - from planning the event to making changes to the menu to preparing the meal and serving our guests. We were very impressed by the professionalism and friendliness of the Seasons event staff. This is our second year working with Seasons and we'll be back again next year!

Seasons Catering's reply:

Thank you so much for choosing Seasons! We love working with you and your guests. I'm so happy to know that everything was enjoyed by all. Our team works so very hard to ensure our clients are satisfied and have a great experience! We look forward to working with you again in the near future.

Abigail C.

Married on 02/01/2021

Absolutely Amazing!

We used the team at Seasons for our January 2021 wedding reception. While going through the rollercoaster of the year that was 2020, Kellie was extremely responsive and gracious as I was trying to navigate changed plans from week to week. We were fortunate enough to proceed with a down-sized, socially-distant reception and the team was so professional and on top of everything throughout the whole night - I didn't have to think about a single thing! The food was absolutely AMAZING! We got so many compliments on the food and service and we are so thankful that we chose Seasons for our wedding. I'm seriously still buzzing about how amazing everything was - absolutely incredible. We will definitely be keeping Seasons in mind for any future events we might have!

Kate G.

Married on 09/19/2020

Absolutely amazing

Hiring Seasons Catering was hands down the best decision we made for our wedding day. Kellie Stoddart is the unbelievable and an absolute gem to work with. I knew I made the right decision hiring her when she responded to my first email with 5 minutes in the middle of the night! She answered every single question I had, changed my menu multiple times due to making changes because of COVID, communicated with my venue for me just because she knew it would help me out, and reminded me of things I needed to do for the "day-of" that weren't even her responsibility as a caterer! The week before the wedding she met with me at 8pm on a Saturday night to finalize everything and I mentioned not having a timeline typed up yet, and the angel herself sent me one that night just because she knew it would make my wedding week easier. So many guest after the wedding made comments about how wonderful Kellie was and how the entire seasons staff that night was so pleasant! I could go on and on for hours about how wonderful Seasons made my experience. And I haven't even mentioned the food yet! Seasons has something for every price range and really helps customize a menu with plenty of options for every budget. Not to mention the food was DELICIOUS, and we didn't even do a tasting because of everything going on and just simply not having time in my crazy schedule. But I trusted Kellie and the Seasons team enough to know that there was no way they would ever serve anything that wasn't absolutely delicious. I also must mention that Seasons really puts the bridal party first. Many times I've heard stories about how the bride and groom barely even ate or didn't get to enjoy everything because they were so busy with photos, dances and everything else that happens that day. Kellie met the bridal party as soon as we were arriving to the venue with a tray of drinks and appetizers to make sure each member of the party got to have something. I will most definitely be hiring Seasons catering for any event in the future and will always recommend them as the #1 caterer in Lexington! Hire Seasons because you will not be disappointed!

Seasons Catering's reply:

Thank you so much for your kind words! I am humbled! It was my honor and our teams honor to be a special part of your wedding day! I have to say that your were such an absolute joy to work with! I appreciate you placing your trust in our hands on the most important day of your life! We have an awesome Chef and hard working team that loves what we do. Thanks so much for showing your appreciation in this kind and genuine review. I hope That God continues to bless you both in your marriage! Please stay in touch! Xoxoxo

Traci

Married on 09/19/2020

Mother of the bride

Kellie is phenomenal. She is professional, hard working and quick to respond. She helped us by offering needed advice based on her experience. She and the staff went above and beyond to ensure everything was perfect. AND....The food was excellent.

Seasons Catering's reply:

Thank you so much Traci! We thoroughly enjoyed working with you and your beautiful daughter! It was a gorgeous event. Thank you so much for allowing Seasons to share in this special day!

Steve B.

Married on 07/26/2019

Monticelllo Bank Grand Opening

Kellie and her staff catered the Nicholasville Branch Grand Opening of Monticello Bank. The food was excellent and the staff was very professional. We received raving reviews from attendees on the food and service!

Seasons Catering's reply:

Steve, it was so nice to work with you and your amazing, kind team! We enjoyed assisting you on this very special event and we are happy to hear it was a great success.

Bettye S.

Married on 04/27/2019

Fabulous Caterer!

It was truly a pleasure to work with Seasons Catering! From the initial consultation we were very impressed with their professionalism and were never disappointed throughout the planning process. The staff has always been responsive and helpful, the food is delicious and the service is impeccable. Everyone at our wedding was so impressed with the catering. We already knew we had made the right decision by choosing Seasons, and our wedding day confirmed how right that decision was. We had wonderful passed hors d'oeuvres at cocktail hour, an excellent bartender, and a lovely plated dinner with attentive table service. We would happily recommend them to anyone and everyone!

Laura

Married on 10/06/2018

Seasons catering catered our wedding on October 6, 2018 and they did a PHENOMENAL job! We were so impressed with how efficient, professional and how amazing the food was. We had "mini Kentucky hot browns" and chocolate dipped bacon planks as appetizers, then a salmon in dill sauce, and chicken in an apricot dijon sauce. We also had a lemon sorbet served in cups made of ice. Our guests were over the moon about everything.
Leading up to the wedding Kellie was super helpful and guided us through choosing dishes, making sure the timing would flow easily, and she responded to emails within minutes! I could not possibly recommend them more highly. They were worth every penny and then some!

Seasons Catering's reply:

Thank you so much for your kind words and allowing us to be a part of your special day. You were such a pleasure to work with and I loved that you selected the ice cups with the sorbet for your guests to be "WOWED" over. I'm sure they loved that as much as we did making them. Thank you again and happy wedding wishes to the both of you! Kellie

Sharon

Married on 10/01/2018

Seasons made an emotional time in my life BEAUTIFUL at my husbands celebration of life. She told me i had nothing to worry about it would all be taken care of by her and her staff and she promised us a WOW effect with her gorgeous horse ice sculpture. She left a wonderful memory of my husband for everyone that attended. She will be my go to for anything in the future we might need to have catered. i thnk her and her staff a million times over for what they created so gracefully for me and my family. Her company is the best and i would recommend to anyone. thank you.

Seasons Catering's reply:

Thank you for your kind words Sharon. Our team was so honored to be a part of your life celebration party for your husband. It was a very beautiful event and he touched so many lives. I appreciate your faith in our company, we strive to create a memorable event, along with a lifelong relationship. Again, thank you for the honor of meeting you and being with all the friends and family your husband touched for so many years.

John

Married on 07/18/2018

During the search process for a caterer for our daughters wedding Kelly easily sealed the deal with her professional manner. No one even came close. The scheduled tastings confirmed that the food would be outstanding and my wife and I just had to decide some of the details but we knew Seasons would provide an outstanding product and they definitely did. On the day of the wedding reception everything was as close to perfect as we could have wanted. , and the highlight of Seasons day was Kelly Stoddarts professionalism. I cant begin to count the number of high praise comments we received on her alone let alone the entire Seasons staff and product. I don't have any more daughters, but if I ever have need for another high class catering event I don't need to shop around I will definitely use Seasons again.

Seasons Catering's reply:

Thank you so much for choosing Seasons Catering! I loved working with you and your wife on your daughter's most important day! It was nothing but beautiful and fun enjoyed by all! Compliments to the chef and my awesome team that helped make your daughter's day a memorable, happy, fun-filled day. Thank you so much for the beautiful compliments.

Debbie

Married on 06/15/2018

Do not miss looking at
Consulting Department of Season's Catering, Lexington, KY.

If you ever wanted a Fairy Godmother in your life, they have one hidden here in the talents of Kellie Stoddart. Attention to Detail is only the beginning of Kellie's Wedding Consulting expertise. She will display and orchestrate your wedding in the most efficient and professional manner that a Bride and MOB could ever hope for. Those qualities are only the tip of the iceberg of her talents. If you want someone who can read your MOB mind and implement every single aspect of what you have planned for the special day please look no further.
From your first meeting with Kellie until the last candlestick is packed away in your basement you will feel like you are her one and only top priority. She will answer your phone calls, & texts, immediately, sometimes even before you have thought of the question. Vendors in the Lexington, KY. area think very highly of her and work very well along side of her. She will be your Google for local wedding needs, I think she knows everyone in the industry. Working like the energizer bunny Kellie sets into action all the details of the day long before the day arrives. The wide scope of her consulting "to do list" is amazing. Most importantly she LISTENS to what you want and is also there to give advice on what you may be unsure of. She will choreograph your dreams of the day and takes care of any unforeseen last minute changes flawlessly. To say she goes the extra mile is an understatement. She does all this with a lighthearted fun loving personality and when she says, "I've got this covered" You can count on it without one bit of hesitation. My daughters Wedding went flawlessly due to this wonderful woman and we all enjoyed the day without worry. I have never seen a person work so hard yet look so effortlessly doing it. She enjoys her work and it shows. You will enjoy the results of her talent, have no doubt!!

Patricia

Event on: 06/08/2018

Celebrating an 85th birthday should be "Once in a Lifetime" special occasion, and thanks to Kellie and Michael Stoddart and their staff at Seasons Catering, it was evening none of us will forget. From our very first planning conversation, to menu selection and a few last minute changes, Kellie was a joy to work with! The food was nothing short of amazing. — raved about by everyone in attendance from teenagers to the 85 year old birthday boy! Kelllie took great care to help select menu items that were among Dad's favorites, and then to set buffet table with memorabilia to highlight Dad's family and career. The only thing that could've possibly rivaled the incredible menu, were the 2 350 pound blocks of ice that Michael and his son, Matthew filled with photos and momentous and then carefully carved into an 8 and a 5! The party was nothing short of amazing on every level. If you are in need of someone to trust your event to — large or small — look no further than Seasons Catering.... you will, most certainly, be delighted!

Seasons Catering's reply:

Awe, Patricia, we loved being a part of your dad's 85th birthday celebration. Nothing short of great times, family, friends and memories shared by all. Thank you so much for being a part of this! Matthew was just as excited to carve the 300lb ice blocks for your dad as your dad's anticipation at the unveiling! So blessed to know you all and be a part of this day. xoxoxoxo

Rebecca

Married on 05/12/2018

Small party with appetizers. Kellie and her staff are so professional and Kellie has GREAT ideas. The food was delicious and beautiful !!!! My guests were very impressed.

Stefanie

Event on: 04/28/2018

Not only is the food at Season's Catering delicious, but the quality of service I experienced was excellent! We were having an employee open hours so I called Kristen at Season's, gave her the information about our event, and she took it from there. I received two options from Denyce based on my budget. I chose the one I thought would work best and made arrangements for pickup on a Sunday. The beautiful trays were ready and waiting when I arrived and Mike loaded them into my car for me. They provided me with everything I needed. The food was just the best!! Everyone raved about it, especially the pimento cheese dip! The whole team at Season's is awesome and we will be using them again soon!

Seasons Catering's reply:

Awe, thank you Stefanie! We are so glad that everything from your initial call to bringing your menu items to your car was a great experience for you! We strive to do this to be sure our customers are satisfied and happy. Thank you so much for your kind words and we look forward to working with you again soon! Kellie Stoddart

If you want a WOW factor, the team at Lexington Ice Sculpture can delivery it! They created a centerpiece attraction for our Yuengling Expo party that people are still taking about.

Seasons Catering's reply:

Thanks Jill for choosing Lexington Ice Sculptures to be such a special part of your reveal! We thoroughly enjoyed designing, setting the art up at Kroger Field and meeting you personally! We are thrilled that you loved the piece and your guests were WOWed! Thanks again! We love this beer!!! Kellie, Matthew & Michael Stoddart

Leslie

Event on: 01/18/2018

Seasons catered a Ribbon Cutting/Grand Opening party for us here at loanDepot and we could not be more pleased with how smoothly everything went. Before we even booked anything with them, they were very responsive and detailed with their estimates and quotes. The food was fantastic, they were very professional and friendly, and the attention to detail was spot on. I would definitely recommend them for any event or party.

Seasons Catering's reply:

Thank you so much Leslie! It was our pleasure to work with you and your entire team. You make our job so easy! We appreciated you thinking of Seasons Catering and look forward to assisting you with other catering needs. Your office is beautiful! Thank you again for your compliments.

Sherry

Event on: 11/20/2017

I received a gift card/coupon for lunch for 10 people. The Chef's selection included ham sandwiches, roast beef sandwiches, and homemade gourmet pimento cheese sandwiches. The meals were served with wither fruit or pasta salad and a delicious dessert. No detail was overlooked, from the sweet ribbons tying the box to the pickles being packaged separately so as not to leak juice on the sandwiches. The pimento cheese was divine! I'll be a regular patron just for that! In addition to the food, the staff were so courteous and even followed up today to ensure our lunches were what we wanted. I would happily recommend Season's Catering!

Seasons Catering's reply:

Thank you Sherry for your kind words! We love what we do and this makes us smile even more. I appreciate you using your complimentary coupon to order our box lunches. I hope to be able to provide more for you and your friends in the near future. Thank you again.

Carol

Event on: 11/11/2017

I did not have one minute to stress. The food was awesome and the set up looked great. I appreciate everything everyone did from my first contact to the last goodbye. I will surely recommend you to my friends.

Seasons Catering's reply:

Thank you very much Carol! I am so glad we could accommodate your catering needs and offer stress free planning. Our team strives to excel in all that we do. We appreciate the opportunity to work with you on our special event. We hope to talk to you again in the near future. Thank you again, Kellie Stoddart

Stephanie

Married on 11/11/2017

Kellie was wonderful! Always quick to respond to my many questions regarding the wedding. She was very helpful, and always willing to go above and beyond. The staff at the wedding were all wonderful and professional. They helped the reception move seemlessly.
Are you interested?
Send a message