116 Reviews
Recommended by 100% of couples
Quality of service

5 out of 5 rating

Average response time

5 out of 5 rating

Professionalism

5 out of 5 rating

Value

5 out of 5 rating

Flexibility

5 out of 5 rating
10 User photos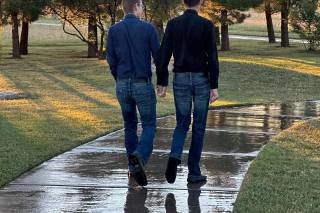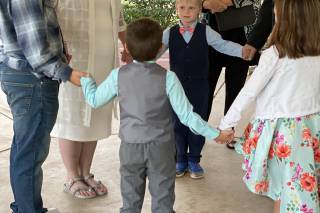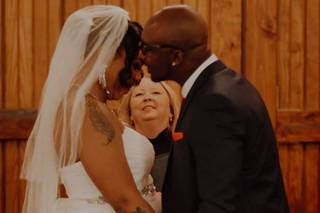 + 6

photos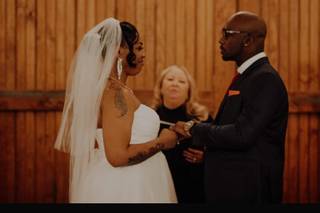 Chris T.

Married on 10/21/2022

Highly Recommended

Very nice, caring and professional. She made the whole process very easy and seamless.

Elisha

Married on 10/08/2022

10/10 Fall Wedding

Sandy was very helpful and kind. She answered all my questions and provided additional support when needed.

Haley W.

Married on 03/15/2021

Our Wedding day with Sandy White!

Our wedding was a small ceremony and Sandy did an amazing job! It was perfect length and very touching! She was easy to get ahold of and super helpful! She even included our kids in the ceremony. It was just perfect all the way around! Highly recommended

Are you interested?

Send a message

Ashley M.

Married on 12/06/2020

Wedding 2020

She was great the whole service. She noticed I was frustrated and helped me out tremendously! Strongly recommend!

Whitney N.

Married on 02/16/2020

Amazing ceremony!

I was asked to host my cousin's wedding ceremony in my backyard on a 2 week short notice before he was to get deployed. After not knowing how I was going to plan with little time I started googling wedding officiants and Sandy was the first to pop up. Since the initial call I made to her she was nothing but a blessing to me! She walked me through the process and what we needed to do before the big day. On the day of the ceremony, her and her husband were so patient, easy going, and friendly! The ceremony went above and beyond my expectations, making the day so special to us. Thank you Sandy!

Sarah M.

Married on 11/03/2019

Sandy White

Sandy performed the most thoughtful and touching ceremony we have ever attended, and we are so lucky that it was our own wedding! We had a front row seat to such a tribute to our love and commitment together. Thank you Sandy. Our day would not have been the same without you.

John V.

Married on 11/02/2019

Intimate Family and Friend Ceremony

Sandy was very professional, friendly, and eager to help us in our intimate wedding ceremony. I quickly understood why she is highly rated. What's more, she was very flexible given the short notice and her level of detail was spectacular. I highly recommend her for any type of wedding ceremony.

Kaelee S.

Married on 11/02/2019

Wonderful.

Sandy is very experienced and makes you feel so at ease. She was always prompt in responding and works with you and your significant other to give you the ceremony of your dreams.

Best wedding ever

All around an amazing person! She helped complete the wedding! Definitely recommend!!

C And

Married on 08/25/2019

Warm and Professional

We had a wonderful private ceremony as we wanted. Sandy and her husband were very warm and professional. They made us feel very comfortable and relaxed although we were super nervous before our ceremony. They respond quickly and are so easy to contact. They are very responsible and also flexible. Thank you Sandy! It was beautiful and perfect.

Kimberly M.

Married on 12/20/2018

Fantastic Officiant

We are so thankful for Sandy and her husband for our beautiful ceremony! They were so welcoming and professional!

Irene F.

Married on 12/16/2018

Absolutely Perfect

Sandy was amazing she took charge and really helped everything turn out perfect!! The quality of music omg amazing. I promise you won't go wrong with her! Your only mistake is choosing someone else pick sandy white she's worth it!!

Jk Coor

Married on 12/07/2018

Stellar. Professional. On time! LOVELY person inside and out.

We were quite impressed with Sandy's professionalism and Texas sized heart. Her love immediately shines through the second you see her. Her wisdom is well beyond her years and her no judgement attitude is certainly what all of us want from others. I loved that she is a minister! We were from two different church backgrounds and she handled this information with ease. It was the best day of our lives and she was an integral part of this joyous day! This precious minister leaves our memories warm and happy as we think back on this day and how
easy she made our commitment become reality. Sandy is truly the BEST. I cannot imagine that there is ANY MINISTER who could have made our day better. We thank you.

Clifford G.

Married on 10/20/2018

Last minute hero

Due to an emergency our officiant had to cancel a week before the wedding😧 and on top of that the photographer was no show! Omg it was turning into a nightmare situation. But sandy white came in from Lubbock to Midland Texas. She did an amazing ceremony. It wasn't rushed but also didn't drag on either. And then her husband stepped in to take pictures that turned out great despite the circumstances. I would HIGHLY recommend this wonderful woman to perform your wedding!

Robert

Married on 08/18/2018

I loved everything about Sandy White and her husband! She made us feel so comfortable when our nerves were through the roof. She has a way of making people laugh and easing the tension on a very important day. If everything has gone wrong, you can at least count on her to make your day exactly what it's supposed to be, the joining of two people who are madly in love and that's all that matters.

I told her that I have a huge fear of speaking in front of people and was afraid I was gonna stammer through my vows. What she told me I will never forget, "Your vows aren't for everyone else, they are for him. As long as you are saying them loud enough for him to hear, that's all that matters." Those are words of wisdom that I plan to pass on to anyone who needs them. Thank you again Sandy for helping us though this amazing passage in our lives. We'll be calling on you again soon for a vow renewal :)

Robert B.

Married on 08/05/2018

Best Day Ever!

Sandy married us on the beach in Pismo and it was the most memorable day, not just because of the location and the weather but because of her and how she was and the things that she said. She worked with me in every way to make sure that the songs i was singing to my soon to be wife fit in perfectly and she made sure everything went as planned. Perfect officiant for the perfect day

Cerisa

Married on 07/27/2018

Sandy was awesome. She made us feel very comfortable with how everything was going to work. And was very professional even when the bride was running late. Thank you so much for making our day even more special for us.

Crystal

Married on 06/22/2018

Sandy was so amazing! She responded to any questions I had in a quick manner! Our ceremony was beautiful! We did the repeat after me vows and I was nervous it would be a boring ceremony because we chose that option but sandy made it very special and personal. She is great at what she does! Thank you for helping make our day great!

Alan

Married on 06/02/2018

Sandy and Johnny were the perfect choice for our wedding. They showed such empathy about our special story. We hope to see them in he future. I would highly recommend them.

Randi

Married on 06/01/2018

Everything was perfect. Probably the only time I will see my husband cry!!! THANK YOU!!!

Briana

Married on 05/26/2018

Sandy White was the perfect officiant for our wedding! From the very beginning, she was a pleasure to work with and was always responsive to emails and texts. She was professional and organized in every way and made sure the ceremony went smoothly Her husband also took photos! She made sure the ceremony was very personal and intimate. We loved the idea of the Love Letter Box! We wrote love letters to each other and sealed them. They were placed in the box during the ceremony. Sandy explained how they will be opened and read on anniversaries or during disagreements to remind us of the love and happiness we shared on our special day! We highly recommend Sandy White as a wedding officiate on your special day?! She was the best!

Emily

Married on 02/11/2018

I can't thank Sandy and her husband enough for this amazing experience. I was needing to find someone to marry us and someone how GOD put Sandy in my path. She responded quickly and was able to make my day special. I recommend her to anyone getting married around the Lubbock Texas area!!

Claudia

Married on 10/01/2017

Sandy and her husband Johnny were amazing people. I am so glad I chose them to do our little private ceremony. Sandy and Johnny were very professional. Our packet consisted of the ceremony and pictures. Great affordable price! Loved how they took our pictures! Our pictures will arrive in about a week; however, Sandy took some pictures with her phone and shared those with us immediately after the ceremony. Our wedding was on Sunday, October 1, 2017 at sunset at the Shore Cliff Hotel gazebo overlooking the ocean. Thank you Sandy and Johnny! I will definitely recommend you to family and friends with future marriage plans at the beach!

Iliana

Married on 09/17/2017

Sandy was AMAZING!!! My husband and I were nervous as we didn't know what to expect on our wedding day, as we did not have a rehearsal. Sandy called us and walked us through the process, explained to us what we could expect that day and totally eased our nerves. Sandy personalized our wedding by including our son's name who is in Heaven. She had this amazing white sea shell that literally looked like angel wings, this was a gift from her to us.

Sandy and Johnny were very professional. Our packet consisted of the ceremony, pictures and music, all for a great price. Sandy had excellent and fun poses that our family and we took together. Our pictures will arrive in about a week; however, Sandy took some pictures with her phone and shared those with us immediately after the ceremony. Our wedding was on Sunday, September 17, 2017 at 10 am in Pismo, directly on the beach sand. We had our parents and siblings attend the ceremony, which put our party at 15 guests, plus ourselves and our puppy and everything turned out PERFECT!

We THANK YOU Sandy and Johnny for everything you did. We both recommend her and her husband services for your wedding, you will not regret it.

-I&J Gonzales

Melissa

Married on 09/14/2017

Sandy put together a wonderful ceremony for us!! She responded quickly and was on time for pur ceremony.
Are you interested?
Send a message