266 Reviews
Recommended by 98% of couples
Quality of service

4.9 out of 5 rating

Average response time

4.9 out of 5 rating

Professionalism

4.9 out of 5 rating

Value

4.9 out of 5 rating

Flexibility

4.9 out of 5 rating
583 User photos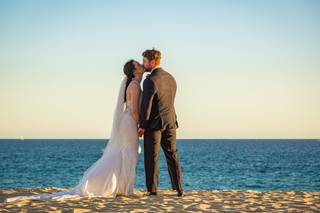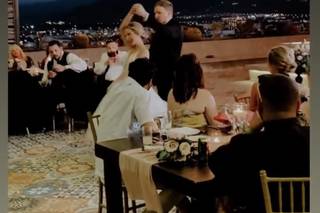 + 579

photos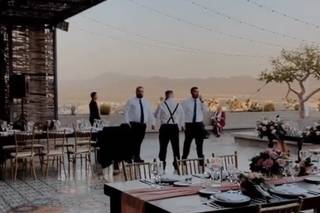 Laine H.

Married on 04/14/2023

Unbelievably fantastic!!

Yhali, Fernando and the entire staff at Sandos were simply amazing!!! They bought into our vision and executed to perfection every detail we did and did not want. We are so pleased with our choice to have our destination wedding there. Thank you all! ❤️❤️

Merinna P.

Married on 02/03/2023

A Dream Come True

We had our wedding at Sandos Finisterra at the beginning of February, and although we had seen many positive reviews and beautiful pictures ahead of time, we were blown away by the entire experience. If you're considering Sandos Finisterra for your wedding - DO IT. Everyone at the resort is so kind and helpful, the resort itself has gorgeous views, and everyone was very impressed by the food available. The wedding planners, Yhali and Paulina, go above and beyond. They were incredibly sweet, they had everything perfectly planned out, and they were even willing to move the wedding forward a day last minute for travel delays due to weather. The photography team, Erick and Peter, do a great job of making you feel comfortable and getting both the shots that you request and having great suggestions.

We did our ceremony at Plaza Finisterra and our reception at Mountaintop Terrace, and I can't recommend that combination enough! You get such stunning views. And if you go with Mountaintop Terrace, definitely upgrade for the string lights, it's so worth it!

A couple of months have gone by and we still haven't stopped raving about our experience to anyone who will listen. We can't wait to come back for our anniversary next year! Muchas gracias por todo, you made our dreams come true, Sandos team!!

Jennifer F.

Married on 12/09/2022

Amazing Wedding Day (& week)!!

I cannot recommend Sandos and Yhali enough!! I had the wedding of my dreams here. Yhali was fantastic and made it all happen.

I cannot fully put into words what a wonderful experience this was. The months leading up I often reached out to Yhali with questions and concerns and she always made me feel better and helped me figure it out.

I will definitely be back to visit and cannot wait!

- Jenna & James

+ 3

photos

Are you interested?

Send a message

Hannah A.

Married on 11/15/2022

Our dream wedding happened!

Yhali is amazing! We wish we could relive the day over and over again.

+ 6

photos

Devanee H.

Married on 11/10/2022

11.10.22 LGBTQ Wedding of our DREAMS

everything was phenomenal! The dj was amazing and yhali and Paola were the best planners ever. They made sure to everything was perfect for us. They were quick to respond whenever we needed them and helped us with everything. We weren't treated any different being two brides and everyone at the resort was amazing to us. Even the officiant was 1000% amazing. Definitely recommend

+ 6

photos

Rebecca D.

Married on 10/21/2022

Yhali and Paulina were amazing!

We got married on 10/21/22 and Yhali and Paulina made my wedding experience at Sandos so perfect! They made not only my wedding day but our whole stay so special. Everything we needed was taken care of. Our guest felt so special. Yhali took my crazy vision and brought it to life. She was always so responsive and there to talk me off a ledge There's nothing she can't figure out and make happen for you. You are in amazing hands with Yhali and Paulina!

Roberto P.

Married on 10/18/2022

Amazing resort wedding

We got married at Sandos in October 2022. Everything worked out so perfectly. The ceremony with Reverend Juan was beautiful. Although we only met briefly prior to the wedding, he went beyond what was expected and really connected with us and our guests. Thank you to the entire wedding team at Sandos!

Rachel C.

Married on 10/18/2022

Perfect wedding day, Best staff!

We got married at Sandos on 10.18. Yhali and the team made wedding planning as easy as could be. And everything the day of was beautiful and seamless. I couldn't have been anymore happier with how everything turned out! The in-house video/photography vendor, Cabo Studios, did an amazing job as well! Thank you Erick and Pedro

+ 2

photos

Jennifer M.

Married on 10/15/2022

Beach Wedding @ Sandos Finisterra

I could not have picked a more perfect place for our wedding. With our busy schedules Yhali made wedding planning simple and took all the stress away. They incorporated all items we traveled with, and made it more beautiful than i could imagine. I love bragging how easy our destination wedding was, and our wedding colors were Purple and Orange and those were the sunset colors during our reception! Talk about things falling into place! Reverend Juan performed our ceremony and kept it short and simple with comedy in between. 10/10 recommend!

+ 3

photos

Amanda

Married on 10/01/2022

Dream Wedding

Sandos Finisterra and their wedding team were absolutely amazing. My wife and I had an amazing trip and once in a lifetime wedding. Yhali is a fabulous wedding planner and helped us with very detail. Would 10/10 recommend this venue and resort!!

Jon E.

Married on 09/02/2022

Wonderful!!

My wife and I love Finisterra so it was a no brainer. Yhali and Paulina did an amazing job planning and setting up. They were very easy going and happily answered all our questions, no matter how small. Reverend Juan was absolutely outstanding! He met us prior and asked questions regarding the ceremony, gave excellent advice and insight, and even suggested some very cool ceremonial adds that were relevant to the area and some of our guests. He led an incredible service.

+ 7

photos

Johnathan

Married on 08/27/2022

Amazing wedding

So much I can say but overall amazing wedding. Yhali went up and above to make sure we had a beautiful wedding. I couldn't wish for a better wedding coordinator.

Melissa T.

Married on 07/10/2022

Amazing Wedding Experience

We were extremely pleased with how everything turned out for our July wedding. First off, Yhali Velez was an extraordinary wedding coordinator who helped bring our vision to life. This special day would have not been possible without her help, support and expertise. We absolutely loved everything this hotel had to offer when it came to planning our wedding. We enjoyed their food, music, breathtaking views and most importantly how friendly and helpful all staff members were towards us and all our guests. We enjoyed this hotel so much that we decided to stay an additional 6 days after our wedding for our honeymoon. We definitely recommend hosting your wedding at Sandos Finisterra, it will be a dream come true.

+ 6

photos

Crystal M.

Married on 07/03/2022

Vow renewal in Cabo

Yahli and the Sandos wedding team made our special day a dream come true.
I could say a million thanks

Kaylee G.

Married on 07/02/2022

Sandos Finisterra Wedding Bliss!

Our wedding was absolutely fabulous! Yhali was so patient and responsive to my many questions and changes leading up to the wedding (and while on-site). Once we arrived onsite they made sure that everything was taken care of and always made us feel at ease. Any and every request was met or exceeding! Paulina was also great! The venues at Sandos Finisterra are an absolute dream and so unique compared to the many other resorts we considered for our big day. Highly recommend!

Allison S.

Married on 07/01/2022

Incredible wedding at Incredible resort

From the location to the staff to the beautiful city of Cabo San Lucas our entire experience could not have been better. Thank you to ALL the wedding staff and Sandos Finisterra for an incredible wedding and week.

Tiffany F.

Married on 06/26/2022

Speechless! Incredible! Perfect!

Yhali, Paulina and their team made our wedding a dream come true. It was perfect in every way! From the first day we arrived to the very last day in Mexico, we were treated like family. They were on top of everything. If I had a question about anything - it took less than a minute for them to respond. We wanted a very small wedding that was just some of our family and closest friends, and they made it happen. My wedding was beautiful, it was perfect in every way. I can't thank Sandos Finisterra enough for everything they did. Yhali and Paulina will always have a place in our heart, they're incredible ladies! I would rank this place a 10/10. It's definitely more deserving than the 5 star rating for sure. My entire guest list raved about our wedding and loved every single staff member!

Natalie S.

Married on 06/04/2022

Our wedding was AMAZING & FLAWLESS at Sandos

No words can describe how amazing this resort was! All of our wedding guests could not stop telling us how beautiful everything was from our ceremony, reception, their rooms, the places to eat, the beach, the pools, and the overall resort. Hands down this place is a great place for couples or families to have fun and enjoy Cabo! The food was delicious! We loved going to Don Diego and to the Italian restaurant they had there. The churros were so spectacular that we even had them at our wedding and they were the first thing gone. All the people we do nice and would help us in any way they could! Shout out to John for being so nice, helpful, and taking care of both our families while we were out there.

On another note, our wedding was flawless and all thanks to Yhali for her amazing work and putting our perfect wedding together. She was AMAZING! She took care of everything and was even holding my bag with my shoes and veil throughout the night. She took care of everything! If it wasn't for her efforts, the wedding wouldn't have been as perfect as it was! All of our guests have told us our wedding was the best wedding they had ever gone to! The DJ the resort had was having everyone non-stop dancing. The dance floor was on fire with how everyone was dancing and just having a great time. We booked the Photo Booth from the resort as well and it was so great to see everyone having fun with their photos.

This resort is just gorgeous from the views to the people that work their. I cannot be more happier with my choice in venue for our wedding and for having all my friend and family stay within the same resort! Thank you Sandos Finisterra and a very special thank you to Yhali and John! I wish I could memorize everyone's name but all of the workers from the cleaning people to cooks to servers thank you all! Our experience at Sandos will never be forgotten! We really want to go back and redo our wedding just because that's how amazing it was!

+ 10

photos

Johana G.

Married on 05/28/2022

The Wedding of our Dreams

We had our wedding at Sandos Finisterra and we could not have been happier with how it was planned and the way it turned out. Yhalí, Paulina and the entire wedding planning staff and venue workers were incredible. I never felt overwhelmed or overly stressed thanks to their responsiveness and flexibility. The resort itself is breathtaking with top notch service. All of our guests enjoyed their stay and all have said that it was a memorable time there. We loved the all-inclusiveness and amenities, making our wedding all the more special for us all.

Faith S.

Married on 05/25/2022

Had a great experience!

Pedro and Yhali were there for every little thing we needed and the photos came out better than we could of imagined. The resort was beautiful and the staff did everything to make sure we had a great time.

+ 4

photos

Crystal O.

Married on 05/18/2022

Best Experience Ever

We were completely satisfied with how Sandos Finisterra's wedding team handled our wedding from start to finish. All are needs were met. They were organized, attentive, caring and professional. Their wedding coordinator Yhali was amazing too. She has an ease about her, a great personality and made every task look effortless. We had full trust in her and she did not disappoint. Her assistant was great too, super helpful and attentive as well. We have no complaints, everything turned out as it should and are very happy with Sandos Finisterra.

Destiny A.

Married on 05/14/2022

Just so amazing!!

Yhali is amazing and patient anytime I needed her with in the year of planning she would call me and email me back immediately. She just made planning feel so much less stressful and than when the day actually came she was THE BEST. Helped me find eyelash glue last minute. I can't even put into words how amazing she was and Paulina was great! The resort was beautiful I didn't want to go home!

Brianna

Married on 05/06/2022

Perfection ⼨

Had the best experience ever with Sandos Finisterra! The location, coordinator, staff and price were all amazing! 10/10 recommend.

Zachary P.

Married on 05/04/2022

Dream come true

Yhali and her assistant we're everything we could have asked for! The attention to detail and the extremely great effort they put into our wedding was more than we asked for, we would highly recommend them for your day as well.

Kim C.

Married on 04/16/2022

Amazing experience

Wow! Our wedding was absolutely everything I dreamed of, thanks to all the amazing staff at the Sandos. Our coordinators, Yhali and Paulina, made sure our day was so special. We had our ceremony on the beach, our cocktail hour at the plaza, and our reception at the beautiful mountain top terrace. I really can't put into words how beautiful it was. I had a vision of what it would be like, and the staff transformed my vision into something truly remarkable. My biggest advice to those who decide to get married here is: trust them. They know what they are doing and do an incredible job at it. Getting married here was the best decision we could have made!
Are you interested?
Send a message