21 Reviews
Recommended by 97% of couples
Quality of service

4.9 out of 5 rating

Average response time

4.8 out of 5 rating

Professionalism

4.8 out of 5 rating

Value

4.9 out of 5 rating

Flexibility

4.9 out of 5 rating
Awards
6 User photos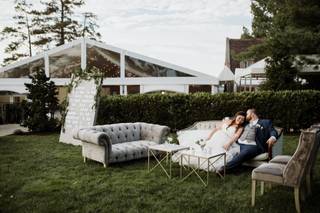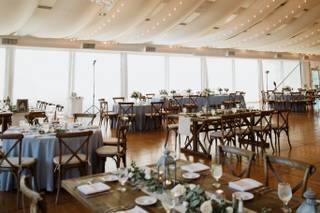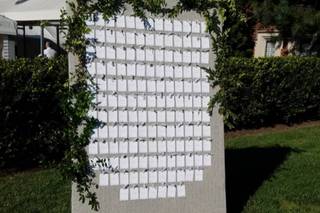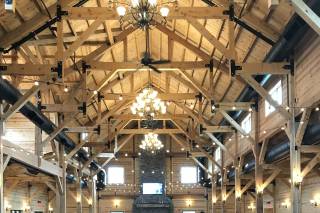 + 2

photos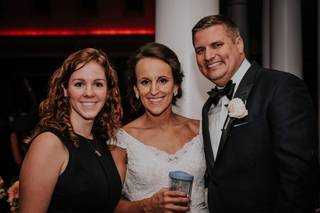 Karen B.

Married on 12/04/2021

Mother of the Bride Loves Samantha Joy Events

We hired Samantha Joy Events to help us plan my daughter's December wedding at the University Club of Chicago. I am a detail oriented perfectionist and it was such a relief to turn over the management of the big day to Samantha and her staff, and they did a MAGNIFICENT job! Samantha coordinated and communicated with vendors, provided a detailed timeline for the day, and spent the entire day with us to see that everything ran smoothly. When my daughter ripped her dress shortly before the ceremony, Samantha swooped in with her tool box and saved the day by repairing the dress. Having Samantha and her team with us enabled all of us to thoroughly enjoy the day and let go of any stress. I highly recommend Samantha Joy Events.

Ali

Married on 10/30/2021

Samantha made this day everything we wanted and more

Hiring Samantha Joy Events was the easiest and best decision we made after getting engaged. We knew we wanted a wedding planner to minimize stress leading up to our big day (no one likes a bridezilla!), but what we didn't know is that a planner does SO much more than that. We had a wedding that was perfectly us in every way possible, all thanks to Samantha and her team.

From the beginning, Samantha took the time to truly get to know us. Not once did she ask us to share dream wedding inspiration or show her elements of other weddings we enjoyed. Instead, she asked about our interests, hobbies, and how we wanted our wedding to feel. She asked how we decorate our home, places we like to travel, and colors that bring us joy. By the end she knew our style better than we did. She took my love of sprinkles (I'm obsessed!) and turned it into an elevated theme woven throughout our day. The executed design was stunningly beautiful and uniquely us.

Not only did she design the perfect day, but her industry knowledge is unmatched. At one point our venue told us they would not be able to setup 3 large farmhouse tables for our head table because of a logistical issue. Without the SJE team my husband and I wouldn't have pushed back on the venue because in our minds, "it couldn't be done." Samantha offered 3 solutions on the spot, advocated for what we wanted, and ultimately found a way to make the tables a reality.

The morning of the wedding Sam was there early to make sure hair and makeup were running smoothly. She checked in with my husband and I multiple times throughout the day – to check our nerves, to make sure we ate, to tell us where we needed to be next. She seamlessly managed our room flip and coordinated all vendor drops offs and setup. She bustled my dress and allowed us a moment alone to soak in the newlywed feeling. Honestly Samantha was everywhere you didn't know you needed her. Her attention to detail, eye for design, and get it done mentality combine to make the perfect planner.

Oh, and her planning platform is incredible! There is a task-by-task checklist, interactive seating chart, budget planner and SO much more included. It helped us stay on task each month to make sure all deadlines were met.

The first person you should call as you start planning is Samantha Joy Events, no questions asked. I HIGHLY recommend her!

Samantha Joy Events's reply:

We try our best to serve and support our couples! We had a blast with your design it really was something fun and different.
Thanks for working with us.

Vanessa V.

Married on 08/07/2020

Wonderful Experience with Samantha Joy Events



We worked with Samantha Joy Events for our wedding this past July. Being that we're both University of Dayton alumni, our ceremony was at the UD Chapel and we had our reception at The Steam Plant. To add to all of this, we live in Des Moines, IA. In comes Samantha Joy Events to save the day! We hired SJE a year before our event for the partial planning and design package so that we could get the inside scoop on all the best vendors in the Greater Dayton Area.

Before we started working with SJE, we spent so much time trying to figure out which vendors amongst hundreds would best fit our needs. Luckily, getting the design package allowed SJE to get a better idea of what style we wanted and then they would provide us with 2-3 vendors for that part of the event. We cannot tell you how many headaches this saved us. Not to mention that neither of us are really good at putting the whole picture together, and SJE's design board helped us get a visual for what we wanted our wedding day to look like. 

In addition, working with SJE took so much stress of our shoulders in the months and days leading up to our wedding. SJE's production and event timeline document was super extensive and allowed us to not worry about when this vendor or that vendor is arriving on our wedding day. This was something that we could share with our wedding party to quickly let everyone know where they should be and when.

The day of the event was just another reminder of how wonderful SJE is with event planning. The way we felt and how little stress we felt more than met our expectations. We were totally engrossed in every moment of our day and didn't have a worry in the world besides enjoying each other's company on our special day. 

We loved working with the SJE team. Throughout the entire process, Samantha was the absolute perfect balance of friendly and professional. She guided us with every aspect of the wedding and we felt a great connection and friendship growing alongside. All of the services provided were priceless and we'd do the partial planning and design  again (or more) in a heartbeat!

Are you interested?

Send a message

Mallory

Married on 09/14/2018

Mallory M.

In the beginning I had no desire to hire a wedding planner, but boy was I SO glad that I did! I honestly don't know how brides get through all of the wedding planning and especially the month-of/day-of coordination without their own Samantha! Choosing the partial-planning package option allowed for me to take the reigns and still be present during the planning process, while Samantha helped to get all of the logistics squared away and stepped in when my indecisiveness got the best of me to ensure that my romantic, dusty blue dream wedding came to life! From providing decor suggestions to creating the timeline of the ceremony, reception events, and rehearsal, etc. Samantha's attention to detail and her talent for design and styling is just impeccable!
Samantha was with me every step of the way through the wedding planning process: From narrowing down design elements including linen and stationary selections (she even customized reception menus for each place setting!) and floor plans to the dreaded seating charts and table assignments, she also helped to handle issues that popped up with my venue just one month before my big day. Trust me ladies, you'll want Samantha in your corner to get things done the right way, the first time!
Having her at the venue the day of the wedding allowed me to just relax while getting ready and enjoy the day with my bridesmaids, while she took care of literally EVERYTHING: Decor setup, minor hiccups (which there weren't any besides one that I was made aware of, all thanks to Samantha's premeditations), vendor coordination, etc. This girl also literally sat on the floor at my feet to hide behind the head table just to sew my broken bustle (which I had no idea whatsoever) back in place following the first dance and while salads were served at the reception! 😂 Seriously, what would I have done without her?!
My wedding day was seriously PERFECT and it was with great thanks to Samantha's amazing work and day-of execution!
And don't let Samantha's "get it done" attitude and skilled determination scare you! Samantha isn't just another one of those strictly business vendors that consider you as just a client; Samantha's bubbly and personable demeanor makes you feel more like you're just planning your dream wedding with one of your life-long girlfriends!
BRIDES! Would you rather be running around and stressing to the max to finish up last minute details the day of your wedding or sipping on mimosas, relaxing with your bridesmaids while being pampered in preparation to marry the love of your life? Do yourself a favor and hire Samantha Joy Events to help put your mind at ease so you can enjoy your wedding planning process every step of the way! Let SJE handle all of the "dirty work" while you create memories that will last a lifetime! ❤️

Joe

Married on 08/24/2018

We are very happy with our choice to work with Samantha as our wedding coordinator. Our wedding was held at Canyon Run Ranch in Pleasant Hill, Ohio, however we were living in Chicago. Luckily, Samantha travels to Chicago often so we were able to have in person meetings which are so much better than just phone calls!

Samantha is extremely organized (hooray for one email thread) and made sure to ask questions and bring things to our attention that we had never considered. Planning a wedding can be tiring and you can get "decision fatigue." Samantha made sure to keep our timeline on track when we would have preferred to procrastinate. On the actual day we received multiple comments from the wedding party and guests at how helpful she is and how hard she was working to make sure our day went smoothly.

There was one miscommunication with the caterers. We were under the impression that they would be staying to clean up, but they ended up leaving earlier than expected. Samantha jumped in and made sure those unexpected loose ends were tied up before we left. Aside from being organized and timely, she also helped pull together our vague design idea for the wedding. From a calligraphy welcome sign to a beautiful escort card display to our modified guest book, she really pulled the whole thing together wonderfully. We would definitely recommend anyone to work with Samantha and we will miss working with her ourselves!

Heather

Married on 05/27/2018

I hired Sam for Partial Planning to help with my Boho/Industrial wedding at The Steam Plant in Dayton, Ohio. From the start, her expertise showed itself through the many vendors and contacts she has. A month before my wedding, I had a change of heart on the decor and she handled everything! We met, talked about what I wanted and she made the changes stress-free. She created a new budget, called vendors and made my dream wedding happen all in such a short time period. She goes the extra mile every step of the way even down to making sure you have a glass of your favorite wine waiting for you after the ceremony. She carves out time so you have special moments alone with your new spouse that you wouldn't think to do for yourself. From styling & decor to organization & details, Sam does it all beautifully. Without hesitation, I recommend Samantha Joy Events to anyone.

Kate

Married on 11/04/2017

I loved working with Samantha - she was a huge part of making my big day the best day ever. I thought she was helpful BEFORE the event, but on the day of, she was my go-to person for making sure every detail was perfect. The little things: helping me with my shoes, making sure my dress was laying/fitting the best it possibly could (many layers of fabric), putting all of our stuff back into the hotel room across the street night of and helping me out of my dress at the end of the night all made me so happy with the choice I made to hire Sam. She is a rockstar and I am grateful I had her on my wedding day.

Lauren

Married on 10/28/2017

Samantha made my wedding day a truly beautiful event!
While my mom and I really enjoyed selecting our vendors, 5 months out from the wedding we felt stuck of how it was all going to come together. A friend referred me to Samantha and we did the Month of Coordination package. From our first meeting we were impressed with her poise and experience. Having her organize the day was amazing, and the day of the wedding we couldn't have pulled it off without her!
Our wedding was late October at Canyon Run Ranch. The ideal plan was to get married outside in the forest chapel. Samantha planned a solid plan b in case of rain. We were lucky for no rain, but wedding day got less than 40 degrees. Samantha made our outside ceremony happen! From getting outdoor heaters set up for the musicians to literally giving me her coat after the ceremony while I waited for pictures, the day was able to happen because of her! All of her month of organizing was so helpful, but her presence the day of the wedding was priceless. She handled logistics at the venue the morning of so my mom, sisters and I were able to enjoy a peaceful morning at home with hair and makeup knowing that Samantha had everything under control. She was on top of every moment from managing the overall flow of events-to the little details like giving the train of my dress a final "fluff" before I walked down the aisle! Wow! Our wedding day was able to be enjoyed as a truly emotional experience. Thank you, Samantha!


Logan

Married on 10/14/2017

Samantha was a great asset in the wedding planning process. I hired Samantha as a day of coordinator due to my concerns with the owner of the wedding venue. Samantha was a great liaison between us (when I was frustrated with the owner!) and always very professional. You can tell her experience is extensive and she often had creative ideas on things that I was concerned about. Also on the day of the wedding she was PERFECT. She has enough back bone to tell you exactly what you need to be doing and her attitude and positivity is very helpful.

No activity was beneath her on the day of the wedding. She did items that the other vendors forgot (filling wedding table glasses, helping serve) and even helped to pin up my bridesmaids dresses that had torn! She even got appetizers brought in to the bridal suite so the groom and I could enjoy a quiet moment alone without starving! Everyone that worked with her thought she was extremely helpful and worth the money! I had multiple comments from aunts and uncles about how accommodating and helpful she was. With the stress a wedding day can bring - it is always worth having at least a day of coordinator so on that day you can RELAX and have fun (you deserve it!).

Katie

Married on 08/04/2017

It is hard to capture in words how grateful we are for Sam. She was extremely professional, responsive, and helpful in every sense of the word. We felt so confident that our day was going to be perfect with Samantha as the point person and she delivered. She was involved with all of the details and kept our requests and needs at the forefront of everything she did. Samantha helped us coordinate the rehearsal and then ensured that the day of went off without a single issue. We seated about 260 people and had a unique venue - multiple vendors working together: Florist, Caterer, Venue staff, Band, Photographers. Samantha handled challenges without issue and executed flawlessly. Our day would not have been nearly as successful as it was without Samantha and we would recommend her to everyone.

Kat

Married on 06/17/2017

I love her company name; it is so fitting! Samantha was a JOY to work with! From the moment I met her, I knew we had found a gem. She was available to attend all my meetings with the various vendors; this alone was a calming factor knowing that she was the thread to connect them all. My daughter and I both noticed her attention to our thoughts and her gentle guide or suggestion to make it all happen! I remember thinking the day before my daughter's wedding that the big reveal of all our preparation would soon happen! I also remember thinking now is the time to just enjoy! Samantha's part in all this was soon to be put into high gear though. And goodness did she handled it all with grace and finesse! Not to mention a contagious smile on her face the entire time! There are so many moving parts to a wedding and reception and many of them I would not have anticipated. But Samantha did! I was able to truly and thoroughly enjoy my daughter's wedding. I will be forever grateful for the day our paths crossed!

Mandy

Married on 06/17/2017

Dedicated, Detail-Oriented, and Determined are words I would describe Samantha. Whenever there was something more we wanted to do she listened and worked through the details to make my idea a reality. There is a lot of organizing I didn't even realize needed to get done and there was Samantha already knowing the next step to get it accomplished. I really didn't know all the parts and pieces that need to simultaneously have to happen in order for our guest to see smooth transitions from one part of the wedding to the next but Samantha does and has it completely worked through. We had particular items to be incorporated in a display and she took it upon herself to create the visual diagram so it could be displayed pleasingly when brought to the reception. She had an entire binder of all my details that needed to happen for my day. She asked the right questions, to understand my vision for the wedding and then executed it in a way that was so much better than I imagined. She stepped in when we needed her guidance, but stepped back to allow us to have our day our own. From the food and signature drink she had come to our room while we were getting ready, to the bathroom baskets for our guests to use if they needed anything, to helping me find what room I had put my change of shoes in, she was there for me. I could not have asked for a better person to help me plan and execute my wedding day.

Miranda

Married on 04/29/2017

Samantha was a godsend for our wedding! She is the most detail regimented event planner I have evet met! Her connections with all area wedding vendors can help enhance your venue and wedding experience. But what sets her apart from anyother is her willingness to go above and beyond at every turn, from making sure the venue is perfect, to making a detailed timeline and even dropping off decorations the day after. She is professional, personable and loves what she does! Thank you Samantha for making our day so special!

User2864841

Event on: 09/24/2016

Samantha was spot on in helping us plan our customer event. She knew how to work with a variety of vendors to build a unique day for our customers. The whole day was outlined and she was on hand to facilitate each event, from kayaking, our lunch scavenger hunt and evening dinner. It such a unique event that our clients will remember. Best part was how flexible she was in working with our budget and changing needs.

Hillary

Married on 08/26/2016

I had a wonderful experience with Samantha as my Day-Of Coordinator for my wedding in Pittsburgh! As much as you may plan and think you have everything together for your big day – the actual day of can be kind of crazy and a bit of a whirlwind so day-of coordination is a HUGE help! My heart was racing so fast as we pulled up to the church and the entire bridal party was in a bit of a frenzy but Samantha met us at the shuttle and told us exactly what we needed to do. From the minute I saw her that day, I knew she would make sure everything ran smoothly. From pinning boutonnieres on the groom and groomsmen to helping usher me into the church without letting any guests see me to timing our walks down the aisle to gathering my extremely large family for photos in the church afterwards she literally had it all covered. And her attention to detail is impeccable! Samantha knows exactly what she is doing and does it extremely well! I cannot express how wonderful it was to work with her and how much smoother she made my special day. I would highly recommend Samantha for any bride who wants help planning her own perfect day!

Mary

Married on 06/25/2016

I cannot say enough wonderful things about my experience with Samantha! From the planning process, to the day of, to the day after Samantha was AMAZING! She was available, responsive, flexible, thoughtful, encouraging, understanding, organized, inspiring... I could go on and on! Samantha helped to make the planning process fun and manageable! I especially appreciated her ability to keep things in perspective. With Samantha by my side I was able to stay grounded during a time that has the potential to become very stressful and hectic. On the day of my wedding I was able to relax and enjoy the event, rather than worrying about the details that I had put so much time and effort into - Samantha took the weight off of my shoulders. I felt confident and at ease knowing that Samantha was there to take care of everything. There are no words that could truly express my gratitude and sincere appreciation for the dedication, energy, and love Samantha put into my special day, but I can say that I could not have done it without her! Simply put, if you want the best then Samantha Joy Events is the one for you!

Larry

Event on: 12/03/2014

I had the pleasure of working with Samantha at her previous employer and was, and am, very impressed with her ability for taking the complex and synthesizing it, presenting it, and executing it, in a simple straight forward fashion. Samantha is one of the most organized people I have known and her natural penchant for organization, planning, and precise execution will make her a great partner for any client that is fortunate enough to choose her for the planning and execution of their event.

Lisa

Married on 09/09/2017

Our Son was married last month. We had a couple of challenges. The first was that we are located in Southern California and the wedding was held in Chicago, Illinois. The second concern was that we had never done this before and had no idea what our responsibilities were as parents of the groom. That was when we met Samantha at Samantha Joy Events. She was the perfect gift at the right time. She helped us at every turn, either by phone, email or in person. She addressed all of our concerns and calmed us down by providing the perfect suggestions at every turn. She has a great eye for beauty and detail. Without her help, there would have been no way we would have enjoyed the Rehearsal Dinner Evening. Thank you Sam, you are a blessing.

Julie

Married on 06/24/2017

Samantha went out of her way to make sure that our day was nothing short of perfect. I am glad we chose to work with Samantha, and I would do it all over again. She was quick to respond to ALL of our emails, texts, and calls leading up to the big day. She helped me organize all my thoughts leading up to our big day so I could see that it all made sense and was even possible. She offered ideas and insight on details we wouldn't have ever even thought of on our own. She even picked us up from the airport for our final walk-through of the venue:) She communicated with the rest of my vendors leading up to our big day to make sure everyone is on the same page. She ran the show at our rehearsal to make sure everyone involved knew what they needed to be doing and when. With all the rain we had leading up to our big day her/our list of things to accomplish was huge and she helped get everything in order with a smile and special attention to details. She dealt with a few difficult vendors, with professionalism and made sure we got what we asked for. She made contact with all our vendors the day of, allowing us to enjoy and get ready with our loved ones. She also ensured an easy clean up the morning after, as she picked up and organized our decor in our room following our reception.


Debra

Married on 10/22/2017

Samantha is worth her weight in gold! She executes her responsibilities flawlessly! We wouldn't consider any other planner!

Sana Z.

Married on 09/01/2018

Samantha Joy is the embodiment of her name...a joy to work with

Planning your wedding is never easy. My wedding on Labor Day weekend 2018 was a three-day multicultural event and we were fortunate to have Samantha every step of the way.

I had initially hired Samantha to perform a design session for 1 of the days of the wedding. Soon, I realized I needed her full planning package. Samantha easily and quickly switched the packages and services. She sends a wedding task list which is catered to white Christian weddings (it has items like tanning services) but I just ignored those, and focused on the relevant items. We had a clause to add on any additional hours needed. Which I took full advantage of!

I added services for Samantha to track and handle the wedding budget, which fell to the wayside. Nor did she really take on managing. When it became clear we would need additional hours for the weekend due to the magnitude of the events, Samantha was mindful of our costs without sacrificing value.

She is well versed on the wedding etiquette and despite never having planned an Indian wedding before, she pulled it off with minimal hitches. I am sure has she gains more experience in various weddings and cultures, she will grow and be even better than she is. When my cousin offered to help coordinate the events, she gladly accepted the needed help.

Samantha went out of her way to help me at the end of her reception night, when I fell sick. She is vast in her connections with local vendors and on how to get a bang for your budget. Her creativity on how to reuse decorations and flowers saved so much stress and costs.
My biggest concern on the wedding weekend was the DJ. I wish I had explicitly expressed to Samantha to feel empowered to take control on handling him, and had been on a conference call with her and him to ensure things ran smoothly. But throughout the wedding, Samantha was cool and calm and took charge on the situation.

Her business is growing and is well deserved. There are times when she was not able to answer emails right away because she was out of town for another wedding, workshop or vacation. As the wedding approached, vendors would ask for a timeline and conference call to go over the details. We were able to coordinate those requests with Samantha - she does get back to her clients and vendors, even if it means a conference call at 8:30 PM or on her way to the airport.

I wish I booked her full services at the get-go. However her full package does not always equate to hours needed. Hence our purchasing additional hours, after purchasing the full service package.

At the end of the day, Samantha wants her couples to be happy and she tries her best. And is focused on that, despite the noise from family input.

I regret on not utilizing her skill and creatively fully. In my need to not want to bother her, or stress her out on chaos of an Indian wedding, I didn't involve her in designing the cake or cake-topper, and wish I had. And not worried about putting her off. She is capable if not short staffed. Definitely book her for your wedding.
Are you interested?
Send a message