14 Reviews
Recommended by 100% of couples
Quality of service

5 out of 5 rating

Average response time

5 out of 5 rating

Professionalism

5 out of 5 rating

Value

4.9 out of 5 rating

Flexibility

5 out of 5 rating
Awards
37 User photos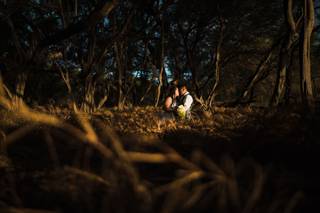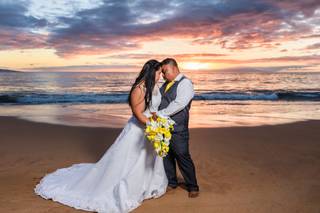 + 33

photos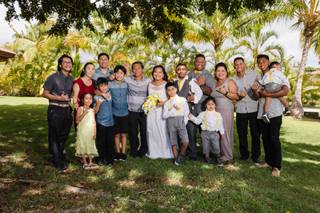 Isiah T.

Married on 02/14/2021

Simply amazing and epic. Everything we could have ever wanted.

If I could give 10 stars or more I would. While searching for a videographer, I was on youtube and stumbled upon one of Andrew's wedding videos. From the transitions of scenery to the couples saying their vows, to his beautiful drone shots. It immediately caught my attention, his attention to detail and catching those special moments, showed me his passion and it was shown through his artwork of cinema. Andrew was there from the start of our journey, he was outgoing, passionate and showed so much love throughout the process of explaining his process. We knew that the final outcome would be Epic. And epic it was, he captured all of our special moments, he turned my backyard into a beautiful cinema film. We have cried every-time we have watched it, he captured our aloha and the mana of our ohana. Andrew mahalo again and we definitely recommend to anyone who needs an artist videographer, Salty Trades Media Andrew is the person to go to. Mahalo again! If we ever need another videographer, we will definitely be back! Mahalo again!

Mahalo From The Newlyweds,
Isiah and Didi Teruya

Merian A.

Married on 08/22/2020

I don't always write reviews but after all that we experienced with Salty Trades, I found that AMAZING is an understatement for them.

I had been shopping around for a videography/photography team for a while and even though I put in a few inquiries to other teams, I already knew I wanted Salty Trades Wedding Cinematographer (Andrew Barrera) and their photographer of BV Maui Photo (Brandon Vincent) based on their pictures and videos on their Instagram profile and their website. I knew that this was going to be our special day and I wanted a team that knew how to work well together and that they would be the team to capture it and I'll remember it for the rest of my life. Little did I know how true it would be and how well they would really capture it.

I was so ecstatic when Andrew, the owner and cinematographer who handles the invoicing side of everything, contacted me and told me about his packages that he had. He even suggested things based on my concern for what we wanted to do and our budget. Not many businesses are that considerate where they think of the client first. We were in the middle of the pandemic with businesses shutting down on the island so they knew that money was tight, but I still wanted to have the wedding because love does not stop and they were super accommodating! During our first contact (pre-pandemic), we were originally going to have a reception the same day as the ceremony and he was able to create a package where we could do ceremony and reception. However, when I told them that we were no longer able to have a reception due to covid restrictions, but was still able to have a small ceremony, they were so flexible and accommodating in changing the agreement to ceremony only. Then they asked if we wanted to do a sunset photo shoot since we weren't doing a reception and you bet I said yes!

For our wedding day, he took the liberty to speak with the church coordinator to ask where he was allowed to walk and film and what important info he needed and he relayed that information to his team. And man, they executed everything flawlessly! Once the ceremony was done, we took some family pictures and then after we got to relax for a bit before going to our sunset photo shoot.

That experience with the sunset photo shoot was definitely amazing! They made you feel like you were the only people on the beach and it felt like we were making a movie. We don't take photos or videos professionally so we're kinda awkward so doing all the things they told us to do felt weird, but I definitely trusted them.

Fast forward to a week later and they're done with everything. Guys, ONE WEEK! Who else does that?! Talk about speedy service. But that speediness did not compromise quality one bit cause when I say I was blown away I mean I loved it and felt like I was there on my wedding day all over again and in my feels with everything AGAIN! He invited us to his house so that we could see the pictures and videos they had created for us and whew I was completely in awe the whole time.

All the pictures they captured were so phenomenal, I could not believe that this was from my wedding! They captured all the emotions plus me trying to hold back tears from seeing my almost husband during our first look before the ceremony. During the ceremony they were able to capture everything I wanted and more. All the family pictures that they had made it hard to choose which I wanted to frame up on my wall because there were so many! The icing on the cake was the sunset photos. They made the pictures look like it could be on a magazine cause it was so much more than beautiful! They had such great ideas that I would never think of and the way they use their lighting and natural lighting was *chef kiss* perfect!

Then came the Cinematic Highlight Reel. The video quality was oh ma gosh breathtaking and clear and I was crying cause it was stunning. And the best part for me was the audio. So he has a studio at his house where he offered us to record our vows so that he would be able to capture the best audio quality possible, but like little procrastinators we are, my husband and I didn't finish our vows until THE morning of our wedding day which means we didn't do this route. But when you watch our cinematic highlight reel plus the whole ceremony video that he put together for us, it's like you could hear everything crystal clear and according to everyone that attended our ceremony, they couldn't hear my husband's vows because he didn't say it loud enough for everyone else to hear but just loud enough for me to hear it which was all that mattered. BUT he captured it all perfectly as if they all stood where I was standing. It was THAT GOOD! I made so many people cry watching our videos cause they were finally able to hear both he and I stating our vows. Andrew has the skills of making these movies BETTER than Hollywood quality!

They could have treated us as a simple transaction, but they didn't. To me they're more than a business, they're actual people who care about the people that they will be working with. They've actually become our friends who I'll forever be thankful for capturing such wonderful memories!

To say that I am happy with everything is an understatement, I am over the moon as they made everything so much more beautiful than I ever envisioned. This was a simple wedding, but they made it look so much more than that! Thank you Salty Trades Team!

Maria R.

Married on 02/09/2020

Forever Memorable!

Andrew and his Team at Salty Trades Media did an AWESOME job with capturing photo/video footage of our wedding day! In planning our wedding my husband and I were debating as to contract a photo/videographer; we are extremely happy that we did!!! Andrew was on top of everything, he replied and answered all my questions and concerns in a timely manner.

Andrew and his Team have the highest quality audio, multiple Ultra HD cameras and "DRONE" coverage! Andrew provided us with a "Cinematic" that highlights our wedding and it is BEAUTIFUL!!! We have watched it over and over again! Our family and friends loved our wedding film and were very impressed by it, they even teared up watching it!!!

All brides and couples, if you would like your wedding to be forever memorable, you need to get in touch with Salty Trades Media, No regrets!!!

Here is a like to our wedding video for you to see the amazing work of Salty Trades Media:

https://www.youtube.com/watch?feature=youtu.be&v=-TVmQIfqxL4&fbclid=IwAR2oEo_IcVJbF98LnFSHUGmePiDEX5KswFmPb3KRZmViBDBXrFQm-HNJTNE&app=desktop

Mr. & Mrs. Chang

Are you interested?

Send a message

Jerad H.

Married on 10/19/2019

Salty Trades will deliver as promised!

Salty Trades will deliver as promised! We just had them film our wedding on Maui, and they did a perfect job. The results are stunning, and we've had many compliments from our family and friends! Their attention to detail, calm demeanor, and professional quality make them an easy choice. Thanks Andrew and team!

Ke Li

Married on 08/06/2019

Amazing wedding video with experience to match

I am never a person that's huge on writing review, but I really want to say we were so lucky to have found Andrew's company Salty Trades cinematography service on Maui. We watched a lot video and we decided to go with Salty Trades because Andrew's video stood out from the rest. And we couldn't be happier with the whole process, the finished video and all the responses we have gotten from family and friends!
Andrew was great to work with, always prompt and easy to communicate with, and he answered any concerns we had and reassured us with our decision. He invited us over to his house before the wedding to go over what to expect on the day, recorded our vows, and answered any last minute jitters. He really made us feel comfortable with the process from beginning to end, and it was a huge relieve from the stress of planning out the wedding. He invited us back to watch the video before we left the island. The video is amazing, it really captured everything we had hoped for and much more! Please see for yourself, https://youtu.be/vf5PFGu1eFs It has been a while since the wedding, we still get the raw emotions of the day every time we watch it.
If you are thinking about booking him for your wedding, don't hesitate!!! He have captured memories we will cherish forever!


Krista N.

Married on 07/07/2019

Grateful for the Gift

As I'm sure most of us know, finalizing all the many details of a wedding is stressful, to say the least, and all while your engagement and wedding prep is supposed to be such an enjoyable time in your life! As I began to focus on the videography details for our special day, I was left feeling disappointed, and discouraged by the lack of professionalism, the untimely responses to my inquiries, and the insanely exorbitant prices I was finding from the vendors I contacted, (simply because the term "wedding" was included...) That was until, I found Salty Trades!

While I felt all the other videographers I reached out to, were needlessly capitalizing on, and taking advantage of the couple's once in a lifetime event, Salty Trades' prices were extremely reasonable for what was being offered, especially for what was produced as our final wedding videography product!

From the first response to my inquiries by owner, Andrew, to the final viewing of our wedding video, all communication was very timely, and impressively professional, yet pleasantly friendly! It was as if Andrew were just an old, close friend of ours, who had known us for a long time, and who wanted to give us the best wedding gift he could, through his talents!

Having never done this before, and having no experience in asking the right questions about wedding videography options, Andrew answered all my many questions with patience, and I felt a genuine interest from him in our love story. Andrew stayed on top of keeping us on track with scheduling our initial couple's interview, and our vow pre-recordings in his personal recording studio. He stayed in contact with our pastor, and requested the wedding ceremony details so that he could familiarize himself with what would take place on our special day, and be ready for all the important moments, so that he could be in just the right spots, and just the right times!

His experience in capturing weddings left me feeling completely at ease, and totally confident in his abilities to make our wedding video perfect, according to our wishes! His focus on us, made us feel as if we were the only couple with which his demands were attentive to! The personal interest we felt he took in us, left us feeling as though we had gained a new friend!

The finished product was completed in a timely manner, as we eagerly awaited the ability to share our video with our loved ones, especially with those who were unable to attend our wedding! We were invited to the first showing of the video, where we were simply blown away at the incredible capture of our most precious day, and moments! He made sure that we had all we needed in order to keep and protect our wedding video, our full sound recordings, and our uncut, full version video! All this was offered to us at a price that two, simple, hardworking individuals could afford without breaking the bank!

Andrew has a true passion for, and love for what he does, and he puts his whole heart, soul, and energy into the finished product! It truly was the best decision we made throughout the whole wedding planning process, and we will be eternally grateful for the gift he gave to us of capturing our very special day, and all our special moments!

Thank you endlessly, Salty Trades!

Liz

Married on 06/04/2019

Amazing video

After looking for videographers for months and months, I was almost settled on having no video as there was nothing within our budget that which suited our style. Andrew was fantastic from the moment that we made contact. We were so happy with the whole process, he was extremely professional on the day and delivered a video that was beyond what we had hoped for. One of the best decisions we made with our wedding!

Eppersn J.

Married on 05/23/2019

Epperson Wedding 2019

On 5.23.19 at 4:30pm, the love of my life and I shared the most beautiful moments together on the island of Maui at Sugar Beach Events.

Surrounded by family and friends, Andrew Barrera of Salty Trades Media captured not only the visual representation of our wedding, but all of the raw passion, support and sounds that accompanied it.

Andrew was able to record over 7 hours of love on our big day and poetically composed a 7 minute cinema for us to enjoy, share and reminisce upon.

I feel it's very important to note that Andrew of Salty Trades is NOT A VIDEOGRAPHER. Andrew is a CINEMATOGRAPHER. He will not just record your day, he will turn it into a movie fit for the big screen. The difference is in the way he captures the events and later edits them. The difference is in the passion and love he puts behind his art. Most wedding vendors see the event as a paycheck or a simple "money-maker" so to speak. But not Andrew.

From the beginning, when we first found Andrew, he was so elated and excited to help us capture our big day. He was so helpful and answered every single one of our questions without dancing around it. He was super kind and friendly but also straight to the point when it came to answering our questions which made it easy to understand him.

He took his time explaining each option that he had available to us and went in-depth about what the difference was between him and everybody else. Needless to say, we made the right decision.

Andrew brought a personal touch to the entire wedding. He brought us into his home to record our vows in his PROFESSIONAL RECORDING STUDIO. This gave us the opportunity to recite our vows in a quiet place that would allow for "crisp and clear" audio for our cinema. His wife Sarah welcomed us with open arms and his dogs Lily and Charlie were the most loving little pups on island. He made us feel like family.

He coached us through the entire recording process and made us feel comfortable so that we had very little to stress about (because if you're getting married, you already understand that you've got enough stress on your plate as it is) because he understands what it's like to be in our shoes.

Andrew gave us peace of mind, which for newly weds, is all we want. But above all, He gave us the best cinema that we could have ever asked for. Our family, our friends, our coworkers, everyone that has ever taken them time to view it, have stated it's not just a video, "it's a movie". We've received so many texts and comments about how much they love it and how they cried while watching it, accompanied with crying emojis. It's a fairytale cinema that every bride and groom want.

At the end of our trip on 5.30.18, Andrew again, asked us to stop by his house to check out our cinema. Please note that we were married on 5.23.19.

Andrew completed our cinema in 6 days and he presented it to us on the 7th day. This meant he worked tirelessly through the days and nights to provide us with our movie. His hard work went above and beyond anything we could've ever asked for.

He provided us with 7 hours of raw 4K footage, our full 25 minute ceremony in 4K(on a separate file), over 50 still-shots captured from the 4K footage (in separate files), our very own YouTube link that NEVER EXPIRES, a 60 second snippet for social media that then redirects to our YouTube link with a simple click, and explained that he would keep all of it himself on a personal hard drive so that in case we ever lost it, he would have it. As well as to pull still shots from at a later date should we choose to.

Andrew provided us with the professionalism and quality cinema and was absolutely worth every dollar.

He is not just a cinematographer. Andrew and his wife are now family to us both. We cannot emphasize enough how proud we are of his work. I hope that everyone who reads this, sincerely considers every word and discusses with Andrew what he can do for you at your special event.

From the bottom of our hearts, thank you Andrew for everything you've done for us.

With much love and happiness,
Jordan and Bianca Epperson

Please find below the link to our wedding cinema:
https://youtu.be/s5bOKIeJvIk

+ 4

photos

Bianca Z.

Married on 05/23/2019

Best Cinematographer on the Island!

Andrew was our cinematographer for our wedding in Maui, and I am so elated with the cinema he has made for us. It's beautiful, it is touching, and I have received so many compliments! Many people expressed to me that they have cried watching the cinema. Others have said they could feel the love expressed through the cinema. I have shared a few comments that family and friends have made in the picture section. Andrew's work speaks for itself, and the comments from my family and friends are proof of how amazing his work really is.

I am so happy we found Andrew, I will forever have his cinema as my memory of our wedding and I can see it and share it whenever because it is on YouTube. The YouTube link to our video is so easy to share with family and friends through text.

I highly recommend going with Andrew- Salty Trades Media.

Thank you so much Andrew! We so appreciate you!

*Side Note: I follow Andrew on YouTube, and watching his videos always amaze me and touch me as if I know the couple. Knowing the heart and hard work Andrew puts into making his product, makes them just that more special. With Andrew, I didn't feel like I was just another one of his customers, because the service he provides feels so individualized and personal to both my husband and I. We hope to see you again Andrew!

Faith

Married on 04/20/2019

Extraordinary

Andrew and his team delivered an output that is above expectation. It's more than we have dreamed or hope for. They're very easy and fun to work with. Choosing them to do our vid/photo for our wedding is the best decision my husband and I ever made. Highly satisfied with the photos, especially the cinematic wedding film! It's AMAZING! Highly recommended.

Amanda B.

Married on 03/11/2019

Priceless!

So amazingly talented! I could not stop crying watching our video. The quality, the song choice, and the variety of angles really kept the highlight video engaging. This is the most precious memory that I will cherish forever. Thank you Andrew for capturing our special day.

Michaela A.

Married on 03/11/2019

Best photographer on Maui!!

Andrew is awesome! He captured every moment just as we had hoped! We had a sunset wedding and he made sure our moments looked as amazing as we had hoped. On top of that we got our edited pictures back in days...not weeks or months like you might expect with other photographers. Thank you Andrew for ensuring our special day was everything we hoped for.

Victor

Married on 09/01/2018

Excellent job by Andrew.

If you are in Maui and need a great photographer with lots of patience I truly recommend Andrew. I worked with him and his wife for our wedding pictures and we love all of them. Easy to work with fun and outgoing

Nicole M.

Married on 09/01/2022

Awesome wedding videographer & photographer

My husband and I loved the final product. In one word, it was "magical"!
The photos really captured those precious once-in-a-lifetime moments and the video put us and our family/friends to tears because it was extremely warm and emotional - just what we were looking for. Highly recommended!