260 Reviews
Recommended by 98% of couples
Quality of service

4.9 out of 5 rating

Average response time

4.9 out of 5 rating

Professionalism

4.9 out of 5 rating

Value

4.8 out of 5 rating

Flexibility

4.9 out of 5 rating
15 User photos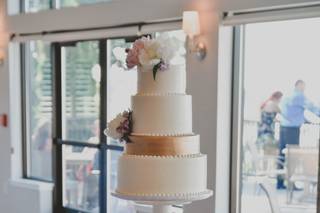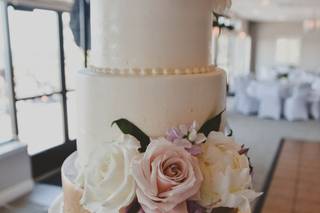 + 11

photos
Asher L.

Married on 07/18/2020

Amazing Cake and Delicious Desserts

Ryke's really outdid themselves with our cake and the desserts we ordered from them were delicious. Their service was very responsive, they worked with us through multiple date changes because of covid, and were just generally a pleasure to work with. I 100% recommend them for your event.

Wedding cake:
We did a nontraditional cake. It was three-tiered, with blue marbling with other colors mixed in, and some gold leaf. Each tier was different, one chocolate, one vanilla, and one mixed. The icing was buttercream. It was absolutely delicious and STUNNING. The coolest cake I've seen honestly. We gave them a reference photo from Pinterest and they were able to really make it their own with the colors we asked for. It was a wow factor. Everyone kept saying how cool the cake was.

Desserts:
We did mini cheesecake bites in chocolate Reese's, turtle, and chocolate mocha. Each was delicious and a great little bite to compliment the cake and some other desserts.

Christine F.

Married on 09/07/2019

Can't wait to eat cake!

We had such a wonderful experience. They absolutely work with your ideas and have inspiration pictures right at the table.

Ryke's Bakery, Catering, & Cafe's reply:

Thank you for your kind words, Christine. We are so excited to work with you and help you celebrate your big day! You'll be eating your wedding cake before you know it!

Brittany R.

Married on 06/29/2019

Dream Cake

Ryke's has always been my favorite bakery so it only made sense to have them create my dream wedding cake. The tasting was easy to set up, went smoothly and felt very intimate. The final creation was everything I had hoped for.

Are you interested?

Send a message

Stephanie

Married on 06/09/2019

Fantastic service

Ryke's provided catering and cake for our wedding and everything ran so smoothly at the reception! We gave a picture of the cake we liked for inspiration and it was made beautifully! Not only did it look good, but it also tasted amazing! Kelli, one of the head chef's, was great at communicating with us before the wedding and the day of the wedding. We chose tacos for the dinner and they were so good! We were given lots of options for toppings, and we were so happy when we were given two to-go boxes for the end of the night. Amazing!!

Ariel

Married on 05/17/2019

Amazing quality and service

We hired Ryke's for both our cake and catering and they were absolutely amazing. Very responsive to emails, super friendly service, and great quality food. They were so great the day of the wedding and helped make the day move more smoothly. Definitely recommend!

Ryke's Bakery, Catering, & Cafe's reply:

Thanks for the kind words! We are delighted that your day went smoothly and that we were able to be a part of your special day!

Colleen B.

Married on 10/06/2018

Beautiful and Delicious

Ryke's just never disappoints. Our daughter opted for a smaller cutting cake, and then a "kitchen" or sheet cake to be served. As an artist, she had a very specific look in mind, and Ryke's did a beautiful job. Set up and serving were done professionally, and there were even leftovers to bring home!

Ryke's Bakery, Catering, & Cafe's reply:

Thank you, Colleen, for sharing your experience and your excitement with us! Kathleen had a vision and it was our absolute pleasure to bring it to life for her. It was so wonderful to join your family in celebrating. Best wishes to the new couple and to your whole family!

Dana

Married on 09/01/2018

AMAZING experience with Ryke's

Ryke's did a phenomenal job catering our Labor Day weekend wedding! We were beyond satisfied with how everything turned out. Everyone was raving about the food and the cupcakes! Kelli did an amazing job answering any catering questions I had before the wedding and was amazing help the day of our wedding! Breanna was amazing as well answering all the bakery questions before and the presentation of our dessert table was beautiful. Ryke's will forever be a stop on our way to the west side of the state for our family. We are obsessed with the gourmet mac & cheese :) We cannot thank you enough for being a big part of our special day!

Ryke's Bakery, Catering, & Cafe's reply:

Dana, thank you so much for your kind words and for inviting us to take part in your special day. We can't tell you how much it means to us to know that everything was as beautiful and wonderful as you hoped it would be for your wedding. We look forward to seeing you around the bakery any time you come to town. Congratulations!

Jessica L.

Married on 08/18/2018

The best wedding desserts!

Breanna and the staff at Ryke's Bakery was hands down the best choice for our wedding desserts! My husband isn't a fan of cake in general, but we both agree we will definitely go back for an anniversary dessert every year. Ryke's did an amazing job setting up our cake for the reception. It looked exactly how we imagined it. Our wedding guests loved their donuts too! We had sprinkled, chocolate, pumpkin and blueberry donuts. Every single one of them was gone by the end if the night. Thank you Ryke's for helping make our big day so special!

Ryke's Bakery, Catering, & Cafe's reply:

Thank you so much, Jessica! We are just so excited that your guests loved the doughnuts. They must have loved them if they were all gone! Congratulations, and we can't wait to see you every year for your anniversary!!!

Carly

Married on 08/11/2018

Highly Recommend!

Rykes Bakery and Breanna were wonderful to work with and the cake was not only delicious but beautiful. I highly recommend them for any event! Breanna was helpful, friendly, responsive and timely. Couldn't have asked for more!

Ryke's Bakery, Catering, & Cafe's reply:

Carly, thank you so much for your kind words! It was an absolute joy to work with you, and you made our job very easy! We really appreciate you taking the time to recommend us. Best wishes!

Ashley

Married on 08/03/2018

The best choice

Ryke's was the bakery we were going with no matter what, we live on the lakeshore and there was no other option for us. They made every detail our reception wonderful. The food was simply amazing, tasted great and the cupcakes were divine! Adam and Breanna were just awesome to work with!

Ryke's Bakery, Catering, & Cafe's reply:

Ashley, it was our absolute pleasure to work with you! We are so glad that you loved your dinner and desserts, and more than anything we are honored that you trusted us with your big day. Congratulations to you and your new husband!

Erin

Married on 07/27/2018

Everything about our experience with Ryke's was fantastic, especially since we were planning our wedding from another country! They worked with us, through email and allowed us to send relatives to do the tasting, and were able to make our cakes exactly the way we wanted them. Not to mention, they tasted absolutely like heaven. We received many complements regarding how delicious they were. The highlight was the our special request for a groom's cake shaped like a giant curling stone and they delivered (pun intended)! It looked so real that our curling friends grabbed it for a photobooth shot next to their curling broom!

Ginny

Married on 06/30/2018

Ryke's Bakery couldn't be a more perfect fit for my wedding! Breanna was so easy to work with! She answered all our questions, replied to emails in a timely manner and listened to our ideas to create the perfect wedding cake and cupcakes for us!

+ 2

photos

Sam

Married on 06/09/2018

Ryke's is DELICIOUS, affordable, and makes some beautiful cakes. Brianna is super patient and helps you through the whole process. She is excellent about asking you about your budget and style and then laying out all your options. They were so easy to work with and our cake turned out beautifully. My husband doesn't even really like sweets and he ate every bite of his cake!

Ryke's Bakery, Catering, & Cafe's reply:

Sam, thank you so much for inviting us into your special day. We are so thrilled that you loved every single bite of your wedding cake. We hope it created beautiful memories that you will cherish for years to come. Congratulations and enjoy the ride!

Victoria

Married on 05/19/2018

Awesome to work with. Beautiful and very tasty!!!

Lindsay

Married on 05/12/2018

We ordered cookies and a cookie cake for our wedding and they were AWESOME! Our guests raved about them all night - especially the peanut butter ones! Rykes was very helpful when we were deciding what to order and how much. We loved it all! Thanks Rykes!!

Ryke's Bakery, Catering, & Cafe's reply:

Lindsay, you are so welcome! We are so glad that both you and your guests loved everything so much. Congratulations, and enjoy this new adventure!

Minna

Married on 04/28/2018

Our cake was amazing! It was just as we had planned! We also had cupcakes and all of the guests enjoyed them. We had no complaints about any of the desserts. We would recommend Ryke's to anyone in need of wedding cake or cupcakes!

Ryke's Bakery, Catering, & Cafe's reply:

Minna, thank you so much for your kind words! It was wonderful to get to be part of your special day, and we are so glad your guests loved your desserts! Congratulations again!

Jenna

Married on 04/28/2018

My cake turned out amazing for my wedding! It was everything i hoped for. And it tasted amazing. Thanks again rykes!!!

Ryke's Bakery, Catering, & Cafe's reply:

Jenna, you are so welcome! Thank you for bringing us into your special day! We hope the entire day was beyond your wildest dreams. Best wishes from all of us here at Ryke's!

Amanda

Married on 11/11/2017

This was the most professional bakery I went to, which was why we booked them! They had samples of the different types of cake and filling for us to try and offered suggestions without ignoring what we wanted. The cake was of course delicious! I had guests who said they didn't like cake asking me who I had used at the end of the night!! I would highly recommend Ryke's!

Ryke's Bakery, Catering, & Cafe's reply:

Thank you so much, Amanda, for your review! We loved working with you, and had such a blast creating the perfect cake for your wedding! Congratulations, and best wishes!

Chelsey

Married on 10/14/2017

I wen with their wedding cake specialist Breanna and she was amazing! My cake was extactly what I wanted. Ryke's is known for having the best cakes and desserts so I knew I was going with them from day one!

Mary

Married on 09/22/2017

I used Ryke's bakery for my wedding that took place at the Holiday Inn- Spring Lake back in September. Ryke's bakery has outstanding staff, services, and the best cupcakes/cake ever. The icing is to die for! I would recommend them for any special event or just to stop in and treat yourself to a delicious sample of heaven! A special Thank you to Breanna who took the time to make my special day even more special. Also, a BIG thank you to all the Ryke's staff! I'll be back..soon ;)

Ryke's Bakery, Catering, & Cafe's reply:

Mary, you were so wonderful to work with and Ryke's was truly honored to be part of your day. Thank you for inviting us into your celebration, and we hope you are enjoying your first few months of marriage!!! Can't wait to see you again soon!

Sarah

Married on 09/09/2017

We had such an amazing experience with Ryke's for our weddibg, butwe always have. They gave us our dream cake that was personalized how we wanted with all the details that we discussed. I actually stop there on my way home from work on bad days to grab a slice of cake to go! Yes! It's that good!

Ryke's Bakery, Catering, & Cafe's reply:

Thank you for your review, Sarah! Glad we could make your wedding day everything you wished for, and glad to be able to cheer you up on a rainy day. Best wishes!!!

Jennifer

Married on 08/19/2017

Ryke's so easy to work with, they were accessible by email, phone or in person. Ordering the cakes was simple and they turned out beautifully. Also delicious, people are still talking about the pistachio cake and its been months! I also arranged for donuts for our late night snack and Rykes matched the sprinkles to our colors. I can't recommend them highly enough.

Ryke's Bakery, Catering, & Cafe's reply:

Thank you so much, Jennifer, not only for taking the time to review our services, but also for being such an amazing bride to work with! It was our pleasure to help you celebrate your wedding day, and we hope it was even better than you imagined!

Paula

Married on 08/19/2017

For anyone getting married, having a birthday, or just in need of an amazing cake, please do yourself a favor and go to Ryke's. Everyone there is so nice to work with and ordering my wedding cake from them could not have been easier. Also please consider going in for lunch or just some of their sweets like their amazing donuts and cookies. The frosting alone will make you hate all other cakes by comparison.

Teresa

Married on 08/05/2017

Ryke's has an amazing reputation for a reason. Choosing them was a no-brainer and we were not disappointed. We decided to go with cupcakes and they were a huge hit with our guests! My tip, get one of each flavor if you do this and hide them for a late night snack once you're at your destination for the night... otherwise you may not get a chance to indulge in them!

Samantha

Married on 07/21/2017

No other bakery even comes close. He staff was a dream to work with and created the perfect wedding cake for my special day. As a bride I had piece of mind working with them and knew that everything would be fabulous, and it was. Thanks Rykes bakery!

Ryke's Bakery, Catering, & Cafe's reply:

Thanks for inviting us to be part of your special day, Samantha! We were honored to celebrate with you. Best wishes as you start your new adventure!
Are you interested?
Send a message