37 Reviews
Recommended by 98% of couples
Quality of service

4.9 out of 5 rating

Average response time

4.9 out of 5 rating

Professionalism

4.9 out of 5 rating

Value

4.9 out of 5 rating

Flexibility

4.9 out of 5 rating
Awards
49 User photos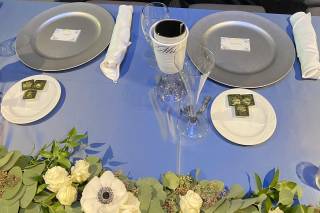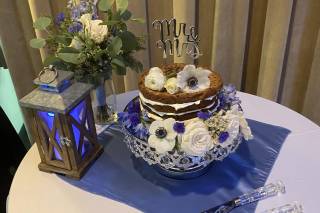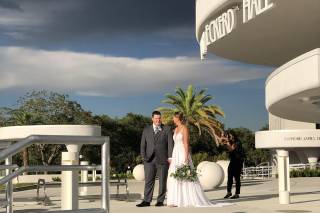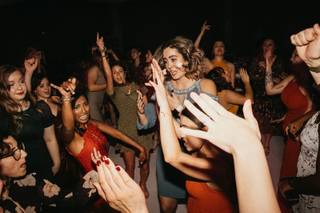 + 45

photos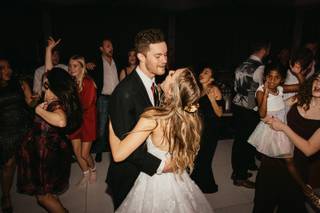 Featured

Delaney M.

Married on 11/07/2021

Amazing! They were so helpful, affordable, and blew us away with a wonderful experience.

I'm not exaggerating when I say I think everyone should have their wedding at Ruth Eckerd Hall. Our experience was worth way more than we paid. The food was excellent, the staff was overwhelmingly helpful and made us feel like royalty on the day of. Completely stress-free planning with the team. Our guests raved about the champagne and the experience. We wouldn't change a thing!

+ 5

photos

Alana L.

Married on 01/30/2022

Megan Gurba made the ENTIRE experience!!!

10/10 recommend Ruth Eckerd Hall. My wedding reception was held at Ruth Eckerd Hall and it was everything I could've imagined and so much more. It would not have been possible without our AMAZING coordinator, Megan. Not only did she put up with my EXCESSIVE amounts of e-mails and questions but she took the time to respond immediately to each and every one of them. She never complained or made me feel as though I was bothering her. Honestly, it felt as though my wedding was the only one going on! (Which I know is not true.) In addition, my vendors had nothing but great things to say about her as well. This includes my photographers, DJ, and bakers. Megan took the time to make my vision come to life! There was a wedding the day before mine so I couldn't set up my centerpieces. However, Megan set them all up for me the day of. The day of was beautiful. The entire Ruth Eckerd Hall staff was very attentive and helpful to my needs. The staff even brought me new plates of food when I was too busy talking! My food got cold and without hesitation, they brought me more. (Which was absolutely delicious btw!) Beautiful venue, reasonable prices, extensive options for food, and staff that made the entire experience wonderful.

Jolene J.

Married on 01/07/2022

The first wedding during COVID

Planned and rescheduled twice, the day went off almost without a hitch. The only 'hitch' was a little bit of rain. After all the planning and adjusting due to COVID regulations, Megan, Jackie, Chef, Karen and the entire team made it the perfect day and night to remember. From the bridal party accommodations to get ready day-of to handling our guests and our other vendor partners, plus the unusual circumstances, we can't speak highly enough of this venue. Communication about the rules that kept moving due to Covid was exceptional and we worked together to adjust as needed. The security team was welcoming and efficient and every guest was screened, temperature-checked and hosted with the highest discretion. Not a single guest encountered any illness as a result of attending our event. The bartenders, servers, support staff and decor, lighting, and overall atmosphere were exactly as we had hoped. The food was exceptional - nothing really more to say there - and special dietary requests, personalized cocktails and lighting and decor requests were met and exceeded in every case. In the few weeks since the wedding, our guests have shared with us how much they enjoyed not only the food but the whole evening. MANY have said it was the best wedding they had ever attended. And the bride and groom (as well as the mother and father of the bride) enjoyed the evening with family and friends instead of worrying about the first detail. Megan, Jackie, Karen and the team thought of everything. Highly recommend without pause for any event.

Are you interested?

Send a message

Andrea I.

Married on 11/05/2021

Best vendor ever!

Amazing, responsive, even when Megan was planning her own destination wedding.

Cady

Married on 06/06/2021

Best venue/staff ever!

Everyone at Ruth Eckerd was very helpful and on top of everything. Highly recommend them!

Kutura W.

Married on 05/29/2021

Elegant Experience

Our wedding reception was treated with such care and detail by Ruth Eckerd Hall from start to finish. We personally encountered so many trials and tribulations. Meghan helped to ease our worries, as we were in great hands. Jackie with Ruth Eckerd Hall was also just as amazing as Meghan. The food was phenomenal. My vision for my Cocktail hour and Reception was carried out with every detail from this wonderful team. I will host an event with them in the future and highly recommend anyone and everyone to them. 5.29.2021

Caitlyn N.

Married on 04/29/2021

Best Wedding Ever!

This is the perfect place to have your wedding reception or event catering! They had wonderful staff, food, and event coordinator, Megan. She helped me create a vision into reality. Everyone was very responsive and even catered a meal for my cousin who has multiple allergies. This really was a dream wedding and I'm so glad I chose Ruth Eckerd Hall for my wedding!

Dominic C.

Married on 10/16/2020

Helpful. Reliable. Amazing

From start to finish, everyone at Ruth Eckerd Hall went above and beyond even with the sudden changed caused by COVID-19. Whether it was just questions on what's allowed to changes in policy due to the virus, Megan was extremely helpful and responded (when we emailed) faster than texts I get back from my own family.

We absolutely loved our wedding there and couldn't have picked a better venue. We believe it's the best bang for your buck!

Jodi W.

Married on 09/26/2020

Outstanding!!!

I couldn't have chosen a better venue to have my wedding at. The staff at Ruth Eckerd Hall helped to make my day so special and went above and beyond for everyone there!! The staff took care of us all day and made sure we had what we needed/wanted. They made sure we weren't running behind on schedule while getting ready/taking pictures before the ceremony. They wanted to make sure my husband and I ate during the reception and brought us drinks so we wouldn't have to get up! Those were just some of the things the staff did to help and made sure we were taken care of. My husband and I want to thank them from the bottom of our hearts for making our special day so memorable! I love Ruth Eckerd Hall and would always recommend this venue for weddings and events!!

Harry T.

Married on 03/08/2020

Best Day Ever!

Everything from the staff to the service was phenomenal! I cannot thank REH enough for making our day the best day ever. Kudos to Megan and the staff they served in EXCELLENCE!

Allison

Married on 02/29/2020

Megan Gruba and Her Amazing Team at REH

Our wedding was on February 29, 2020 and was an amazing event, thanks in much part to REH and their amazing team. They are such a flexible group and provided so many special touches that made wedding planning from another state a complete breeze. I highly recommend them!

+ 13

photos

Ellen

Married on 02/02/2020

Beautiful & Elegant

This was the first place we toured and every venue after we compared to it. What originally held us up was the ceremony being on the terrace (Uh, what?! It was BEAUTIFUL!!) and the fact we couldn't taste test before booking. We paid for a pre-tasting before booking and signed our contract, I believe, the same day! Leading up to the wedding I worked with Megan on everything and she was an absolute dream to work with! She made planning and wedding day so simple and easy! I brought all my décor the day before at the rehearsal and the staff set everything up and took everything down. They even allowed us to come get our stuff the next day which was super helpful to us (thank you Jen and Jackie for making wedding day and closing time so simple for us!). I am still getting compliments on the food and deserts from my wedding day. Most everyone said they felt like the food was from an actual restaurant and was so good. We got the desert shooters and everyone LOVED them. You could literally not bring one piece of décor to this venue and STILL have a beautiful and elegant wedding. I don't think I can say enough about this venue and what it had to offer. We had access to take photos throughout the entire venue. From the bar staff to wait staff to everyone that we encountered along the way were super nice and friendly. I would recommend this venue and this staff to everyone! I promise you they wont disappoint!!

+ 5

photos

Brittany A.

Married on 01/12/2020

Fantastic wedding reception location

The venue was beautiful, staff were all amazing, the food was phenomenal, and all for a very affordable price. Megan Gurba especially was exceptionally helpful throughout the process. She thought of just about every detail and helped coordinate the day of as well. Would absolutely recommend to friends and family.

Christopher K.

Married on 11/09/2019

Incredible Wedding

My wife and I had THE BEST DAY! They were so helpful with everything. Coordinating the colors, tasting and selecting the food (which had rave reviews by our guests), scheduling around our busy schedules, doing the rehearsal on short notice and helping pull it all together. Thank you for giving my wife a Grand Reveal during the ceremony they drew back the curtain and helped coordinate the music so she felt and looked like a princess. It was perfect. We all stayed to the very end nobody wanted to leave. I couldn't be more thankful to Megan Gurba. She was so accommodating and helpful. The staff helped me make the trellis the day of the wedding. My best man and i were sweating on the balcony the day of the ceremony and the staff came over to help us.
They let us take pictures in the theater and in front of the venue. It was perfect. The bartenders took great care of us. It was a night I'll never forget and a night i wish could have lasted forever.

+ 4

photos

Whitney K.

Married on 11/09/2019

Absolutely perfect

This was the wedding of my dreams. Megan Gurba and the staff was so friendly and helpful in making it a special day for us. None of the guests wanted to leave! Everything was perfect, the ceremony and reception was beautiful, the food was delicious, and the staff was accommodating and professional. I couldn't ask for more. All in all, I highly recommend Ruth Eckerd Hall for your next wedding or upcoming event.

Makezie L.

Married on 05/16/2019

Awesome experience Rene was great!

Rene was amazing and very detail oriented! She was super accommodating and everything was very organized! Thank you so much for your hard work and making our day amazing!

Amra

Married on 02/24/2018

I am so happy and thankful that I had my wedding at the beautiful great room at Ruth Eckerd Hall. Rene, Liz and the REH team went above and beyond to make my wedding just like in my dreams. They were always attentive, hardworking, and kind. The venue itself is spacious, with a beautiful balcony and high ceilings with a sparkling chandelier. You will regret not choosing this great venue for your big day!

Christine

Married on 02/10/2018

you would be crazy not go with Ruth Eckerd hall as your wedding venue. Rene and Liz are the best coordinators you will ever meet. Rene made sure everything was perfect to our liking down to the lap napkin. She definitely made the wedding planning 100 times easier.

Ryan

Married on 01/20/2018

Ruth Eckerd is a great place for a wedding. Rene, Liz and team were fantastic & could not have asked for a better place for our son's wedding. Rene and Liz eliminated the stress and we were able to enjoy the day. Thank you!!

Karrie

Married on 11/25/2017

This beautiful updated all in one venue was great for all my needs- dressing room to get ready, my ceremony was on a balcony, the room was grand for my reception and they cater food and bar. I work with Rene for coordination and Liz on the day of. They made sure to take care of any concerns and needs. Liz was great on the day of and made sure that I was okay constantly. They handled everything and did everything to make this a stress free day. I couldn't have been happier. This team was an all star team making my day one special day to remember forever.

Casie

Married on 05/28/2017

One month before my wedding, my reception venue closed. I was a wreck! After calling around to about everywhere in the Tampa Bay area we got in touch with Ruth Eckerd Hall and they had an opening. My mom and I met with Marty who showed us the room and talked about our options. After leaving, I broke into tears because I knew that Marty would take care of us. And I was right. I didn't have to worry about a thing! As soon as we pulled up to the reception Marty was waiting for us with a server who had hor d'oeuvres and took drink orders for the bridal party. Later that night he was even there to personally make up a dinner plate for me and my new husband! I really do believe everything happens for a reason. Thanks to Marty and his staff my wedding was better than I had ever imagined.

Lauren

Married on 11/26/2016

I am beyond thrilled with our decision to have our wedding reception here!! This was one of the few places that could hold our 250 invited guests without cramming them in there. We wound up with 178 and I would say that we definitely had room for more, if we needed. Working with Rene was so incredibly easy. She is so on top of things and it is evident that she does this often and has an eye for what she's doing. She helped with every detail, the tables, the chairs, the linens, the chargers, the lighting, the furniture we had on the patio... she took care of it all! All we did was have conversations with her about what we wanted and she did the rest. The whole bridal party was even able to get ready for the day - with our Salon coming on site - in a room downstairs. It was amazing because we were able to see the room come together as each vendor came to do some set up. Liz, Sylvette, and the rest of their team did an incredible job on the night of, working so incredibly hard to keep everything running seamlessly and successfully! The food was delicious, the room looked better than I could have imagined, and no one in attendance had to worry about a thing the entire night. I am forever grateful to the team there & want to relive the day over and over again!

Dimitra

Married on 11/05/2016

My husband and I were extremely happy with how our reception turned out at REH. The ballroom was recently renovated and updated with new lighting and colors. We were both blown away by the looks of the room. Rene and her team are amazing to work with and will do all they can to make your wedding day as perfect as they can for you. The food was delicious, probably the best I've had out of all the weddings I've been to. The pictures don't do the room justice. Go and see it. There's not many ballrooms in the area that have big bay windows and a very large patio. I highly recommend Rene and Ruth Eckerd Hall!

Katharine

Married on 10/08/2016

Rene and her staff were SO professional, friendly and helpful throughout the entire planning of my daughter's wedding. The food was amazing! Very impressed and so were all of our guests - as we had many come up and tell us how wonderful it all was. The service was great, the room was beautiful, the drinks were perfect. They made everything so easy - all we had to do is show up and have fun! I highly recommend REH!!

Amanda

Married on 10/01/2016

Rene has got to be one of the BEST venue managers out there EVER! She is detail oriented, nice, caring, attentive, and is basically "inside your head" to know exactly what you want. She was a 100% NON-STRESSFUL vendor for our wedding, and I felt so at ease knowing our reception was in her hands. I literally did not worry about one thing with Rene. The Great Room was being renovated all summer and literally, our wedding was the first one in the room. I visited the venue 2 days before the wedding, and although there was still construction workers around the room, Rene assured me there would be no issues for Saturday...she was 100% correct. The room was BEAUTIFUL and her staff did such an amazing job. If you're looking for a venue that is different from others you have seen (i.e. country clubs)...this is the place for you. The cocktail hour can be out on the 3rd floor terrace which makes it even more beautiful. Check this place our for sure and calm your nerves by working with Rene. She's awesome!!!!
Are you interested?
Send a message