Reviews
5.0 out of 5 rating
Quality of service

5 out of 5 rating

Average response time

5 out of 5 rating

Professionalism

5 out of 5 rating

Value

5 out of 5 rating

Flexibility

5 out of 5 rating
100%
Recommended by couples
9 User photos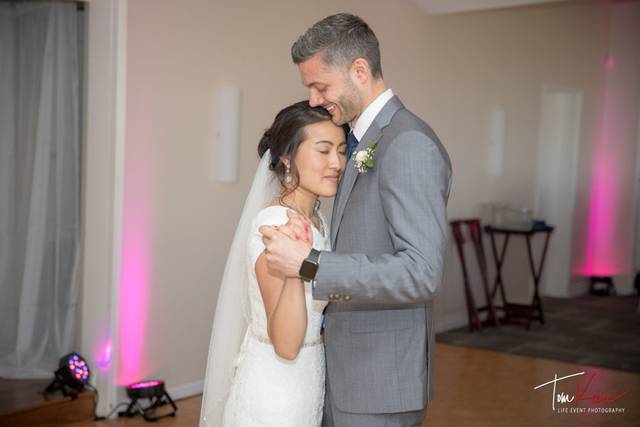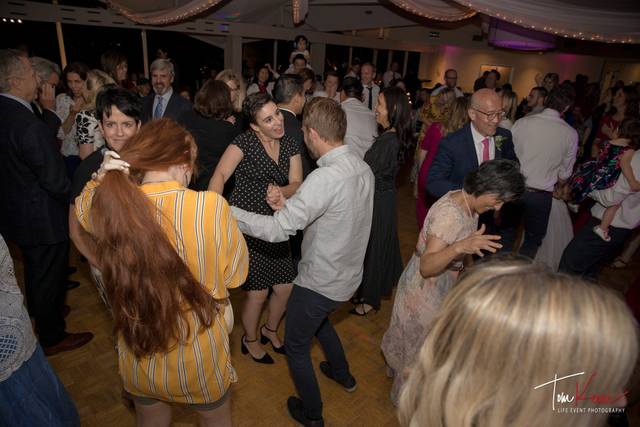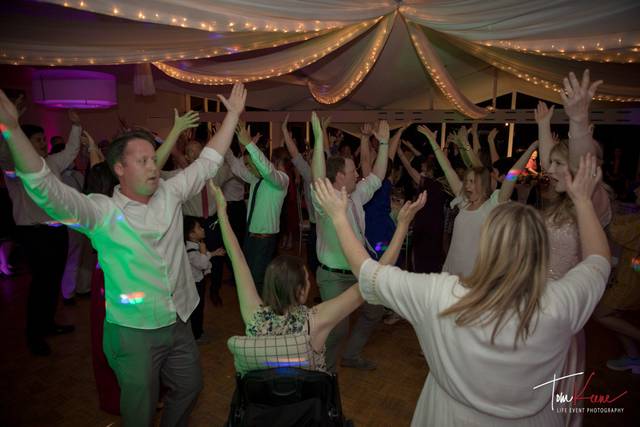 + 5

photos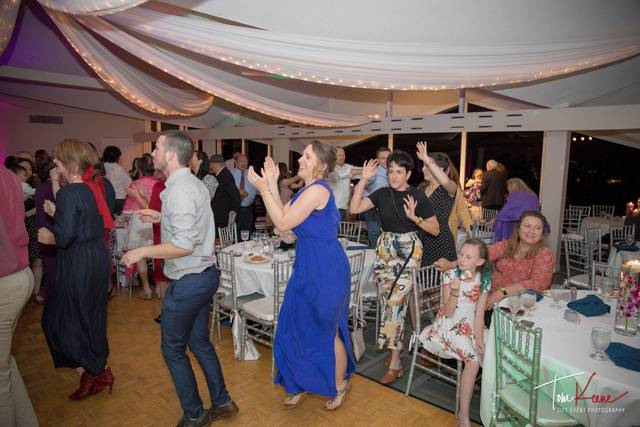 Traci

Married on 11/12/2023

Dean made our wedding! Definitely the best DJ I've ever seen. He was a joy to work with and was so organized that it made things easier for myself and the wedding coordinator. He was very professional but also hilarious and very entertaining. My husband and I gave him a short list of requests and let him take it from there. He did not disappoint and we received several compliments on how great the DJ/music was. Highly recommend Dean for a wedding or any event!

Amanda

Married on 06/23/2023

Dean truly did such a great job, I would hire him for any event! Great man, good at what he does!

I am so glad and thankful that we were lucky enough to have met Dean, he did such an amazing job and is so friendly and professional! Our Wedding was on June 11th, 2023. Dean made us feel so comfortable, was very accommodating in all aspects, and you can tell he is very good at what he does! I am 4 months pregnant and we actually did a Gender Reveal while cutting our cake, he helped think of some creative ideas in which I am very appreciative. Dean was very good at listening to our needs/wants, being so considerate and thoughtful, he really made us feel at ease and stress free. When I first spoke to him on phone, I knew right away he was the one! He really helped make our Wedding so fun and special! He definitely has a great sense of humor as well, I think that's such an important quality to have when doing this job. So all in all, if you're looking for someone that will keep everyone continuously entertained, and guaranteed to make you feel happy through the entire event, HE IS YOUR MAN! We would recommend him to everyone, trust in him like we did and he will help make your Wedding even more unforgettable!

Kiomanie M.

Married on 05/27/2023

Fun Fun Fun

Dean helped us make my Mardi Gras wedding the most talked about wedding any of our guests have ever been to. Everything went smoothly and as planned. He catered to everyone's tastes from old school to new school and even my Hispanic family. Thanks so much dean for all your creativity in making my wedding so much fun, and interactive.

Are you interested?

Send a message

Shannon S.

Married on 05/13/2023

Highly, highly recommended DJ for any occasion!

Wedding 5/13/23. Throughout the wedding DJ process, Dean Henderson was professional, funny, and (thankfully) patient with us. During our first Zoom call, he led us through many of the key decisions we would need to make, including timing, the structure of the ceremony and reception, and more. He gave us great advice that went beyond the music and much of which we incorporated into our day. He expressed a level of strategy in how songs were played that was so much more than we expected. He said he kept an eye on where key people would be during the reception to make sure they were present for any songs requested. He also said he alternated music genres to make sure all groups had something to dance to, and he would deviate from his planned music as needed to adjust to the crowd and make sure people were always dancing. And all for a very reasonable price that kept us under our entertainment budget! Dean made sure to let us know that we could reach out to him anytime with questions or advice, and he was very prompt in responding to all of our emails. He was extremely methodical and strategic about ensuring that we–as well as our guests–would have the best time possible.

When our wedding day came, Dean truly went above and beyond in making sure all of the details were finalized and that we were all on the same page, including making sure the venue was doing its job to keep us on schedule. He also provided some fantastic advice to us that made a *world* of difference. Since my mom had been seriously ill leading up to the wedding, my wife and I had been torn on whether to change the combined father-daughter/mother-son dance to just a father-daughter dance. Dean told us that it was completely our decision but also that, if I had any desire to include a mother-son dance, I would almost certainly regret it if we left it out. Once Dean said it, I knew that he was completely right. I am so grateful to Dean for his insight because it was such a wonderful moment with my mom and an experience that I will never forget. Dean was a consummate professional and balanced both my and my wife's song requests and ideas, which was not easy given our very different tastes in music. So many of the guests told us that the music selection was perfect! Thank you so much Dean for making our wedding that much more special!

Emily H.

Married on 09/09/2020

Dean made our wedding into the celebration we were hoping for!

Dean was incredibly easy to work with, knowledgeable, and so much fun! He really helped throughout the night to keep things on schedule, and made each event within the wedding day feel special and fun. The dance floor was full all night!

Royal Entertainment's reply:

Hi Emily, thank you for your review, I noticed it says you got married on 9/9/2020, lol are we going to do it all again next year, lol

Lawrence

Married on 02/29/2020

Simply the best

Your wedding DJ is also the MC and one of the most important decisions you will make. If you have the chance, pick Dean. It's your big day and you'll have questions and Dean has all the answers. He puts you at ease and is the most punctual person I've ever dealt with. I called him to introduce myself and see if he would be the right person for our big day. Unknown to me, he was on vacation in Thailand and answered my call at 3 AM. He's an incredible resource and we would absolutely recommend Dean - it'll be one of the best decisions you make!
Thanks so much Dean!
-Lawrence & Kerry

Jessica J.

Married on 06/08/2019

Dean really made our night sparkle!

Dean is an absolute joy to work with! He has such a fun personality and really enjoys the meaning behind what he does. Another huge plus is that he makes the night ALL about YOU! He's fun and entertaining and gets the attention of guests (we had 300!), but directs the attention onto the people he works for.
He is much more than just a DJ; he helped us plan the events of the night and gave sound suggestions and advice based on his many years of experience. He really helped us make sure that the main players (bride, groom, parents, and family) and the guests were all honored appropriately.
Dean responds very promptly through email and is extremely flexible. I emailed him about a change in the Daddy/Daughter dance song a couple days before the wedding and he quickly and gladly changed it. He also can change/shorten any songs for you if needed.
On the day of the wedding, Dean was very helpful in making sure the night run smoothly (Including both the ring ceremony and reception). He followed our itinerary closely and made sure we had time to eat. Dean chose most of our songs for the night and they were all wonderful and fun. Our 300 guests all enjoyed grooving to his music on the dance floor. He also threw in some beautiful uplighting which added a nice touch to the reception.
His price is so reasonable for all the help and services he rendered. We're forever grateful for him and definitely recommend him whole heartedly!

+ 3

photos

Zanis M.

Married on 02/22/2019

Dean was great!

Dean was fantastic! He helped us plan a great ceremony and reception, and even brought up little details that no one would think about. He played all the songs we wanted, none of the ones we didn't want, and he made sure that the vibe of the wedding was exactly what we wanted. Dean was not too talkative during the ceremony like some DJ's we've encountered and also wasn't too quiet where you didn't know if there was even someone there. Dean was the absolutely perfect MC for our day, plus, everyone loves his accent. Thank you for a great day Dean, you were awesome!

Robin

Married on 08/26/2018

DJ Dean was amazing! Everyone was complimenting his work the next day at our brunch and saying how great he was. He really knows the way weddings work and shares his knowledge, which is great since as someone planning your wedding it's likely your first time. He had all sorts of tips for us to make our day go smoothly, including taking a little time for ourselves for a last date before the wedding and giving my dad a first look before the groom. We were having the wedding at a venue he had never been to before, so he made a point to meet us there a couple months before the wedding even though it was about 80 miles away! Not everyone would do that for a client! He's not just a DJ, but keeps the whole evening running smoothly and coordinating with other vendors as well! All in all amazing and I'm so glad we found him for our wedding!

Viv

Married on 07/03/2018

Dean has been our DJ 3 times now and is wonderful each and every time. He is always professional, friendly and a load of fun. Would not use anyone else,
Viv Willis

Sharon

Married on 06/03/2018

I couldn't of asked for a better DJ... Dean your awesome and always responded when we texted or called.. Thank you for a wonderful music night...

Dara

Married on 04/06/2018

April 2018
Dean Henderson of Royal Entertainment literally saved my wedding from the start. I received his information from my close friend who had hired Dean for her wedding two weeks before mine. I called her in a panic after discovering that the "close family friend" we were going to hire as DJ for the wedding had bad intentions. Dean met with me at my convenience near my parent's house and was extremely professional. He knew the venue and provided recommendations for where he should set-up, the best way to organize tables, and created a time schedule which we used for the wedding. He alleviated all of my concerns and I fully trusted him to do a good job. Prior to the wedding, he encouraged involvement with my guests to see what songs they would like/not like to hear. During and after the event, guests verbalized how much it meant to them to hear their song play. During the wedding, Dean arrived early, and ensured that everything was as we had previously discussed- from the organizing of the tables to the schedule of events. He is more thorough and proactive then a wedding planner, and sought my opinion while I was getting ready in the bridal suite to ensure that my wishes were being met. When there was an issue with table seating, as we had an open-seating arrangement, he brought humor to the event, fixed the problem, and kept things flowing. I will NEVER EVER underestimate the power of an amazing DJ. Dean Henderson is amazing. He kept the wedding moving. He noticed when schedules were not being upheld- such as a sunset photo session and brought it to the attention of the photographer. He reminded me kindly that I had chosen a specific time to gift my bouquet to my cousin. He was extremely accommodating to all of my guests- from playing requested songs to lowering the volume at my father's request, since he was sitting next to the speaker. I highly recommend Dean Henderson! He is professional, kind, thorough and patient- a seriously phenomenal DJ!

Shawn

Married on 09/23/2017

Dean is not only a great DJ but an all-around great guy! Our wedding coordinator from Woodland Hills Country Club referred us to him and we couldn't have been happier with the results. He was a joy to meet up with some 6 months prior to our wedding, offered helpful advice based on his many years of experience, made the entire process care-free and fun-loving. When you're assembling a slate of vendors for the wedding it starts to feel a bit like you're putting together a team of people based on their special skills.... Dean is definitely someone you want on your team.

Julie

Married on 09/22/2017

Dean the DJ was absolutely AMAZING! He made our wedding, he had people dancing that never dance and such a wide variety of great music. He listened to us when we told him what we did and didn't want and had great control over the crowd without anyone noticing. When we were done dancing during our formal dances we just glanced at him with a nod and he was always prompt to turn the song off. We still have people telling us how fun are wedding was and this is largely in part to Dean. We cannot say enough great things about him and will recommend him to anyone looking for a DJ. Thank you for helping to give us the best wedding ever Dean! ♡♡♡

Kristelle

Married on 09/16/2017

Four letters, D-E-A-N! We knew that Dean was THE DJ for us when we first met him (coincidentally while waiting to meet with one of the coordinators for our reception while he was waiting to set up) was his humor! He made us laugh during the 15 minutes we had while waiting. The one thing that Dean said (that we will never forget) which solidified our decision to hire him was his advice to make a date out of our meetings with the vendors. He said that it's easy to get caught up with wedding planning that we might forget the reason why we're getting married. Another thing that Dean said which made our hearts melt was during our reception, he suggested for us to just take 5 minutes to be alone may it be to talk or just sit together, so we can take everything in. Although we were unable to make the 5 mins happen, we truly appreciate and remember what he said. If you are looking for a DJ/host, please do yourself a favor and do not look any further because Dean is THE DJ you need and want. Dean is HILARIOUS! He got the crowd going, we even got compliments from our guests and asked how on earth we found DEAN! Dean is not just an awesome DJ/hose, but a wonderful person as well. We hope to work with Dean again in the future, because he brought life into our wedding reception. Thank you so much for everything Dean!

Joseph

Married on 09/16/2017

Dean was our DJ for our wedding and having him as our DJ was a blast! Very professional and very funny! We love Dean! Definitely recommend him. I will see you again Dean.

Kristeen

Married on 09/09/2017

I have been working with Dean on the planning side for years so when it was my turn to get married, he was the first one I thought of! He is super professional and is always a pleasure to work with.

Kristeen

Married on 09/09/2017

I'm a wedding planner and have worked with Dean for years. When it was my turn to get married, he was the only DJ I considered! He's professional, but has a great sense of humor that always makes my clients feel comfortable.

Giuliana

Married on 08/12/2017

Dean was absolutely wonderful as our DJ for our wedding. Thorough, professional, and charming stage presence. Could not have asked for a better experience!

Nancy

Married on 08/06/2017

Dean is the absolute best ! He accommodated meeting with us and took his time to answer all my questions via email. Musicality and quality is a 10 for sure very nice and professional DJ. Definitely recommend him. Price is very competitive and affordable . Great MC. Glad we hired him to be a part of our wedding day .

Abigail

Married on 08/05/2017

We absolutely LOVED having Dean as our wedding DJ. We met him early in our wedding planning process and he gave us the most amazing advice, not just about music, but about the flow of the ceremony and important ways to make our family feel honored throughout the evening. Dean has years of experience and really could be not only your DJ, but also your coordinator! And once the floor opened for dancing after the toasts and first dance, Dean really made sure we had a good time. He also made sure to play all of our salsa faves. Thanks Dean!

Tina

Married on 07/22/2017

Great DJ service. High remarks from friends and family. Would recommend to others! Professional and personable as a DJ + MC for the wedding.

Amanda

Married on 07/09/2017

Dean was recommended to me by someone who sadly, ultimately had to cancel their event, but had such a good experience just meeting Dean that he sent him my way.
As soon as my fiance and I met Dean, we knew he was the DJ for us. It was very clear from the beginning that he does this not to make money, but because he just loves it. He has passion. He also had a lot of tips and ideas and we felt at ease. His pricing was also affordable, which is huge.
Our biggest gripe is that annoying "DJ voice" that most dj's have and is pretty annoying. Dean has an English accent so he is very pleasant to listen to and we were not worried about how it would sound over the mic or to our guests at all.

My wedding was a few days ago and Dean was amazing. He played the songs we asked for, and everything he chose to add was perfect. I had guests tell us the music was on point all night. He even came by our head table to see if we needed anything, or could grab us a drink. He really goes above and beyond. I cannot recommend Dean at Royal Entertainment enough!

Grace

Married on 07/01/2017

Dean was the perfect DJ for our wedding and we couldn't imagine having a more incredible reception without him. We had guests tell us how they had fun, and we know Dean had a big role in making that happen! We would refer him to anyone we know getting married in Southern California! THANK YOU, DEAN!

Patti

Married on 06/10/2017

If you want great DJ, this is the man! I highly recommend him, he is very professional and he made our special day/ night fabulous. Music is so important to us as a couple and he executed our night perfectly.
Are you interested?
Send a message