36 Reviews
Recommended by 99% of couples
Quality of service

4.9 out of 5 rating

Average response time

5 out of 5 rating

Professionalism

4.9 out of 5 rating

Value

4.9 out of 5 rating

Flexibility

4.9 out of 5 rating
178 User photos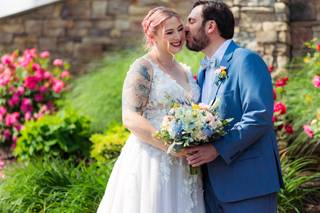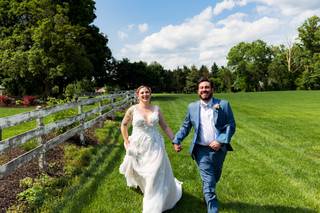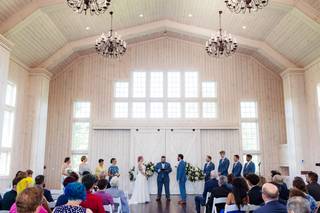 + 174

photos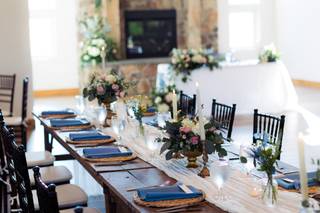 Sarah L.

Married on 05/29/2022

Dream Venue

I found Rosewood Farms on instagram first, and we just had to see them. It really was as breathtaking in person as it is in photos, and I couldn't have been happier with the space. The landscaping was beautiful, the readying buildings were great for photos, and the ceremony barn absolutely blew me away. The bartenders we had through Rosewood were a hit with my guests - very personable and made great drinks. We also chose to add on the photobooth, and the attendants were great. The Rosewood staff were very responsive to my questions throughout the process, and made me feel absolutely at ease. Even the day of, when my planner may not have been available, I felt like someone was always around that could help with anything that came up.

+ 3

photos

Karly B.

Married on 10/01/2021

Best Wedding Venue!!!!!

Our wedding at Rosewood Farms was a phenomenal experience! The location, complete with perfect outdoor photo locations and a beautiful rustic feel, was the ideal spot for our photographer. The buildings, especially the Lounge and the Bridal Suite, made it very easy and convenient for us to prepare for the wedding on the morning of the event. The barn itself, with it's basement cocktail area and patio, provided enough space for all of our guests in a close and comfortable setting. The reception hall was spacious and very well-appointed for the event.

While the venue itself was a great location for us, what really set Rosewood apart were the staff. They were available to us every step of the way, and were extremely helpful and patient as we planned the event. All of the people we worked with at Rosewood were very accommodating and understanding, and helped us make the day perfect. Without their help, we never would have had the caliber of experience that they were able to provide. We highly recommend Rosewood Farms to anyone looking for a wedding venue.


+ 4

photos

Hannah F.

Married on 07/18/2021

Stunning Venue & Excellent Team

From the moment we toured Rosewood Farms, we knew it was the venue for us. Monica, Chrissy, and the rest of the Rosewood Team blew us away with their attention to detail throughout the planning process and on the day of the wedding. We used many of the vendors recommended by Rosewood and they all worked so well together. We loved the variety of spaces on the property and each one served is purpose beautifully and perfectly. You could take a photograph anywhere and have a stunning, picturesque background. Rosewood Farms also offers amazing add-ons that really elevate the day. Some of our favorites were the slideshow during dinner, the photobooth (which guests loved), and the yard games. On the day of the wedding, Monica ensured that everything ran smoothly and made me feel like we had planned the perfect wedding! We truly wish we could experience our wedding day again and again. Thank you, Monica and the Rosewood team for the most wonderful wedding we could have ever asked for!

+ 9

photos

Are you interested?

Send a message

Jen G.

Married on 07/17/2021

The absolute best venue

Rosewood is the perfect venue!! Chrissy, Monica and everyone else at Rosewood were so unbelievably kind and helpful throughout our entire wedding planning process, especially since we were planning from 5 hours away. They always worked so well with our weird schedules and then the day of the wedding was a dream; Monica made sure that everything ran flawlessly. I highly recommend choosing Rosewood Farms; you really can't find a more beautiful venue.

+ 2

photos

Kathryn H.

Married on 06/12/2021

The perfect wedding venue

Rosewood farms won us over the minute we stepped onto the property for our tour! We are from New York and it was the perfect "destination" wedding for our guests. The venue is so beautiful you forget that you are in Elkton MD! From start to finish the staff is responsive and helpful. They checked in on our progress booking vendors and their "preferred vendors" list made it super easy to find our vendors. The photos from the wedding were stunning thanks to the various areas on the property. I will say it was on the more expensive side and you have to pay additional fees like paying for your own chairs but it ended up being worth every cent. Thanks again to the RF team for making our dreams come true!

+ 14

photos

Samantha Z.

Married on 05/22/2021

The venue of my dreams!

Rosewood Farms had been the one and only venue I had my heart set on, even before I was engaged. Being able to have our wedding at this location was an absolute dream. From our first walkthrough, down to our big day the Rosewood team kept great communication with us - and each staff member we got the chance to work with was extremely personable! The bride & grooms suites on site make the beginning of the day so much fun for you and your bridal parties, and make for amazing photo opportunities for your photographer/videographers. The beautiful signs that they display & gift to each individual couple is one of many unique traits that they have, but also one that I really believe shows how important your day is to them as well. Their additional add-ons are a really big bonus to what they already offer - and I HIGHLY recommend their photo booth if that is on your list of wants for your wedding day. My husband and I are still getting compliments about how beautiful our day was - and how beautiful this venue is. All of our vendors for the day came straight from their list of recommendations as well as from mentions on their social media accounts which was a huge help for us and made the planning process a piece of cake (and our vendor team was OFF. THE. CHARTS)! Basically I could rave about this location for ever, but I will just end on one note: If you're looking for the perfect venue for your big day... LOOK NO FURTHER! That is all.

Thank you so much to the Rosewood team!

+ 13

photos

Lisa

Married on 05/13/2021

Exceptional wedding venue

Our wedding was a little over a year now and I still think about how beautiful our wedding day was and it was in the most perfect venue, Rosewood Farms! Chrissy and Monica were so easy to work with and helped the day go so smoothly. the grounds are gorgeous and well maintained. Thank you so much for everything!

Jina

Married on 05/02/2021

the PERFECT venue & team!

Rosewood Farms is such a BEAUTIFUL venue along with an amazing team! They have four different spaces for each part of the day, which was so helpful for a smooth transition throughout the day. The separate getting ready spaces were amazing for family & friends! The ceremony barn and reception building was beautiful and felt so elegant!

The Rosewood Farm team was also very responsive and helpful throughout the entire process! They also have so many add-on packages that make the planning process much simpler. The Photobooth - a must have!

Everything on our day at Rosewood Farms was perfect, beautiful, and amazing! There's no other venue that could compete and I would definitely recommend this to everyone else!

+ 16

photos

Rosewood Farms's reply:

Jina!!! Wow thank you so much!! Your day was perfect and gorgeous! Thank you for allowing us to be a part of your special day. We are so excited about your glowing review! We wish you all the best 😊

Alexandra R.

Married on 11/14/2020

Beautiful Venue

Walking around Rosewood Farms was like wedding venue "love at first site"! We loved how many spaces on the property there were for special moments during our wedding day- the suite for the bride and her ladies to get ready...and the lounge for the groom and groomsmen! The Rose barn and Rustic barn are picturesque and are able to be designed however you want - extravagant and flower clad or simply letting the beautiful spaces speak for themselves. The grounds are manicured perfectly and provided the perfect backdrop for pictures in any season! The staff and wedding planning team were extraordinary and answered every and any question I had- my day-of venue manager was just the sweetest person ever and made me feel like an absolute princess who had planned the most perfect wedding- they really were our cheerleaders the whole way! We would recommend Rosewood Farms to anyone who asked!!

Rosewood Farms's reply:

Thank you so much for your awesome review of Rosewood Farms! Your wedding was beautiful and perfect in every way. We are so glad we could be helpful and supportive during the planning process and all the way through your event. Thank you again 😍

Spenser

Married on 11/08/2020

Tour and reserved wedding date

Amazing experience with my tour and scheduling my wedding at Rosewood farms. I know right away this was the place where I had to get married.

Rosewood Farms's reply:

Hi Spenser! Thank you so much for reviewing us. We are very excited for your wedding and are so happy that you had a great experience touring and booking with us!

Leticia L.

Married on 10/25/2020

perfection

I am at a loss for words about this incredible venue. I cant even begin to imagine a more perfect day anywhere else!

Rosewood Farms's reply:

It was such a pleasure hosting you and Josh! We are so glad that you enjoyed yourself and had the wedding of your dreams! We hope you are doing well ❤️

Ashley C.

Married on 10/03/2020

Amazing Venue!

Rosewood Farms was the 2nd venue we looked at and we fell in love! Everything about the venue amazed us, from the rustic barn to our amazing tour guides Chrissy & Katie! We knew after taking our parents to explore the venue a second time this was absolutely where we wanted to have our wedding. Let the planning begin

Rosewood Farms's reply:

Thank you, Ashley! We are so excited for your wedding! October 3, 2020 will be here before you know it! We are so happy that you booked with us and can't wait for your big day.

Karen J.

Married on 09/12/2020

Rosewood farms

We have only booked the venue haven't had the wedding yet but so far we love the location

Jeremy

Married on 05/24/2020

Beautiful venue with great staff

We actually ended up here when our original plans fell through due to COVID, but we feel so lucky things fell into place the way they did! Although our original venue was an overall poor experience, it gave us perspective to recognize that Rosewood is truly special. I loved all the space available, and the easy flow of the day from ceremony to rehearsal. But most importantly, I appreciated the professionalism and warmth from the staff. Would definitely recommend!

Rosewood Farms's reply:

Thank you so much for the wonderful review! We really enjoyed your day here and we are so happy we could host your amazing event!

Kelly M.

Married on 03/21/2020

Amazing Venue!

Rosewood Farms is absolutely stunning! We couldn't imagine not picking this as our venue. The service and care we have received so far has been just as amazing. We can not wait for our wedding day!

Rosewood Farms's reply:

Hi Kelly! We are excited for your wedding here at Rosewood! The big day is almost here and we can not wait to see your vision come to life. We are excited to work with you!

Tiffany I.

Married on 12/22/2019

Beautiful & Memorable

We couldn't have been happier with how our wedding turned out. Rosewood is absolutely stunning and was the perfect location for our Christmas themed wedding. Emily and Chrissy were amazing at making sure all of our questions were addressed and that everything went smoothly leading up to and on our big day. We highly recommend Rosewood Farms!

+ 4

photos

Rosewood Farms's reply:

Thank you so much, Tiffany! We are so happy that you enjoyed your wedding at Rosewood Farms! It was so beautiful and the entire day was perfect! Thank you again for the wonderful review and your pictures are amazingggggg 😍

Zachary

Married on 12/14/2019

Most incredible experience ever

This venue is beyond gorgeous! The team at Rosewood really blew us away with their attention to detail of, not only the landscape and venue features, but the set up in general. The rustic bar below the rustic barn was amazing! Every detailed design of the property was done to perfection. I can't count how many times we were approached and over-heard guests saying the venue was "magical". We came to visit the venue originally approximately 6-7 months prior and met with Chrissy. We loved her immidetiately and made our decision before even driving off of the property. When we think of how perfect our wedding was, we think of Chrissy first because of how helpful, joyful, organzied, knowledgable she is (we could go on and on about her). Any questions we had, she was always there and shockingly prompt. The vendors this venue suggested were superb and they all worked so well together! Lindsey and I will miss working with Chrissy; it was like planning a wedding with a friend. Thank you, Chrissy and the Rosewood team for the most incredible wedding we could have ever asked for.

Rosewood Farms's reply:

Thank you so very much for your wonderful review. We are so happy that your experience was nothing short of incredible. It was our pleasure to work with you through the entire process and to be a part of your special day 😁

Kristina

Married on 11/16/2019

Wonderful and amazing.

They are an amazing and wonderful venue and business. I cannot wait to have my wedding here!

Rosewood Farms's reply:

Thank you, Kristina for choosing Rosewood Farms! Your wedding was wonderful and we were so glad to be a part of it. Also, thank you for the great review!

Kristen

Married on 11/15/2019

Seriously a perfect day

We were previewing venues Online before we were engaged. We made an appointment at rosewood and we were sold! The setup at rosewood makes it super easy for everyone — bride and groom get ready in the same area, guest do not have to travel, and the venue is gorgeous! Our wedding day ran so smoothly - all vendors were amazing!! We had an absolutely day including a perfect sunset! The barn for cocktail hour is one of my favorite parts! We did our first look there and loved it! I cant wait to go back to rosewood to celebrate future life events in the future!

We did opt to start early which i think all brides should do for less stress. I do think rosewood should allow you to start at 10 because it is earlier for all to get ready and not be rushed. So much to happen by 10!

Seriously the best place to get married and i am excited to see our pictures!

Rosewood Farms's reply:

Thank you, Kristen! You had a beautiful wedding and I am so glad that you had an awesome time. Thank you for the great review and for being an amazing Rosewood bride!

Brianna

Married on 09/28/2019

What a dream!

Rosewood Farms is just absolutely beautiful. We booked it when the barns were just wood skeletons. We believed in their vision and they had us sold with just one powerpoint presentation. They did not disappoint!
One month later and we are still receiving so many compliments from our family and friends.
One thing that I loved is that you can text them at anytime to get feedback on anything and they were super flexible with scheduling times for multiple walk thrus for all my vendors.
My husband and I are so glad we choose Rosewood for our wedding! You will be too!

Also- please put the Chesapeake Inn at the top of your list for catering options! Nick and the rest of the Chesapeake Inn team were phenomenal!

Rosewood Farms's reply:

Thank you, Brianna! You were beautiful and so was your wedding! Thank you for the fantastic review and choosing us! You were great to work with!

B Bailey

Married on 09/07/2019

Beautiful!

Rosewood Farms is a very beautiful new venue with an incredible staff!

Rosewood Farms's reply:

Thank you! We are so happy we got to have the Bailey wedding here! What a dreamy wedding it was! Thank you again for the great review!

Katelyn

Married on 08/17/2019

Rosewood wedding

We booked out wedding venue with rosewood for August of 2019. Rosewood responded quickly to my email and had us come in to look at their building progress (as they were still unfinished whe we started looking). The next week we were back and booking our wedding. The staff are all so friendly and very knowledgeable. We felt welcomed from the moment we drove up. They respond quickly to any question you might have and keep us updated on the progress happening at the venue. We can not wait till August when we get married at Rosewood!

Rosewood Farms's reply:

Thank you, Katelyn! We enjoyed hosting your wedding and seeing your vision come to life! It was a beautiful day and we wish you all the best!

Emily W.

Married on 06/29/2019

Simply the best!

Our advice to any couple considering booking this venue– just do it, you will not regret it!

When we booked this venue, construction was just getting started and we probably looked crazy booking a venue that had not yet been built! But the vision that Rosewood showed us was so clear that we fully trusted they would deliver- and they did. They went above and beyond what we could have ever dreamed. It is breathtakingly beautiful.

The entire Rosewood staff is wonderful. Through all of my texts, calls, and emails they helped and answered any questions I had. Alicia was our coordinator and I do not know what we would have done without her. She made the day run so smoothly and effortlessly. The fact that they have a preferred vendor list helped us pick other vendors that we knew would work seamlessly with the venue.

All in all, our guests had wonderful things to say. They commented on how unique our wedding venue was, how the attention to detail was impeccable, and that it was by far the best wedding they had ever been to.

I also recommend adding on their outdoor games & rustic photo booth packages. They were both affordable & such a hit with our guests. It even came with a photo album guestbook!

We had the best wedding day ever!

+ 14

photos

Emily

Married on 06/29/2019

I heard about Rosewood Farms through a friend and I immediately messaged them to set up a tour & I am so glad I did! I messaged them on a Thursday and was able to come in that Saturday for a tour! The moment my fiancé and I stepped foot onto the property we knew it was where we had to have our wedding. Everyone is so friendly and very knowledgeable about the vision of Rosewood Farms! Even though it was still under construction we felt so confident that Rosewood wouldn't let us down. I'm so excited we booked with them & I can't wait for our wedding day here!

Rosewood Farms's reply:

Hi Emily! We love your review! Thank you so much! And thank you for making Rosewood Farms a part of your big day.

Natalie

Married on 06/15/2019

Our Wedding was Unforgettable!

When I heard that there were plans in the making to renovate an old farm in my hometown and turn it into a one-of-a-kind rustic wedding venue, I was so thrilled! I contacted Rosewood Farms immediately to set up a tour.

When we arrived, the place was a total construction zone. Both the Rustic Barn and the Rose Barn were simply frames of what could be. There were no walls, no floors, no silo, no fireplace, no windmill, no fancy chandeliers, and no grandeur staircases. In the moment, I had many questions and concerns regarding how they were going to get this completed in just a few short months. Chrissy and Alicia took my Mom and I upstairs to the main office, where we were immediately charmed with modern farmhouse EVERYTHING. We then viewed a powerpoint presentation with 3D imagery that displayed the "vision" of what Rosewood Farms would later be. For a moment, you forgot about the construction outside, and you began picturing yourself on your wedding day in this beautiful vision they were painting us with. It was then that I knew that this was the place, and we reserved our date.

Rosewood Farms was in constant communication with us in the months leading up to the wedding. We visited several times to view the construction progress, our excitement growing stronger with each new addition to the venue. Rosewood uses an online portal that easily allows you to organize your ideas, timeline, vendors, payments, and more for your special day.

Fast forward several months to June 15th, 2019. Rosewood Farms delivered on everything they had promised on day one when their beautiful venue was still an idea in the making. Our wedding coordinator Emily went above and beyond to ensure that the day went seamlessly, from helping with the decor, to adhering to the timeline, to communicating with vendors. I seriously don't think a single thing went wrong!

The property was very well thought out! The ladies started off in the suite getting dolled up and pampered, while the gentlemen were shooting pool and enjoying themselves in the lounge. Our ceremony then took place in the Rustic Barn with beautiful white-washed walls, rustic charm, and stunning chandeliers. Cocktail hour was to follow in the lower level of the Rustic Barn, where guests had a great view of the pond and were able to enjoy refreshments at the bar. Guests then made their way over to the Rose Barn for dinner and dancing. The bar in this building is cleverly located in the silo, and there are a million ways to set up your table layout! Our caterer was also able to prepare all food on site, which was a huge plus! The convenience of having everything you need at one location was appreciated by all.

We had the best time on our wedding day, and we have enjoyed reliving the special moments we shared through our photos and video. Thank you to the entire Rosewood Farms team for an unforgettable day. We are honored to have been one of the first weddings on your incredible property, and we look forward to watching you celebrate many more love stories there!

+ 6

photos

Rosewood Farms's reply:

Hi Natalie! WOW Thank you! What a great review that we are so proud of! That means a lot to us that you booked on our vision and saw our dreams turn into reality! We are so happy with your wedding and thrilled that you said yes to Rosewood!
Are you interested?
Send a message