13 Reviews
Recommended by 100% of couples
Quality of service

5 out of 5 rating

Average response time

5 out of 5 rating

Professionalism

5 out of 5 rating

Value

5 out of 5 rating

Flexibility

5 out of 5 rating
Awards
48 User photos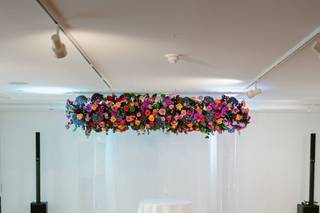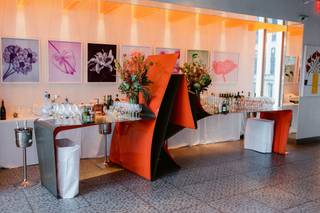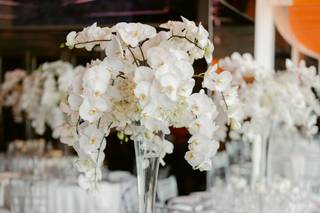 + 44

photos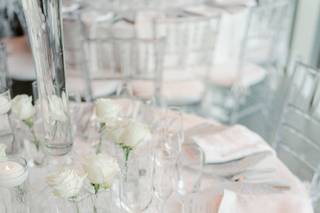 Featured

Jamie

Married on 01/07/2023

Outstanding venue with classic New York City view & amazing food

We had our wedding at Robert in January with 84 guests and our ceremony on the 7th floor. Working with the Robert team was extremely easy and our coordinator, Kristi as well as Richard were absolutely excellent. The venue did not push back on any of our requests and truly made our day spectacular. The space has a beautiful modern design and the view of Columbus Circle and Central Park is iconic. The food is a culinary experience and our guests are still raving about it. If you are looking for a classic New York City venue and a highly professional detail oriented team to work with I highly recommend Robert.

Astrid

Married on 11/05/2022

Perfect Wedding

Having our wedding at Robert at The Museum of Arts and Design was truly our dream come true. We had about 120 guests, with our ceremony on the 7th floor and our cocktail hour & reception in the restaurant on the 9th floor. The venue has outstanding views and amazing food which our guests continue to rave about! Working with Kristi and Richard to plan our event was seamless. They were incredibly responsive, kind, professional, and devoted to making our vision come to reality. They collaborated with our other vendors to provide suggestions and ideas which was greatly appreciated. I would highly recommend this unique and stunning venue!

+ 16

photos

Joanna P.

Married on 07/09/2022

One of a kind venue with food to die for!

A year ago, my partner and I had no idea what a 'dream wedding' looked like. After having our special day at Robert and the MAD Museum Theater, it's hard to imagine our wedding without them! From the first second we walked into Robert, just to try their food (hold on, I'll get there!), we found a hidden gem that was somehow like nothing we'd ever seen and so quintessentially New York a the same time. Robert has stunning art, a beautiful view, a calm and cool ambiance which all make it a great place for brunch or dinner. What made it perfect for our 75 guest wedding is the people. Emma and Richard left nothing to chance, offering gentle suggestions, providing feedback from their years' experience and just generally letting us know that our day was as important to them as it was to us. I'm not Beyonce (unfortunately), but the care and attention I received from the staff at Robert is probably the closest I'll get.

Something you'll only get at Robert is a seamless transition from the stunning views of Columbus Circle, to a romantic yet hip lounge vibe once the sun goes down. Everything down to the future is unique and the suggestions the team offered (keeping the cocktail tables and lounge couches for the dance floor? being comfy never looked that good!), were just perfect.

The venue also has several options for your ceremony, but we opted to use the theater, and took advantage of every amenity - from the huge projector screen for a 10 foot tall montage of our dog, to the in house A/V set up for our vows, to the two aisles for our joint walk down the aisle, all the way to the stage which was the perfect size for our Elvis impersonator. Rebekkah and her team were attentive, kind, and warm throughout and made sure we had nothing to worry about!

I cannot recommend Robert/the MAD Theater enough. It's been months and our friends are still raving about the food, the wine, the atmosphere, and the kind, warm staff that made our day truly perfect!

+ 4

photos

Are you interested?

Send a message

Clark A.

Married on 05/20/2022

Over the top!

We are form out of town and our daughter graduated from Juilliard on Friday and was married on Saturday! We chose Robert as the venue for the wedding dinner. We originally wanted to use Bryant Park Grill but they were booked on the date we needed. That turned out to be very lucky for us! This venue is simply spectacular! The food is top notch and the service was excellent! Better than most restaurants of this caliber. Being from out of town (Utah), we relied heavily on Kristi the event coordinator for ARC restaurant group. She was so very helpful. Frankly, this would not have been the success it was without her help, advice and insights! We are not alcohol drinkers and they even accommodated a non alcoholic open bar complete with custom signature mocktails! And the view.... worth every penny! My only regret is that I only have 1 daughter so this is the last wedding party I will host at Robert. We would do it again tomorrow!

Rebecca W.

Married on 03/05/2022

Choose Robert (and the Museum of Arts and Design)!

You cannot go wrong with the team at Robert and Ark Restaurants! Alex was our point person and she will take care of you during the wedding planning process. Ana took care of our personal decor items a few days before and Richard executed the event seamlessly. We had our ceremony on the 7th floor of the museum and our cocktail hour/ reception at Robert. It was so nice having everything in one location but in two very different spaces. Our guests were so impressed with the views, decor, and food. The Robert team worked well with our vendors as well. There was zero stress for us on the day of the event!

Kay

Married on 02/20/2022

Voted best wedding by all our guests!!! :D

We are absolutely thrilled to have had our wedding of ~ 70 guests at Robert! Alex, Richard, and the entire Robert team went above and beyond to make our wedding a spectacular night to remember! Our guests still cannot stop talking about the stylish/modern decor, amazing views, and the delicious food & drinks. Alex was very patient and communicative, taking detailed notes of all our requests, including: a small/casual ceremony with some standing and seated; a signature cocktail (dragonfruit caipirinha!); a giant cupcake; a pescatarian menu with vegan options; and a private area to do a quick, wardrobe change. They also accommodated our other vendors including: a trio jazz band (providing their beautiful piano!), samba dancers, and setting up a table for my brother to DJ! Even when there was a mix-up with the seating cards, they were very quick to jump in and have all our guests seated without a hitch. For the dancing portion, we had SO much fun with everyone on the dance floor (plenty of space!) and an open bar that kept the drinks going all night. Lastly, what struck us the most was how we didn't feel like just another client; instead, we were treated like close friends, with such great care & concern that our wedding be the best day of our lives. Robert completely exceeded all our expectations and now has a very special place in our hearts. We know we will continue to return to Robert in the years to come!

+ 12

photos

Erin R.

Married on 03/05/2021

Fantastic!!

Hello Happy Couples!!

Our wedding was originally scheduled for May, 2020...

An NYC COVID couple giving a FIVE STAR review for a vendor basically says it all... but in case you're skeptical, or perhaps reading this in 2022 and COVID is a thing of the past...

We couldn't be more impressed by the team at Robert.

We were so excited to have our May 2020 rehearsal dinner at Robert - it is PERFECTLY located relative to the hotels on Central Park South, AND it has the most GORGEOUS views of NYC to set the stage for a New York wedding weekend!!

Emma was INCREDIBLE from day ONE!

Once my fiance and I had all but inked the contract, we thought it would be prudent to bring our parents to Robert for lunch one afternoon ...

Emma went above and beyond and made that lunch SO special for our families. The afternoon was FANTASTIC - Emma's team treated us to the most incredible afternoon. Our parents were sold on Robert within 15 minutes of their arrival.

When COVID forced us to postpone our wedding, Emma was BEYOND helpful. She immediately responded to our frantic emails inquiring about potential postponement dates with calm, intentional, thoughtful responses.

Not only was the team at Robert flexible in accommodating a date change, Emma went above and beyond in proactively providing suggestions (and troubleshooting scenarios) for outdoor alternatives within their restaurant group that were a bit more COVID friendly... We would have never had seamless of an experience if we hadn't been working with such a prestigious restaurant group in NYC.

If you're still reading this and still not convinced......

In the depths of quarantine, on our original wedding date, we were so overwhelmed to receive a delivery from Emma and the whole team at Robert. The delivery was a (huge!!!!!) care package filled with sweet treats to commemorate our original wedding date. The whole Robert team really made us feel like we weren't just another Friday night event that got cancelled in 2020, we were a part of their company's world.

If they could make us feel so special in May 2020, we can't wait to see what they will do in May 2021!!!

We cannot endorse the team at Robert more.



James G.

Married on 02/10/2020

Views! Views! Views!

Last year, we were looking for the quintessential NYC venue to celebrate our recent wedding. Our friends and family were planning to come from out of town (and from around the world!) and we wanted to pick a spot that would "wow" them. My husband and I have been NYC residents forever and love the Upper West and Central Park. Robert at the Museum of Arts and Design was the perfect location for us due to its proximity to both. Robert is modern, elegant and edgy. The panoramic views overlooking Columbus Circle and Central Park from the restaurant are breathtaking. The lighting and seating arrangement was spectacular. The dinner guests loved the fact that the museum was within the same facility!

We worked with the venue Manager "Kristi" very closely. She is extremely organized and put us at ease with her exceptional customer service and attention to detail. No details were overlooked and Kristi inspired a lot of confidence early on so that we could relax and she delivered what she promised. The menu options were varied; there was something to appeal to everyone...the food and its presentation was a feast for the eyes and the palate. We sat down with Kristi and the restaurant Manager and picked out the menu (without any pressure). The combination of choices of entrees and array of desserts left our dinner guests talking about the spread for months! The venue staff was very polished, professional and welcoming. The piano made available at the venue allowed me to bring in a live musician to entertain our guests while they dined and looked out at the incredible views.

Every bride wants a unique experience so that she can always reflect back on her special day. I can truly say that I was delighted by the place that provided me and my guests a chance to celebrate in a warm ambiance with a flare and sophistication that I dreamed of. Robert was the perfect place to create the memory of this special day that I will cherish for years.

I highly recommend the venue and the staff!

Thank you Kristi and all the staff at Robert for making it so memorable!


Sarah

Married on 04/27/2019

Perfect NYC restaurant wedding

We loved our experience with Robert. We wanted a more informal ceremony/reception and loved the idea of a restaurant wedding. Thanks to Kristi and Richard, we were able to have our perfect wedding and give our (mostly out of town) guests a unique, Manhattan experience. The best thing about working with Robert is since it's a restaurant, they take care of all the nuances that normal venues might not. From the food to the atmosphere to the Central Park views, our wedding was truly our best day ever and our guests were so impressed.

Vanessa

Married on 10/21/2018

Hands down, having our wedding at Robert was THE. BEST. CHOICE.

Hands down, having our wedding at Robert was THE. BEST. CHOICE. Ana Harris and her team at Robert are EXPERTS in hospitality and event planning, and with their help my husband and I had the most beautiful and elegant wedding we could have ever imagined, and ultimately the best party we have ever been to…and we hosted it!

Let's start with the venue: Robert Restaurant is a hidden treasure inside the Museum of Arts and Design, and has the most spectacular view of Columbus Circle and Central Park. Our guests, most of whom live and have dined throughout Manhattan, were surprised they had never heard of Robert, and as the elevator doors opened to the restaurant, our guests were completely blown away by the restaurant's elegant and modern décor, impressive floor to ceiling windows, and its breathtaking view.

Our Food & Beverage: During cocktail hour there was a varied selection of passed Hors D'oeuvres, prosecco and sparkling water as well as open bar. We chose not to have a formal sit down dinner, and instead we opted for cuisine stations. Robert has such a wide range of delicious selections to choose from, it was difficult to decide. Ultimately we decided on 4 stations: Station 1. Carving Station: Filet Mignon with Garlic Mash Potatoes, and Glazed Baby Carrots. Station 2. Italian Station: Traditional pasta with Pomodoro Sauce & Basil, Grilled Seasonal Vegetables, Fresh Arugula, Strawberries, and Shaved Fennel Salad with Crispy Prosciutto on the side (for our Raw Vegan Guests), Assortment of Rustic Breads and Herbed Olive Oil. Station 3. Latin Station: that included a Red Snapper Ceviche, Marinated Steak & Pescado Taqueria, Chipotle Chicken Quesadilla, Guacamole, Salsa and Chips, and Grilled Mexican Corn, and 4. Asian Station: Chicken Teriyaki, 3 types of Maki Rolls, Tuna and Salmon Tataki, Sesame Bok Choy and Vegetable Lo Mein. For Dessert: A selection of Petite Desserts, and wedding cake! I have never heard of another restaurant or venue that offered such an eclectic range of cuisines. And these are just a few examples that Robert has to offer!

Adding to delicious foods and gorgeous venue, what makes Robert truly EXCEPTIONAL, is the care and thought Ana Harris and her team put into making sure we had the best day of our life.

For example, we didn't have a DJ in mind, and, after getting to know our style and taste in music, they considered the many DJ companies they've worked with, and recommended Pristine Productions. They were EXCELLENT. Pristine Productions worked with us by asking what genre of music or songs we liked or didn't like. They also offered an inspiring list of songs to walk down the aisle to when we didn't have one in mind. And after the ceremony, the DJ was able to read the room, played fantastic music, and brought everyone to the dance floor. And everyone DANCED! We also had no idea what type of "Alter" we wanted, but Ana offered some incredible suggestions, and directed us to some of the best places in the Flower District for creative and inspiring ideas. We also had no idea what cake we wanted – but by asking a few simple questions (what color was my dress, how many tiers, and what flavor we wanted) we put our complete trust in their Pastry Chef Benito, and on the day we received the most elegant, beautifully decorated, and delicious cake. In fact, most of our guests went back for seconds and thirds! And these are just a few examples of how thorough, thoughtful, personal, and collaborative Ana and her team at Robert were to insure we had the best wedding event to remember. Whatever ideas or concerns we had, they listened and were receptive, and ultimately, they gave us even BETTER ideas.

We could not imagine a more positive experience in a wedding planning experience.

And since our wedding event, all of our guests have said that ours was THE BEST WEDDING they have ever been to. Everyone loved the food. Everyone loved the venue. Everyone danced the night away.

Thank you, Ana Harris and the entire team at Robert for an event to remember for all time.


Polly

Married on 01/04/2018


These are stunning photos and an amazing venue. My favorite place to buy wedding gifts and decor I always go to www.5thavestore.com. Check them out they are amazing!


We sincerely think we had the best wedding ever thanks to Robert. The venue is sophisticated with the most glamorous views we can imagine. The cocktail hour was delicious -- plenty of passed hor d'oeuvres and waiters serving wine (in addition to the non-stop open bar), with guests' jaws dropping when the elevator doors opened and they entered Robert and saw those views. We then had an open structure -- substantial food and carving stations instead of a sit-down meal -- and not only was the food delicious and beyond plentiful, but this structure allowed for a fun, lively night encouraging all of our 140 guests to mingle, which they certainly did. The sound system was perfect, we were thrilled to be able to use the grand piano for the cocktail hour and live singing by one of the grooms (!), and Robert even allowed use of the TV video display, normally reserved for electronic art, for our own use for photos and clips. Arthur was wonderful in working with us in advance and making sure every detail was in place and perfect, the staff accommodated our dropping by the restaurant numerous times before the event (to check out the floor plan, etc..,.) and on the actual night, the staff could not have been more welcoming, helpful and lovely -- one of my treasured memories was Chef Luisa lovingly bringing our hungry 6 year old niece a plate of simple pasta right before the wedding started -- personal touches like that in the middle of a huge event abounded. Our guests have been telling us non-stop that our wedding was the most fun they have been too, and we have to agree -- thanks to Robert and the entire team there, we had the best night of our lives and we think our guests had one of the more magical nights of theirs. We could not have made a better choice than Robert, and the wonderful team there (Arthur, Richard, Chef Luisa, Pastry Chef Benito and the rest). Thank you Robert!

Craig

Married on 09/07/2013

This place is a gem in Columbus Circle, NYC. The views are SPECTACULAR. If you want to wow your guests....this is the place. Food is exceptional. They will do anything you want when it comes to the bar. They can accommodate things like ice luges, photo booths, dance floors, bands, and more. Kristi and Richard were a dream to work with.