15 Reviews
Recommended by 93% of couples
Quality of service

4.6 out of 5 rating

Average response time

4.6 out of 5 rating

Professionalism

4.7 out of 5 rating

Value

4.7 out of 5 rating

Flexibility

4.7 out of 5 rating
35 User photos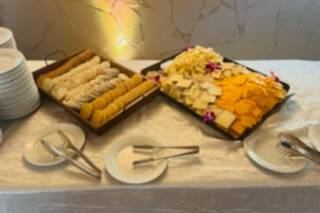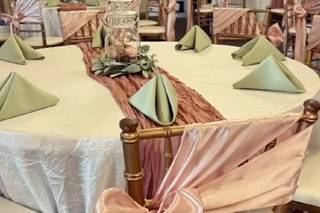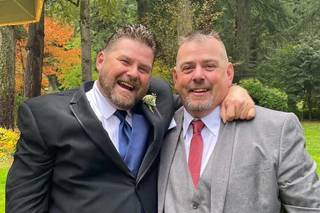 + 31

photos
Featured

Monica G.

Married on 10/15/2022

Phenominal Catering service

Ryan was the bartender, wedding venue manager, restaurant manager, and chef. He was beyond exceptional and I would HIGHLY recommend the river view restaurant to cater any wedding. We're thinking about doing another event with him; it was THAT GOOD!
We had cheese and cracker platters, original groom and bride drinks made, chicken florentine, rolls, salad, drinks, and alfredo noodles. Everything was DELICIOUS and Ryan and his staff were so helpful every time we reached out with questions. It made everything so much easier. Thank you Ryan and everyone at the river view restaurant!


Demi S.

Married on 10/14/2021

Weber Wedding

Thank you Riverview Restaurant for hosting our beautiful wedding. The venue is absolutely beautiful and if you're looking to get married in Oregon and have AMAZING food… this venue is for you! The GM/Head Chef Ryan was so great to work with! He was there for me and all my questions every step of the way. The food and staff are remarkable people and did an wonderful job! Thank you for everything!

Best,

Mr. & Mrs. Weber

+ 12

photos

Leanna

Married on 10/05/2019

Riverview Restaurant is a hidden gem!

Riverview Restaurant is a hidden gem! We booked Riverview in June 2018 for our October 2019 wedding and worked with Samantha for that whole time. She's amazing and answered all of our questions, provided excellent guidance, and was a pleasure to work with. Riverview is flexible and helpful and responsive. We got married in The Grotto and had 170 guests and it couldn't have been a better experience for us and our guests. Riverview includes so much in their packages that it makes planning much less stressful. We loved having them as our caterer and alcohol provider as well - the food is DELICIOUS and all our guests raved about it. They have a great selection of cider, wine, and beer - all great options for a discerning Portland crowd. It's an absolutely beautiful venue and has everything you need for different parts of your wedding. It makes an extraordinary background for photos as well! Our wedding day was flawless, and if it wasn't we didn't hear anything about it! We had the best experience and can't recommend them highly enough!

+ 14

photos

Are you interested?

Send a message

So far I have only met with the event planner, but she is really accommodating and enthusiastic. Some of the other places I've been in contact with seemed stand-offish and didn't seem to want our service, whereas the event planner here made us feel welcome and answered all our questions no matter how strange they may have sounded. We were ecstatic and fell in love with this venue and cannot wait to have our wedding here!

Ann

Married on 05/14/2016

This venue was perfect for our needs. We were married at Riverview in May 2016. It was beautiful inside and out. The events manager Katrina was great to work with and our rehearsal dinner and wedding went off without a hitch. I couldn't be more pleased with her and the staff's level of service and attention to detail. The food was delicious thanks to Chef Ryan and team. I would highly recommend.

Samantha

Married on 10/18/2015

I had my wedding on 10/18/15 at Riverview Restaurant 's Waterfall Estates). It was AMAZING! I worked with Katrina Coy who is in charge of events. From the moment my husband and I met with her, over a year prior to our wedding date, we fell in love with the venue and Katrina! She was very upfront about costs and went over every single detail with me. The venue provides linens, chairs, napkins, etc and you are required to purchase the food/drinks from them which was a blessing for me. More power to those who can go through 20 different vendors but I wanted more of an all-in-one package deal. We got a free tasting of food and drinks prior to the wedding that was shared with. Katrina was very thorough answering my questions and asking her own to make sure the day was everything we wanted and it turned out perfect. We held our rehearsal and rehearsal dinner at Riverview as well and that, also, was perfection. On the day of the wedding, if anything went wrong, I had no idea. The day of the wedding was sort of sketchy with the weather… it rained the night before but was looking like it would be a nice day. When my husband got to the venue, they had two ceremony locations set up - one outdoors at the gazebo and one indoors at the chapel. My husband made the final call (indoors) and they took down all the chairs within minutes, before I even arrived, hours before the wedding. There are separate areas for the girls and guys to get ready with AC, blinds, small kitchens, bathrooms, seating… the whole shebang. Arriving to my room stocked with champagne was fantastic  The food and drink service was professional, and I didn't hear ANY negative comments about the food! Which is a feat in itself - often wedding food tends to be, well, bland or boring or cold. This was fresh, flavorful and delicious! The venue cleaned up everything after the event and even bought back some of the unopened wine! I couldn't have asked anything more of Riverview and will definitely refer to friends!!

Michelle

Married on 10/17/2015

Our October wedding was absolutely beautiful here! They were so flexible when it came to location for the wedding, which was a huge factor in our decision to get married here. An outdoor ceremony in October is a gamble, so it was a huge relief when Katrina, the awesome coordinator there, told us we could decide the day of the wedding where it would be held! The reception hall was beautifully lighted and they let us start setting up the day prior, which was a huge relief in terms of day-of preparation. Grounds were neat and fall foliage was in full swing - perfection!
Katrina treated us with such respect and understanding. She let us tour the place about a million times over the months, which was really nice and absolutely above and beyond expectations. My grandma went out one afternoon to look around, and since the gates were closed she was peeking through the bars - Katrina saw her and offered to tour her around - so incredibly kind and sweet of her! That made me feel like she truly cared about me and my wedding in a way that extends beyond her responsibilities as a vendor representative. This place felt like home and I would recommend it to anyone!

Kati

Married on 07/11/2015

This weekend marks 1 year since our beautiful day at the Riverview. We have been reminiscing how amazing Katrina, Brian and their entire crew were to work with for the full course of our year plus engagement! With over 300 guests, they were very flexible and accommodating to our many different ideas for the full day. From scooping ice cream to go with our cake to rearranging a new ceremony layout in the Yoshida gardens, they nailed it! You can't beat a beautiful location with an all-in-one package - ceremony and reception areas, in-house restaurant for catering, and bride/groom cottages for getting prepped on site. It was a sentimental Sandy river location and wonderful experience we will cherish forever! Thanks again Riverview.

Elizabeth

Married on 11/12/2011

Retirement Party

I hosted a retirement party for a family member in the banquet hall. The venue space was beautiful and a perfect size for our group (around 60 people). The staff on site for the event were professional and very helpful. The hosted bar was a hit, the food was delicious and a very good value for the amount of food included. I would highly recommend Riverview for any special event!

Loved it! Husband and I toured it and knew instantly its what we wanted. Our planner was easy to work with and returned phone calls in a timly manor. Beautiful Oregon location. Our wedding was in October so we had the ceremony in the cute little chapel. Looks small but easily fit our high number of guests. The bride and groom prep cottages were cute and relaxing. We sipped mimosas and nibbled on snacks. The ceremony was short and sweet. Our guests enjoyed the cocktail/apps during our picture time. Our pictures turned out really well on this property. Green, lush and the waterfall was pretty. The reception hall was spacious. Lots of room for all of the tables and dancing. The food was delicious. It was well staffed. The servers were kind and professional. Overall we had a great experience using Riverview. Our friends and family liked it also.

Beautiful location. Perfect for photos. Bride and groom prep cottages. Indoor and outdoor ceremony options. Professional, accomedating and flexible staff. Large variety of color/linen options. Amazing food. Plenty of parking. It was the best location for our special day. I recommend everyone to at least take a tour.

Toan

Married on 09/27/2014

There was some concerns with the event coordinator (through no fault of hers) but Ryan the manager stepped in to get us comfortable that our business was valued and that the wedding was as important to them as it was to us. They bent over backwards to give us what we wanted and allowed us a lot of flexibility given that we reserved the place only 3 months before the actual wedding date. It was a beautiful venue and if you're going to reserve the place, I would strongly recommend reserving the whole restaurant which includes the gardens as well. We had a beautiful outdoor ceremony and a wonderful dinner instead the restaurant itself.

The setting is beautiful. Package prices allow several choices to fit your budget or party size. Event manager very flexible and available to meet and discuss options. Food was delicious - make sure to take advantage of the tasting prior to the ceremony (many menu choices available to sample). Our guests had a wonderful time - enjoyed the venue and food; appreciated convenience of ceremony and reception being at the same location. We can't think of any other place we would have wanted our wedding and relive lovely memories every time we return.

Taylor

Married on 09/05/2010

Overall Riverview was great. The food was delicious! The venue is absolutely beautiful. It was the epitome of an Oregon outdoor wedding. Trees, flowers, a beautiful gazebo, and a waterfall. It was stunning. The problems were: the original wedding coordinator for their wedding venue decided to leave that job and never told us. I had emailed several times and never heard anything. Finally someone contacted me and told me he had left and so I had to be in communication with the head chef. He was actually really nice and a big help, I was just frustrated in the lack of communication. Another issue was the cost. Given, it's a really nice venue, and the food was incredible, it was very expensive. And then on top of that, there is an 18% gratuity added on in the end which ends up being another $1,000. Another problem was that in the package that we chose, there was supposed to be fruit platters, cheese/meat/cracker platters and veggie platters in the brides and grooms cottage where you get ready. They never provided that so we were left sending friends to Taco Bell to provide lunch for the wedding party while everyone was getting ready. Also, we had ordered a sparkling cider toast for our wedding, and nobody ever got the sparkling cider. The waiters were supposed to give them to each guest, and they never did. Overall, it was nice. My last words would be that if you have a big budget, this is a great place. If you're trying to keep cost down, I'd probably suggest going somewhere else.

Kate

Married on 07/14/2018

The Yoshida Estate can't be beat for the beauty of the scenery, but unfortunately you are locked into their catering services, which did not work out for us. Before signing our contract, we were told that while Riverview is not a wedding coordination service, they employed an events manager who, while limited in her responsibilities, would work with us to ensure our wedding was arranged and executed according to our plans, and that this person would be available and onsite to assist in the coordination between our people and the restaurant staff leading up to and including the day of our wedding. The restaurant lost this person 2 months prior to our event and chose not to replace the position, so the same ONE person ended up working as executive chef/general manager of the restaurant/and events manager. This led to a great amount of undue stress & added work on me leading up to the wedding, as I hurried to redo all the work I had already done to set up the details. There was limited communication from them. Perhaps this is what led to many unfortunate mishaps that day. The venue ended up messing up the dietary restrictions we specifically chose the restaurant to accommodate. The buffet was late and yet there was no communication from them, even though we could have easily compensated with additional cocktail hour time in the shaded cocktail area. Instead our guests sat around waiting, seated in direct sunlight in the reception area on a hot day without food, with poor drinks service although we were assured their waiters could serve our guests wine. Some of my guests left at that point, and I -- the bride -- had to overhear others complaining! Also beware that the Yoshida estate only offers buffet dinners, not plated, and the quality of the food was much less than what we experienced in the tasting. Fish was dry and prime rib was hit or miss. I did not really enjoy my wedding when I found out my guests were not being taken care of, and I can't get that day back.