Reviews
4.6 out of 5 rating
Quality of service

4.6 out of 5 rating

Average response time

4.7 out of 5 rating

Professionalism

4.6 out of 5 rating

Value

4.7 out of 5 rating

Flexibility

4.6 out of 5 rating
93%
Recommended by couples
2 User photos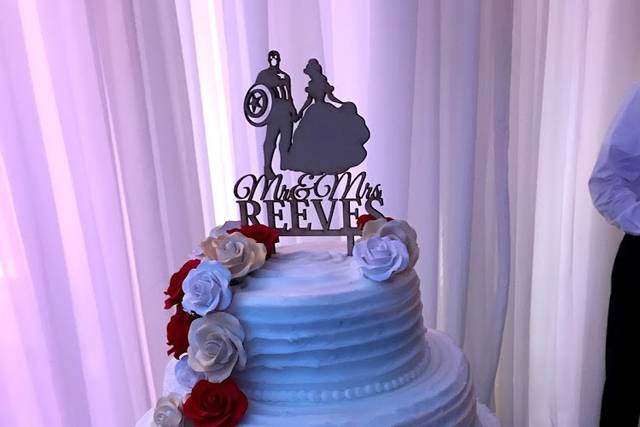 Megan

Married on 11/30/2018

Delicious cake for wedding and rehearsal dinner!

I can't rave enough about how delicious the cakes are at Rilling's and how amazing the tasting experience was. When we arrived at our tasting, we were presented with about 8 different chunks of cake to try (all were incredibly delicious) and then were told we could take home the leftovers when we were done, which was a lot of cake! We ended up doing some layers in the regular pound cake and some in chocolate chip. They were also great to work with the design I wanted and only charged me a tiny upcharge for what I wanted (the venue covered the main price of the cake so I'm unsure of how much that was but I feel like it was probably reasonable). I loved their cake so much that I ordered a cake for the rehearsal dinner and did not regret it. They worked with me to make a video game controller for the groom's cake made out of chocolate fudge icing and chocolate cake...it was unbelievable! I would use them for every occasion now.

Rilling's Bucks County Bakery's reply:

Thank you so very much Megan!! Congratulations and many years of health and happiness to you both :) Diane


Lauren

Married on 08/25/2018

Yummy and Perfect!

Before meeting with Diane, we browsed their extensive website and found the perfect cake design for us. Diane was very kind and helpful during our consultation. She provided us with numerous samples to try (and bring home). We went for a rather basic cake, but they had plenty of options for those who prefer fancier cakes. The cakes were all delicious and moist. The cake made for us was beautiful, just as we envisioned. Everyone enjoyed it!

Cassie

Married on 09/29/2017

YUM! My husband grew up getting his wedding cakes from Rillings, so it was an easy choice for our Bucks County Wedding. Our tasting was fantastic - we spent about an hour creating a custom cake. I wanted each layer to be a different design/pattern and we created an absolutely beautiful cake together! The bakery spent time drawing a couple samples with me, and showing me pictures from their book to combine each layer. We didn't add flowers - all decorations were done with icing (white on white). We also had different flavors on each layer since we couldn't pick just one! Great experience with them, and beautiful cake on our wedding day!

Rilling's Bucks County Bakery's reply:

Cassie - Thank You so very much!! What a beautiful way to start my day!!
Many years of health and happiness to you both!! Diane

Are you interested?

Send a message

Michael

Married on 10/15/2016

Rilling's became our baker for the wedding due to an unfortunate event but they were able to accommodate us immensely as we scrambled (a little) to figure out what we would do for our wedding cake. We met with Diane for a tasting and consultation three months prior to the wedding and she already had all of our information that was provided to the previous baker. This was very helpful as we were set on the style cake we had already chosen. The cake we tried was delicious and we chose the chocolate chip pound cake and the raspberry swirl pound cake. We had a larger cake topper which was no problem for them and they made sure that we would have enough cake for all of our guests.
They delivered the cake to the venue without any need for communication with us and we first saw the cake at the reception. The cake was beautiful and had everything we asked for. Working with Rilling's was so easy and they were so accommodating after we came to them that close to the wedding. If I was in need for a cake for an event, I wouldn't go anywhere but Rilling's.

Rilling's Bucks County Bakery's reply:

Thank you so very much Michael - You review was the first thing I read this morning and made my day :) Many years of health and happiness to you both. I am just so glad we were able to help out.

Johanna

Married on 07/17/2016

We had a choice of several bakeries to use for our cake, but there was no question we were going to choose Rilling's from the start. They provided top quality service from the very beginning. Our cake tasting was delicious! They also spent time going over the various decor options and I couldn't be happier with what we chose. The cake was beautiful and a true highlight of our wedding day.

Rilling's Bucks County Bakery's reply:

Thank you so so very much Johanna - what a great way to come back from vacation to read your review - you just made my day better :) Best of everything to you both Diane

Colleen

Married on 06/04/2016

We used Rillings Bakery for our wedding cake in June and we could not have been happier! They were so easy to work with, and when we went in for our tasting we were able to try a wide variety of flavors and they were all so delicious (I love the almond mixed with the raspberry with the buttercream frosting). Diane was such a huge help, she was so friendly and was able to make recommendations like how much cake we needed (we had no idea) and was so friendly! When we arrived on the day of the wedding I was blown away at how beautifully designed the cake was. I highly recommend Rillings, you will not be disappointed!

Rilling's Bucks County Bakery's reply:

Thank you so very much Colleen!! Many years of Health and happiness to you both :) Diane

Rachel

Married on 04/30/2016

Rilling's bakery was suggested to us by our wedding venue (among a few others) but we were so happy we chose them! I'm not the biggest dessert fan but by the time we started trying cakes I started to change my mind! I never knew pound cake and icing could come in so many shapes, sizes, and flavors! Don't get me started on the icing ;) The woman who's family has owned it for years (I'm sorry I can't remember it the moment) was phenomenal in every way. She was so kind, patient, and down to earth. She made picking cake(s) easy and not even a little stressful. She did an excellent job and explaining every detail (who knew there were so many decisions to make?) and was always patient. She never once tried to up selling but did give us endless options. Our cakes (we had a 250 person wedding so there had to be multiple) turned out exactly how she said they would, even better, I think! Our guests were so pleased. We will definitely be back :) Thanks so much again.

Rilling's Bucks County Bakery's reply:

Rachel I just want to Thank you so very much!! This business can get tough at times especially around the holidays and you start to think to yourself "Am I doing what I should Be?" But then I read something like this and I know I am right where I need to be!! Thank you so very much, Diane
And no worries on my name I get Donna, Debbie, u name it anything with a D lol

Rebecca

Married on 03/12/2016

My husband and I picked Rillings Bakey for our wedding cake and we couldn't be any happier with out choice! It was absolutely beautiful and was so delicious! I did the cake tasting with my sister in law and niece and they prepared a box for us with all the different flavors so we could taste them at home! I highly recommend them for your big day!

Kimmy

Married on 03/09/2016

The cake looked beautiful and was so delicious

Megan

Married on 01/02/2016

Everyone at Rillings was great! They were so helpful and able to create a perfect wedding cake! It was DELICIOUS!

Rilling's Bucks County Bakery's reply:

Thank you so very much for your kind words. Many years of Health and Happiness to you and Philip :) Diane Tino

Tiffany

Married on 09/05/2015

Diane and Terry went above and beyond to help my husband and I select a cake for our wedding day. We were overseas but planning the wedding for our return, and they made sure we were able to sample the cake with the little time we had before our big day. The cake was one of the best wedding cakes I've ever had, and I'm not even a big cake person. We selected pumpkin chocolate chip with cream cheese icing, and it couldn't have been any more perfect. We would use them all over again.

Rilling's Bucks County Bakery's reply:

Tiffany - Thank you soooo much for your kind words!! I would LOVE to see a photo of your cake finished since I believe your florist was decorating with fresh flowers - if you get a chance to you can email it to me at rillingsbakery@comcast.net that would be fantastic. Have a wonderful day and many years of health and happiness....Diane

Ms. Diane and her team did their thing!! The only thing that went well for my wedding was the cake; venue and photography. I got married on 8/15/15 and everyone is still raving about my vanilla pound and my lemon w/ buttercream-cream cheese icing. The cake looked beautiful and it was delicious. Just to live for !! I'm so appreciative of their willingness to forth the best effort in customer service during the tasting; design; price options and quality of the cake. The cake was so amazing that I ordered another exactly one week later for my daughter's birthday. I love RILINGS; They are absolutely AMAZING :)

Megan

Married on 05/30/2015

Wow! Rillings helped us design our DREAM wedding cake! From the flavor of part chocolate chip and part almond raspberry pound cake with cream cheese frosting, to the intricate designs and ability to put our monogram on our cake, we could not have asked for more! The upgrades were reasonably priced and looked beautiful!

Nicole

Married on 04/25/2015

Our cake was absolutely beautiful and delicious!!!! I showed Diane a picture from Pinterest and she did a great job replicating it with her own touches! They were so generous with their tasting samples... so go hungry and expect leftovers! So delicious!!! :) thanks again !!

Rilling's Bucks County Bakery's reply:

Nicole you are so very kind!! I am so glad when we can give customers what they envision :) Our grandfathers pound cake recipe is so delicious I LOVE to share it generously - and hope that we become a tradition in your family as that is what has kept us going for 3 generations - Wonderful customers like you!!

Delicious and beautiful! Our wedding cake was even more amazing than we pictured!

Gael

Married on 01/03/2015

I loved working with Rilling's to make my wedding cake. From the cake tastings, to looking at design options, and customizing their designs to fit my exact vision, every thing was fun. Since I got married in January, my cake had a winter theme. They were able to make it cute and wintery, matching my polar bear cake toppers, but they kept it classy. It definitely looked like a wedding cake, not like a child's "Frozen" birthday cake. The tired cake that I had on display was chocolate chip and tasted great, but the real star of the show was the carrot cake sheet cake that I also served! Instead of putting a carrot on top of each slice (as is customary with carrot cake) we had sugar snowflakes on each slice. I have been to many weddings where the cake is dry and boring, but I heard from many guests how much they loved both the chocolate chip and the carrot cake. And guests love options, I definitely recommend getting more than once flavor, and getting it from Rillings!

Laura

Married on 11/14/2014

My cake was my favorite part of my wedding! It was absolutely beautiful and so delicious! I can not say enough wonderful things about Rillings bakery! I will definitely go back and will be recommending them to everyone I know!

Rilling's Bucks County Bakery's reply:

Laura - I can not Thank you Enough for your kind words :) No better way to start my day!! I can't wait to see you again :) Diane

Jennifer

Married on 08/09/2014

We loved, loved, loved our cake! It was exactly what we talked about during our trial. And it was beautiful and absolutely perfect. And it tasted delicious. We received so many compliments. We can't say enough great things. We definitely will use them again for any future cake needs!

Taryn

Married on 05/31/2014

We ordered our wedding cake at rillings and Diane was great to work with from the beginning. We chose a 4 tier cake and I just wanted something plain, but my fiancée really wanted cascading flowers down the side. It was not my thing but I decided he should have a say too, so we went with it. I emailed Diane a preview picture of what my flowers were going to look like and on the day of my wedding the cake looked absolutely beautiful! The flowers that were cascading, you would have thought they came right from my bouquet!! They matched so well and it was so gorgeous!

Amazing cakes, quialty, and prices around. They were more then helpful and willing to go out of there way for what I wanted. The cake was the best I ever had! Many people asked where I got it!

Shannon

Married on 03/22/2014

Rilling's was a pleasure to work with for our wedding! The cake was bsolutely amazing and exactly what we wanted. We've gotten so many compliments on how delicious it was and how beautiful it looked. Thank you!

Rilling's Bucks County Bakery's reply:

Thank you so very much for your kind words - I am so happy you were so pleased Diane

Meridith

Married on 03/01/2014

I had never been to Rillings before we purchased our wedding cake, but now I understand why people love it so much! When we went to order our cake, they provided slices of a large variety of cakes for us for try. Each one was truly amazing! We chose lemon for two tiers and chocolate chip for the other two. We received compliments throughout the wedding night on how delicious the cake was! They did an outstanding job decorating the cake too! They listened to our ideas, provided some of their own, and the outcome was a masterpiece! I highly recommend Rillings!

Krista

Married on 08/31/2013

They made a beautiful cake for our wedding. Everyone loved the design and taste of it!!

Julie

Married on 05/25/2013

Warrington Country Club offers the choice of two bakeries for their wedding cakes. I, of course, went with Rillings as I grew up with Rillings and they have the best cakes ever! I was not disappointed! My cake was absolutely Breath taking. More people had comments about the cake, not just asthetically pleasing, but delicious! We had two flavors, white pound cake with white icing and chocolate chip pound with white icing. The left overs were sent home with us and the next day we had a brunch, I saw several relatives go back for second and third pieces of cake.
We also added a couple of trays of mini desserts, they too were awesome!
Diane was a doll to work with, she obviously takes pride in her work and enjoys it as well.
Can't wait for my anniversary to have the cake topper! I am sure it will still be delicious!

Rilling's Bucks County Bakery's reply:

Julie Thanks you so very much ~ your review brought tears to my eyes :) It was our pleasure to work with you and I am so glad everything was wonderful!!

Nikki

Married on 05/18/2013

Wonderful and tasty cake! The staff was SO great to work with!
Are you interested?
Send a message