Reviews
5.0 out of 5 rating
Quality of service

5 out of 5 rating

Average response time

5 out of 5 rating

Professionalism

5 out of 5 rating

Value

5 out of 5 rating

Flexibility

5 out of 5 rating
100%
Recommended by couples
8 User photos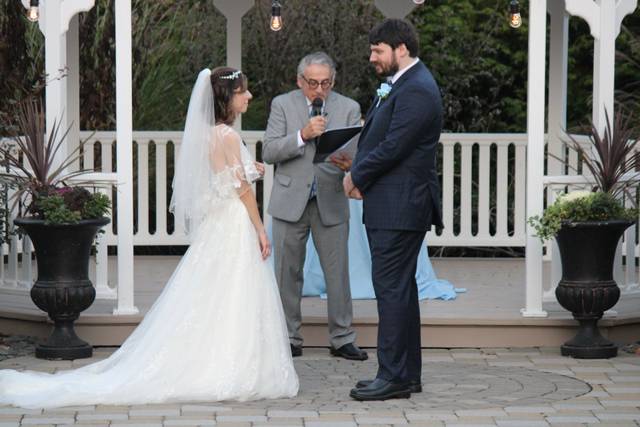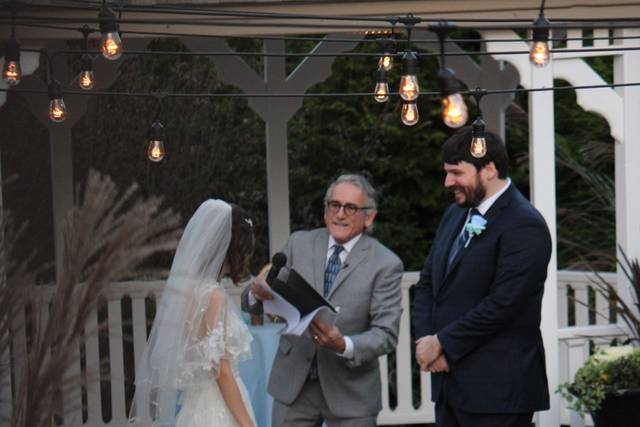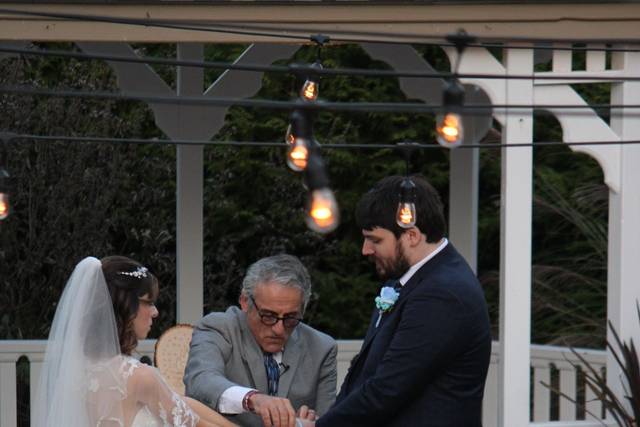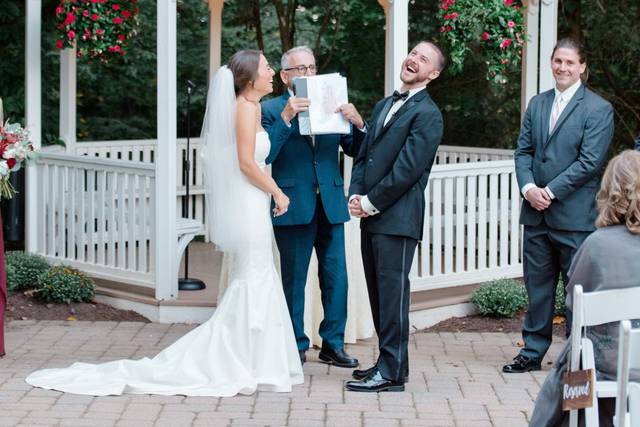 + 4

photos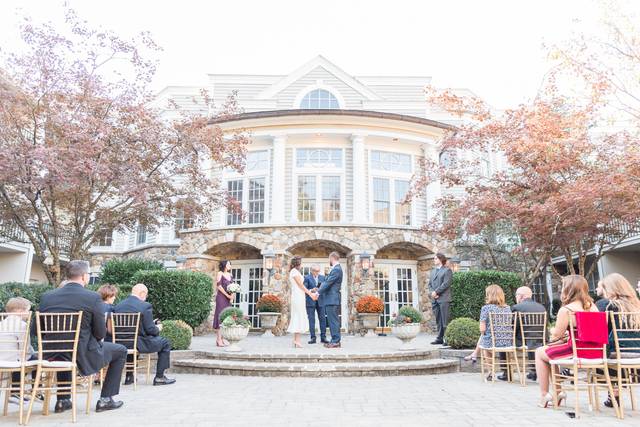 Cali F.

Married on 10/22/2022

Cali & Samanthas Wedding- 10/22/2022

We were originally planning on having a priest perform our ceremony but due to multiple reasons we decided against that about a month out from the wedding. We went on a search for an officiant that was a better fit for us. With being so close to the wedding, we were afraid we would have to settle for someone but boy were we wrong! Rich was the first one we reached out to, he responded super quick! We got on a zoom call and we knew right away he was our man! Rich was super attentive to the little things we wanted in our ceremony. Payed close attention to the processional and music changes down to our unity ceremony. We had a unique unity ceremony that we celebrated with a shot. He planned it in a non traditional way in within the ceremony and creating the perfect wording. The day off, he arrived and did a little rehearsal with the bridal party and us so everything could go smoothly. Even practiced again with where the bouquet would be handed, moving with the train of the dress, plus the kiss into a dip. Our guest's plus ones (who don't even know us) even came up to us after the fact… saying the ceremony had them crying. Rich put so much effort into making our ceremony the best it could possibly be. He made us feel comfortable and created a relationship with us. Our family has grown for sure! The best of the best!

Kyle G.

Married on 07/22/2022

Wonderful experience! Richard exceeded all expectations!

Richard is the best there is! He is so professional, easy to work with, and understand everything you'll need throughout your wedding and the wedding process. He cares about you and your special day and will make sure to understand your wants and needs. Communication is a breeze as he will make sure to set up zoom calls and e-mails you constantly through the Richard is the best there is!

Will

Married on 04/12/2022

Perfect wedding a large thanks to Richard Cash

Richard was our guide throughout the entire marriage process and made marriage a smooth and memorable event. It will be a day we will never forget and Richard Cash was a huge part of making it perfect for us.


Richard Cash, Officiant's reply:

Will, Thanks for the kind words. It was perfect but I can't take all the credit. You and Lingwei stole the show with your personal vows to each other.

Are you interested?

Send a message

Alyssa P.

Married on 11/16/2020

Richard Cash is the best!

From our very first meeting with Mr. Richard Cash, we could tell how wonderful he would be to work with, even from the start! Our very first communication was positive and we loved that Richard really took the time to get to know us as a couple and work together with us find what we were looking for in our wedding ceremony. Richard is professional, personable, friendly, and has truly been a pleasure to work with for our wedding! He created a personalized ceremony that incorporated both our traditions and was just what we wanted for our dream wedding. All of our guests had many compliments to say about Richard and our ceremony. We were so happy with how smoothly everything went. We really can't recommend Mr. Cash enough!!

Richard Cash, Officiant's reply:

Hi Alyssa and Matt, Big virtual hugs for taking the time to post such a sweet review. Despite having to plan your wedding during COVID, everything turned out perfectly - the weather for early November was incredible, the way the tables were set looked like a garden party, the ceremony was intimate and easy going - the hand fasting fit right in with the warm energy from your guests. I had a great time and am grateful to you that I was able to be part of your amazing day. XO

Catherine M.

Married on 10/09/2020

Two Perfect Wedding Ceremonies!

From the moment we met Richard two years ago we had a feeling that he was going to be a big part of why both of our weddings were so amazing. We ended up chatting during our initial meeting for 2 hours! Richard is so personable, friendly and kind - we decided to hire him on the car ride home. We ended up having to postpone our October 2020 wedding a year, but still wanted to have an intimate ceremony on our original date. Richard was super accommodating and helped us through the whole process. He really wanted to get to know us and was so genuine. I didn't think anything could top our first ceremony. We had a couple funny hiccups that made our second ceremony even better. It was a combination of serious, silly, intimate, and emotional all wrapped into one. We are so extremely happy and grateful to Richard - we couldn't have asked for a better officiant.

Richard Cash, Officiant's reply:

Yes, two perfect ceremonies with a couple that is truly perfect for each other. I agree, the second ceremony actually topped the first one thanks to the hiccup from your dad and the blooper Jeff made trying to figure out where your ring went the first time we did it. I knew everyone would find the humor in the story and they'd appreciate the image of the hand I printed out that had arrows all pointing to the ring finger. Adding that bit of silliness made your ceremony even more enjoyable and memorable. Big hugs to both of you.

Kimberly H.

Married on 03/21/2020

Richard Cash was truly a huge part of our Wedding!

Once engaged, my husband and I knew the wedding ceremony was the most important part of our wedding. We researched online for an officiant and planned a meeting with Richard. He was so professional from the first communication! Richard provided a flexible schedule to meet and was very prepared. I instantly knew that he really got the type of vibe and ceremony we were looking for. Richard took notes on us as a couple and our vision. He even provided information on how to obtain a marriage license (which ended up being extremely important)!
We wrote our own vows and Richard prepared a ceremony with our input!
When our wedding plans changed unexpectedly, Richard saved the day! He married us at a beautiful outdoor ceremony! He literally found the perfect spot for us! His communication and flexibility were greatly appreciated. He really cared about US and making our day amazing! He truly made not only our day but our year! Our ceremony was personalized, beautiful, and very meaningful to our family.
I HIGHLY RECOMMEND Richard for your wedding. He is caring, creative and very easy to work with. I cannot image a better officiant!


Richard Cash, Officiant's reply:

Reading your terrific review reminded me that you were my first couple requesting a COVID "quickie" ceremony due to the necessary rescheduling of your original date. That spot along the canal in New Hope was ideal and, despite being confronted with having to completely change your plans, the ceremony ended up being very intimate and as perfect as possible considering the challenges we faced.

Amanda

Married on 11/16/2019

Exactly who we were looking for

We couldn't have picked a better officiant for our wedding. We felt comfortable with Mr. Cash from the beginning. He was highly receptive to what we wanted for our ceremony and was very organized and informative throughout our planning. He sent us a copy of our ceremony ahead of time for us to review and arrived early and well prepared on our wedding day. We highly recommend him.

Richard Cash, Officiant's reply:

Thanks for the review Amanda. What you didn't mention is that I was only a small (but important) piece of your entire wedding day. A day that began with Amit riding up to the front entrance on a horse for the Groom's Processional and your very colorful Indian wedding ceremony earlier in the day. So happy I was able to help make it special.

Jaimee

Married on 10/27/2019

Everyone Loved Our Ceremony!

Richard was absolutely wonderful from start to finish! From the first time we met him, he was warm and so so sweet. Its funny because after our ceremony was over, multiple people asked us if he was a family friend because it was so natural and it seemed like he knew us forever! He made an effort to get to know my husband and I, and really cared about us as individuals. He worked with us to write the perfect ceremony, and was open to anything we threw his way! What bothered me about some other officiants was that they would try to make the ceremony about themselves and turn it into a standup routine. Richard let our story shine through and really made it all about us. If you're looking for someone to give a genuine, heartfelt ceremony, Richard is your guy!!

Richard Cash, Officiant's reply:

XOXO to both! After all the rain the morning of your wedding, the sun broke through for us at the last minute and everything turned out as you had planned. The canyon of bell ringers that we all formed as you left the ceremony area was truly quite unique - I'm sure the video of it was fun to watch and relive the excitement. My bell is in my pen/pencil holder - I'm looking at it right now with a smile on my face. :)

Richard C.

Married on 10/19/2019

Richard Cash is the Right Choice

When it came time to select an Officiant, Richard Cash was the ONLY choice for us. Not only is he professional, but he is warm, fun, creative and flexible! He put so much effort into making sure our ceremony was EXACTLY what we were looking for and that it was a true reflection of what our relationship meant to us and even a reflection of who we are as individuals. From our first meeting with Richard, the entire ceremony creation process was seamless, painless and even fun. We loved that he made sure it was truly a collaborative process. When we look back at the entire wedding day, our ceremony stands out as the most memorable. Thank you Richard!!! If you're looking for an Officiant who will NOT disappoint, Richard Cash is your guy!!! Richard & Jeff

Richard Cash, Officiant's reply:

Your ceremony will always be remembered as one of my most unique and it's because you both made sure it reflected who your are, what you believe and that it expressed your 100% commitment and loyalty to each other. Thanks for posting the heartfelt review. Love you guys, Richard

Jessica B.

Married on 07/26/2019

Book richard cash!

Look no further for your wedding officiant - Richard Cash is the best of the best! My husband and I found Richard on The Knot - we emailed him and expressed our interest and he responded very quickly. He set up a place for us to meet mid-way between our house and his which was extremely convenient. Richard was genuinely interested in getting to know us as a couple and what we wanted in our ceremony. By the end of our meeting we were ready to book him.

Throughout the entire planning process, Richard responded promptly to questions we had regarding the license process. He broke down the directions for us and made it so easy. He provided us with the addresses, phone numbers, and everything we would need to secure a license. He even sent us emails to remind us!

Richard also emailed back and forth to make sure the ceremony outline was perfect. Not only did he use information he gathered from our meeting, but he did his own research on our Knot Wedding Website.

When the big day arrived, our rehearsal was starting a bit later than it was supposed to, but Richard handled it like a professional. He ran us through everything we needed as quickly as possible, putting us at ease that everything would go smoothly.

Richard's ceremony was everything we wanted and more - funny, light-hearted, romantic - it was US! Richard conducted every part of the ceremony like the seasoned professional that he is - even our LoveLocks ceremony with our parents which he had never done before. Our guests told us over and over how beautiful our ceremony was.

We are so very grateful that we chose Richard Cash as our officiant. Richard will take the time to get to know you as a couple, what your vision for your ceremony is, and he will DELIVER!

Richard Cash, Officiant's reply:

Reading your review brought back the afternoon in vivid detail - thanks for posting it. Your ceremony was so much fun and I'm not surprised that guests were intrigued by the Love Locks ceremony with your parents. I always appreciate when couple's come up with an idea that stamps their ceremony as unique and memorable.

Kirsten C.

Married on 06/22/2019

Highly Recommended!!!

My husband and I reached out to Mr. Richard Cash approximately three weeks before our wedding date. It was an unplanned, last minute, small family wedding in a park near where we live. Richard responded to my email the next day saying he was available and willing to work with whatever we threw at him. On top of him being so responsive to all of our emails and questions he explained everything we had to do step by step and his service is amazing. Such a nice personality and takes this job very seriously. He includes everything you want him to say and makes sure everything is done the way the bride and groom want. My husband and I are more than happy to say that he is the reason our day turned out so special. Mr. Richard Cash is highly recommended by us and we will be using him in a few years for our bigger ceremony.
Kirsten and Dominick Ciano

Elana

Married on 06/02/2019

Great guy!

Richard was wonderful! He was so efficient in planning our ceremony. He checked on us throughout the months to make sure we were okay in the planning process. I was a nervous wreck prior to the ceremony and Richard said just the right things to calm me down. We HIGHLY recommend!!

Richard Cash, Officiant's reply:

Elana, you may have been nervous but you and Jason still nailed your personal vows to each other. I still laugh when I think about your son picking up the rose petals throughout the ceremony - a great way to keep a 2-year old occupied. Thanks for posting your review.

Alison

Married on 05/26/2019

Choose Richard Cash! He is excellent!

We feel so lucky to have found Richard Cash to be our officiant for our MDW wedding at Rutherfurd Hall. He is a preferred vendor at David's Country Inn and upon going to his website and viewing the various types of ceremonies he constructs and listening to his speaking voice, we knew he was the right guy to marry us! Throughout the entire wedding planning process, Richard did an excellent job checking in with us and helping us create a truly custom wedding ceremony, which is something we deeply appreciate. All along he encouraged us to write personal vows which we did and in addition to the beautiful words Richard spoke about marriage, it made our ceremony very personal and touching. Richard also did a great job making us feel comfortable when we arrived explaining how we'd walk out and where we would stand, we didn't do a rehearsal and with his guidance, we really didn't need to! Additionally, we not only received many compliments about the wording of the ceremony itself but also compliments about how well Richard would place himself out of the view of the cameras for our kiss. Richard Cash is a wonderful person and officiant, we highly recommend him! Thank you, Richard!

Richard Cash, Officiant's reply:

Alison & Rich, It was about as close to a perfect afternoon as we could have hoped for, especially when the sun was behind the clouds. You're right about your personal vows making the ceremony even more personal and touching - I'm sure your guests enjoyed hearing your promises to each other. Hugs to both for much happiness.

Matt W.

Married on 05/11/2019

Richard Made Our Wedding Ceremony!

Richard was beyond incredible. He was so accommodating and made my wife and I so comfortable during the whole process, from planning the wedding ceremony to applying for the wedding license. He made us feel so calm on the big day even when we were nervous. Richard added something so positive to our wedding and we could not imagine our big day without him. Thank you for everything Richard!

Richard Cash, Officiant's reply:

Hey Matt and Christie, Thanks for the great review. I was so happy (and relieved) that your ceremony came off with no glitches considering we had so many moving pieces - Stefana, breaking the glass, the Kiddush blessing, etc. But, everyone knew what had to be done and when to do it, so our team effort pulled off a home run!

Francina S.

Married on 04/12/2019

I had an amazing experience

Words can not describe how grateful I'm for having Richard as my officiant. Later in time When I look at my wedding pictures or wedding video
I will always have an smile when I see his face. He was great so prepared, very organized and extremely helpful. If you are out there looking for the Perfect officiant Richard is the right one❤️.

Maggie

Married on 11/03/2018

Richard makes you feel like you've known him forever!

Our experience with Richard was perfect! He is a skilled officiant who has done many weddings. He knows exactly what he is doing. We had not known Richard before finding him on Wedding Wire, but he really took the time to get to know us. Richard offered numerous examples of ceremonies and helped us create a personalized, fun ceremony. On the day of the ceremony, his delivery was perfect. Everyone loved him! He was also super helpful with questions about the marriage license paperwork!

Richard Cash, Officiant's reply:

I loved how everyone was having so much fun during your ceremony. You have to admit, it was very funny when I was telling everyone how you and Jesse went on many double dates, just not with each other! XO

Michele L.

Married on 10/13/2018

Beautiful ceremony. Perfect.

Richard married my husband and I on 10/13/18- we had a very small ceremony with the intention of it being very intimate. From day 1 Richard was incredibly thoughtful, helpful, professional and delivered a beautiful ceremony. Never asked for a review... highly highly recommend him. Thank you!!!

Richard Cash, Officiant's reply:

Michele & John, Thanks for posting your sweet review and for bringing back such fond memories of your October wedding - truly one of the most intimate ceremonies I've been part of in a long time. XO, Richard

Brittany

Married on 09/21/2018

Richard was the best! He was the first person we contacted for an officiant after watching him at another wedding we attended. He made sure we had everything for our marriage license and had all the info on how to do so. He created the best ceremony and incorporated so many things that were important to us as well as lighting the mood during the ceremony so we were a little more relaxed. He was such an amazing part of our special day and were so glad he was our officiant!

Brittany

Married on 09/21/2018

Richard was the best! He was the first person we contacted for an officiant after watching him at another wedding we attended. He made sure we had everything for our marriage license and had all the info on how to do so. He created the best ceremony and incorporated so many things that were important to us as well as lighting the mood during the ceremony so we were a little more relaxed. He was such an amazing part of our special day and were so glad he was our officiant!

Ashley

Married on 06/23/2018

Richard was the perfect officiant for our wedding and we could not possibly thank him enough! We were looking for a very open-minded and non-religious officiant for our ceremony who would make a romantic ceremony focused on the two of us as a couple. Having been to many weddings, we were weary of the over-the-top officiants who make wedding ceremonies too informal for our taste. When we met with Richard and explained the type of theme and feeling we were going for, he immediately understood and provided us great examples of readings and ceremony outlines to help us customize something that would work best for us. He was extremely prompt, responsive, detail oriented, and overall SO helpful in preparing for our ceremony, and on our wedding day, he officiated the ceremony of our dreams for us. We had so many guests tell us that our ceremony was the most touching one they have seen. Richard is a true professional with a fun personality who will make you feel comfortable and is someone who you know you can trust to deliver your perfect wedding ceremony!

Richard Cash, Officiant's reply:

XOXOXOXOXOXOXO - love you both and thanks for the heartfelt review.

Sarah

Married on 04/22/2018

From the first moment I met with Reverend Cash, I knew that he would be the perfect fit for the wedding, he was so personable, friendly, and knowledgeable. Although we canceled our wedding 3 weeks before the date, up until that point Reverend Richard Cash was right there to help us along the way. From our meeting last July, where he handed me two copies of the contract, information about applying for, picking up, and filing a Marriage License. (When we did apply for a license the clerk was so impressed that I knew the details, to which I showed her Reverend Cash's paper). After we sent him our signed contract, we got to work on the details of the ceremony, and no detail was too small! My Mother, Maid of Honor, and I had a few word changes, which were no problem for the Reverend. Had we not called off the wedding, I'm sure that he would have done an amazing job!

Matt

Married on 03/29/2018

If he's available, BOOK HIM!!!

Richard is the absolute best. My wife and I live in MD, but got married in NJ. We met with him once in person, and multiple times via FaceTime or Skype. He was responsive, attentive, always available, and always willing to work with our schedules. We did a majority of the communicating the last 3-4 months leading up to the wedding and my wife and I, and our parents constantly made tweaks to the ceremony, and Richard could not have handled the constant changes with more grace or patience lol. He's the absolute best. On the actual day of we had countless guests comment on what a fine job Richard had done. Everyone was pleased and so were we. He also took care of filing the marriage application and held our hands through the entire application and approval process for that as well. If he's available for your big day, book him immediately!

Richard Cash, Officiant's reply:

Hey Matt, I'm not someone that generally blushes, but your super kind review made my cheeks warm. I had such a great time marrying you and Melissa. Your families and bridal party were all very warm and welcoming, which helps me. As you saw when I almost hit Melissa with the mic, I also do get nervous because I always want to hit a home run - I did with the two of you!!

Rachel

Married on 03/16/2018

Richard was a pleasure to have as our ceremony officiant. We first met with him near our home and spent almost two hours chatting and getting to know each other a year prior to our wedding. He was readily available for any questions and last minute tweaks to our ceremony. He provided lots of guidance as far as how to structure the ceremony which was very helpful. The ceremony itself was beautiful and also lighthearted with a few jokes - exactly what we wanted. We both thought we would be nervous standing in front of everyone during the ceremony but Richard's demeanor and delivery helped us to enjoy every second of it. Thank you!!

Richard Cash, Officiant's reply:

Thanks for the review Rachel. Your ceremony was so much fun. I think your personal vows to each other were definitely a highlight and the Love Letter and Wine Box Ceremony was something that many people had never seen. Your guests were definitely excited about you and Devan getting married. XO

Semere

Married on 02/24/2018

Richard was amazing! Very professional. During my reception I had couples asking me for his information. He listened to everything we wanted and gave us that and more.

Richard Cash, Officiant's reply:

Thanks for the sweet words. I never know how a ceremony is going to turn out until it's actually happening and yours was intimate and funny, simple and sweet. I think everyone knew exactly what I meant when I brought up the challenge of having a 2-year old. BTW, your daughter looked adorable. XO

Jaclyn

Married on 10/21/2017

Richard officiated our wedding in October. Prior to the wedding date we had a first meeting to review our vision for the ceremony, the contract and details around getting the marriage license. Richard is very organized and made each step of the process seamless.

On our wedding day, my husband was ill and Richard stepped in and suggested we sit through the ceremony rather than stand. He even reorganized the ceremony chairs to accommodate this. I believe had he not made the suggestion then the ceremony would not have gone as smoothly as it did and we wouldn't have been as comfortable as we were.

We highly recommend Richard. Not only is he a professional officiant but he's an overall wonderful person.

Richard Cash, Officiant's reply:

Jackie, Thanks for your review. I'm sure that if I hadn't recommended that you and Graham sit for the ceremony, he would have collapsed on the floor. I've never had a groom (or bride) as sick as he was right before the ceremony and I'm so happy we were able to get both of you through it and make sure you said "I do"!
Are you interested?
Send a message