21 Reviews
Recommended by 98% of couples
Quality of service

5 out of 5 rating

Average response time

4.7 out of 5 rating

Professionalism

4.8 out of 5 rating

Value

5 out of 5 rating

Flexibility

5 out of 5 rating
2 User photos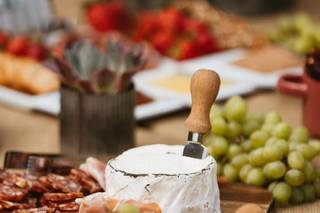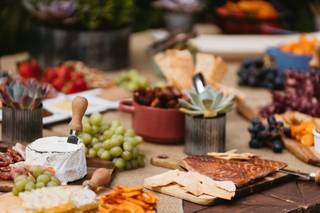 Leah

Married on 11/12/2022

The best BBQ!

From the food tasting experience to the big day, Ribline provided such an amazing dining experience. All of our guests are still raving about the food!

Lauren D.

Married on 10/01/2022

Highly Recommend!!

We are so glad we chose Rib Line to cater our wedding! The owners, Brian & Krystal, went above and beyond to ensure we were happy. The food was spectacular! We still have guests (months later) telling us that we had the best food of any wedding they've been to. The appetizers were so delicious! We did the sausage trio and toasted baguettes topped with honey whipped chevre and berries. I wish we added the beach balls to the appetizer menu - they are out of this world!! Rib Line knocked it out of the park with our dinner. The mac n cheese is so creamy and cheesy. Everyone went back for seconds! The whole dinner (tri-tip, chicken, seasonal veggies, salad & cornbread) felt like a soulful homemade meal, but elevated. We also added a dessert bar, with array of yummy treats. Our guests were so happy to have options for dessert - highly recommend adding a dessert bar We couldn't be happier with our decision.

The staff was also amazing! They were so efficient, professional, and kind to us and our guests. We had an accidental fire from one of the candles on the table knocking over from the wind. The staff had it all cleaned up and reset within minutes. I didn't even know about it until later that night. Thank you for saving us from that stress! If you want spectacular food and high quality service, look no further!

Joey

Married on 04/20/2019

Amazing food!

We booked Rib Line to Cater our wedding, and we were not disappointed! Many people say that you wont remember what you ate on your wedding day, however this is not true with Rib Line. From the quality and freshness of the food, to the incredible service from their staff, you can not go wrong with Rib Line. I can't forget to mention the Charcuterie display… WOW! Our family and friends are still talking about it! We can not thank the team at Rib Line enough for making our Wedding day a success!

Are you interested?

Send a message

Kayde

Married on 01/05/2019

Amazing Experience!

I can not say enough good about working with Crystal at Rib Line-service was top notch, food was incredible, and the whole experience was great. I appreciate the flexibility and communication as we planned the event. Can't leave out that our guests raved about the food with everyone stating it was the best catered meal they have ever had-just perfect!

Katelyn

Married on 04/14/2018

Rib Line knows how to cater weddings! I am so happy we decided to make Rib Line apart of our special day! They worked with us on our menu and menu changes, and in the end, they provided us with excellent food at our wedding for cocktail hour and dinner! Our guests were so thrilled with our cocktail hour appetizers and charcuterie! We received so many wonderful comments! Our dinner menu was also a hit! Their staff was SUPER friendly too! I would recommend Rib Line for any catered event in a heart beat!

Lexi

Married on 11/04/2017

RIbline was the best choice! From awesome coordinating the menu to AMAZING FOOD. The staff showed up looking very professional. They were extremely helpful and prompt with their service. Everyone at the wedding said the food was the BEST THEY HAVE EVER HAD! and I agree. Thank you ribline for making our wedding so delicious

Michelle

Married on 08/20/2016

We ran into catering difficulties during the planning process but The Rib Line was more than happy to have our buisness and assist us. Allison was great with all the details and setting up a tasting time. Brian, the owner, served us more than what we were requesting for our wedding. They were accommodating to our needs and even had a vegetarian dish for two of our guests. We had nothing but compliments about the food and everyone went back for seconds. We had mac n cheese as one of our selections, and that is what everyone kept raving about. It was a huge success! They made sure my husband and I had some of appetizers while we were taking pictures. The food was wonderful! I had heard they were issues with the wait staff but I didn't see any problems. The only thing I noticed was my side of the family was served last. It was buffet style and it may not have been communicated to them as to which tables should have been servers first. I didn't have compliments that the wait staff did a terrific job! Their food is amazing! You can't go wrong with them catering for you. I would highly recommend them!

Kelsey

Married on 02/13/2016

Ribline catered our wedding last month, and they were AMAZING! Allison was our point of contact and she was incredibly helpful as we did our best to feed 150 people really good food, on a reasonable budget. We developed our menu and were very excited about it. We live in San Diego, so we had never tried Rib Line before and were relying on their incredible Yelp reviews. They invited us to do a tasting the next time we were in SLO and they spoiled us!! The food was AMAZING! It actually made our decision so much more difficult! Allison was sweet enough to change our menu decisions once again, because we just COULDN'T live without the fancy mac and cheese! They BBQ'd on site for us and our guests loved it!! We had crostinis and caprese skewers for cocktail hour and for dinner we had mixed greens salad, seasonal veggies, garlic bread, fancy mac and cheese, BBQ chicken, and Tri-Tip. We actually had quite a few out of town family members go to Rib Line restaurant the next day because they enjoyed the food so much. Thank you Rib Line!!

Derek

Married on 01/16/2016

At the time of this review, our wedding is 4 months past. The number 1 thing people tell us they loved about our wedding? Rib Line! Anyone who has tried the food knows how good it is, so I won't hash out a recognized truth. But, I will say that anyone considering them for catering can rest easy, knowing that their service is just as exceptional as their menu. Rib Line catered our wedding, preparing unique appetizers for about 130 people, as well as the main BBQ buffet. They also handled the set up and tear down of all the dishes, tables, etc. Throughout the entire processes, they were professional and attentive. It was obvious that providing an exceptional catering service was important to them, and they delivered on everything promised. For a busy couple planning our wedding ourselves, this was exactly what we needed. We had a great experience with Rib Line, and wish them all the best with their new restaurant location!

Colleen

Married on 08/29/2015

Rib Line was a first choice for us! We love the food and staff. Krystal and her team provide the best service and an amazing spread. They went above and beyond in their service. Everyone loved the food and continue to rave about it. The next day we devoured left over Mac and Cheese! It was such a pleasure having them cater our wedding!

Amanda

Married on 07/11/2015

We held our rehearsal dinner at the Rib Line in Grover Beach. The service was phenomenal and so was their food. I can't remember the guys name (blonde/brown hair & goatee I believe) but he was amazing and took very good care of us. We were a bit late from our rehearsal but he made it work. He even brought me some cornbread because I was starving and we were still waiting for others to show up. I also worked with Reanna in the catering department. She worked very hard to help keep us within our budget yet still get the type of food we wanted. She gave us many options and was willing to even create our own menu. I have never eaten at the SLO location but I can guarantee you the Grover Beach location is phenomenal. I really appreciated how Rib Line made it extremely easy on us to pick a menu, had top service, and great tasting food. The night was perfect and we couldn't have picked a better location!

Customer

Married on 08/10/2013

The Rib Line was the caterer at our son's wedding, and they were phenomenal. They accommodated our request for an extensive menu (on-site barbecue tri-tip, chicken and Salmon, four sides, five salads, two breads and two cakes) and the food was absolutely delicious, cooked to perfection, and looked amazing. With less than two weeks before the wedding, there was a change to the caterer assistant responsible for our event. This was a huge concern however, Brian and Krystal stepped in, and due to their attention to detail and organizational skills, the transition was seamless. Their presentation, quantity and service was outstanding. They were professional, calm and composed prior to, and throughout the entire wedding day. We did not run out of any items on the menu, which was extremely important to us. Our guests continually commented on how impressed they were on the quality and quantity of the food. We highly recommend The Rib Line to anyone seeking incredible food as one of the focal points of their wedding experience.

Angela

Married on 12/16/2012

We hired Ribline to cater dinner at our wedding at Santa Margarita Ranch on December 16th, 2012. Let me just say, they did an amazing job!!!!

For a simple, comforting, down-home meal, Ribline is your company. They brought their on-site BBQ & cooked up some whole BBQ chickens, tri-tip with salsa & BBQ sauce, grilled veggies with herb butter, corn bread with honey butter, and a garden salad. They also brought 2 beverages (we wanted cold water pitchers and hot water for tea- but you can pretty much tell them whatever you want)- all for $16.95 per person, with no hidden fees/service charges/weird taxes! We could not find ANY OTHER CATERER that could beat this price. And the food was simply delicious! We tried many other caterers' BBQ offerings, but Ribline's was the tastiest & the most reasonably priced. So many people at the wedding loved the food & complemented both Ribline & us at the wedding.

Their service was excellent. It was about 45 degrees & rainy on our wedding day, and the Ribline servers were troupers- they were out in the cold & rain BBQing. They ran a buffet line for us, but could also do sit-down service. We hired 5 servers for our 140 person wedding, but you can hire more or less if you wish at $15/hour with no extra service fees like most of the other caterers have. And they ran our beverage bar, with hot & cold beverages & sangria too!

Do your tummies & pocketbooks a HUGE favor & just hire Ribline to cater for your wedding!

Abel

Married on 05/27/2018

My wife and I hired Rib Line to cater our wedding in May 2018. It was a great decision with no regrets! This was for approximately 140 guests. For cocktail hour, we arranged for portabello mushroom bites topped with feta cheese and a red wine reduction, beach balls, and fresh fruit skewers. For dinner, we arranged for angus tri-tip with fresh salsa and BBQ sauce, BBQ chicken, homemade baked beans, mac and cheese topped with seasoned panko crumbs, farmers market seasonal vegetables, spring mix garden salad, and corn bread. Water, lemonade, iced tea, and coffee were also part of our arrangement. For approximately 8 hours, we had 8 servers and 2 bartenders. Needless to say, the experience was great and the food was delicious.

Our initial meeting with Brian at one of the Rib Line locations was great. We had the opportunity to try many items on the menu. He was very patient with explaining each dish. We also got to know why he got into the business and why he loved his job. Over the next few months, we primarily communicated with Krystle, who was also very great. She entertained all of our requests, which was great.

The team arrived as scheduled on the day of the wedding and everything went as planned. For anyone looking to hire a caterer for their wedding, we would highly recommend Rib Line!

Rib Line catered our wedding and the food was delicious! The tri-tip and chicken were perfectly cooked. My family even came over the next day and we ate the leftovers! The on-site grill looked and smelled amazing and the bartenders and staff were very friendly, easy to work with and helpful. The catering went off without a hitch and we were so pleased. Krystal was also very helpful with our menu planning and we were able to get exactly what we wanted.

We fell in love with the chilli here and chose to use them for our wedding. The catering supervisor Kristal worked with me to create a menu that would be perfect for the party. In the end, we ended up with more food than we could ever have hoped for (NO ONE went home hungry) and everyone was happy. I am very happy and would choose them to cater any party I have in the future.

Brittany

Married on 10/28/2017

Ribline was absolutely great! Everyone raved about the food! You have to order the baked beans and tri tip. It is seriously some of the best I have ever had. Even some of our local guests who eat there regularly said they were more impressed with the catering! The servers were awesome and worked very hard to make sure everyone had what they needed. The only even slightly negative thing I have to say is there was an instance where I didn't get a response for about a week. But, my wedding coordinator was able to reach them and get all of my questions answered!

Dale

Married on 03/25/2017

The Rib Line did a buffet for our wedding. They served us a baked chicken and a pasta side dish while we provided our own appetizers, salad and rolls. The chicken and pasta was delicious and they brought way more than enough for the number of guests we had. They also were timely in their delivery and setup.

We had the rib line cater a wedding at Holland Ranch which has an outdoor pit. The food smelled great all through the ceremony and cocktail hour. Our guests loved chatting it up with the people from the rib line. I was not as thrilled about the quantity of appetizers. We ordered fruit and cheeses and they ran out, but that would just be something that you would want to discuss with them prior. I'm sure they would be receptive. They were very flexible and easy to work with. The meal was, however, one of the best I've ever had. Our guests are still raving about the food. I would highly recommend the rib line.

Monica

Married on 05/18/2019

Excellent food!

Professional from the very beginning of our planning process. It was great to work with Ribline and we got SO many compliments on our food the day of the wedding. They aren't just a BBQ company and are willing to create any menu of your choosing. It rained unexpectedly the day of the wedding and the staff was flexible and made it happen. Thanks Rib Line!!

We used ribline for our wedding. First off, when we went to taste with the owner and chef, Bryan, he made us feel like he wanted our business. We spoiled us with whatever food we wanted to try. You can tell he loves his food. And the food is amazing!

The only few things that were an issue was the staff that showed up the day of. Some of the staff looked professional, but there were some wearing backwards hats and ratty shoes. Didn't fit a winery wedding or the better dressed coworkers. Also, they supplied a bartender for us. He was an older guy who was so slow! It took a good minute to get a beer. Which entailed grabbing he beer and opening it. We had complaints by family and friends about how slow we was.

Other then that, we would recommend them!
Are you interested?
Send a message