Reviews
4.9 out of 5 rating
Quality of service

4.9 out of 5 rating

Average response time

4.9 out of 5 rating

Professionalism

5 out of 5 rating

Value

4.9 out of 5 rating

Flexibility

5 out of 5 rating
99%
Recommended by couples
48 User photos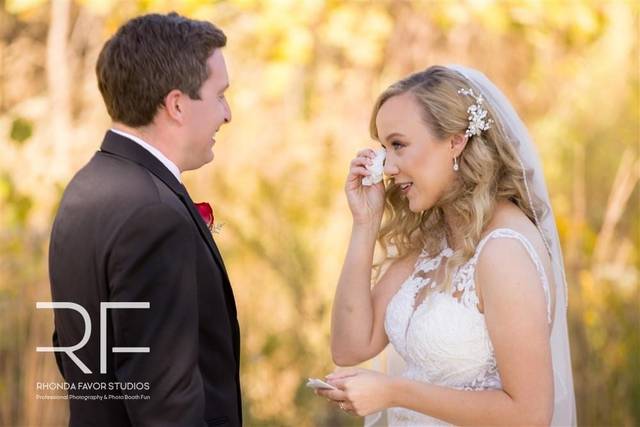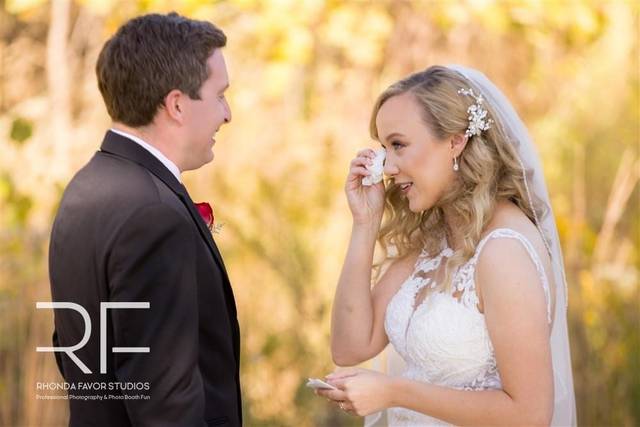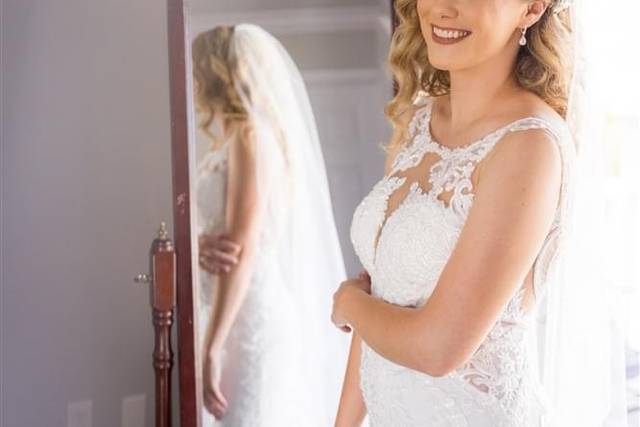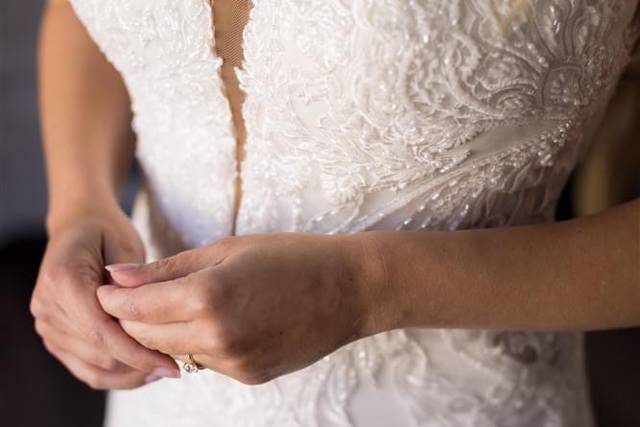 + 44

photos
Michael

Married on 10/28/2022

Amazing dedication

Rhonda and her team went above and beyond to ensure perfect photos were captured for my wedding. She recommended shots and scenes to be done custom tailored to our wedding's theme and venue, and was very accommodating for custom requests.

Jasmin S.

Married on 10/15/2022

Amazing!

I cannot express how amazing Rhonda was! She is so much more than just an amazing photographer, she helped us with the timeline and gave us ideas of what she has seen that works best. We both have never been married, so we didn't know what would work out, I dont know what we would've done without her. We were so happy at the end of our wedding choosing Rhonda. But we also had so many compliments from others about our AMAZING photographer. She kept her energy the entire time which was much needed leading up to the reception!!!!

Katie G.

Married on 10/09/2022

Can't imagine our wedding without Rhonda

Rhonda made our wedding. She is SO much more than a photographer. Without her, our wedding would not have stayed on schedule and we would've felt completely overwhelmed. The photos obviously turned out beautiful, but seriously, she (and her husband Brad) felt like part of the family on our big day. Couldn't recommend her enough. Our parents and members of our wedding party kept whispering to us all day about how good she is.

+ 2

photos

Rhonda Favor Studios's reply:

Thank you so much for your kind words. We absolutely love you both and your families! We felt like we were part of your family as well!

Are you interested?

Send a message

Ikea P.

Married on 10/02/2022

Amazing and lovely

GREAT EXPERIENCE DEFINITELY RECOMMEND!!!

Tori S.

Married on 12/08/2021

Phenomenal

Rhonda is super awesome! She got all 3 of my boys ( ages 1, 3, and 5) to not only all look at the camera at the same time, but they were all smiling while sitting next to Santa! Not just any Santa, but the most amazing Santa! And the set was also so amazing. Everything in the most perfect place.

Elecia R.

Married on 12/04/2021

Amazingly fantastic!

Choosing Rhonda Favor Studios was one of the BEST decisions I made for our wedding 12/4/21!! She is incredibly talented, funny, listens to what you want out of your pictures, and even captures breathing taking motion shots!! Fantastic doesn't even describe how amazing Rhonda and her assistant are…. we laughed all day long together, made life long memories, and best of all she captured it all in her photos. You will love Rhonda Favor Studios, please book her now if you have the choice!!

Rhonda Favor Studios's reply:

We absolutely loved being a part of your wedding and getting to know you! It might of been a windy and cold day but it was just perfect day to get marry your best friend!

Crystle

Married on 11/28/2020

We do Christmas pictures every year

Rhonda is very sweet and patient! We do our Santa pictures every year. She's so good with the kids and will go the extra mile to make sure everything is perfect. I highly recommend her for any pictures you might need

Meagan M.

Married on 11/14/2020

Santa Experience

Great to work with, made meeting Santa so much fun!

Great people to work with

I love her and her editing skills. We always go back to her annual holiday pictures

Nicole

Married on 11/14/2020

Santa experience

Rhonda is absolutely amazing and we had such a wonderful experience. Such a magical experience

Mary

Married on 08/08/2020

A fairytale during the pandemic

We found Rhonda by looking in general for photographers online and through friends. We kept seeing these fairytale photos and thought, "it won't turn out that way". Then we met Rhonda at our wedding venue and connected the dots. That was 2 1/2 years before our wedding.

We had everything set and we're scheduling our engagement photo shoot to be about 6 months before our big day in August 2020. Then, the pandemic hit.

Our engagement photo session inside the Fabulous was postponed until a month and a half before our wedding day. Rhonda and Brad worked with us and the Fox to get time in the theatre for those magical photos. They were able to get them edited, printed, and displayed at our wedding!

Brad was able to keep the rain away (aside for a 2 minute sprinkle) so Rhonda, 8 1/2 months pregnant, could get every immaculate shot!

I was terrified of running late, but Rhonda made sure everything went like clockwork. And that wasn't even her job!

I wish I had more incredible words to describe how amazing the photos are. They take my breath away every time I look.

Sean F.

Married on 10/05/2019

Talented and amazing people

Rhonda and Brad are the real deal. They are so much more than you expect from a wedding photographer. They keeps things on schedule while maintaining a great attitude and treating the bride and groom like royalty. They went the extra mile to get the perfect shot and some candid unposed photos. My daughter's special day was nearly perfect due in no small part to this wonderful team. Thank you Rhonda and Brad!

Paige

Married on 05/18/2019

Legen, wait for it...dary

Rhonda and her trusty side kick are beyond anything you could ever expect in a professional photographer! I've been in three weddings where she was the photographer and my own and she gave it her all every time, not once did she treat it like a job, she treats it like it's her duty to make this day as memorable and easygoing as humanly possible. She has little pointers that I had never thought of, she isn't afraid to get down and dirty for the most epic shots and best of all she made sure our drinks were never less than half full. She is more than a photographer she is a brides dream come true.

Heather R.

Married on 04/27/2019

Amazing!

Rhonda is the absolute best to work with. She was so much fun and was really good with working around both of our schedules. She got every little detail of the wedding down and the pictures are absolutely stunning. I can't wait to share my pictures with all of my family. I highly recommend Rhonda for any event you need pictures done for. She will for sure be my number one choice for anything.

Megan

Married on 11/03/2017

Rhonda is truly amazing! We couldn't have been happier with her! She was very easy to work with, and has so much energy! We loved our engagement photos, we showed them to everyone! On our wedding day, she made sure we had a good timeline so we got all the photos we wanted. Her husband, Brad, also helped to wrangle everyone so we could keep moving. We had a Harry Potter wedding, and Rhonda even photoshopped one of our photos to make it look like we were doing magic-it was incredible! Our photos could not have been more beautiful-they were exactly what I wanted. I cannot recommend her more highly!

Erika

Married on 09/23/2017

Rhonda Favor Studios was absolutely amazing! I am in love with my engagement and wedding photos. Rhonda and her husband were so easy going and helpful every step of the way. No matter what I needed or wanted, they were on top of it. They were fun to work with and made the day stress free. It was also nice to purchase a package in which they covered the DJ as well. As a busy bride that was one less thing I had to worry about. The photo booth services were also fantastic, and my guests loved it. Would recommend Rhonda Favor Studios to anyone!

Angela

Married on 08/26/2017

Rhonda and Brad were excellent people to have on our side at our wedding day. They made me feel comfortable and took care of everything that I had asked of them that I wanted. Brad even let me spit out my gum in his hand when I was getting out of the shuttle bus, before the ceremony, cause there wasn't a trash can near by. He was also there to make sure that some guy's dog (that wasn't on a leash) did not get too close to our dresses when we were outside at the park, taking photos. I knew how well the photos had turned out, for my step-daughter's wedding, a couple years prior, so Rhonda was my first choice for our wedding and we were not disappointed. They are such wonderful people and I would totally recommend them to anyone. In fact, I have already given out their info to some friends of mine, who were looking for photo booths for their special events.

+ 7

photos

Natalie

Married on 07/12/2017

We absolutely loved Rhonda! We met her at the Hermann wedding trail and couldn't have hoped for a better photographer! She went above and beyond and made sure everything was going as smoothly as possible. She was very patient with the toddlers who were more interested in running around than sitting for photos and she managed to keep their attention long enough to snap amazing photos!
She also did out engagement photos which turned out so beautiful as well!
We definitely recommend her!
Kevin and Natalie C.

Whitney

Married on 06/17/2017

Rhonda and her team made our wedding day such a breeze. They took the time to listen and knew exactly what to do to help make our day run smoothly!! The pictures were fantastic, and she is great at getting small children to laugh and smile for pictures!! I honestly feel like the pictures really captured the day! Also, the photo booth was so much fun! I would recommend her and her team always! —The Young's

Breanne

Married on 05/09/2017

Rhonda did a WONDERFUL job on our pictures and I couldn't have been happier with the results. My husband and I did an elopement ceremony at Herman Hill and were not from the area so were referred to Rhonda through our wedding coordinator. On our wedding day she was very fun, positive and highly professional. Rhonda asked us what we wanted and made suggestions on what poses would look best while letting us just be ourselves. She was very quick about getting our photos edited and sent and the results were absolutely stunning. If I ever need professional photos taken again I will definitely hire her and drive the two hours. I did a lot of shopping around and contacting other photographers in the area and Rhonda was by far the most reasonable. Even though we were only doing an elopement ceremony most other photographers wanted to charge us a flat rate regardless of the smaller photo package we needed. However, Rhonda was very accommodating and made sure that we got exactly what we wanted. I would highly recommend her to anyone for any event!

+ 3

photos

Will

Married on 02/26/2017

We couldn't have asked for a better experience. On top of that we really loved Rhonda's enthusiasm and great attitude. We would highly recommend you book with her.

Rhonda Favor Studios's reply:

Thank You so very much! We loved being a part of your Wedding!

Christy

Married on 10/27/2016

Just received my wonderful flashdrive package from Rhonda Favor Studios with a very useful photo box gift, though I am not sure if the 942 photos I just ordered from Walgreens will fit in there! That's how much I liked the photos! I met with Rhonda twice prior to the STL reception for my daughter, Callie & her hubby, Paul. They married in April in San Diego but not everyone in my family could attend, so we had a STL reception this fall. Rhonda has unbridled enthusiasm & after meeting with her I was convinced I would be in capable hands with her expertise during the reception. She had a darling 2nd Shooter named Brittany that also took some incredible photos & both ladies were very easy to work with (even bringing me drinks!) & flexible with photo request throughout the evening as well as trying to keep my DJ & I on target for my timeline of events. Even being one month away from her due date, I spied her hiking up a good flight of stairs for fantastic group shots from the balcony, then laying out on the floor to take photos and cruising around the room to get those all important group table shots of friends & family. On top of this, she comes early, before the crowd, to fit in those detail shots of table decorations & any other decor that are important memories of this special celebration. She included just about all the "must have" photos I requested, even nailing the "full moon" request shots of the night! Further, I would like to extend kudos to her hubby, Brad, who did a hellofa job with the photo booth which was nicely displayed for all to entertain themselves & take home a souvenir photo strip (each person received one!) Ronda went so far as to make (with help from her mom) a dark blue background to use in the booth PLUS she added a wolf/moon logo on the photo strip to keep with my "Wolf/Moon" theme for the night! I did take the liberty to supply way more props but their props were wonderful, the photos taken are priceless! Great job team Bronda!

Rhonda Favor Studios's reply:

Thank You so much for your review. And so happy you enjoyed us!!! We had a blast and are very happy for you and your family!

Callie

Married on 10/14/2016

Rhonda was simply amazing! She photographed our second wedding celebration held in St. Louis and helped us capture so many pictures and moments we missed the first time around. She was so determined to get each shot. She also helped us keep the night flowing and stay on our timeline. Her husband manned the photo booth which was an awesome addition to the night. It was so fun to look at all our friends and families funny photos and to have a photo booth book as a keepsake. I highly recommend Rhonda and her team.

Rhonda Favor Studios's reply:

Thank You so much for writing a review! So happy for you both!

Samantha

Married on 10/08/2016

Where to begin? Rhonda and her husband were nothing short of amazing on not only our big day but the days leading up to it. Our engagement session was beautiful and she made me more then comfortable at my boudoir shoot I did for my husband. She has a way with people that make everyone comfortable and have a good time. My pictures were beyond amazing. I can't stop looking at them and how good they look! My friends fell
In love with Rhonda and Brad too and plan on using them in the future as well. Not to mention Rhonda was pregnant during all of my photo shoots and busted her butt to make sure she caught every single moment she knew we would want. I seriously couldn't have asked for a better photographer and am more then happy with all of our pictures and the actual kindness and thoughtfulness of her and her husband they are amazing people! Thank you both so much we are still over the moon with how our pictures turned out!!

Allison

Married on 10/07/2016

Rhonda is simply AMAZING!!!!! She is so easy to work with and is so kind. We had an awesome experience with her and her husband. My husband and I , unfortunately, ended up with a stomach virus on our wedding day. If it wasn't for Rhonda and her husband it would have been a horrible day. They really took care of us. Her husband left and ran to the store to get me vitamin water and crackers. If thats not excellent service I don't know what is! Rhonda is so down to earth, it felt like one of my friends was taking our pictures! Even with us being sick we still received beautiful pictures. I can not thank them enough for all the hard work they put into our special day. We would HIGHLY recommend hiring them!!

Rhonda Favor Studios's reply:

Thank You so much for the review! Even with you both being sick you both looked amazing and more then anything married your best friend.
Are you interested?
Send a message