49 Reviews
Recommended by 99% of couples
Quality of service

4.9 out of 5 rating

Average response time

4.9 out of 5 rating

Professionalism

4.9 out of 5 rating

Value

4.9 out of 5 rating

Flexibility

4.9 out of 5 rating
2 User photos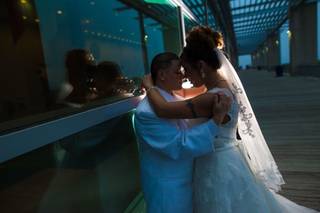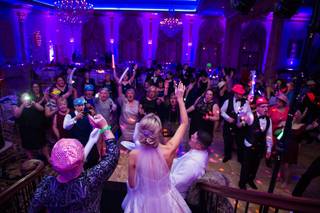 W Bhowmik

Married on 12/14/2019

So awesome to work with!!

My husband and I didn't think of getting family holiday pictures done until much later (as in literally just two weeks ago), when it hit us that we should have them professionally taken for our baby's first Christmas. Rey doesn't normally do family pictures but was extremely sweet and agreed to our last-minute request! We'd also heard through the grapevine that he'd been dealing with some chronic pain issues in the last year and was limiting his availability while he recovered so we weren't too optimistic he'd have time for us but he so kindly did it for us anyway! He spent a couple of hours at our home, trying to catch our baby through all aspects of his daily life (from smiling to diaper changes to feeding and burping). As first-time parents, we were a little stressed, but Rey was very encouraging and patient through it all! He didn't seem bothered by our baby crying and our dog barking and dragging things across the floor...hahaha! You would have never guessed this poor guy was not feeling his 100%! He showed us some pictures he captured on his camera while he was here and they look awesome so we can't wait to see the rest when we get them back!!! Thanks, Rey!!

Dj And N.

Married on 06/23/2018

Great team to work with

We booked Rey for photography and videography. He met with us and helped with the planning along the way. Before the wedding, Rey was injured. He told us he won't be able to document our wedding but assured us that his replacement will be amazing too. It was a very sad and nerve racking day for us but Rey made sure that It will be fine. He said just enjoy your wedding day. He was right!!!!! His team did a phenomenal job documenting our wedding!!!! It was the best day ever!!!! Thanks to Rey and his team for making our day extra special!!! The Photography and Cinematography is top notch!!!

Dania A.

Married on 04/07/2018

Great Online Find!

We found Rey through an online search in our area. We had a small wedding but the professionalism, care and attention to details that Rey showed was exceptional!!! Thank you very much for documenting our special day!

Are you interested?

Send a message

Jen A.

Married on 12/30/2017

Perfect Winter Wedding!

We are not the most comfortable couple when it comes to taking pictures but Rey's ability to harness your inner beauty and creat amazing photographs made our wedding a breeze! He was always there from planning until the end of the reception. His uncanny ability to see and take pictures on the fly saved us a lot of time so we can enjoy our special day! He knows when to pose us and capture great candid shots! It was just a cold yet perfect wedding for us! Thanks Rey and Ron!

Daniella

Married on 09/29/2017

Rey and his team were absolutely amazing! During our first meeting, Rey brought a ton of samples to us to look through so we could see some of his wonderful work. One thing I mentioned to Rey was that my husband is not a fan of posing and taking pictures, Rey completely understood and assured me candids were the way to go for most pictures. A week before the wedding, Rey asked me to send him some pictures for inspiration that I found and wanted done. The day of the wedding as we were taking pictures, I could tell he took those pictures I sent him seriously. He was capturing our vision! I seriously can't wait to see everything Rey captured that night!

Shannon

Married on 06/17/2017

Rey and his team were phenomenal! So responsive and dedicated to their work. From our first meeting you could tell he has such a passion for his art. He is accommodating on all aspects and really wants his photos to reflect your amazing day!! I highly recommend him to anyone who wants amazing photos/video! We will definitely be using him anytime we need a photographer!!

Kee E.

Married on 06/10/2017

Grace under Pressure

I just want to thank Rey for doing a phenomenal job at my wedding! From our engagement session with my daughter until our crazy and stressful wedding day because I was late. Rey and his associate photographer was there not just to capture every minute of our special moments but also pacify a bride in distress. Thank you very much for your amazing service! The photos were top notch!

Kris A.

Married on 11/11/2016

He captured amazing moments!!!

We bumped into Rey at one of the Bridal shows that we attended. After talking to him, we knew we wanted him to document our wedding. He never disappointed! From helping in planning our timeline to capturing amazing photographs and video! He just never stopped!!! His calm and finesse kept us organized in our special day. We truly enjoyed working with him! Thanks Rey!!!!

Nafisa

Married on 10/29/2016

Rey was so nice and incredible to work with. We loved him and his vision during our special event. We got married under super stressful circumstances and Rey and his brother helped us keep things going. We owe them so much and refer them to anyone without hesitation! Thanks!

Macky

Married on 10/08/2016

Hi there! If you're planning to hire a professional photographer and videographer with excellent ideas for wedding concepts and other occasions that needs a person-friendly and easy to contact team that works hands-on on their passion, Rey Caparros Photography and Cinematography is the best! We just had a 5-month wedding preparation and contacted their team, 2 months before our big day and, boom! with just one night having a conversation for our wedding ideas with Rey, he already had something in mind that we also wanted it that way too. We only discuss the ideas through phone and met during the wedding day. There is no hassle on our part during the wedding because they just move with synchronization. and that is the best that I can describe them for having an idea that we longer need to tell them, they do their own research before coming to our event. and that is the best part, no hassle for the couple.

David

Married on 10/08/2016

When our engagement shoot location fell through literally at the very last minute, Rey was undeterred and we simply found another location. That attitude, his personality, and the quality of his photography made him an easy choice for our wedding. Rey did not disappoint, and we are blown away by our wedding photos. Thanks Rey!

Lesley

Married on 08/04/2016

We booked Rey Caparros Photography for our August beach wedding. We booked his services about 10 months out for our wedding. From the very beginning he was so helpful and such a pleasure to work with. He answered every question even if it was completely unrelated to photography. He gave me information for time of day on the beach and even what beaches were more quiet and nicer. He suggested for me to give him a time line of what I wanted for the wedding day. I never thought of that and am so thankful that he told me to do it. We had quite a bit of communication back and forth through the process which was nice because I didn't have to stress about anything. The day of the wedding he showed up early and introduced himself to everyone as he began taking pictures. His energy and personality were so perfect for us. He was so much fun and very creative and he captured absolutely every single moment and everything that I wanted. Because of the time line, he helped me stay on time and organized by quietly suggesting to move on to our dance or to move on to cake. It was so great because the day seemed to just disappear. After our alloted time he even stayed and hung out with us for a little bit and just chatted. Everyone in my family absolutely loved his personality and energy. He sent me a link to view my pictures and I was completely blown away!!! I absolutely loved every picture he took. We had so many shots to chose from and it was such great quality! He has a special gift and he definitely has an eye for lighting! I cannot believe how amazing the pictures looked. Once we chose what we wanted he sent me the usb drive, the photos and the photo album. Rey Definitely made our day so much easier and I am so glad he was our photographer to capture our day! You will not be disappointed with his work!!!!!


Kristi

Married on 04/23/2016

I can't say enough about my wedding photographer. From the moment I came across him he always got back to me in a timely fashion, worked with exactly what I wanted, and got my pictures back to me so fast. I will be hiring him again for all my future events. Truly can't express how happy I was with him!

Jessica

Married on 01/30/2016

When looking for a photography i looked for a person not a company. With Rey i really got a personal experience and it was like working with a friend. He is so easy to get a hold of for any questions and is reliable. I would highly recommend him as a photography as well as his work, i get nothing but compliments on my photos and i couldn't be more happy wiht them myself.

Boni

Married on 12/31/2015

When I tell you my experience as a bride was amazing, It's not even close to my experience. From the moment I spoke with these guys they were warm and welcoming. They were more than accommodating and the NICEST people I have ever met! I continue to speak with Rey and hope to always have a connection. I received every picture I could ever want and hours upon hours of filming from my big day! These guys rock!! I will use him for everything I ever need photographed and documented!!

Meera

Married on 08/15/2015

All throughout coordinating my sister's wedding, Rey was the picture of professional, flexible, and friendly. Considering that the wedding was in NJ but my sister lives out of country, Rey did all of his coordinating with me, and the whole process was so easy and stress-free. The day of the event, he was there early with his team and stayed all the way through the end without breaking their professionalism. Everyone on the team was amazing, and worked very hard to capture every possible mini event possible to make sure we got all of our moments. The thing I loved most was how much he was willing to learn about our culture and traditions and really befriend his customers. I would highly highly recommend this company for your event.

Renee

Married on 08/01/2015

Choosing Rey Caparros Photography was hands down the best decision I made regarding my entire wedding! I was so nervous to select a photographer because all the companies I found were so expensive and did not seem very willing to work with my budget. Once I met Rey, he was so down to earth and really listened to what we wanted/needed and made our engagement/wedding pictures, wedding album, prints and DVD affordable for us. Our engagement session was amazing and allowed us to spend the day getting to know Rey and for him to get to know us and how we photograph. Our wedding was just simply amazing! Rey took all the shots that we wanted and more! His vision for shots is phenomenal and he saw amazing possibilities that I overlooked completely. Not only did he get all of the shots and more that I wanted but he also stayed extra time without being asked just to capture a few more moments that he thought would photograph great. This to me spoke volumes about Rey as a photographer. What sets him apart from all the others is that he loves what he does and this is not about money. He truly enjoys capturing happiness and is absolutely amazing to work with. I simply cannot thank Rey enough for everything he did for us and all the special moments he captured that I will cherish my entire life! After our wedding, Rey made sure to get over all of my digital photos to me electronically so I could review and create my thank you cards. He did not have to do this but made sure to get them over to me within just a few weeks after my wedding. Rey also created our beautiful album and added additional pictures over the amount allotted as he had a vision and knew certain pictures would look amazing in my album and I am so glad he did! I would honestly recommend Rey to anyone looking for a photographer no matter what the occasion as he provided me the most amazing and enjoyable experience with a photographer that I have ever had!!!

Bob

Married on 07/18/2015

Choosing a photographer for our wedding was one of the most challenging things that I experienced when planning the event. As a marketing and creative services professional for over 20 years, I knew that the "right" photographer for us would be the one that "got" us. The one that took time to get to know me and my fiancée and our son and show through his photography that he was equipped to tell the story of our special day in a way that highlighted our own uniqueness via his own creative vision.

It didn't take long at all for me to realize that Rey would be the perfect choice for us. From the moment we met for our engagement photo shoot, I could tell that Rey was capturing all of the right details and focusing on all of the right elements and details.

And he did just that, delivering the engagement photos incredibly quickly and providing more than enough excellent photos than we needed for our wedding website.

Happily, he did an even more extraordinary job on our wedding day. He and his entire team were punctual and professional, covering the entire day thoroughly without being intrusive at all. (In fact, a number of our guests remarked how impressed they were by the fact that Rey's team was "always there" but never got in the way of the moments.)

The final results were beyond my expectations. We received spectacular photos of literally every vital moment of the day (and Rey's team was with us for nine hours that day, so we ended up with an extraordinary number of fantastic shots!), and choosing the final selects for our "official" wedding album has been indescribably difficult only because there are literally HUNDREDS of perfect shots to choose from. Our most important day was captured flawlessly through the inspired eyes and lens of Rey and his team.

I would not hesitate for a millisecond to recommend this thorough professional and his colleagues to capture any special event.

Arielle

Married on 07/11/2015

Rey was great. He was friendly, and down to earth and made me and my husband feel comfortable. Neither of us had ever done professional pictures before and Rey was very easy to work with. He had great ideas for photos but also incorporated some of our own ideas with no objection.
His work is absolutely beautiful. I had some specific ideas for wedding photos and he did them and then gave us his own ideas for photos which worked out great.
Rey is also easy to get in contact with, we text each other multiple times from the engagement photos, to the day of the wedding, and even after the wedding to get downloads of photos.

Nikhil

Event on: 06/27/2015

Overall Rey and his company were great to work with! They were very responsive in leading up to the event and able to accommodate some of our special requests. Most importantly they took photos, highly recommended!

Puja A.

Married on 05/30/2015

I am so glad Rey was recommended to me by many of my friends for a couple of my indian wedding events. From the first call I had with Rey, he was very understanding of the culture and passionate about what he does. The day of the events, he made my wife and I feel at ease and comfortable and captured amazing photographs. He even stayed extra at his will to be apart of the event from beginning to end since we were running a little late. He is one of the most respectful and professional people I have met and glad he was apart of our special day. This review is not even needed, his work speaks for its self. I would definitely recommend Rey for your photography and videography needs!

Jahyda

Married on 05/25/2015

Just one month before the wedding and six photographers later, I found Rey at a bridal show. His setup was impressive as was all his work he had on display. He had a very warm and genuine personality. Looking at the different packages he was offering, I was impressed that although his price ranges were similar to the other competitors I had looked at, his packages offered so much more. He kept saying that when he photographs, he aims at capturing 'the story'. At the end of our initial meeting, even though he had won my mom over, my fiance and I had some things to discuss before making our final decision. We finally chose him realizing that we were getting more for 'our buck'. He did a phenomenal job at our wedding. He truly captured 'our story'....from taking pictures of the lovebirds from our anniversary dance to the babies jammin' to the music. My husband and I DO NOT regret our decision. Rey is not only an awesome photographer, but an awesome human being who truly has your best interests at heart!

Kristi

Married on 05/15/2015

Rey and his brother Ryan made sure that we had beautiful memories from our wedding day by capturing such beautiful pictures and video. We highly recommend Rey Caparros Photography.

Tiffany

Married on 05/10/2015

Rey is wonderful to work with. We met him at a bridal showcase and were immediately drawn to him. He is very professional, knowledgeable, and passionate about his work. He has such a peaceful and fun personality-he really made us feel comfortable. I would recommend him to anyone who is looking for a photographer. His pricing and packages are very affordable and well put together. He really made our day easy, special and memorable by capturing all the moments.

Emmie

Married on 04/25/2015

In choosing a photographer I like someone who can go with the flow. For the engagement shot we didn't know exactly what we wanted just where we wanted our photos taken. The good news is, our photographer can work with anything. If you know exactly what you want or don't have a clue, he makes you feel comfortable and gets the best shot. For my husband and I on our wedding day, we used this to our advantage. Because Rey had been our engagement photographer, he knew how picky I could be, but because he knew what I liked, under very high stress situations for me at the wedding, he was laid back and made the photography a breeze. We also were one of his first clients for the videography, so we got a great deal. Videography, full rights to 2600 wedding photos plus 600+ engagement photos, album upgrade, etc. for a great price. He made us look stunning.
Are you interested?
Send a message