Reviews
4.9 out of 5 rating
Quality of service

4.9 out of 5 rating

Average response time

4.9 out of 5 rating

Professionalism

4.9 out of 5 rating

Value

4.9 out of 5 rating

Flexibility

4.9 out of 5 rating
99%
Recommended by couples
12 User photos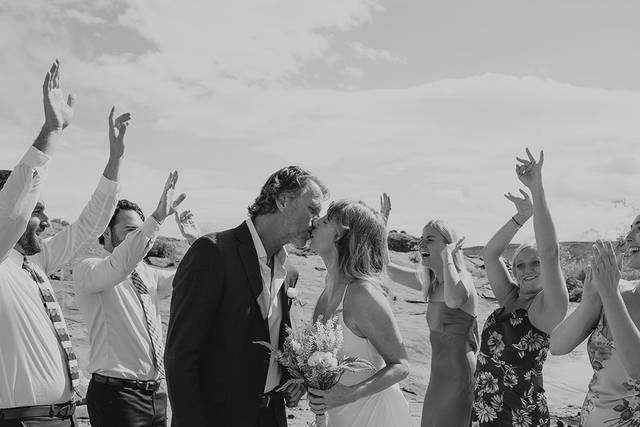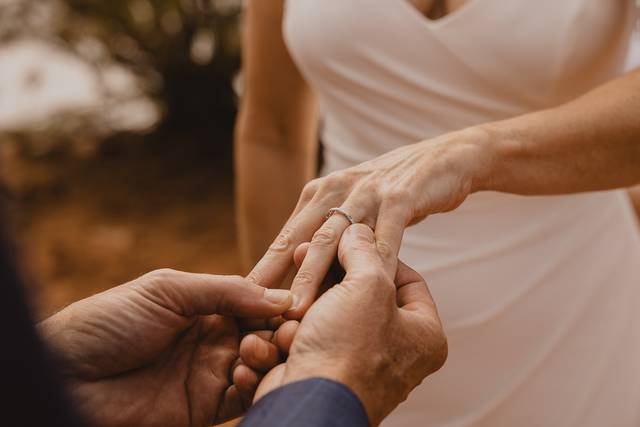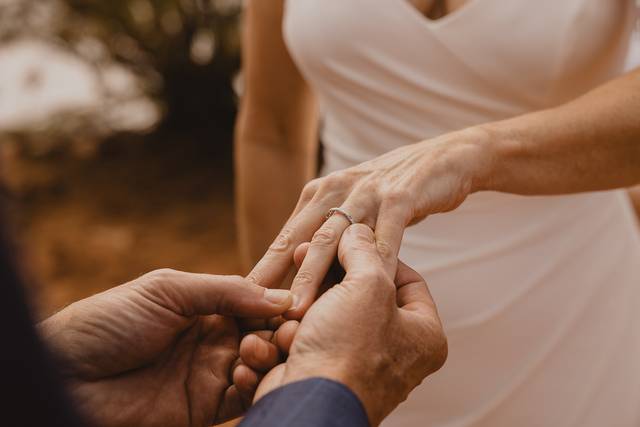 + 8

photos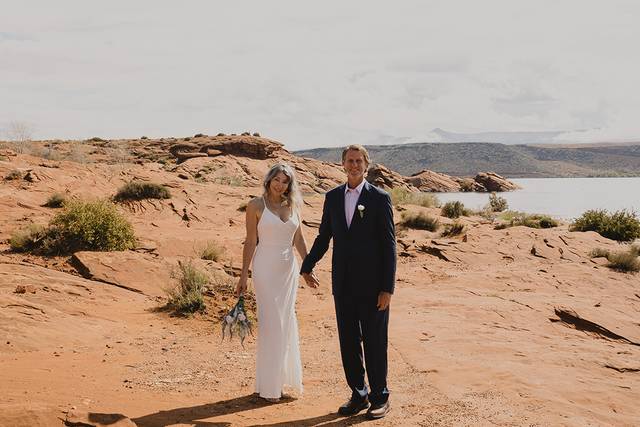 Jamey K.

Married on 07/29/2023

Hot outside!

I found Arland through the wedding wire website. I had contacted a few people for my ceremony. But found most were unavailable. Arland emailed me and yay! He was available for my Saturday wedding in July. We arranged a phone call. He called right on time, was very professional. Asked great questions and ultimately the call made me feel like I knew him when we hung up. Although it was a billion degrees at my wedding in my back yard. He showed up. Got the rundown of what we were doing. Stood in the blazing sun and performed our wedding very professionally and perfectly for us. It was a great day! Made even better by his services.

Rev. Arland Steen's reply:

Jamey, thank you for your review. It was so nice meeting you and Nash! Yes, it was hot but you guys will always have that as a memory and it will just become a part of your love story.

Exceptional Experience - Responsive, Flexible, and Proactive

Reverend Steen provided organized, punctual, and flexible officiant services for our non-traditional, short-notice ceremony. His website and consultation forms accurately reflect the diligence and consideration with which he tends to his work. My bride and I were appreciative of his attention to detail, as well as his ability to adapt to our inclinations for the ceremony's structure.

During our wedding day, Reverend Steen was prepared, punctual, and efficient with our shared time together. The ceremony itself proceeded exactly as planned, and our written or verbal intentions were taken into account at every appropriate point.

We recommend Reverend Steen to all who seek a thoughtful, prepared, and truly considerate treatment of their ceremony.

Russell S.

Married on 06/10/2023

Great Experience

Rev Steen maintained a perfect level of communication with us leading up to our wedding and we really enjoyed the ceremony that he led. We could not have asked for a better day and he was a huge part of that. He tailored the ceremony to just what we wanted and made it a very easy process. We would definitely recommend Rev Steen.

Are you interested?

Send a message

Derik E.

Married on 12/17/2022

Intimate Park City Ceremony

Recent Steen did a fantastic job with our small ceremony in Park City. We would strongly recommend his services to anyone looking for a true professional to officiate their special day.

Brittany B.

Married on 10/01/2022

Wonderful officiant

I am so happy that we had Arland as our officiant last weekend! He was very professional, kind, and helpful in the process leading up to our wedding. We did a pre-marital counseling session with him several months before the wedding which we really enjoyed! Then the ceremony at our wedding was perfect! We couldn't have asked for anything better. It was the right amount of personal, emotional, and religious that we wanted. We are so happy and grateful he was there to help make our wedding day so beautiful!

Rev. Arland Steen's reply:

Thank you so much, Brittany! I thoroughly enjoyed working with you and Joey and meeting your families!

Eydie H.

Married on 05/21/2022

Hammaker/McNeill Wedding-Pinehurst, NC

Rev. Arland Steen officiated our daughter's wedding and exceeded our expectations. He made us feel at ease throughout the whole planning process! He even kept his composure during the ceremony when a glitch with the microphone tested all of our nerves! The ceremony was meaningful and sincere and was everything we could've wished for and more! Thank you, Arland!!

Rev. Arland Steen's reply:

Thank you, Eydie! This was one of the most meaningful weddings for me to officiate! The bride and groom were so composed.

Minas Y.

Married on 09/12/2021

Our experience with the vendor was excellent.

Arland was very easy to work with and he was very responsive. He has many different options of ceremony to chose from and he explained the whole process very throughly. He joined us at our rehearsal which made everything run even smoother on the day of the wedding. We received a lot of compliments on the conducted ceremony which is a testament to how great he is. Overall we were extremely pleased with the service he provided and would recommend him to others.

David J.

Married on 07/12/2021

Renewal of Vows

Officiant was always in contact with us throughout the process, so it made us feel at ease and he arrived on time and worked with us on our location. He made us feel comfortable and we are grateful for his service.

Zen R.

Married on 05/29/2021

Reverend Steen was perfect for our wedding

We were searching for a reverend who was also comfortable mixing traditions from multiple faiths and cultures. That's how we found Reverend Steen. He was a pleasure to work with and helped us put together the perfect ceremony that everyone enjoyed. After chatting on the phone and filling out the questionnaire, Reverend Steen put together a wonderful script that we revised multiple times. On the day, he delivered the ceremony beautifully and even managed to weave in some nice humor. We also did a separate day rehearsal, which we would highly recommend to ensure everything goes smoothly on the big day. Thank you Reverend Steen!

Rev. Arland Steen's reply:

Thank you, Zen! I enjoyed working with you and your bride immensely. I felt very connected with you both!

Lisa M.

Married on 10/21/2020

Arland was great!

We were planning a very small & simple civil ceremony and wanted a short and meaningful ceremony. Arland was perfect for the task and had prepared vows that were touching and personal. His prices were reasonable, documents filed on time and was easy to work with. I would recommend Arland.

Rosie H.

Married on 05/31/2020

Arland Steen - So Blessed to have found him!

Arland was a blessing to us. He was so kind, calm and flexible in making the wedding exactly what we wanted it to be. He also give us suggestions and ideas to fine tune things. His voice and mannerism helped instill a sense of connections with everyone, confidence and peace. We could not have been more pleased and would recommend him for any kind of wedding or event of all religious or non-religious services. We were so lucky to find so a wonderful person to bring us together forever. James Torrez & Rosie Hernandez (CHECK OUT OUR YouTube summary video).

Mike Y.

Married on 01/18/2020

Wedding Officiate

Reverend Arland did a wonderful job making our wedding the best day of our lives. He was flexible, able to make adjustments on the fly, spoke clearly, was extremely professional, and was understanding of our concerns. Highly recommended.

Kat

Married on 10/27/2019

Santa Barbara Wedding

Rev. Arland Steen was a great addition to our wedding ceremony. He listened to what my husband and I wanted for the ceremony and made it happen! My husband is Russian and Filipino and I am Serbian, so to incorporate all traditions and rituals truly meant a lot to us. (Communion:Bread&Salt Ceremony, Unity Candle, Vows etc.) Rev. Arland did a great job and you can't beat his price for everything he provides! It was personal and traditional, which was everything we could have hoped for. Thank you Rev. Arland!! Definitely recommend!
Best,
Kat and Josh

Rev. Arland Steen's reply:

Thank you for taking the time to write this review. I truly enjoyed being a part of your day and appreciate the review!
RevSteen

Don M.

Married on 10/05/2019

Minister for backyard wedding

Rev. Steen gave us everything we wanted. He responded quickly to our questions. He customized our service from multiple, available starting points. Most importantly to us, he was adaptable to things that came up during the ceremony (my fault) to make it memorable. I fully recommend him to all.

Melanie

Married on 09/19/2019

Perfect Ceremony

This stellar review is long overdue. We were married by Rev. Arland Steen back in September of 2019. He was extremely personable and helpful from our very first interaction. This was a intimate destination wedding with no rehearsal leading up to the big day. He delivered such a beautiful message. I truly appreciated that he thoughtfully listened and honored our requests. My husband and I didn't have a super religious upbringing but Rev. Steen incorporated beautiful scripture that blended naturally . My mom (Christian faith) loved his message and that meant a lot to me. Thank you to Rev. Steen for contributing to our special day. I am grateful we chose you.

Rev. Arland Steen's reply:

Wow, Melanie, you made my day! I've never received a review over two years after a ceremony. But, hey, "thank you" and as they say, "better late than never."

Jonelle

Married on 09/14/2019

Great Communication

We hired Rev. Steen to officiate our wedding and even though he was based 3 hours away, he made it! This was great because we had looked for other officiants closer to our venue and they were all booked. Our vows were beautifully written and Rev. Steen was very keen to any changes we wanted. His communication with us was primarily over email which worked out great because he kept everything very detailed and his emails answered our questions before we even had any.
When I look back and watch my wedding video, I just can't get over how wonderful our ceremony was and the solemn meaning of our vows were so special.

Rev. Arland Steen's reply:

Thank you for your review, Jonelle! It was a pleasure working with you and Jason to make a lifelong memory for you! I wish you the very best life has to offer!

Christina

Married on 08/24/2019

Professional, courteous officiant.

Working with Rev. Arland Steen was a joy through and through! We went with a customized wedding package, and working through the details with Rev. Arland Steen was pain-free and the end result was memorable (in a great way).

Irene B.

Married on 08/18/2019

Best choice!

Arland Steen was the best choice possible for us at our wedding. He was on time and spoke wonderfully. He made sure to go over all the possible ceremony choices he provided as well as edit any parts we did and didn't want. I would highly recommend him. 5 stars!!!

Rev. Arland Steen's reply:

It was an honor and a pleasure to be a part of your very special day! You were very easy to work with and I enjoyed every minute. I wish you the happiness you deserve!

River S.

Married on 07/12/2019

Excellent Experience!

It is very clear in my experience that Reverend Steen is a true professional. He was punctual, flexible, responsive, and delivered a beautiful ceremony. If you are stressed about everything else on your wedding day you can stress about one thing less knowing that you hired the best. Would highly recommend.

Alisa T.

Married on 03/30/2019

Wonderful officiant!

Reverend Steen was an absolute pleasure to work with from start to end. He was easy to talk to, pleasant, helpful, flexible, warm and caring. We would happily recommend to him! Wonderful experience.

Rev. Arland Steen's reply:

Thank you for the review. It was a pleasure working with you! Your ceremony on the beach was very special to me!

Michelle

Married on 12/01/2018

The Personalized Ceremony We Hoped For

Looking for someone to perform our wedding ceremony seemed like a daunting task since neither my husband nor I have any close ties to a particular church but we still wanted to have a minister/reverend.

We looked online at several choices and were excited about Reverend Arland Steen's promise of creating a personalized ceremony.

The questionnaire that Arland had us fill out was quite extensive but it allowed us to truly be able to give him an idea of us as individuals as well as a couple. This provided everything he needed to be able to draft a truly personal ceremony. He even sent us a copy well in advance of our wedding date and welcomed any input we had.

We then met with him in person and formed an immediate connection. His warm personality and ability to capture in words what is truly special and unique to my husband and my relationship solidified that Arland was the right choice.

During the rehearsal he made sure to go over all the details for how the ceremony would go and took away any stress related to submitting our marriage license.

The day of the wedding, the ceremony was perfect. My husband and I both had people coming up to us afterwards asking about Arland and telling us how much they enjoyed what he said as well as how the beautiful words were delivered.

We couldn't be happier and would definitely recommend Reverend Arland Steen!

Trina M.

Married on 11/10/2018

Wonderful!!

Reverend Steen more than exceeded our expectations. He was professional, thoughtful, and very patient with us. He seemed vested in our marriage and warmly guided us thru the entire process. We highly recommend his services, he will not dissapoint!!

Giovanni

Married on 04/03/2018

Reverend Steen was very helpful with making our wedding happen so smoothly. As I don't intend to require his services again, all I can do is recommend him to anyone else.

Susan

Married on 06/16/2017

Reverend Steen is the real deal! if you are looking for someone so sincere, heartfelt, and warm to officiate your wedding this is the one for you. we had only met him one time, and in talking to us and communicating via email (this was a destination wedding) , he got such a great feel for who we are as a couple that the guests could not believe he hadn't know us for years. everyone told us our ceremony was absolutely beautiful. he worked with us on whatever we wanted and encouraged us to write our own vows(which we said we wanted to do!) but always took the pressure off by saying he always had backups! (we did end up writing our vows though...whew!). I cannot say enough good things about him! :) thank you Rev. steen for making our day so amazing! :)
Susie and lance :)

Rev. Arland Steen's reply:

Thank you, Susan, for such a nice review. Every wedding I get to officiate is special but I must say that probably due to your life stories, this one had such emotion, passion and support from your family and friends that I left the venue moved emotionally like I rarely am.

Michelle

Married on 03/29/2017

Rev. Steen was such a pleasure to work with for our wedding, and incredibly accommodating. He was helpful in also answering a ton of questions we had initially.
Are you interested?
Send a message