Reviews
5.0 out of 5 rating
Quality of service

5 out of 5 rating

Average response time

5 out of 5 rating

Professionalism

5 out of 5 rating

Value

5 out of 5 rating

Flexibility

5 out of 5 rating
100%
Recommended by couples
20 User photos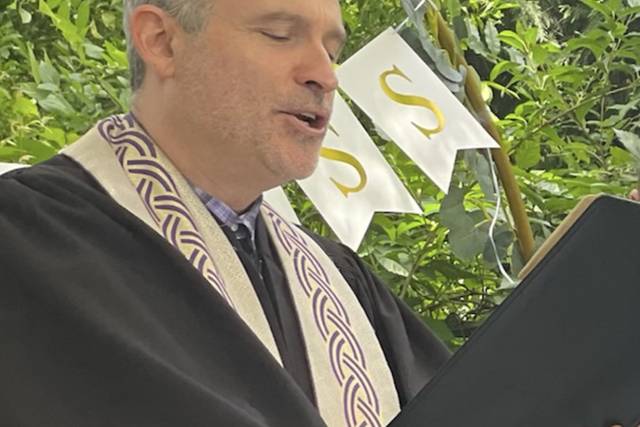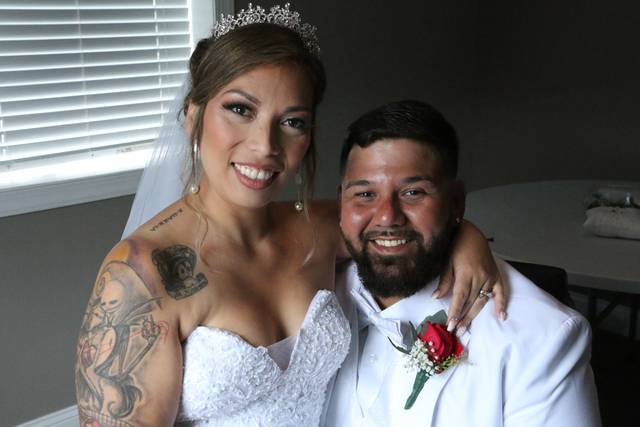 + 16

photos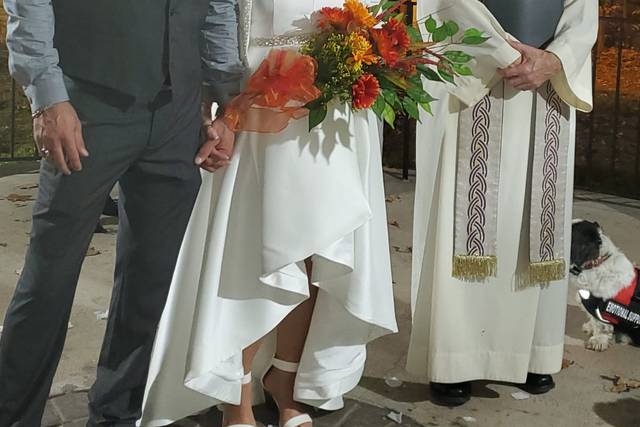 Featured

Michelle R.

Married on 01/12/2021

We loved phil

Phil was an absolute pleasure to work with. It was very important to me that my Husband and I get to know the man marrying us and Phil was so warm and friendly. He made himself available to us for coffee meet-up's to zoom calls. Our Wedding was this past weekend and our guests are still talking about how amazing our Ceremony was. Phil worked with us to create the perfect ceremony and It couldn't have been better. It was funny, personal and heartwarming. I strongly recommend hiring Phil!!!

Rev. Phil Passantino's reply:

Thanks so much, "mille grazie" Michelle and Luca! It was so fun to officiate for your November 2021 wedding at the Shadowbrook (I love that whole new extension they built). Thanks for telling me so much about your love story and the funny things you added - your families seemed to really love hearing about that! It was kind of magical. I wish you that magic throughout your marriage. I enjoyed meeting your fam from Sicily too. God bless!

Samantha

Married on 04/29/2023

The best officiant!

Rev. Phil was wonderful to work with! It was really important to my husband and I that we find someone who we clicked with and felt really comfortable with to perform our wedding ceremony, and Rev. Phil was wonderful! He was so warm and friendly and kind, and he put us right at ease. He make sure to get to know us and made our ceremony extra special and personalized, sharing our little stories and details about our relationship in the best, most lighthearted and touching way! All of our guests told us how wonderful our ceremony way. Rev. Phil brought such a bright, warm energy to our ceremony which was just what we were hoping for. We would recommend Rev. Phil to anyone and we are so happy to have worked with him!!!

Heidi Z.

Married on 03/25/2023

Best Officiant!

We loved having Reverend Phil officiate our wedding! He helped us personalize the ceremony to fit us and he did such an amazing job telling our story. We would recommend Reverend Phil to anyone looking for a great, personalized wedding ceremony!

Are you interested?

Send a message

Renee H.

Married on 09/10/2022

Excellent!

Reverend Phil delivered a beautiful ceremony, it was exactly what we wanted! I would definitely recommend him to anyone in need of an officiant. Thanks Again Reverend Phil ! -Ryan and Renee (River Vale, NJ)

Rev. Phil Passantino's reply:

Thanks so much Ryan & Renee - what a nice evening with you at Edgewood Country Club. Keep on smilin'. All the best!

Jennifer

Married on 06/23/2022

Our special day

Rev. Phil was wonderful to work with! He made our special day so beautiful! A day that is filled with joy and happiness truly has been a blessing for us. We would highly recommend him to everyone.

Daughters Baptism

Reverend Phil hit it on the nail.Our daughters Baptism could not have turned out more perfect. He was on time ,even patient as I waited for my sister to arrive before services began. He was pleasant ,informative and everything just flowed so beautifully. The crowd loved and raves about what a great job he had done . We highly recommend him ! You will not be disappointed! Thanks Reverend Phil !

Kevin C.

Married on 06/12/2022

Flexible and Fun

Phil was great- he was quick to respond and was open to our less typical ideas. The was he organized the pieces of the ceremony was great and allowed us a strong base to build off of. Highly recommended!

Rebecca

Married on 11/20/2021

Everything we wanted!

We are extremely happy we had Reverend Phil as our wedding officiant. He made everything flow smoothly and was very helpful whenever we contacted him. Our guests raved about his guitar playing. We wouldn't have wanted our ceremony any other way. We would definitely recommend him!

Andrea D.

Married on 08/01/2021

Perfect Ceremony

Rev Phil was wonderful! He gave such a beautiful ceremony there was not a dry eye in the room.
The reading that he gave was just perfect and made us feel so special. Since our wedding was Jan 8, 2021 he was very accommodating and flexible. My family just loved him and we were blessed to have him with us.

Rev. Phil Passantino's reply:

Andrea, thanks so much and congrats! I felt moved by the spirit. You both were radiant. So wonderful to celebrate with you and that amazing view, at the Vue overlooking the historical Rutgers buildings of New Brunswick. Loved meeting his mom too and seeing how proud she was of you both. God bless. Keep in touch! - Phil

Jaime R.

Married on 06/13/2021

Reverend Phil really took the time to create a ceremony that was customized for my husband and I. He said/officiated a great ceremony!

Personal, meaningful,memorable

Rev. Phil Passantino's reply:

Jaime and Paul, it was a joy to officiate your wedding under the beautiful tree arbor at Eastlyn Golf Course in Vineland! So nice to meet your family, including Uncle Butch and your Dad who were so fun to hang with. God bless your love, and thanks for the caring work you do in your careers! You are making a difference.

Kathy C.

Married on 05/29/2021

Amazing and wonderful

Phill was absolutely fantastic in every aspect i recommend him 100%
My Husband and I are very grateful for your wonderful work🥰

Rev. Phil Passantino's reply:

Thanks so much Kathy and Alex!! I enjoyed spending time with you and your fam at Costa Del Sol in Union. You both looked so happy and in love, you made my job easy. God bless!!

Mariset A.

Married on 05/27/2021

Beautiful and Memorable! May 2021

Phil was wonderful to work with! We wanted a ceremony that had a religious tone to it and he delivered beautifully! Phil also accommodated our request to have the ceremony bilingual so our parents can enjoy. He took his time to get to know us and it really came thru during the ceremony. My family and friends commented on how special it was. Thank you Phil for making our wedding day extra special, we loved it! Mariset & Octavio

Rev. Phil Passantino's reply:

Thanks so much Mariset! That was such a beautiful day outside at Bridgewater Manor. I remember the eyes of your guests were filled with love. And they enjoyed hearing the funny story about how you met on the job, and you were wondering why this guy kept talking to you, distracting you from your work ha! God bless you both. I'm so glad I could be a part of your day!
Also I finally tried Abigail's Restaurant, it was awesome :) Thx for recommendation.
next stop: Tony Da Caneca!

Carol P.

Married on 03/09/2021

My Ceremony

My marriage date was Sept. 15, 2020. The ceremony
Phil gave was just beautiful. He made it feel so special.
The reading of the words touched me. He is well spoken
With a great personality. My ceremony was small at my
house. My sisters also said it was beautiful. I'm happy
I chose him he is wonderful.

Rev. Phil Passantino's reply:

Thanks Carol and Joseph, it was an honor to meet you and your triplet sisters, and celebrate a special wedding day at your home under the singing cardinal who flew by. God bless Joe, and thanks to him for his tremendous service to our country as a Marine who gave of himself over and over again, from Vietnam to Iraq. Congrats to you both!! You are so blessed.

Paula B.

Married on 11/07/2020

Excellent i would definitely recommend him

Thank u so much he was excellent i would definitely recommend him

Alexandra M.

Married on 11/07/2020

Amazing Officiant

Rev. crafted a beautiful ceremony for our microwedding. He played guitar & officiated such a memorable day

Rev. Phil Passantino's reply:

Thanks so much Alexandra - Glad you had such a sunny, warm fall day. What a gorgeous setting for the ceremony, in front of that 300-year-old colonial fireplace at The Inn at Glencairn in Princeton. Like stepping back in time! All the best to you both

Diane

Married on 10/10/2020

Rev. Phil is exactly what we were looking for. My husband and I were both married in a Catholic church before for our first marriages. Even though we both had grounds for annulments we didn't want to spend the money or go through the process being we wanted to get married in the gardens at our venue. Rev. Phil was completely understanding and helpful. Not only did he listen to our needs and wants but he also recommended a book about 2nd marriages we read. He gave us his time and energy and was open to all of our ideas. For example- blessing rings for our children (my husband has a son and I have a son and 2 daughters), Unity Cross, gem vase where our guests each had a glass gem and placed it in a vase before taking their seats, giving us their blessing (we incorporated this into the ceremony). He included elements of a Catholic based ceremony such as readings and the Our Father per our request. His words were heartwarming and personal. Everyone still compliments us on our ceremony and the kind, professional, friendly, and compassionate Rev. Phil.
I searched the internet trying to find an officiant who could be accepted by both our church going parents and include the religious element in our "Country Elegance Ceremony". I knew right away when I hit on a video of a wedding he did that he was the one. After meeting with him my gut feeling was confirmed. It turns out he was from the same circle my husband grew up in. My husband and I had many circumstances that brought us together yet we did not meet until later in life. Rev. Phil was just another one of those "this is meant to be". We highly recommend him to be your officiant if you want sincerity, class, professionalism, and love to be part of your day.
P.S. He is very affordable and worth every penny.

Dev P.

Married on 09/12/2020

Amazing amazing amazing!

Phil performed an extremely beautiful ceremony for my wife and I. He was very respectful of our wishes of what we wanted our ceremony to be like and spoke eloquently and from the heart. Phil was also able to incorporate personal anecdotes and stories into our ceremony and was professional, funny and extremely responsive throughout the entire process. Honestly, look no further for an officiant to perform your ceremony!

Rev. Phil Passantino's reply:

Thanks so much Dev and Jasleen! It was fun and inspiring to celebrate with you on that gorgeous day, at Lambert Tower by Garrett Mountain. I enjoyed your touching love story, the wooded mountain setting, and you both looked so happy. It was great to simulcast on Zoom too to your friends around the world. Best wishes to you both and happy Fall!

Thomas M.

Married on 08/31/2020

Excellent Understanding

He was Jovial, calme and more importantly understanding.

Faith D.

Married on 08/22/2020

Amazing Reverend that works with you throughout the planning process!

Reverend Phil is amazing! He was extremely professional and responsive throughout our planning process, and he presented a beautiful, thoughtful ceremony that all of our guests raved about. He provided us with a sense of peace and serenity during the chaos of planning a wedding during such a stressful time. We will definitely be recommending him to all of our family and friends, thanks Reverend Phil!

Rev. Phil Passantino's reply:

Thanks Faith and Adam, that's so nice of you! I really enjoyed officiating your ceremony at Chateau Hathorn in Warwick, surrounded by nature and your loving fam. It was kind of magical under those shady trees, all in honor of your love. Stay blessed!

Steve D.

Married on 08/14/2020

Rev. Phil Passantino was amazing!

Rev. Phil was absolutely amazing! People kept coming up to us to tell us how great the ceremony was! He really went over the whole process and really allowed us to customize the entire ceremony with him! He also asked personal questions (like how we met, etc.) this really allowed for our wedding to be personalized. I can't even say how on point and easy to work with Rev. Phil was! I would recommend him for any wedding, he made our wedding a truly blessed day!

Thanks Rev. Phil!

Steve

Rev. Phil Passantino's reply:

Steve & Dr. Stephanie, thanks so much - I loved being a part of your wedding at the Palace in Somerset. It was really fun to share how you both met because of that pic of you and your cat! And that you made it official after exactly 1.5 months. A beautiful outdoor evening for a cool couple! All the best

Megan

Married on 10/06/2019

Great Officiant & Great Person

Phil gave us the best ceremony which everyone still talks about. He was such a professional coming on-time, prepared and incorporated so much personalization about the two of us. We had laughs and so much love throughout our ceremony. All the while Phil was a calming presence who kept the ceremony flowing with no awkward pauses or moments. Our family really enjoyed the stories about us he told and everyone was laughing at his jokes. We couldn't be happier with the outcome and would highly recommend him to anyone else. We even invited him to stay for the ceremony because we just felt so much like he was a friend of our family. Thanks again Phil!

Swenja A.

Married on 09/27/2019

Paster Phil

Phil was amazing to work with and made our ceremony perfect. He met with us a few times until we had everything pat down for our big day. We highly recommend Phil
Thank you for making our day special
Swenja & Andy

Michael W.

Married on 09/14/2019

Thanks, Phil!!!

We specifically chose Phil as our officiant because he could perform the ceremony in both English and Portuguese. We were able to edit the ceremony "script" to our liking and were very pleased with Phil's services. Additionally, we had him play acoustic guitar before the ceremony, for the walk, and lasty for the close of the ceremony. The guests really loved that part, as we received many compliments. Communication was very easy, and the whole process went smoothly. Thanks, Phil!!!!

Rev. Phil Passantino's reply:

Thanks Michael and Afonso, for letting me be a part of your wonderful morning wedding at Bobo Restaurant in the West Village, NYC. You were both beaming with joy.... everyone loved your heartfelt vows!

David

Married on 09/02/2019

Thanks Rev. Phil!

Due to my Fiancee's visa, we had 30 days to get married.

Everything was last minute and we were in serious doubt that we could pull it off! Our pastor was unavailable on such short notice so we did not have an officiant. Thankfully, one of my friends highly recommended Rev. Phil. From the very start, Rev. Phil gave us great confidence that we had found the right wedding officiant.

His ceremony templates are extensive and varied enough that is easy to choose the perfect flow and content. We chose a Christian based ceremony but he can basically accommodate any type. He is also very flexible. In our rush, we waited until the very last day to send him final revisions and he seamlessly worked them into the ceremony. His communication was also great...he always responded in a timely manner and provided whatever help was required.

The wedding itself went off without a hitch thanks in large part to Rev Phil's great officiating. He even wove in personal touches about our relationship he obtained from his questionnaire!

My wife and I hope to only get married once in our lives but if we renew our wedding vows I'll be sure to contact Rev Phil! We also will not hesitate to recommend him to our friends and family!

Thank you Rev. Phil!
David and Roxanne

Rev. Phil Passantino's reply:

Thanks David & Roxanne! That was a real special day, you could feel it in the air. I was so happy to be part of your cool little wedding in that art gallery space in TriBeca. Your handwritten vows were very moving. (I actually almost teared up at Roxanne's at one point.) Hearing the story of your courtship reminded me how devoted and powerful love can be. I also loved your unique decorations and the hospitality of all your family and guests. God bless your love!

Yoli R.

Married on 09/01/2019

Wedding Ceremony

Accommodating, and excellence service!

Rev. Phil Passantino's reply:

Thanks Yoli! Nice to officiate for you in Español and English. My first wedding at the Grand after it changed from the Bethwood - beautiful place for a beautiful couple. God bless!
Are you interested?
Send a message