Reviews
5.0 out of 5 rating
Quality of service

5 out of 5 rating

Average response time

5 out of 5 rating

Professionalism

5 out of 5 rating

Value

5 out of 5 rating

Flexibility

5 out of 5 rating
100%
Recommended by couples
Awards
4 User photos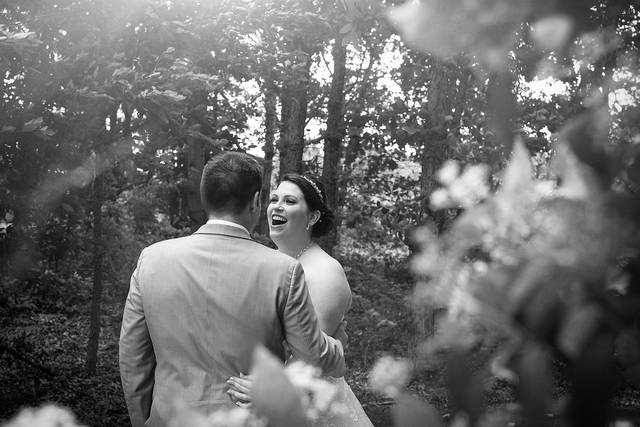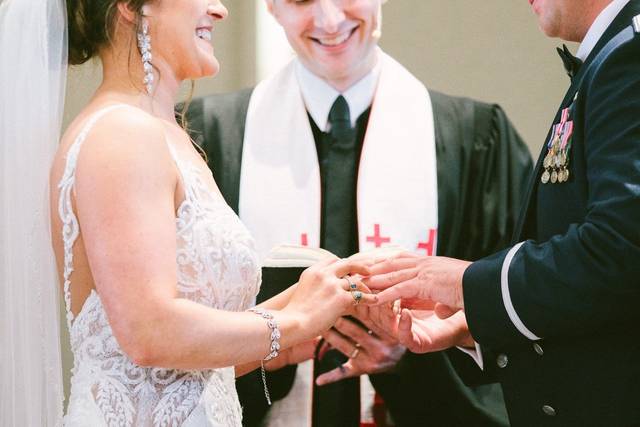 Ashley K.

Married on 09/21/2019

Perfect Ceremony

Luke is the best! We were amazed at how well Pastor Luke got to know us during the get togethers before the big day. He is much more than our officiant, he is an advocate for our marriage and gave us tools to help us succeed. He's someone to look to for guidance but can also relate to as a friend. We had a rehearsal that eased any nerves we might have had, it was very laid back and productive. The actual ceremony was beautiful and well thought out. We received many compliments on how personal the message was to our relationship. We could not imagine anyone else marrying us.

Leigh A.

Married on 06/08/2019

The most amazing wedding ceremony ever

My husband and I were not only looking for the perfect church but also the perfect person to marry us. We found both here!! Rev. Lindon took the time to get to know us. He requires marriage counseling and was even able to i those sessions via Skype (our schedules are hectic!!) the the rehearsal went flawlessly. He was very helpful and patient with directions. On the day of the wedding he was able to incorporate characteristics of both Alans and I's lives. He tied in flying for Alan (he's a pilot) and Harry Potter for me. I could not have asked for a better person to help kick off my life with my husband.

Katie

Married on 05/10/2019

Absolutely the best!

Reverend Luke was truly a God send in every sense of the word! From the start, he was so accepting of both my husband and I and how we envisioned our ceremony. He worked patiently with us while we were living in 2 different states, was extremely flexible with scheduling, and really took the time to get to know us and all our quirks. The sessions before the ceremony were full of openness, communication, and education – and of course lots of laughs! Rev. Luke helped us combine our different backgrounds of faith into one, with no judgement or pushing to fit a certain mold. The ceremony was perfect, full of personal little details that he took upon himself to remember. It really touched our hearts to know he cared so much! We are very thankful we found Reverend Luke, our day would not have been the same without him! If you are looking for love, acceptance, and lots of laughs, definitely check him out!

Are you interested?

Send a message

Kayla

Married on 03/30/2019

Pastor Luke is AWESOME!

I can't say enough about Pastor Luke - made our entire experience meaningful and special, and is so great at making you feel comfortable. Would highly recommend!!

Alicia

Married on 08/25/2018

WOW!!! Reverend Luke is the absolute best!! He is the person you want officiating your wedding!! Through all our meetings and the on the big day he was very professional but personable! He has one of the best personalities and is truly and amazing person! We are beyond happy we found him on wedding wire! Thank you Luke!

Janet

Married on 08/25/2017

I can't say enough about Luke!!!!! I am blessed to say that I have known him for quite a few years now, and when it came time to marry my husband and I, he was the absolute PERFECT choice. Our ceremony was thoughtful and personal with just the right amount of tradition, and best of all... it was fun! All of our guests ENJOYED the ceremony and were talking about how much they liked it all evening! Throughout the prep-process Luke was available for any questions or concerns we had, and was great about helping us plan the ceremony/making it our own while staying within the traditional format (which was important to us). Although we already knew Luke, he took the time to get to know us and didn't "assume" anything about us. He helped us realize some awesome things about our personalities and how we work together as a team. The entire process was wonderful, and I would highly recommend Luke to ANYONE looking for an officient!

Karen

Married on 07/15/2017

Luke was an essential part of our wedding ceremony and without him, it would not have captured the love my husband and I shared. He took our story and put it into words perfectly. Not only was he caring, he was funny, and honest. This was my second marriage and he had a way of acknowledging the past while sharing excitement for the future. I was honored to have him there with us and anyone else would be lucky to have him stand with you in marriage. Thank you Luke!


Shara

Married on 12/31/2016

Luke wrote the most beautiful and thoughtful wedding ceremony for our NYE wedding. He requires that you complete the Prepare/Enrich pre-wedding course and we are so glad that we did! Luke is easy to talk to about real issues and helped us to get prepared for our marriage, not just our wedding. For the ceremony, we let him pick a reading for us and it was perfect. He was funny, and made our ceremony reflective of us as a couple. It was perfect. Thank you so much Luke!

Luke did an amazing job with our wedding. He made the ceremony, upbeat funny and personal. We had several meetings with him before hand and enjoyed them all. It is so important to find a good officiant and Luke exceeded our expectations.

Colleen

Married on 10/24/2015

Luke was absolutely fantastic! The first time we met, our personalities matched really well and we felt like he was a great choice to take part in our ceremony. He was so flexible when it came to scheduling our pre-ceremony & planning sessions, as we were living out of town, and was very open to our suggestions for personal touches when writing the actual ceremony. Our guests had nothing but wonderful things to say about his sermon, and he used a lot of the things we'd talked about in our planning sessions, along with a very non-traditional reading, to personalize his sermon with just the right touch of humor and love. We would definitely recommend him to others!

Emily

Married on 08/29/2015

When my husband and I were searching for an officiant, we expected to find someone to read something nice at the ceremony, marry us, and that would be the end...Luke was SO much more than that and went above and beyond with preparing us for the road ahead and enlightening us on what marriage is really all about. We met with him multiple times before the ceremony-not to talk about the wedding, but to talk about our relationship and how we could better it and make it stronger through the years. One thing I was nervous about is that I do not follow religion, but instead of pushing his beliefs on me, he actually was interested in what I did believe in and we had a great conversation about it. On top of all this, Luke is hilarious! He had us laughing every session and we really looked forward to each meeting. Would absolutely recommend him to anyone I care about. We could not be happier that we found this awesome guy!

Jennifer

Married on 08/09/2014

When beginning to plan our wedding my husband and I were at a loss as to who to be our officiant. I had grown up Catholic and he had not been practicing for some time but was previously Methodist. When my older brother suggested Luke I know we were both unsure what was to come but Luke could not have been a more perfect match for us! He made us immediately comfortable from the start (which is not an easy one for my husband!) with all conversations that needed to be had regarding all facets of our relationship. For those areas that needed work in our relationship and to prevent issues from arising, he gave us advice/exercises that we still use to this day. For everything leading up to the wedding Luke was always responsive to every email/phone call/text we sent and was open to how we would like the ceremony to flow.

We could not be happier with everything Luke did for us and we HIGHLY recommend him!

Amber

Married on 06/07/2014

Luke did mine and my wifes wedding. We are a same sex couple and he is very accepting and welcoming treated us very well. We enjoyed having classes and meeting with him before our wedding. He made our wedding amazing. We are so fortunate to have found a great guy to marry us. I would recommend him to anyone.

Jessica

Married on 09/14/2013

Luke is an awesome choice to be your officiate for several reasons. He is flexible, professional, funny, charismatic, and very helpful in the process of getting ready for your big day. He gives great tools for couples to use throughout their marriage, and how to build a strong foundation together.

My cousin also recently got married and utilized Luke as their officiate, when they got married at Maumee Bay. He did a great job, and they were also pleased with the ceremony.

Sarah

Married on 08/10/2013

Luke was the perfect choice for our Officiant. While my husband had a Protestant background, I did not have any real ties to religion. Luke was very open to this and helped us to see that beliefs can be of any nature, and helped us to relate them to marriage. We were also looking for someone who would be comfortable performing the ceremony at my parents' house. On top of that my then-fiancé and I lived with our parents an hour apart so our meetings required some flexibility. Luke made it work! He's also very tech savvy and I think at one point offered to Skype for one of our meetings, to which my husband and I both responded we had never done that before, and stuck to in-person meetings. :) Over a year later we still discuss some of the things from our meetings and use the exercises to get through any tough times. Overall a great experience with a pretty awesome guy :)

Elizabeth P.

Married on 06/25/2011

My husband and I met Luke when he first moved here to Toledo through church. We had differing religious backgrounds and spent quite a bit of time trying to find the right person to officiate our wedding. Luke was our best choice! He spent time with us in marriage counseling/prep "classes," and he was extremely knowledgeable with both my Catholic beliefs and Andrew's UCC beliefs. He helped both of us greatly in understanding each other throughout the process of planning the wedding and getting started with our new lives together. I am so blessed that we have gotten to know Luke so well, and I highly recommend his services!

Nick

Married on 06/04/2011

Luke was thrown into our wedding counseling half way through due to circumstances out of our control. He quickly made us comfortable and you could tell he was truly excited/honored to be part of it. Really chill guy with a great outlook and open mind.

Nick S.

Lindsay

Married on 05/27/2011

Luke did a wonderful job on our ceremony. If I recall, we were his first one and I never would have known that, in fact I think it was much later that I even found that out. He RAWKS! Luke's wonderfully professional and has the best personality! He was so helpful with everything and I (we) highly recommend him!

Kristi

Married on 05/07/2011

Luke is a pastor at the church I grew up at. The pastor that I grew up with is whom I wanted to marry my fiancé and I. Due to illness plans had to change and my fiancé and I met with Luke. I was extremely nervous since we were just meeting on a personal level for the first time. Tyler and I were excited within two minutes of our meeting with Luke. In two minutes we knew we were in great hands. Everything was perfect and turned out perfect. He got to know us as a couple and during our service my family members were also impressed with how everything went. He put in the time to get to know us and to generate a sermon towards us as a couple and our unity. When Tyler and I redue our vows, there is no one else I would ask to do it but Luke!!!

Kady

Married on 06/04/2011

We could not have been happier. Luke was a perfect pastor for us and combined the fun, happy nature of our wedding with professionalism. I would highly recommend him to anyone.
Are you interested?
Send a message