321 Reviews
Recommended by 100% of couples
Quality of service

5 out of 5 rating

Average response time

5 out of 5 rating

Professionalism

5 out of 5 rating

Value

5 out of 5 rating

Flexibility

5 out of 5 rating
32 User photos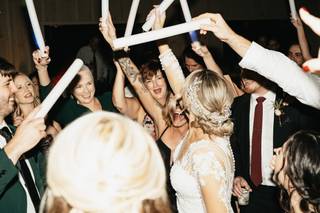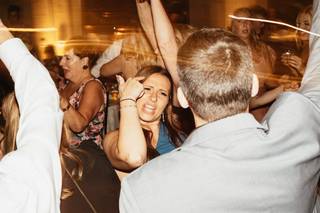 + 28

photos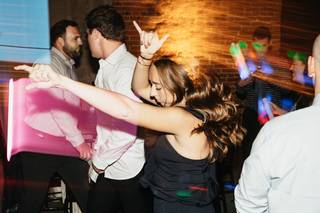 Featured

Kelsey W.

Married on 06/24/2022

Best Dance Party Ever

If you are looking for an epic dance party at your wedding, Ben Coleman is the person you should hire. From the moment he started playing, we had people dancing in all corners of our reception - dance floor or not. Our dance floor was never empty for a second. Even our bartenders were dancing to the beats he dropped. He effortlessly changed between genres that appealed to all generations at the wedding and read the crowd so well. We had people constantly say "We tried to leave the dance floor for a break, but every song that your DJ is playing we can't walk away from." Additionally, we received so many compliments from our guests about how awesome he was. Even though our guests were impressed, most importantly he created so many magical moments for us as a couple. We gave Ben the most obscure song to walk down the aisle to, and he was able to remix and loop the song without a problem. We did the horah and it was chaos unleashed (in the best way possible). He chose the last few songs of the night himself and it created some of the best and special memories. We originally came into the vendor process knowing that we wanted a DJ who was equal parts professional and fun. 5 minutes into talking to Ben for the first time, it was easy to tell that he was the best at what he does. He is incredibly flexible - and is able to take as much or as little direction towards your wedding playlist as you want. We changed our first dance song the day before the wedding and he didn't blink an eye. He does not spend that much time on the mic because he doesn't need to - his playlists and remixes will get your guests to the dancefloor without prompting. We hired him for our ceremony, cocktail hour, and reception, and he perfectly tailored the music for the vibe of each event. We have no regrets hiring Ben and would recommend him to anyone - one of the best parts of our wedding hands down.

Katie L.

Married on 10/29/2022

Wowowowowow I love dj ben

DJ Benja styles is literally the best DJ of all time. We just got married on 10/29/22 and he literally blew us away. Our family and friends were raving about him, our dance floor was packed, I have people begging me for his information to hire him, and he was an absolute pleasure to work with. He was flawless in every way, and somehow had a magical power to understand my exact music taste. I'm so delighted he was part of our day and couldn't imagine our reception without him.

Remixologists's reply:

Thanks Katie! We had an awesome time celebrating with you & Brady at the Horticulture Center in Philly!

Ted R.

Married on 10/23/2022

Remixologist and DJ Jams Bond were amazing

Remixologist and DJ Jams Bond were incredible. They very tech savvy which made payments, scheduling, and collaboration stress free. DJ Jams Band (David) came through huge for us on putting together a few custom songs we wanted for the ceremony and our first dance. I should also note that of the many highlights at our wedding, I had multiple guests of all age groups come up to me during the reception to specifically mention how great the music was and to ask whether I had specifically curated the playlist (I had not, that was all David). Remixologist on a whole were kind, courteous, professional, and, most importantly, super fun.

Remixologists's reply:

Thanks for the kind words, Ted. David had a blast working with y'all at View at Battery Park in Manhattan, NY!



Are you interested?

Send a message

Megan H.

Married on 10/21/2022

BEST decision ever!

Music was the MOST important thing to my husband and I for our October 2022 wedding. Music is what brought us together and plays a huge part in our love story. We wanted that to show through on our day. Hiring Simon from Remixologists was one of the best decisions we made for our wedding day. We have a very unique taste in music including a lot of punk and harder rock. Simon was somehow able to flawlessly mix in our favorite bands/artist and still manage to keep everyone raging on the dance floor the entire night. To this day, the music is the thing our guests RAVE the most about saying he was the best DJ they have ever experienced. It makes sense - just check out their website to see the incredible resume/history. If music is a priority for your day, hire Remixologists.

+ 3

photos

Ebonique E.

Married on 10/21/2022

DJ Benja from Remixologists is the best wedding DJ

I highly recommend you hire DJ Benja!! I am a Jamaican American, and it was necessary to highlight both cultures at our wedding. DJ Ben was able to accomplish more than I could have ever imagined. No one could get off the dance floor, we danced the night away. DJ Ben played old-school (the 50s, 60s, 70s, 80s) reggae that resonated with my Father, Uncles, and Family from Jamaica. As well as pop music, r&b during dinner, basically everything I asked for, and more! DJ Ben was super professional, responsive, and organized.
Remixologists set us up with the right DJ to make our wedding ever-lasting and DJ Ben a forever friend!

Jack K.

Married on 10/08/2022

Couple - Groom

Amazing communication, professionalism, and most importantly…MUSIC! DJ L'GITT was awesome from day one and made our actual day unforgettable. Our guests were dancing the entire time and that was our number one ask. Couldn't recommend them more.

Victoria O.

Married on 10/01/2022

Book them!

From the beginning of our wedding planning process, my husband & I knew we wanted a unique DJ. NOT a typical wedding DJ who makes you cringe all night with their MCing and dance floor fog machines. We knew from our first call with Ben that he was for us - all about the music and just understood our taste from the get-go. The best compliment I received at my wedding was that I looked like a bride who truly enjoyed my wedding - this was thanks to Ben! I danced from the minute we walked into our wedding until the minute we walked out. Ben & Simon were always easy to get in touch with - super responsive, organized, flexible, and fun to work with! Meetings with Ben felt like talking to a friend. Guests asked if I curated the wedding music because everything he played was so "us." THREE engaged couples who attended our wedding have already contacted Remixologists because they loved it so much. HIGHLY recommend Remixologists if you are in the tri-state area. We want to plan another party simply to experience Ben's music again!!

Remixologists's reply:

Beautifully put, thanks Victoria! We had an amazing time celebrating with you & Dominick at Club Getaway in Kent, CT!

Daniel T.

Married on 10/01/2022

Your dj search is over!

DJ Benja Styles, Barb and the entire crew at The Remixologists delivered everything they promised and more than I knew I needed.

Let's start with the most important part... the music. During the booking process (which was extremely easy and user friendly) I was asked for a bit of background on my relationship to music. This question felt purposeful to me... and I believe it was used to help match me to the appropriate fit for the big day. They matched me up with DJ Benja Styles and couldn't have been more spot on.

We did an intro zoom call so that DJ Ben and I could chat about musical tastes, desired vibes for the evening and just get to know each other a bit. I think what struck me most was a feeling of comfort that Ben truly understood the eclectic musical tastes of myself, my wife and our guests. Everything from Rage Against the Machine to K-Pop, Frank Sinatra to Wu-Tang, and everything in between. He understood the assignment, and he proved that at the party! He knew the exact song to play at the exact moment, I don't think I've ever seen a DJ with more skill for reading a room.

I was originally on the fence about live band vs DJ. I really like to hear the recorded versions of my favorite songs on the dancefloor... but cannot deny the energy a live band brings to a party. Luckily The Remixologists have a solution for that! We decided to add Barb Duncan who is an INCREDIBLE drummer to the set up. Barb played along with the songs while Ben spun... and it added SO MUCH energy to the night!! I think the amazing thing about how well Barb played, is that she performed enough for you to feel her presence, with perfectly timed syncopated rhythms... but not so much to overshadow the songs. She knew to dial it back on certain songs or let it rip on others... and our guests were raving about the sound! I highly recommend going this route for a unique experience, especially if your playlist is heavy with rock and hip hop!

The dance floor was like an explosion of amazing energy (I posted some pics to prove it)... and just when you thought they were gonna let up and slow things down a bit... the party just kept intensifying. This was per my request... we didn't want any dull moments. I will NEVER forget that night, and there are so many core memories I have because of the work that Ben and Barb did. It was absolutely perfect. My friends and family still talk about what an amazing party it was.

As far as the overall experience outside of the music.. the communication was ON POINT. Their use of Basecamp to share important spreadsheets and documents was super helpful in keeping organized and making sure that no details were missed. I became so fixated on detailing the playlists that I forgot we actually needed to think logistics... timelines for speeches and key moments, names of the bridal party and family members for announcements, song clips for curated moments... we even had a few games played throughout the night the Ben expertly MC'd for us! My head was spinning at the amount of things we needed to keep track of but Ben is a PROFESSIONAL. This clearly was not his first rodeo and he knew exactly how to guide us through the process and how to keep the evening moving along smoothly. He worked in tandem with our wedding planner and coordinator and we had no worries on the big day. I even had a special request to perform a surprise song for my wife and Ben provided the set up I needed.

Professional, personable and polished, the best!!!


+ 4

photos

Hayley

Married on 09/30/2022

DJ Taiga best of the best!

Our wedding was only last night but I had to hop on here to leave a review for DJ Taiga (Simon)! I am sooo happy we went with Simon for our wedding day/night. He was so easy going to work with, especially when it came to how particular I am about what music I wanted played!! Everyone told me how impressed they were with the music from the moment they entered the venue space until the last song. When it was over, I could have danced for another four hours! The dance floor was packed all night and everyone had the best time. I am so grateful to Simon & remixologists!! Thank you, Simon!!!!

Remixologists's reply:

You are too kind, thanks Hayley! We had an awesome time celebrating with you & Tim at Terrain at Styer's in Glen Mills, PA!

Bianca S.

Married on 09/17/2022

Dancing All Night!

We cannot speak highly enough of DJ Ben! Throughout the wedding planning process he was incredibly professional, responsive, and collaborative. We were excited to work with Ben given his skill in reading the crowd and getting everyone on the dance floor, and wow did he crush it! His MC'ing and DJ'ing were both exceptional and so many guests told us both the night of the wedding and in the days afterwards how it was the most fun wedding dance floor they'd experienced. We cannot recommend Ben and Remixologists more, so terrific!

Remixologists's reply:

You're so sweet, thanks Bianca! We had an amazing time celebrating with you & Luis at Bryant Park Grill in New York!

Allie R.

Married on 09/10/2022

Best DJ for a NYC Wedding

Simon (aka DJ Taiga) was the absolute best wedding DJ we could have ever hoped for. He was extremely professional, kind and gave helpful advice throughout the whole planning process. He is extremely patient and graciously responded to all of our emails and questions! What truly blew me away was that, when my dad asked him to help with some sound effects during his father of the bride toast, he went above and beyond and truly made my dad's comedic dreams come true. He could not have been more gracious or more willing to make our wedding the best day ever! He played all the music we were hoping for and added in his own song choices to get people dancing, which I am so grateful for. He was the perfect emcee for our NYC wedding, and he was extremely fun and energetic without being boisterous like some DJs at other weddings I have been to. All of our guests loved him and kept saying that he was playing the best music ever and changed the songs at the exact right time!! He also did an amazing job balancing the sound levels, which was somewhat of a challenge at our venue. The music was just the right volume for dancing, yet people could still hold a conversation at the tables and actually hear each other. He is extremely experienced yet brings a youthful energy and he is just the best, most lovely guy. Truly do not look any further than Simon and his team, the Remixologists.

Remixologists's reply:

Ahhhh thanks so much Allie! We had a blast spinning for you & Anthony at The Glasshouse Chelsea in New York!


Lindsay D.

Married on 08/20/2022

Benja Styles = G.O.A.T

After 10 years of attending friends' weddings, our top priority was choosing a DJ that understood our vision: a wedding that felt like a club. Ben blew it out of the water. I have never had so much fun in my life. Banger after banger. The dance floor was overflowing all night.

Remixologists's reply:

Thanks Lindsay! We had an awesome time celebrating with you & Ryan at The Asbury in Asbury Park, NJ!


Grace P.

Married on 08/19/2022

Amazing experience with Remixologists and DJ L'Gitt!

My husband and I came across Remixologists first from a google search and then they were also included in a list of recommendations from our photographer (Peach Plum Pear Photo). Another clue we found worthy of noting was their website. They definitely took the time to maintain a look that was modern and stylish. Simon was responsive and arranged a meeting with available DJs. We picked DJ L'Gitt and he did not disappoint. He was just as friendly, warm and inviting as the day we initially spoke. Fast forward closer to the wedding, he reached out for the final meeting. He really wanted to hear our story, our background, where we grew up, etc to personalize our wedding. He checked up on us throughout the night and his emcee-ing was smooth. To top it off, the music was amazing. We gave him some direction on songs/ artists we really liked but honestly just told him to fill in the gaps. So many people came up to us during and after our wedding to compliment on two main things. The food and the music. Everyone really enjoyed the night and we reached out goal - to have a great party. DJ L'Gitt made the night memorable and seamless. Honestly, great hands to be in for a kick ass party!

Remixologists's reply:

Couldn't have said it any better, thanks Grace! We had an amazing time celebrating with you & Andrew at Ballroom at the Ben in Philly!

Anna

Married on 08/06/2022

Thank you for everything!

David Cruz, part of Remixologists DJs, has been an absolute wonder. Our wedding would not have gone nearly as smoothly or been as fun without him.

My friends advised me that the two most important things for a wedding are the music and the food. A good DJ will set the atmosphere, coordinate the other scheduled events for the night, and adjust the music to the crowd's energy in real-time. David went above and beyond. He helped us organize our wedding night timeline (grand entrance, first dance, toasts, announcing different events like cake cutting and lion dancing). He also helped set up a speaker/mic system for our outdoor string quartet (additional fee).

From our initial meeting, David was fully prepared for any and all questions. He is super flexible and accommodating with last-minute changes and has been invaluable for bouncing ideas off (e.g., how past weddings have decided to do things). I've never had experience planning such a large (230-person) event before, and David's extensive experience was invaluable.

David is excellent at understanding what we wanted and when we weren't sure, he was great at suggesting options and offering solutions or alternatives. He got back to us almost immediately whenever we reached out for questions and was also happy to link up through Zoom when we needed a quick brainstorming session with him.

To reference his music skills in particular: My music genre tastes differed from my husband's. We also wanted to ensure the older crowd felt included with some music from older generations. In addition, we wanted our friends to dance and have fun with primarily pop music from 2000-2015. Despite these challenges, David created a fantastic music set. He knew how to keep the dancing going and when to let the crowd chill during the wedding night. During the wedding day, there were some last-minute changes to the schedule (additional toast speakers). He readjusted the schedule with our maître d' and ensured smooth transitions between the events.

Calvin and I received compliments from guests on the music even before the night was over! I highly recommend booking David for your wedding and any major event you might have. I can't recommend him enough to friends and family who have upcoming weddings.

Remixologists's reply:

Beautifully put, thanks Anna! We had an amazing time celebrating with you & Calvin at Harbor Links Golf Course in Port Washington, NY!

Becky R.

Married on 07/22/2022

5+ Stars for DJ Taiga!!

Oh my gosh Simon (DJ Taiga) absolutely ROCKED our wedding!!!! My husband and I had sooooo much fun dancing and singing and we truly had the most perfect day and night.

We had many guests of different ages and cultural backgrounds come up to compliment us (like we had anything to do with it?!) on his skills as a DJ!! My husband is 100% Portuguese and I am not. Having the Portuguese culture incorporated into our wedding was very important to my husband and his family. Simon sent us some sample Portuguese playlists and truly went the extra mile to ensure the Portuguese component flowed naturally throughout our wedding reception. He totally knocked it out of the park! Simon's transitions were seamless, he read the crowd beautifully, he played many of our favorite songs (most of which we did not tell him in advance!), and kept our dance floor packed all night!! Simon truly helped make our dream wedding a reality - we cannot thank him enough!!!

Some of our guests asked for our DJ's information for future events - if that doesn't say it then I don't know what else will! Simon was fabulous and incredibly helpful throughout all of our wedding planning! He was extremely responsive via email and was always down to hop on a Zoom to clarify anything for us.

We're so sad our wedding is over, but we are looking back grinning because it was better than we ever could have imagined. We credit Simon as the number one reason why we had so much fun at our reception - it was a priceless experience!

We hope our paths cross again at events in the future!! If you decided to book him, let me know so we can come as guests to what's guaranteed to be an amazing evening :)

Remixologists's reply:

Ahhhh thanks so much, Becky! We had a blast spinning for you & Roger at La Chateau in South Salem, NY.



Elizabeth C.

Married on 07/16/2022

Amazing dance floor

We have nothing but good things to say about DJ Benja Styles. We felt very confident partnering with him after our first conversation and he exceeded all of our expectations. He created an energetic atmosphere that kept our guests dancing all night long. We had so many compliments on our music after our wedding. Would highly recommend him to anyone!

Remixologists's reply:

You're so sweet, thanks Liz! We had an amazing time celebrating with you & Sean at Reid Castle in Purchase, NY.

Anjali C.

Married on 07/09/2022

Best. DJ. Ever.

From start to finish, Simon (DJ Taiga) & Remixologists were nothing short of amazing. Not only is Simon so friendly and warm, but he is extremely detail-oriented and goes above and beyond, making every song special and unique. Every song and playlist was meticulously & strategically placed - he read the crowd so well and effortlessly blended many genres together. We had a fusion Indian/traditional Western wedding, and hired him for the Indian ceremony and reception. He took so much time and care into making sure everything flowed seamlessly. Everyone (young & old) was on the dance floor the whole night. After the wedding, people could not stop asking who our DJ was, including the drummer. They understood the assignment!! We had the best day ever and are so grateful, and we could not recommend him more. We hope to have another party just to have him play for us again. :) XOXO!!

Remixologists's reply:

Ahhhh thanks so much, Anjali! I loved spinning for you & Andrew at The Mansion in Natirar in Peapack-Gladstone, NJ!

Elizabeth E.

Married on 06/25/2022

The best dance floor ever!!

We could not have been happier choosing Ben at Remixologist to DJ our wedding. From the beginning Remixologist made the process of working with them incredibly easy. Ben is an amazing DJ! We talked briefly with him before our wedding and he created the most amazing set to play at our wedding that embodied our music style. So many of our friends still talk about our wedding dance floor to this day!

Linda W.

Married on 06/11/2022

Unforgettable weekend with music that kept the party going!

DJ Taiga (Simon) set the bar REALLY high for our friends' future weddings! His mixing was AMAZING and he really set the mood all throughout my entire wedding. Multiple people came up to me throughout the day and also the day after and asked where I found him because they were blown away by how great he was. DJ Taiga seamlessly mixed between songs, never skipping the good parts but also not staying too long on any single song that you have to endure the weird non-danceable parts. Our dance floor was packed the entire night.

But even on top of that, I also really appreciated how responsive DJ Taiga was before the wedding and how curious he was to really understand what we wanted at different points of the day. He nailed our "space disco" reception theme (no easy feat, for sure) and worked in tandem with our planner to make sure all things sound went smoothly during our wedding. Small touches like helping me re-edit the a cut of a song for our second dance (to get rid of the weird distortion) from our choreographer really meant a lot.

I would recommend DJ Taiga a million times over to anyone for any event. If you're on the fence, get off the fence and book Remixologists ASAP. Thank you so much Simon!

Carolyn W.

Married on 06/04/2022

Coolest DJ Ever!

We were very adamant about finding a "cool" DJ for our wedding (surprisingly hard to find) but Lee from Remixologist delivered! We didn't give much direction (just wanted to make sure pop punk and 90s was on the list) and Lee definitely got our vibe. The dance floor was lively all night - at one point one of the groomsmen shouted "the hits just keep coming"... and they did! I had guests come up to me afterwards and tell me this was the best dance floor they've ever seen at a wedding and I'd have to agree. Definitely recommend!


Remixologists's reply:

You are too kind, thanks Carolyn! We had an awesome time celebrating with you & Nick at the Penn Museum in Philly!

Teresa T.

Married on 06/02/2022

Best DJ Ever!!

Our experience with Remixologists was awesome! You will not get the cheesy, weird DJ experience with them! It's going to be an amazing party with great music, led by an awesome DJ. Our experience from beginning to end was seamless. Our DJ Ben had great communication and helped us stay organized during the entire process. His timeline was amazing and he did a great job working with our venue. We loved the attention to detail, like double checking bridal party pronunciation!!! He is also great at knowing exactly what song to play and quickly learned what vibe we were going for even before the wedding day. Our cocktail hour and reception music was amazing and we received compliments all night that we had an awesome DJ. Finding a wedding DJ can be overwhelming but as soon as we booked Ben & Remixologists, it was smooth sailing. Ben was amazing and really kept the party going — 10/10 would recommend! BEST PARTY EVER

Larissa P.

Married on 05/29/2022

Best DJ Ever!

Wow!!!! Ben and Zach were absolutely incredible!! My guests were on the dance floor the entire night, and I had so many people telling me that the music was the best that they had heard at a wedding. Ben was our DJ and Zach was the saxophonist. They both truly made the night!!! Ben was so great throughout the planning process, answering any questions I had and easing any nerves that I had. I couldn't recommend them more!!

Lyn

Married on 05/22/2022

Highly Recommend

You can not go wrong with Remixologists as your DJ for your wedding.

We had DJ Ben for our wedding at Blue Hill at Stone Barns, and it was a perfect experience. Prior to the wedding day, Ben was available for any questions we had at any point. They also have a program that you can use to be in constant contact with your DJ if needed. We didn't give Ben much guidance, we just gave him a link to a playlist with a few songs from spotify and he was able to take that and create such a perfect, fun, dance-filled night for us. He really has a talent for understanding his clients and tailoring his music perfectly to their interests. You would have thought he knew us for years.

From impromptu backup music to some of the speeches to keeping everyone on the dancefloor the entire night, I would not have changed anything from our wedding night. You can trust Remixologists wholeheartedly to do an amazing job at your wedding. We couldn't recommend them enough.

Remixologists's reply:

Beautifully put, thanks Lyn! We had an amazing time celebrating with you & Paul at Blue Hill at Stone Barns. 

Albert M.

Married on 05/21/2022

DJ Luke is amazing! Highly recommend

DJ Luke (aka DJ CoolHand) was an amazing DJ and person! I'm so happy we chose to go with him. He did a phenomenal job, was extremely organized, amazing at communication. All around 10/10 experience. I highly recommend him for someone looking for an elevated DJ. He did much more than just play songs. His remixes and transitions were so smooth and made the night extremely enjoyable. He's also a great person who spent many hours on phone calls with us walking through every step of the wedding. So happy we went with him - a DJ was a very important aspect of the wedding to us and Luke blew it out of the park.

Jennifer C.

Married on 05/20/2022

The best DJ!

We couldn't recommend Remixologists and DJ Benja Styles enough (and our drummer addition Barb!) Ben was amazing to work with during the entire planning process, had all the answers for us, hit the nail on the head with the music selection we wanted (and made it easy, sent spotify playlists and created a spreadsheet) and kept everyone dancing all night long. I could not recommend them enough if music is as important to you as it was to us!

Remixologists's reply:

Thanks for the kind words, Jennifer. Ben had a blast working with you and Michael at Philadelphia Distilling!
Are you interested?
Send a message