29 Reviews
Recommended by 82% of couples
Quality of service

4.1 out of 5 rating

Average response time

4.3 out of 5 rating

Professionalism

4 out of 5 rating

Value

4 out of 5 rating

Flexibility

4.2 out of 5 rating
2 User photos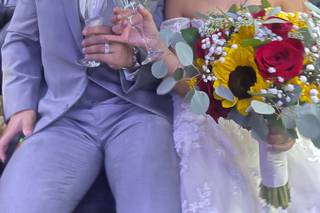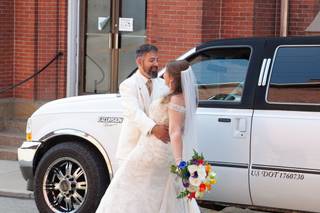 Featured

Sarah R.

Married on 10/09/2021

Reliable and flexible with rescheduling

Red Carpet Limousine was such a blessing! They helped me book for my original wedding date and after everything was finalized with them, we had to cancel due to covid.. Out of all our vendors they were the most lenient with cancelling and rescheduling! The office staff walked me through step by step with the details and even suggested great locations for photo's! The driver was extremely professional and polite. He held the door for us at all times and even took photo's on my phone so I could see them right away! I would 100% recommend them to anyone!

Jessica H.

Married on 09/24/2022

Overall great experience!

Red Carpet was very responsive and worked around the fact that I had to add a second group of hotel rooms that were twice as far away from the venue as the original hotel! All of my guests got to the venue on time and had no issues getting back to the hotel by the end of the night. They all even complimented the driver!!

Red Carpet Limousine's reply:

Jessica,
Thank you for your kind words and for including us on your wedding day. You were so easy to work with! --Janelle

Sammie

Married on 08/13/2022

Best company

Loved it our driver was amazing

Are you interested?

Send a message

Emily H.

Married on 08/13/2022

Amazing Limo Driver!

So helpful and so kind! She was so amazing and helpful with the kids while we took pictures!

Red Carpet Limousine's reply:

Hi Emily,

We always love to hear that our drivers made your wedding day easier! Thank you for sharing your experience with Lori.

--Janelle

Rose

Married on 09/12/2020

Fantastic!

Our driver was amazing! And punctual, although we weren't, lol. He was very nice and outgoing. when we arrived at the church, the Groom was outside and he flawlessly maneuvered around town until the men were inside. Then he kept my Mother and me great company as we waited to be called into the church, which helped calm my "stage fright." He even had a complimentary champagne toast for us upon arrival at the reception. I am so happy that we chose this company!

Danielle

Married on 12/02/2017

Red Carpet Limo was a pleasure to work with. They were on time, had extremely friendly and accommodating drivers, and very clean limo buses. Terri went above and beyond at our wedding, handing out bottles of water after the ceremony and stopping at Mt Washington for us to take pictures. They were awesome!

Red Carpet Limousine's reply:

Thank you for your feedback Danielle, We're so glad
Terry could make your day extra special!
-- Janelle

Carrie

Married on 02/18/2017

I couldn't be more satisfied with Red Carpet Limo. We booked the party bus and it was a blast. It made transportation so easy. Terry our driver was so nice and easy going. No complaints here. Worth every penny, too!

Red Carpet Limousine's reply:

Carrie,
Thank you for your review, we are so pleased to hear that the party bus made your day fun and easy !

--- Janelle

Afreca

Married on 06/07/2014

The service was great. Our driver was so professional and kind. We were taking pictures with the photographer and our driver offered to take pictures with our phones,so we would be able to view instantly. It was a great experience. Thanks

The process for booking was easy and fast and the staff was very professional and responsive and called me back any time they said that they would. We booked the hummer limo. The limo arrived early, was clean and new, and the driver was professional. Our driver was Josh. Josh was absoultely THE best limo driver that you could ever ask for!!!!! Not only was he the limo driver, he was basically my personal assistant for the day. He helped with the train of my dress, held my flowers, fixed the ring bearer's tie, put him in line to go down the aisle, helped us shut the doors to the church right before I walked down the aisle......the list goes on and on. Josh went far above and beyond and was very genuine! I would reccomend this vendor and Josh to everyone! The price was reasonable, slightly cheaper than places closer to Pittsburgh.

Abbey

Married on 08/27/2011

WOW I will recommend this service to ANYONE and EVERYONE! We rented the H2 for our wedding and THE HUMMER WAS AWESOME AND OUR DRIVER WAS PHENOMENAL!!! We got there with no issues and had time for pictures and TONS of FUN in the H2, The lights the radio everything was great!!! It was a good price compared to other places! I would love to use this service again!!!!

Maria

Married on 07/18/2009

We booked last minute and everything still turned out wonderful! The driver was excellent and had no problems at any of our stops. The inside of our limo bus was amazing and our wedding party had a blast riding in it to the reception. I would reccomend Red Carpet Limo to anyone in the Pittsburgh area who needs a Limo!

Kelley

Married on 06/06/2009

Jaime

Married on 07/12/2008

They were on time. The driver was nice and professional. The limo looked great. AC and lights worked well. AC was wonderful during pictures! A+

Brian

Married on 08/25/2012

Slightly expensive, but definitly wonderful. First time in a limo and it was very nice. They were ontime, able to drive to locations without issue and provide excellent service.

Marisa

Married on 07/21/2007

Our limo was just what we wanted. It fit everyone very comfortably. There were 15 of us in the bridal party and it was very important to have everyone together and they were the only ones that could do that.



i contacted several companies and they were by far the most professional, friendly, and cost-efficient company.

Sonya

Married on 07/15/2006

The last limo available for our wedding was the Big Daddy. It fit all of us comfortably and looked great in pictures. The limo driver even posed for pictures with us and let me sit on top of the limo.

Kevin K.

Married on 10/22/2022

Wedding witho…….a hitch

Feel like the driver expected me to know how to do his job. He left 2 guests stranded at their hotels because he only made one trip to that hotel. Even though we requested priority for hotels with higher guest totals.

Jennifer

Married on 09/19/2015

Booking the limo, making payments and an itinerary was simple, easy and the guy was professional. The limo was on time and had a stocked bar as indicated. The driver was dressed professionally but he did not act professional. He never opened the door or held it open for us, at one point we were on a bit of an incline and the door kept wanting to close and the girls were having trouble getting into the limo with their dresses, and he just stood there outside of the limo and never grabbed the door to hold it. He also couldn't even take the time to help us get the radio working so we had no music for over half our rental time. Meanwhile he flipped a switch eventually and the radio magically started working, so the whole time I think he just didn't have it on for us. He was driving all over the reception parking lot trying to figure out where to pull us in at and ending up taking a while to try to back into a row to drop us off. He also bragged to my Husband and the groomsmen that the night before he was driving around 15 year old girls to a concert and they were basically half clothed.... On top of all that we got charged $115 for a half hour of overtime. Needless to say I didn't leave an additional tip. I thought he was very unprofessional. I would recommend this service to a friend, but hopefully they don't get the same unprofessional driver that we had!

Kelly

Married on 10/20/2012

Red Carpet Limousine had a great selection of vehicles in their fleet. We had one of the limo buses because we needed to transport 23 people, and we all fit very comfortably in there. It was really nice inside and we were able to stand up and dance down the middle aisle, which was really cool! We were kind of a rowdy bunch, so the driver had a lot to deal with, and he did a great job with it. After a little persuasion with some extra cash, he even stayed an extra hour and a half, so they were very accommodating to our needs, even though it was last minute.

Sarah

Married on 06/17/2012

The limo was very nice and the driver was friendly, but he didn't know how to get to where we needed him to go. I probably would have tried another service or asked for another driver if I could do it again.

Pam

Married on 08/20/2016

When making arrangements for the limo service, they were great. They were very accommodating. Honestly, the worst problem with this company is some of the limo drivers. The very first thing when the bridal party came out, the driver was rude. I, being the mother of the bride, said I need room to pull out because we had another limo waiting at another location. The driver got smart with me. The girls later had told me, he wasn't very nice on the ride to the ceremony. On the way back from the reception, another driver got rude with everyone. My fix to this problem is, don't include gratuity. Maybe they would be a little nicer to get a gratuity. They had no reason to be nice.. They got their money regardless.

Used for a shuttle after our wedding, friendly driver- a little pushy about getting myself (the bride) out of the reception to get on the shuttle back to our hotel. Also took cookies from our cookie display for his wife, to be fair he did ask me first but again I was the bride...

Jackie

Married on 09/17/2011

Our limo was nice and it was affordable. $700 including tip which was cheaper than some other companies we looked at. He was also 15 min early which was good. The thing that bothers me is that when he got to my house the first thing he says is "I'm not from this area, I'm not sure how to get to the church" I was like "OMG seriously!" I should not have to give directions on my wedding day. The thing is I got married at Heinz Chapel, one of the most popular venues in Pittsburgh, this wasn't a wedding in the middle of nowhere!! So I sat close to the glass in the limo and talked him through it. so ridiculous. I saw that he had the church spelled wrong on the GPS which is why it wasn't coming up, I didn't bother to say anything I just talked him through it. After the ceremony everything was fine, we made 2 stops before our reception to take pictures and he was really cool about everything, so if it wasn't for the not knowing where to go at first this vendor would have gotten a better review from me. I'm going to say yes I will recommend this vendor to a friend just because it was a nice limo, the guy was friendly, and it was affordable. Hopefully what happened to me was an isolated incident.

Sara

Married on 05/25/2008

We were told our driver would know exactly where Meyersdale and Rockwood (small towns near Somerset) were, but we ended up turning around 3 different times on the way to the church because the driver didn't know how to get there and the GPS wasn't working. He was very nice and apologetic, he told us he was from Pittsburgh and not familiar with the area, and I felt bad, but we almost didn't make it to the church on time! Definitely not the kind of 'reliability' you want from a transportation company on your WEDDING DAY! Maybe it was an isolated incident!?
Are you interested?
Send a message