86 Reviews
Recommended by 100% of couples
Quality of service

5 out of 5 rating

Average response time

5 out of 5 rating

Professionalism

5 out of 5 rating

Value

5 out of 5 rating

Flexibility

5 out of 5 rating
22 User photos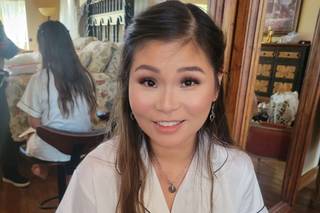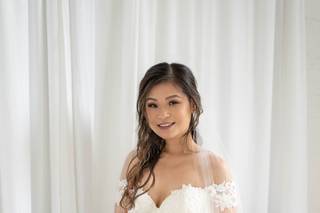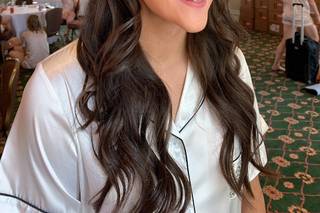 + 18

photos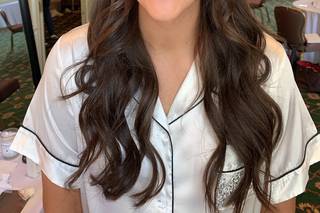 Katherine T.

Married on 04/15/2023

The best of the best!

Q is AMAZING! I absolutely adored her. She was personable, professional, and really knew her stuff. She asked what type of photography we were going with and knew how to adjust my makeup accordingly. She was super patient with me when I came in with some extensions I had no clue how to put in myself and she didn't even hesitate. I came in and told her that I wanted to trust the professionals with their opinions of what would be best after describing my general vibe and she absolutely NAILED IT! On the wedding day, her team was also excellent. They were all on time and super personable but also professional. Everyone in my bridal party loved their final product. I could not recommend Q enough! She helped me look the way I always envisioned on my wedding day.

Liz

Married on 03/31/2023

Q is OUTSTANDING! She made our model for a recent styled shoot look absolutely stunning! She captured our vision perfectly. She's quick, but impeccable at her work. The hair and makeup lasted an entire day of being outside in the wind and sun. I would recommend her a million times!!

Jenna G.

Married on 12/04/2022

Highly recommend!

Q and her team were amazing. Professional, on-time, adaptive but most importantly she is insanely talented with hair and makeup. I had been following her Instagram for years and knew i wanted her to do my wedding hair and makeup. I look forward to hiring her for more events/photoshoots in the future!

Are you interested?

Send a message

Sarah P.

Married on 11/12/2022

BEYOND perfect in every way

Quynh is amazing as both a HMUA and person! I wouldn't trust anyone else with my monolids for the big day. She helped make my eyes pop and feel completely confident in my own skin. My dad usually hates when I wear makeup, but he LOVED how she just made me look polished, as opposed to unrecognizable. I gained a lifelong friend and became a forever client of hers. I literally can't thank her enough for her beautiful work!

Vivian

Married on 11/11/2022

Top-notch professional makeup artist - will hire over and over!

Quynh was the first vendor I booked for my wedding; as an Asian woman, I have had difficulties finding artists who can highlight my features (traditional smokey eyes for example tend to make me look very sleepy). Not only did Quynh make me feel comfortable and beautiful on my wedding day, she did the same for the other members of my wedding party who had a variety of skin tones and facial structures. She was extremely professional, arrived early and her other makeup artist was also fantastic. She even made herself available for advance inspo pics and requests from my wedding party, which was a next level detail. She also did a great job on my hair and everyone looked great even after dancing into the wee hours of the night. I cannot recommend Quynh highly enough and look forward to booking her for other life events.

Maddy J.

Married on 08/28/2021

You have to choose Q!!

Q did my make up for all of my wedding photography needs and my wedding. She knew exactly how to do my make up based on what kind of camera the photographer was using (so I didn't look washed out). She was so fun, hyped me up, and did an AMAZING job! Her team crushed it and all of my wedding party looked beautiful. I'll be hiring her for any future maternity shoot or friend's wedding. She was amazing!

Kate A.

Married on 11/21/2020

Look no further! Q is THE BEST!

I wish I could give Q more than 5 stars on everything! She truly listened to what I wanted while at the same time gave such great and insightful recommendations on make up and hair options to make my special day PERFECT! She also is so warm and compassionate, it made it lots of fun getting to hang out with her. She also brought two other artists with her to help with my 12 bridesmaids the day of and both girls did a specular job as well. They are so professional and truly know what they're doing. I was honestly sad for my wedding to be over because that meant I was through getting to hang out and have my hair/ make up done by Q. I cannot recommend her enough!

Michelle

Married on 08/29/2020

Recommend without reservation

I highly recommend Q and her team. She did my hair/makeup for engagement photos, bridals, and the wedding. All 3 services were flawless. She is easy to be around and extremely talented. Our original wedding date had to be postponed due to COVID and she handled the situation with utmost professionalism and kindness. Our moms and sisters were all impressed with the hair/makeup services provided by Q and her team. She made us feel so beautiful! If you are looking for a hair and makeup artist who can truly "do it all" (any style, any age, etc), look no further. Hiring Q will be one of the best decisions you make.

Tracy N.

Married on 11/09/2019

Best hair/makeup experience

I love quynh so much! She's the absolute best! She made us all look so great and on top of that, she helped take all the stress away on the wedding day.

Erika

Married on 11/02/2019

Worth every penny

Gonna be upfront and say that this was not one of the "cheaper" services for our wedding day (as I also provided hair/makeup services for my bridesmaids), BUT it was worth every penny!! If there's anything you do not want to skimp on on your wedding day, for me, it was photographers and hair&makeup. And Q made me (and all my bridesmaids!) feel like their most beautiful (outer)selves on my wedding day. She was so patient with me throughout the whole process (my trial, wedding day, communicating throughout) and is seriously so sweet! Every person likes their makeup done a certain/different way than another person might, yet Q worked with each of us so well and made sure each girl loved their look! Working with her was such a pleasure, and I am so glad I went with her!

Ali P.

Married on 09/14/2019

Incredible hair and makeup artist!

I can't say enough good things about Quynh! She did my hair and makeup for my trial run, bridal portraits, and my wedding day and I couldn't be happier with how everything turned out.  She brought my vision to life, and made me feel absolutely beautiful.  Her team was also amazing to work with and all of my bridesmaids and my mom were super happy with how all of their hair and makeup looked, and everyone got countless compliments. I was concerned about event makeup being heavy, but she made me feel like myself on my big day! Her work is timeless and classic, and I am so so glad I booked her for my wedding. Quynh is also a joy to be around, and exactly the person you want to have with you getting you ready on your wedding day.  I absolutely loved working with her, thank you for everything Quynh! :)

Meredith B.

Married on 08/31/2019

Amazing HAMU!

Q and her team were absolutely amazing and I would recommend her for any bride! Her work is so great that I had her do my hair and makeup for not only my wedding but also my engagement shoot, bridal portraits, and rehearsal dinner. I trusted her so much by my wedding day that I hardly even looked in the mirror while we were getting ready because I knew she would nail the look I was going for! She and her team executed 11 hair and makeup services flawlessly and ahead of schedule on my wedding day, which made for a fun and relaxing morning! Many of my bridesmaids also said this was the best wedding hair and makeup experience they've had. I can't recommend Q enough!

Amy

Married on 04/06/2019

Hair and makeup artist

Q and her team were amazing!!! They were prompt, easy going, and professional. From the start Q quickly felt like a close friend and I felt very comfortable around her. Something people don't stress enough when picking a hair and makeup artist is that you have to enjoy being around them!! They are a huge part of your wedding day and with you for so much of your day. Q listened to our wants and concerns and helped me feel beautiful and comfortable on my wedding day. I would recommend her to anyone!!!

Lili S.

Married on 03/16/2019

Hands down the BEST hair/MUA!!

Quynh is such a dream to work with! She listens to everything you want and executes it flawlessly! She is mindful of what you want and if there's something she doesn't think will work, she will let you know. Not only that, but she is so easy to work with! Getting hair and makeup done can be a little nerve wracking especially if it's not something you do on the daily but she really puts you at ease and is so easy to talk to! Not only that but she is also very insightful and gives you good advice about life in general too - so that's a bonus! I saw her work while I was FB creepin' on someone else's page 5 years ago and I KNEW when it was my turn she would be the person I booked for hair and makeup. There was no one else and she was actually the first vendor I booked! :) Quynh uses only high quality products on your skin and hair it's no wonder everyone looks super polished and amazing when she's done. We got SO many compliments on all our hair and makeup for days after our wedding! I've never seen my mom and sister look any more stunning. (She also did my engagement portrait hair and makeup an dod course the compliments were also endless.) I would recommend her services to anyone getting married or anyone looking for professional hair and makeup. You will be in GREAT hands. I can't wait to get pregnant so I can hang out with her and she can do my hair and makeup again for our Maternity Session! :) Quynh is hands down the best - truly a master in her craft and her super sweet personality is a bonus. Puffy heart you, Quynh! :)

Chelsea P.

Married on 03/09/2019

This woman is a make up wizard that I would hire again & again

I absolutely adored this woman. From the time that I stepped into her house for my trial run til the day of artistry that was my wedding party, Q was freaking AMAZING. She made sure that each and every girl was perfectly made up, happy with their make up and hair, and that I was also happy with everything that she did! She is incredibly friendly, able to deal with a variety of personalities, and never seems to be stressed out even when you request 19 services for your wedding! I loved Q and will definitely be seeing her for any special occasion--even if it is just my birthday--that comes up! She is incredibly talented and one of the sweetest people that I am lucky to know! HIRE HER. Definitely worth the money!

Annie

Married on 10/27/2018

Q is the best!

Q is such a joy and so so talented! From my engagements to bridals to wedding day, my hair and makeup was flawless! Q listened to what I was looking for and every time it was better than I imagined. On the wedding day, Q and the second artist, Jessica, did 9 girls hair and makeup. They were always on schedule and had positive attitudes the entire time (over 6 hours!). All the girls LOVED their hair and makeup. Highly recommend Q if you're looking for amazing hair and makeup for a wedding or event!

Julie

Married on 10/26/2018

Gorgeous makeup artist

Q was an absolute joy to work with throughout the entire wedding planning process - from my engagement session, to my hair and makeup trial, to wedding-day hair and makeup for myself and my bridal party. Q was always professional but also sweet and made sure to listen to likes/dislikes and preferences to perfect everyone's look!

Q and her second artist completed 9 makeup and 8 hair services for the day of my wedding and every single person looked GORGEOUS. I even had girlfriends who had already been married who had wished they knew Q back during their big days. Not only was the service exceptional, but Q and her second artist showed up promptly and worked quickly to have everything done far ahead of schedule. This allowed extra time to relax with my bridesmaids and our moms prior to diving into the events to come. Thank you Q for making every single one of us, especially me, look and feel their most beautiful! Love, Julie

Kimberly

Married on 09/08/2018

When I got engaged, I asked my photographer if she had any recommendations for a hair and makeup person. She gave me Q's contact information, and I booked her for my engagement photos after checking out her website. Q did a phenomenal job. I knew she was the one right away and booked her to do my wedding as I was sitting in her chair getting ready for engagements. On our wedding day, she made me feel more beautiful than I had ever felt before, and my bridesmaids were just as happy. Q has a way of enhancing your natural beauty, and unlike other makeup counters I have been to in the past, I actually looked like myself afterwards (but better). She gave me flawless looking skin and hair that held even through a rainy wedding day. Q was hands down one of the best wedding vendor picks I made. She is extremely talented, knowledgeable and sweet and we couldn't have been happier with her.

Tori

Married on 09/01/2018

Q was absolutely AMAZING! I found her through a styled shoot I participated in and she made me feel beautiful! I reached out for her to do my hair/makeup for my engagement photos and talked to her about doing my wedding, as well. She did such an amazing job our engagement photos were published! She is the nicest and coolest to hang out with while she does your hair and make up and leaves you feeling like a princess! I am blown away looking at wedding pictures that that was even me because she is a miracle worker!! If you want to look and FEEL like a princess on your special day, use Q! Thank you Q for everything!!! :)

Kendall

Married on 08/25/2018

Q was without a doubt one of my best decisions when it came to my wedding. I worked with her to do my engagement pictures hair & makeup, as well as wedding hair & makeup for myself and my bridesmaids. She is wildly talented and knows how to bring out your best qualities. My bridesmaids have all been in multiple weddings and they get their makeup done often but when I would look over and see them taking selfies of themselves I knew that they knew they looked amazing. Q also has the BEST personality and I seriously enjoyed chatting and getting my hair and makeup done. I am looking forward to working with her again (because I know all of my friends will book her)!

Heidey

Married on 06/09/2018

I can't say enough amazing things about Quynh! She was one of the best parts of my wedding!! Starting from my engagement shoot up, through bridals and the wedding day, I had complete trust in her in my looks. She did an amazing job of making me look beautiful while still looking like myself! I had decided after my engagements to go back to my natural hair color and she was so helpful through texts and calls with all of my worries of how I would look on my wedding day. On the day of the wedding, she (while being eight months pregnant!!) made me feel like an absolute princess and had the best energy for me and my bridal party throughout the entire day! Love love her and her team!

+ 2

photos

Hyejin

Married on 05/27/2018

Our wedding day wouldn't have been as perfect as it was without Quynh! She is incredibly talented, sweet, funny, personable and professional. From the first time we met to our wedding day, she always made me feel super comfortable, relaxed and BEAUTIFUL! Every time I had questions regarding my wedding hair and makeup she was very responsive, helpful and always gave me her honest opinion (which I loved and appreciated very much). She is a true artist and knows exactly how to make a girl look and feel fabulous!!

On our wedding day, Quynh was the very first person to arrive at the venue. Did I mention she was 8 months pregnant? Her energy stayed calm the entire time she was there and it definitely helped me stay calm and truly enjoy our getting ready time. She did makeup for all four moms, three bridesmaids and I and we all looked absolutely amazing! Also, at the very last minute I decided to go with a completely different hair style on the day of the wedding than what we did at my trial run, but that wasn't an issue at all for Q. She did her magic and I absolutely loved everything about it. My family literally told me that Quynh TRANSFORMED me and I was the prettiest they had ever seen! lol Now you can only imagine how incredible she is.

I honestly couldn't have dreamed of having a better makeup and hair artist for our wedding and am so thankful to have worked with Quynh! I adore her and you will, too :)

Carla

Married on 05/26/2018

Simply the best hair and makeup I've ever had. Amazing, modern, gorgeous.

Amber

Married on 05/19/2018

Booking Quynh's HMU services for my wedding day (along with a HMU trial), bridal portraits, and boudoir session was by far one of the best vendor decisions I made for our wedding. Working together with her from start to finish was such a great experience. Not only is she incredibly sweet and personable but she is also extremely professional, punctual, and attentive to every last detail to ensure that your desired look is achieved as she genuinely cares that you love your look and feel your best for your big day. Her opinions and suggestions on different ideas/options throughout the whole process are so invaluable! I trusted her decisions completely for all 4 sessions I had with her and the end results were all absolutely stunning. She does such a beautiful job of enhancing your natural look that I didn't feel "lost" underneath all the makeup in the slightest. My 4 bridesmaids also utilized her services on the wedding day and they looked flawless. Quynh will truly meet and exceed all your glam expectations. She is truly a one-of-a-kind artist and her talents are impeccable. The passion that she has for her work and towards her clients is so evident. Quynh, thank you for all the glamming, girl. You really are THE best.

+ 2

photos

Veronica

Married on 05/05/2018

Q did a fantastic job with hair and makeup for myself and my bridal party! Her energy is so chill that it helped keep all of us calm. She was accommodating when we had to squeeze in my husbands groomslady sooner than anticipated so that she could get back to the hotel for pictures with the groom. The end result, everyone looked and felt stunning!
Are you interested?
Send a message