21 Reviews
Recommended by 99% of couples
Quality of service

5 out of 5 rating

Average response time

5 out of 5 rating

Professionalism

5 out of 5 rating

Value

4.9 out of 5 rating

Flexibility

5 out of 5 rating
5 User photos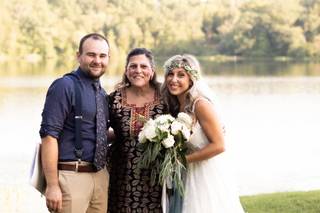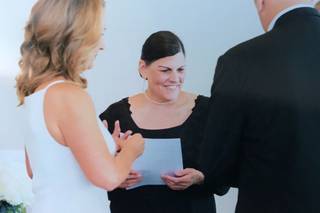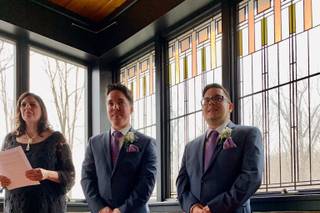 Reda A.

Married on 11/09/2021

great experience

Rev. Susan is the best very professional and very knowledgeable, was great experience with her
thank you Rev Susan.

Pure Bliss Ministries's reply:

Thank you very much, Reda. It was a pleasure to work with you and your staff!

Many Blessings,
Susan

Jennifer S.

Married on 10/08/2021

So grateful that she was our officiant!

It was an absolute pleasure working with Susan!! She was extremely helpful, had excellent communication and was completely understanding throughout the process especially of the fact we got married during a pandemic! She made sure we had everything ready and prepared for our wedding day. I would highly recommend her!!

Pure Bliss Ministries's reply:

Thank you very much for this "Excellent" review Jennifer. I look forward to working with you and Travis again for "The Big Wedding"!
Many Blessings.

Dominique

Married on 09/22/2021

Perfect and couldn't have asked for better person to be our officiant!

Susan is such a sweetheart and amazing to work with! Really took her time to get to know us and make our ceremony special!

Pure Bliss Ministries's reply:

Hi Nikki and Sam.
Thank you for taking the time to write a review.
It was wonderful to get to know you and to Officiate your ceremony!

Many Blessings,
Rev. Susan

Are you interested?

Send a message

Meghan W.

Married on 11/21/2020

Professional

Susan was caring and understanding from the start. With crazy times with the pandemic going on Susan was very helpful. She took time to get to know us. She takes the time to personilze the ceremony, which is very meaningful. We recommend Susan very highly and we will be using Susan for our vow renewal.

Pure Bliss Ministries's reply:

It was an honor, and a pleasure, to Officiate your wedding, Meghan and Dustin. I look forward to working with you when you have your Vow Renewal!
Thank you for taking the time to write this "Excellent" review.
Many Blessings.

Rebecca L.

Married on 11/09/2020

Excellent job!

Pure Bliss Ministries was excellent to work with! Extremely professional and helpful, especially in the middle of a pandemic! She made our wedding very special and one to remember!

Viktoriya G.

Married on 04/26/2020

The best wedding officiant I could ask for. Look no further!

Rev. Susan Cloutier is highly accommodating and provided great service to me for my wedding which I had to reschedule 3 times due to the pandemic. I strongly recommend her to anyone who is getting married. Easy to talk to, understanding and overall very sweet and friendly to work with. Thanks Susan!


Pure Bliss Ministries's reply:

Thank you so much, Viktoriya. It was an honor and a pleasure to work with you and Shane. I wish you the best of everything!

Many Blessings,
Rev. Susan


Brian

Married on 11/02/2019

Wonderful Experience!

Reverend Susan did an amazing job officiating our wedding. She was very responsive and worked with us to give us the ceremony that we wanted. She provided us with drafts of the ceremony to review and made sure to incorporate the few changes that we had. She is easy to talk to and helped us through the marriage license process since we were getting married out of state. We could not recommend her more!

Pure Bliss Ministries's reply:

Thank you Brian. It was an honor to meet, and work with, you and Grace!

Many blessings, and Happy New Year.

Jeannette C.

Married on 09/21/2019

Warm and professional

Reverend Susan took the time to get to know my husband and I. She incorporated this knowledge into our service. She was relaxed and personable and many of my guests commented on how lovely her delivery was. She is a true professional and would never let you down for your special day.

Pure Bliss Ministries's reply:

Thank you, Mrs. Carpenter. It was an honor and a pleasure to meet you and Scott...and to marry you! So glad I get to see you on a regular basis.

Melissa D.

Married on 09/12/2019

Great experience!

We had such a wonderful experience with Susan! She wrote us a beautiful ceremony and worked with us on everything we wanted. She also helped us through the process of getting our marriage license and anything we needed help with! I'd highly recommend her!

Pure Bliss Ministries's reply:

Thank you so much for the review, Mrs. DiBernard!!! A pleasure and an honor to create sacred space for you and Nick.


Erika K.

Married on 03/13/2019

Highly recommend! Easy to work with!

Susan was so easy to work with and so accommodating! We really felt like she took the time to get to know us and understand what our couple style was. We had a very small, intimate ceremony with only immediate family. Susan was so understanding of what we wanted our wedding day. Also in terms of the ceremony, she was helpful with sending us drafts and letting us cherry pick exactly the words we wanted used. Originally we thought we would write our own vows but last minute decided we wanted to go with something more traditional. Susan sent us samples for us to read but recommended one specifically that she thought would best match us and she was 100% right! I highly recommend Susan, we really felt at ease with her as our officiant and felt like she truly cared about our day!

Craig M.

Married on 12/08/2018

It was easy

OK, our plans were about as simple as they come, but having said that, Susan was completely accommodating to all of our wishes and a pleasure to work with. We wrote our own vows, but Susan provided a framework for them and she also explained all of the necessities the ceremony must contain. Our ceremony was performed in our home, in the presence of a few friends and was a wonderful experience. Thank you, Susan!

Pure Bliss Ministries's reply:

Thank you so much Craig. I hope your wedding celebration was amazing! Such a pleasure meeting you and Caroline.

Many blessings,
Rev. Susan

Adam W.

Married on 10/28/2018

Perfection!

My wife and I were married on October 28 2018 by Rev. Susan. We met with her early on and were instantly put at ease. She is very easy to talk to and is natural when it comes to listening to what you are looking for. My wife and I have a blended family. She figured out an amazing way to incorporate all of our children by having a beautiful sand ceremony. The entire wedding ceremony was perfect from the readings to her beautiful message to us. We felt as if Susan became a part of our family that day. By choosing Susan for your wedding, rest assured, you have chosen someone who will go out of their way to be accommodating and will help create a moment that you will remember forever.

Pure Bliss Ministries's reply:

Thank you so much for this beautiful review, Adam and Nicole. You made me cry!

It was an honor to help you co-create the wedding of your dreams and to meet, and spend time with, your beautiful family.

Much love and many blessings,
Rev. Susan

Kristin

Married on 08/31/2018

We chose Susan Cloutier from Pure Bliss ministries as our wedding officiant after I met her at a bridal expo. I could tell that she was kind and very passionate about her work. As soon as I reached out to Susan, she responded right away and said she would love to officiate our wedding. She went above and beyond to try to get to know us. Being that we had moved to TX and she was in NJ, we first set up a phone conference where we talked about what we wanted out of our ceremony. On one of our trips to NJ before our wedding, Susan made every effort to meet us for breakfast at a local dinner so she could "officially" meet my fiance as well. We were sent questionnaires to fill out so that Susan could get a better idea of why we wanted to marry and incorporate them into our wedding ceremony.
When our wedding day was coming closer, Susan even offered to help us put together our favors and pick up any last minute decorations that we had forgotten about!
Standing at the altar on our wedding day, Susan spoke with grace, ease, and confidence. She helped keep our ceremony very personalized and all of our guests got a feel for the real reasons we wanted to marry. We wanted to write our own vows and Susan was very encouraging when we had questions. Our ceremony was even better than I could have imagined despite the pouring rain that forced us to move it inside. All of our guests spoke to me about how wonderful it was and how it made them cry. They loved how heartfelt it was. I can honestly say, Susan is not just another person we hired for our wedding, she became a friend and someone I plan to keep in touch with for the years to come! If you are looking for someone to officiate your wedding, look no further, Susan will go above and beyond to make sure it is magical!

We really enjoyed working with Rev. Susan for our wedding in June 2018. She worked with us to make the Perfect ceremony and to make it both special and exactly what we wanted. We were in constant contact through the process and you can really tell she has a passion for wedding couples. Thank you for being part of our special day, we couldn't have imagined it any other way!

Jacqueline

Married on 05/20/2017

Excellent service for our wedding!!! Many compliments!!! Perfect day!!! Couldn't ask for better!!!

Kristen

Married on 06/08/2013

My husband and I struggled to find an officiant that we felt would set the right tone and help us convey our feelings for each other to our family and friends. Weeks before the wedding Susan came recommended by a family member. Despite having very little time Susan got to know us individually and as a couple and worked closely with us to craft a ceremony that reflected our relationship perfectly. Many of our guests commented on how beautiful and heart-felt it was.

One of the first things Susan said when she agreed to officiate the ceremony was that she was setting her intentions for 72 and sunny. The night before we were hit by a tropical storm that rained out our rehearsal dinner, but by 5pm the day of the wedding, it was 72 and sunny. I'm not saying we have Susan to thank for that, but it made us optimistic for the day and, you have to admit, it was quite the coincidence :)

Susan is someone who cares, listens and brings positivity and enthusiasm to delivering a very personal ceremony.


Susan, we've only known you for a few short weeks, but you now have a special place in our hearts. Thank you for listening and understanding what we felt and what we wanted, and for putting together a beautiful wedding ceremony. Thank you for your guidance, and for stepping up to help us out with some last-minute preparations. We wanted to have a simple, no frills event, and with you as our Minister we had a very special, heartfelt wedding that we will cherish for the rest of our lives.

We wish you much happiness and success in your future endeavors. We will always love you for being there for us!

Nancy

Married on 12/29/2012

We had scheduled our wedding ceremony with another minister who had to cancel on us at the last minute. Susan stepped right in and happily met with us within a day to review what we were looking for. Our personalities clicked immediately and we felt things certainly worked out for the best! Susan helped us tailor our vows and listened to what we were looking for in our ceremony. It was all perfectly planned and then it snowed! Susan made sure she was able to get there, and she was even there early. Our guests enjoyed her comments and loved how down to earth she was...we were very happy working with Susan and would recommend her to anyone.

Janna

Married on 10/13/2012

All dealings with Susan have been wonderful. Upon making her acquaintance in May, I felt instantly at ease and it was clear to see the overwhelming positivity and passion for her chosen profession! Susan immediately came across as a warm-hearted, accommodating individual who truly wishes the best for others. Our initial meeting lasted for an hour and a half; she was in depth and brought some intriguing questions to light for both my fiance and I, which was fantastic! I am confident that Susan will work with you closely to personalize your ceremony as little or as much as you'd like, and tailor it precisely to your needs and wishes.

I would recommend Susan any day.


We feel it was a happy and positive twist of fate that we found Susan for our ceremony. A different minister had left us hanging until the last minute, but once we met with Susan, we knew it was what was meant to be and it would be smooth sailing from there.

We didn't have a lot of time, but Susan worked with enthusiasm and joy to get to know us, to listen to what we were looking for, and to guide us through the process. She was more than accommodating, freely taking and giving ideas and in the end, was able to give us exactly what we wanted. We received so many complements on our beautiful and tailor-made ceremony.

Susan clearly loves what she is doing and cares very much about creating something beautiful and personal for you. We would recommend her to anyone.

Krissy

Married on 06/22/2012

Susan was a very caring and attentive Reverend. She took a considerable amount of time to get to know me and my husband before she officiated our wedding. She personalized and made sure that our ceremony was exactly how we wanted it and did a wonderful job. She was more than accommodating and helpful throughout our entire experience, and even tried to plan her attire around our wedding theme! She was very professional, had our crowd in laughs and tears of joy and she seemed very poised and comfortable at the alter.
Are you interested?
Send a message